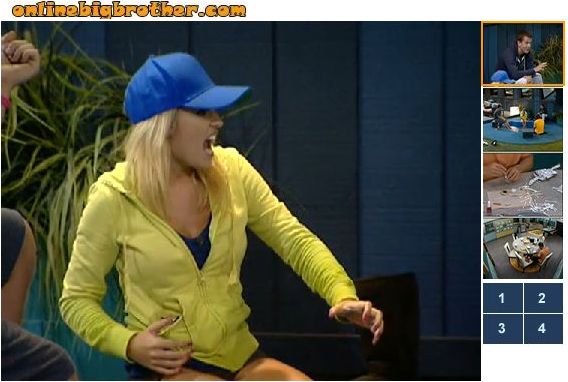 10:10pm Big Brother gave them some alcohol. Hayden and Lane play pool as Enzo works out. Britney brings the beer and one bottle of wine out into the backyard fridge. They got 4 cans of beer and a bottle of red wine. Lane, Britney, Hayden and Ragan are now all sitting around the hot tub talking and joking around. They make fun of how Rachel told the floaters get a life vest and how she came back into the house. Ragan says that he is surprised that Annie didn't knock her the BLANK out. Enzo says man, I would have punched her in the face especially if I knew I was going home. Lane says that he wonders if Rachel stole the line from Janelle. Hayden says that he thought Rachel was such a skank. Britney tells Ragan that she is sure his fight with Rachel made Perez Hilton's blog because of all the homophobic comments Rachel made. Ragan says that he wonders if CBS edited the fight to show Rachel using the gay slurs. Ragan says that he knows he will be able to find it on YouTube. Meanwhile, Enzo is in the kithen still working on making his space ship out of tin foil and other things. They talk about all the many jobs Brendon had. Hayden says that he wonders if he's even 30 years old. Lane says that he thinks he's been fired a lot. Hayden says that he thinks Brendon's resume is two pages long. The conversation changes to talking about Kathy. Hayden calls her a dirty mind old lady. Britney says that she was horny. Lane says yeah, she said she hasn't been with a guy for a year. Meanwhile, Enzo is in the kitchen building his space ship.
$5 off Discount – LIMITED Time OFFER! ONLY $9.99!
PLUS try it FREE for 3 Days!


11pm Britney, Hayden, Lane and Ragan are all gathered around the hot tub. Britney is talking about her mom and how she doesn't like any of her boyfriends. Lane asks if she likes Nick? Britney says loves, no, likes, yes. Britney says that her mom doesn't really like anyone. The conversation changes to the Wrap Party in Vegas. Lane says that he is scared to meet Britney's mom. Britney says she'll like him. They say that he mom is just being protective. They all say that hey don't want to see Rachel at the Wrap Party. Britney says or ever again. They talk about how hard Kathy had it the first three weeks. The conversations changes to talking about the last POV competition. Lane talks about how right before Double Eviction, it felt like the season was never going to end.
11:20pm – 1am It's Music Time: All the house guests have to stop what they are doing and start dancing. Hayden, Lane, and Britney are dancing in the backyard. Enzo is in the shower dancing and Ragan is dancing in side the house. Ragan dances his way into the bathroom where Enzo is dancing in the shower. When they're done Hayden and Lane get the grill ready to grill some hot dogs. Britney says that she wants to go upstairs and listen to some music, but that she is afraid she won't hear the music to know when to dance. Lane tells her that it won't be for awhile. Britney decides to go up and listen to music for a bit. Hayden, Lane and Britney are now all in the HOH room playing with the dominoes. Meanwhile, Enzo and Ragan are in the living room. Ragan talks about his backyard conversations with the live feeders and how he gives tips to future Big Brother house guests. Big Brother cuts the feeds.
LIMITED Time Offer 33% OFF – Plus try it free for 3 days!
Superpass – 3 Day Trial!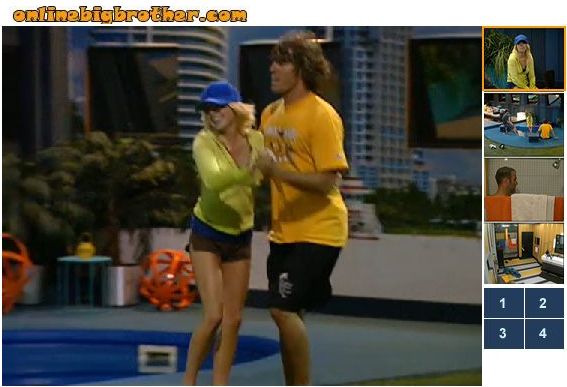 1am – 2am Up in the HOH room Hayden, Lane and Briteny are talking about their pets. Hayden says his dog got bitten by a rattlesnake in the face. Lane says that his dog Tucker was bitten on the foot by a copperhead snake. Lane says that his dog was okay because they got to it quickly. Britney says that she doesn't let her dog go at her parent's house because there are so many snakes around and she is worried that her little dog will get bitten. Hayden says goodnight and leaves HOH. Britney and Lane are alone in the HOH room. Hayden, Enzo, Ragan are downstairs in living room. Hayden and Enzo talk about Eminem. Hayden asks Ragan what his favourite competition has been? Ragan tells him that it was the surfboard competition. Enzo says that the paint can one was fun but hard. They talk about how the paint can competition and the rope challenge looked easy but it that it was a lot harder than it looked. Enzo says that he loved watching Brendon on the paint can. Hayden makes fun of how Brendon was standing by bending and shaking his legs. They laugh at how funny Brendon looked up there. Hayden laughs and says that Brendon didn't get enough complex carbohydrates before that competition. Hayden goes and gets into the shower. The music starts again and he starts dancing in the shower. Lane, Britney and Enzo are dancing in the HOH room.
When the music ends Enzo says that was a good one. Enzo tells Britney and Lane that Ragan is going to have a funny speech tomorrow. Enzo makes fun of Ragan. Enzo and Britney impersonate how Ragan was during the POV competition. Enzo says that he thinks they will show Ragan screaming like a BLANK during the POV. They start talking about the music. Lane says that he wonders what would happen if you were in the shower? Enzo says he got caught in the shower and Hayden just got caught in the shower as well. Enzo says that he liked dancing in the shower. Lane says that he wants to have the music start up when he's showering. They talk about how think the music is going to keep coming till 4 or 5am. Lane and Enzo laugh about how paranoid the house makes you. Britney says that in the very beginning everyone was so bored, now they are used to it and have a schedule. Enzo says he still gets bored. He just keeps thinking about only having two weeks left. Enzo says that they needed that double eviction. Britney and Lane agree. Lane says that he is looking forward to his one on one with Julie this week from the HOH. Lane says that will be good airtime. They start talking about being recognized after Big Brother. Britney says that she doesn't think that Enzo will get recognized as much because of where he lives. Britney says when Lane goes into Walmart people will probably go crazy. Enzo says that Big Brother is one of the top reality shows. Enzo says how do you not love Big Brother compared to other reality shows?!! Britney agrees. Lane starts talking about the Real World and says the cast members on that show are like celebrities to him. Enzo and Britney say that they don't watch the Real World. Britney says that since they're a CBS show they will only do CBS related interviews. Britney says that they won't be going on shows that are on other networks, Enzo says they're going on Oprah and then says that he knows she watches Big Brother.
Watch the last 2 weeks of BB12 for ONLY $9.99!!FREE 3 Days TRIAL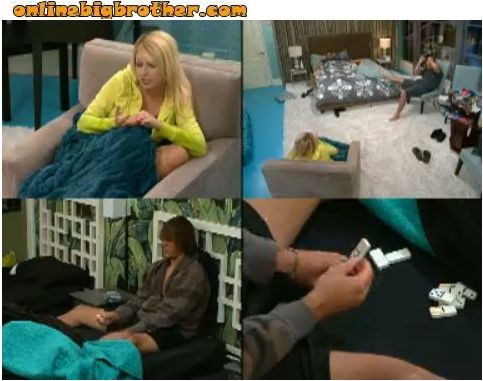 2:10am – 3:30am Down in the jumanji bedroom Hayden is using the dominos to study the weeks in the house. Up in the HOH room. Lane is talks about his HOH tweets. Lane says that when he gets out of the house he is going to get on Twitter account. Lane says he has never been on Twitter and that he wants to get Twitter so he can tell everyone where he's going to be, and what bars he's heading out to. Lane says the guy told him to include some game talk when he tweets but he just wanted to give shout outs to his family. Brit says they told her the same thing. Britney is called to diary room and she tells them guys goodnight as she leaves. When Britney comes out of the diary room she heads into the jumanji room. Britney and Hayden are talking, she tells him that Enzo and Lane were talking about how famous they are going to be after this. Britney says that Enzo thinks he is a huge celebrity now. Hayden says that he probably is. They talk about the after effects of Big Brother. Britney says that she doesn't feel like life is going to be any different for her after the show. Britney says her life will probably be the same minus her having a job. Hayden says that the double eviction was the best time to get Brendon out. Britney agrees and says that then they didn't have to put up with him all week. Hayden talks about Matt and his lies, how he lied about his age, and about being a hardcore Big Brother fan. Britney asks why would you lie about that? Britney says she is a hardcore fan and it hasn't helped her in the game at all. Enzo joins Hayden and Britney in the jumanji room. They talk about dancing to the classical music. Britney says that she thinks it is coming again in an hour. Enzo says that it will be until 5am. They talk about random things hotels, celebrities, their jobs. Then they decide to go to sleep.
SEE what they CAN'T show you on TV! 3 Day FREE Trial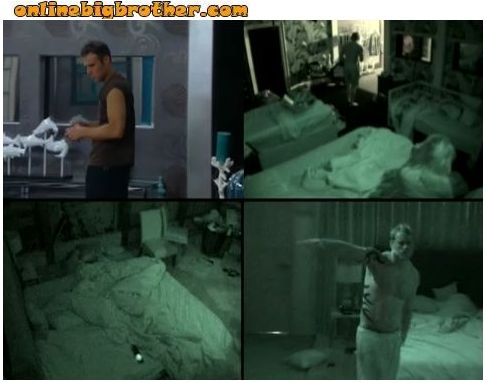 3:50am Big Brother plays the music for them to start dancing. They all slowly get out of their beds and dance or bounce around until the music stops and then they all get back into bed. All the house guests are back asleep….
7:25am All the house guests are fast asleep…
9am They're still sleeping…