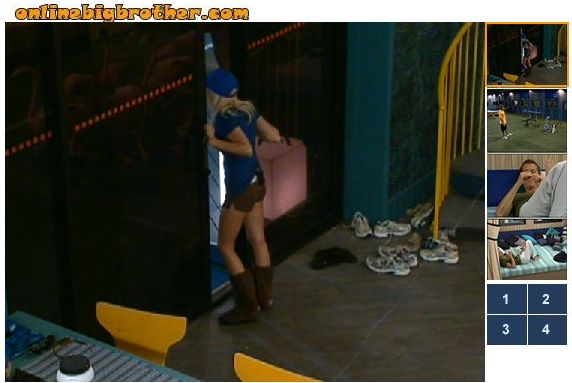 $5 off Discount – LIMITED Time OFFER! ONLY $9.99!
PLUS try it FREE for 3 Days!
8:40pm Britney and Lane head out of the HOH room Britney asks Lane who he is going to put up. Lane says that he already told Hayden that he was going up on the block. Lane goes out into the backyard to play a game of pool with himself, while Hayden works out. Britney comes out and tell Lane why don't you rack the balls and I'll play you. Lane says what?! Britney asks Lane if he is sticking with the blue stick all the time now. Britney says that she laid out all day and didn't even tan. They talk about how the seasons have changed. Britney asks Lane if he dips? Lane says no but his dad does. Britney tells Lane that he has really good teeth, and says that people who dip have crusty yellow teeth. Lane says that he has a phobia with teeth. Britney says that he has great teeth, and that they're really white. Britney ask Lane if he has ever had braces or a retainer. Lane says that you just brush them …all the time and it brushes them into place. Lane says that he has worn a mouth piece his entire life.  Britney says that she can't even get a drink of her coffee because he keeps messing up her shots and then she has to go again.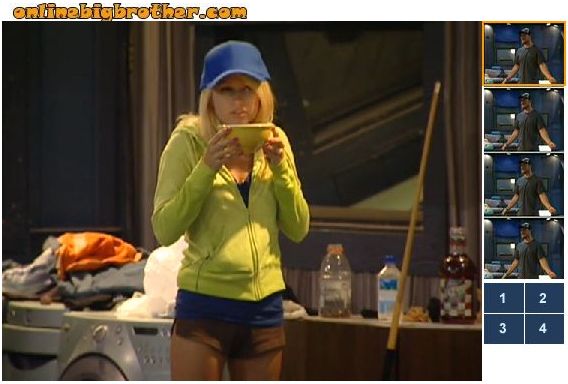 9:15pm Meanwhile Ragan is making TGI Fridays fajita mix. Ragan show the package to the camera and tells America that the package says that there is enough for three fajitas. Ragan says that he has more meat on his balls than there is in the fajita package. Ragan says that he can put all the meat from the package into one fajita.

FREE Live Feeds!!
Superpass – 3 Day Trial!
Enzo is at the table making a space ship out of tinfoil, nail polish, q-tips, and other things. Britney comes into the kitchen and talks to Ragan about the fajitas. Then they start making fun of Rachel. Enzo gets called to the diary room. Britney says that Rachel had told her that she just doesn't like her because she is intimidated by her. Ragan says oh yeah I didn't hear her say that first hand but I remembers her talking about it.  They talk about how if you haven't lived with Rachel Reilly you don't understand.  Ragan says that Rachel is like a fresh breath of …. Britney says of diarrhea. Enzo comes back and continues to make his spaceship. Enzo tells Britney that he still has a lot of things to make for it like an engine and a propulsion system for it. Ragan and Britney continue to imitate Rachel and talk about the fights with her. They bring up all the things Rachel said to them like how Rachel told Ragan he's bad at being gay. Britney is sitting at the table talking to Ragan while he eats. Britney is telling Ragan about when she was on vacation with her dad he was taking to a guy trying to get to meet her and that he was gay and her dad had no idea even though he was there with his partner.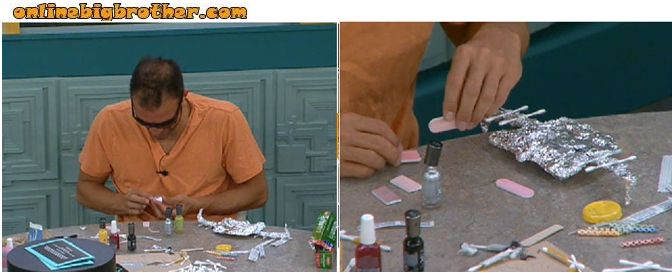 9:30pm Enzo and Hayden are jogging around that backyard. A helicopter is flying above them and they are yelling and waving at it. Enzo asks if they are a UFO?! The helicopter leaves and they go back to jogging around the yard.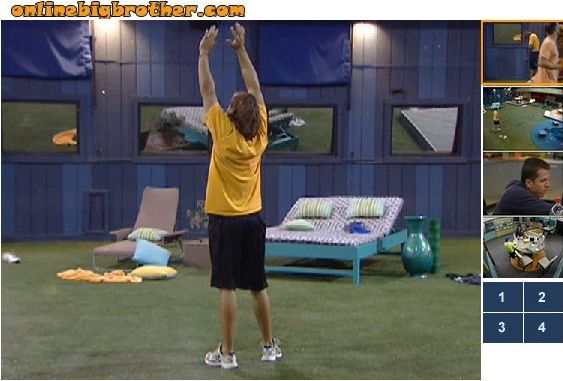 9:35pm In the kitchen Ragan and Britney are joking around. Ragan is getting ready to make cookies. Ragan says that some of them are big like his penis. Ragan says that they really need to do something tomorrow …like a tea party …a gang bang…. mutual masturbation ….because today was so boring. Britney starts talking about how Hayden and Enzo were up super late talking about the same sports stories that they have repeated a hundred times and that she was trying to sleep. Britney says that she didnt have her sock puppet on so she couldnt say anything…so she tried to warn them with a couple deep sighs …but that didnt work so she grabbed her blanket and stormed out of the room. Ragan gets called to the diary room …and Britney heads out into the backyard and jumps on the eliptical while Enzo and Hayden continue to run around the backyard. Britney tells them that it is already hard after 43 seconds….

SEE what they CAN'T show you on TV! 3 Day FREE Trial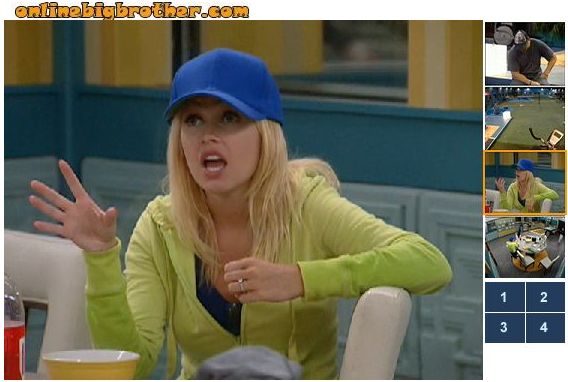 9:50pm – 10pm In the backyard, Britney is on the elliptical in her UGG boots, Enzo & Hayden are running around the yard and Lane is sitting there in silence watching them all workout.. Ragan is in the kitchen still making his cookies… he keeps saying the Rachel line "EWWWy GOOWIE YUMMY COOKIES.." in his annoying Rachel voice… After Britney gets tired of the elliptical she gets off and starts walking around the backyard.. Lane says that she must be sick …that its not like her to exercise..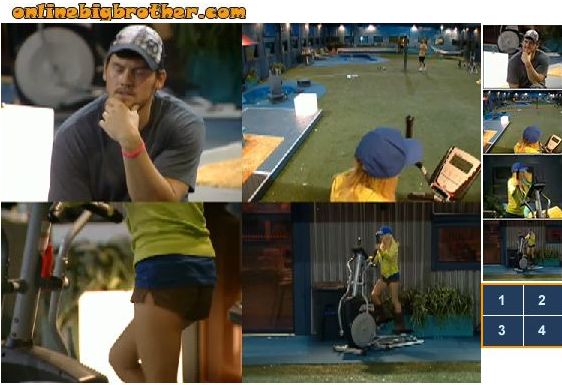 Watch the last 2 weeks of BB12 for ONLY $9.99!! FREE 3 Days TRIAL