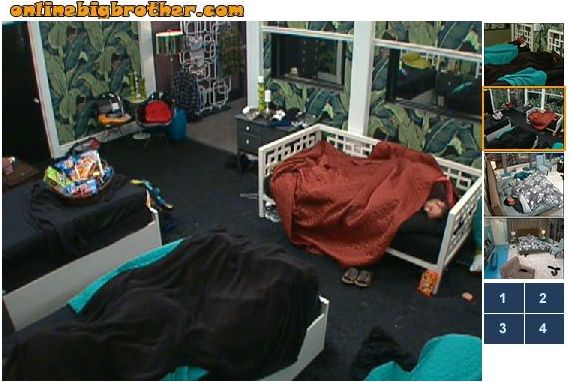 $5 off Discount – LIMITED Time OFFER! ONLY $9.99!
PLUS try it FREE for 3 Days!
9am Big Brother switches the live feeds to the "we will be right back" screen. At 9:20am the feeds come back. All the house guests are still in bed with the covers pulled up over their heads. At 9:45am Britney gets up to go to the bathroom to take a shower. Britney is getting ready in the bathroom with her towel wrapped around her. She heads into the bedroom and grabs her clothes and then goes back to the bathroom. Big Brother calls her to the diary room. Britney says very funny …I am naked under the towel …I am not going …call somebody else. Britney then goes into the washroom to get dressed. Hayden in to the bathroom and says YO! Britney says hey! Hayden says I GOTTA PEE! Britney comes out and starts putting on her makeup. Hayden goes into the washroom then come out and asks what time it normally happens. Britney says 11am. Hayden leaves the bathroom.  Big Brother then calls Lane to the diary room and Britney says thank you..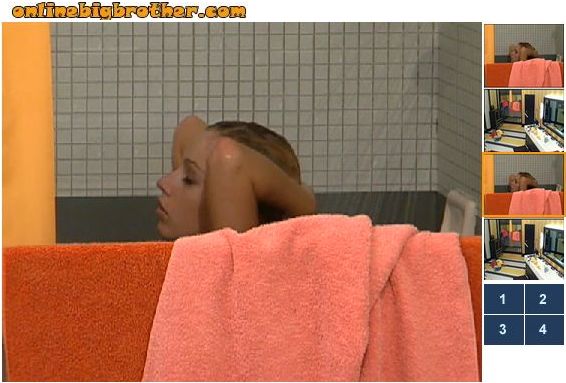 10:30am Big Brother calls Britney to the diary room again… this time she doesn't say or do anything she just keeps drying and straightening her hair.  When she's done she leave the bathroom and heads into the diary room. Ragan is now in the shower. Enzo is dressed and trimming his side burns in the bathroom mirror. Enzo farts and smiles as he looks over at Ragan in the shower.  Ragan asks did you fart?  Enzo says yeah …its okay!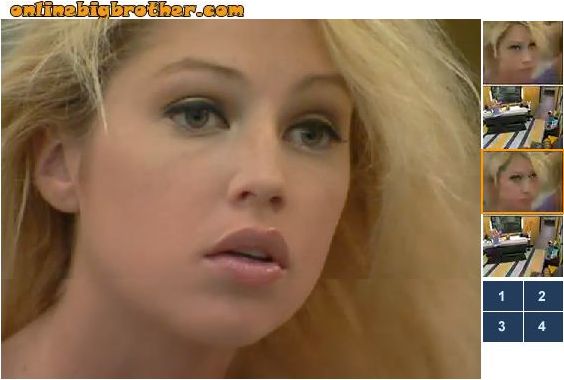 10:45am Enzo comes into the jumanji room where Hayden is laying in bed. Enzo says that he is drinking tea out of a BLANK bowl. Enzo asks what time the POV ceremony is going to be? Hayden says around 11 oclock …so in like half an hour. Enoz keeps saying don't be scared. Hayden gets up and says that he's going to go get ready and shower. Enzo heads back into the kitchen to make his breakfast. Enzo heads out to the backyard and stops at the kitchen table and says "Spaceship, I will finish you today!" Britney laughs. They both head outside to sit on the backyard couch to eat their cereal. Big Brother then calls Enzo into the diary room. A few minutes later Big Brother tells the house guests that they are on a out door lock down.
Watch the last 2 weeks of BB12 for ONLY $9.99!!FREE 3 Days TRIAL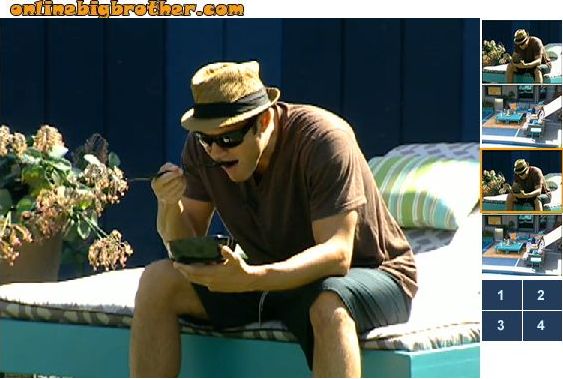 10:50am – 11am Ragan comes out into the backyard and asks him if his speech is going to call Enzo and Hayden out for making out all night. Ragan says no …but that he has something else planned.. Something similar …something more controversial… Ragan says that he is going to one up Andrews speech… just you wait. Only Ragan and Britney are out in the backyard. Britney says we are on a lock down …where are Hayden and Lane …did they get murdered or something. Ragan says well Hayden was in the shower. Lane comes out into the backyard. Lane asks Britney if she wants to bite the dead skin off his foot. Britney says no I dont think you're famous enough… I live in this house… for all I know they could be blacking out your face. Lane says so if when we get out and I am famous …will you bite the dead skin off my feet then? Britney says no …maybe Tucker (Lane's dog) will though… Big Brother cuts the feeds to the "we will be right back" screen..