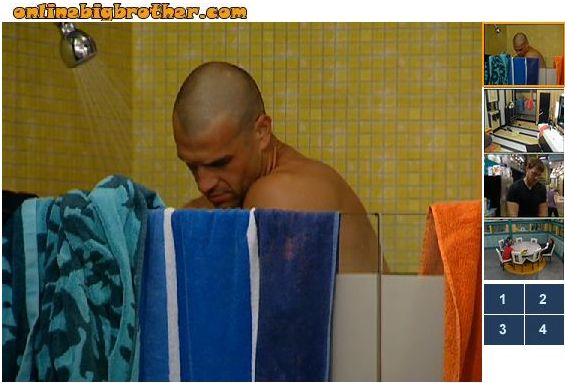 SEE what they CAN'T show you on TV! 3 Day FREE Trial
12:50pm – 1:25pm Big Brother cuts the feeds and when they come back up Brendon and Britney no longer have their hand cuffs on. Brendon is in the bathroom showering and Britney is making lunch. Hayden and Enzo are sitting at the table. Britney tells Hayden that he looks like he is in a daze. Hayden says that he is tired. Britney asks him how he can be tired he slept till noon. Hayden says that he didn't sleep the entire time …its hard to sleep on the cots. Britney makes some nachos and sits down at the table to eat it with some bean dip. Hayden grabs a spoon and eats just the bean dip. They talk about how its pretty good bean dip. Enzo cooks some more of his Broccoli oil and garlic on the stove. Britney leaves to go sleep up in the HOH room. Ragan is sleeping in his bedroom. Matt, Lane, Enzo and Hayden are all sitting around the table talking about random stuff. Hayden asks Enzo for some of his broccoli. Enzo says yeah its part of the have not experience. Enzo tells Hayden that the best thing to do when they are have nots is to sleep …because when you are up you want to eat.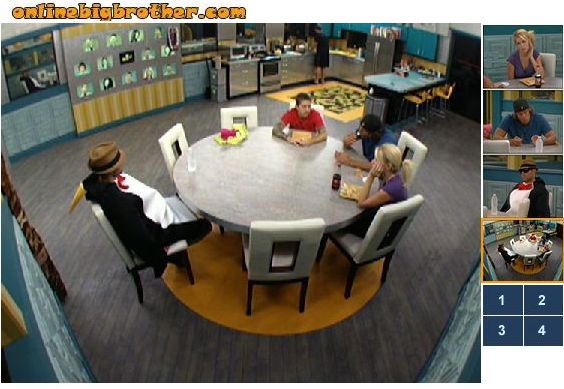 1:20pm – 1:40pm Big Brother tells the house guests to check the storage room. When they go in there they find cake mix and icing for Britney's birthday cake. They talk about how someone has probably already patented Enzo's Meow Meow phrase. Enzo says whoever did that… he is gonna find them and stalk their kids, people are garbage. Lane says if someone stole that name and marketed it, they are gonna come to you and sue you for using it. Matt says that someone has probably already made it into a porn site. Enzo says that he had another weird dream last night. Lane asks him if it was a wet dream. Enzo says that he had a dream about Howard Stern sucking a midgets dick…and that Enzo was like Yo ..what are you doing you're Howard Stern you dont need to do that!!

TRY the Live Feeds for FREE!!
Superpass – 3 Day FREE Trial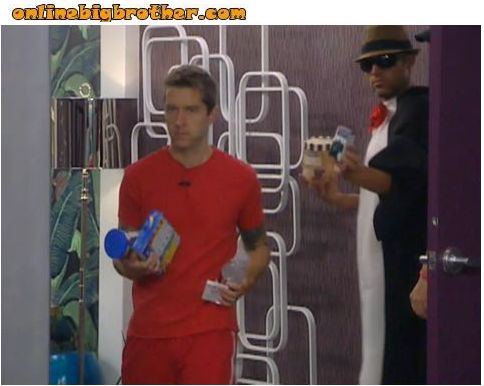 1:40pm – 2pm Matt, Enzo, Lane, Hayden are sitting around the kitchen table talking about those porn rooms where you can go and watch a movie and j-off. Enzo says thats disgusting yo I bet it smells like nut sack and jizz.. They talk about how shitty it would be to have to clean that shit up. Matt and Enzo says that you would have to be so hard up for money to do that and that neither of them would ever do that no matter how bad they needed money. Enzo says that he wants to write meow meow across his penguin suit. He wonders if he is allowed to …Matt tells him to just start doing it …and that they will tell him if hes can't. Enzo talks about all the new t-shirts he is going to make when he gets out. All the guys go into the cabana room and find a fish that is caught in the coral. The get a chair from the kitchen and Hayden reaches in and pulls him out. They say he is breathing but is dying. Enzo says that Nemo is about to be out…. fish filet, look at him… thats what shun is right there, someone needs to unshun him. Matt says that they to try and flip him over. Enzo says that it looks like he's looking for a place to die. Matt says that maybe they should hand feed him. They talk about if he is sick he is going to make all the other fish sick..