$5 off Discount – LIMITED Time OFFER! ONLY $9.99!
PLUS try it FREE for 3 Days!
12:45pm Big Brother calls an end to the lock down. As the first punishment Big Brother has taken away all of their utensils and cups. (WOW that's a tough punishment) Enzo, Ragan and Britney talk about how they will need to drink out of bowls. Ragan says how can we cheat? Britney says that there isn't any way to …there no way to fail to comply. Meanwhile up in the HOH room, Hayden and Lane are talking about who they can put up as a pawn. Hayden says it is probably best to put Enzo up because they want Britney to stay on their good side in case she wins next week. They say they would rather put up Enzo and for him to get made because he cant win competitions. Hayden says that they need to win POV and get Ragan out this week. Lane tries to think of what to say to Enzo. He says that he could say that he promised Britney last week that he wouldn't put her up and that he doesn't want to piss her off because this POV is big. Hayden says that sounds good …that will work. They talk about how they really need to make sure they get out Ragan this week. Hayden says that if he wins HOH next week he will put up Enzo and Britney. Lane says what if he says to Enzo. Hayden says so you are confident that Britney and Ragan don't have something. Lane say no. Hayden says cuz if they are the life long friends we are screwed. Lane says that they will know this week. Lane says that he asked her and she promised him she isn't.

FREE Live Feeds!! Superpass – 3 Day Trial!
1pm- 1:30pm Up in the HOH Britney and Lane are talking. Britney asks Lane who he is going to put up. Lane says that he thinks he will put up Enzo and Ragan. Lane then asks Britney if she would take Ragan off the block if she won POV. Britney says NO! Britney says that she hates it when he asks her stupid questions. Britney says that she thinks its safest for him to put up Enzo and Ragan. Lane says to the camera Enzo I have to put you up as the pawn. Lane says that he won't put up Hayden. Britney says that she knows where his loyalties lie, and that he likes Hayden more. Britney says maybe she will win POV and take Ragan off. Lane then jokes and says then he will put her up so she cant use it on Ragan. Britney says that she has her suspicions of who has the prizes from the competition. Britney says that she thinks she knows who has them. Lane asks who …I don't have any. Britney says that Hayden asked if the jury house knows if they got prizes. Hayden joins them up in the HOH. Britney talks about how she did her duty last night as the pawn and doesn't want to go up. They talk about how really need to win HOH next week and that Ragan has to go because he will be good at it. Hayden and Britney think that a long skill will be the next competition. Hayden jokes that he needs to get on the elliptical and get up his endurance. Britney says okay Brendon …its not like they are going to get you to run a treadmill for the competition. They talk about how they have to win the POV and they cannot let Ragan win it. Hayden thinks that it will be the blending faces competition.  Hayden says that he is about to go down and get in the pool.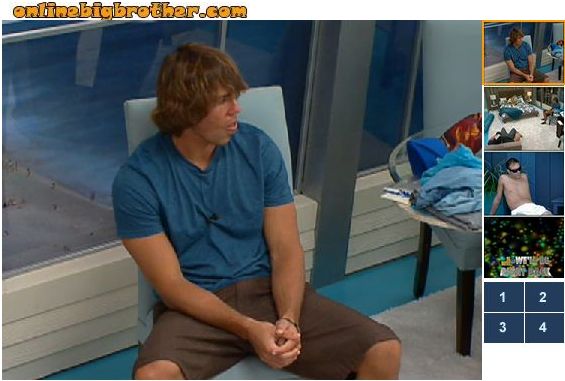 1:30pm – 1:45pm Ragan and Enzo are laying out by the pool.  Enzo asks where everyone is? Ragan tells him that they're upstairs plotting …that's how it goes. Enzo says that he really needs to win the POV but if he doesn't he doesn't. They talk about what the next punishments will be. Enzo says that he thinks the third punishment will be a good one. Ragan thinks that it will be a past house guests put into the house to make their lives miserable. Enzo says that he really doesn't want to see anyone from their season …that he already knows them … put in someone from a different season. Enzo says that he is pretty sure he will go up and that he doesn't care …because theres the POV tomorrow and he's really going to go for it… Enoz and Ragan talk about when the next punishment will be given to them and about when they will find out about the saboteur. Ragan thinks that they will save the saboteur until the finale. Ragan and Enzo talk about needing time off after the show is finished. Enzo says that he wants to take another week off after to be with his family and the new baby. Ragan says that he has to start immediately after on the monday. Hayden comes out to the backyard. Ragan tells Hayden his theory on the punishments are that America votes on what the punishments should be… Hayden says that anything is possible .. Enzo says yeah anything is possible …like you could get a hair cut.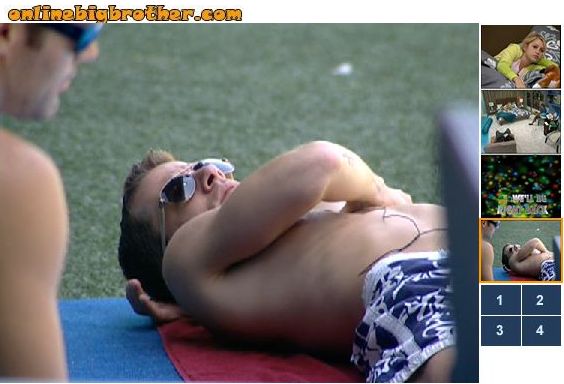 LIMITED Time Offer 33% OFF – Plus try it free for 3 days!
Superpass – 3 Day Trial!
* Updated *

2pm Hayden and Enzo are alone at the hot tub talking about who will go up on the block. Hayden tells Enzo that he thinks its best if there is a pawn that goes up. They talk about how either way they are okay. If they put up Ragan and a pawn then they get rid of Ragan. If Ragan wins the POV then they put up Britney and she goes home. Enzo tells Hayden that they are going to the final three yo! Enzo says that he just hope that Britney doesn't pull a power move and put up Hayden and him if she were to win the HOH. Enzo then says that it maybe better to put up Britney and a pawn. Lane comes out and tells Enzo that he really doesn't want to put him up as a pawn because he was just up there but that he has to. Enzo tells him it's up to him, but he that he thinks its just better to put them both up at the same time. Lane asks Hayden if he wants to go up. Hayden says no not really. Lane says yeah you haven't been up in awhile… it`s different now. Enzo asks him if he just wants to play a pool tournament over it… Hayden says no. They talk about how the jury votes will go. They ask Hayden again if he wants to go up as the pawn. Enzo says that he doesn't think they will be making any power moves and that who ever wins the POV …they will only use it on themselves. Lane, Enzo and Hayden talk about how they have been together since week one… and that they are so close to the final 4 and 3….Lane says that he thinks they are all pretty much guaranteed final four …they just need to get past the POV. Enzo says that before he came into the house he said that he would snake anyone… but that he cant snake them … Enzo says that he thinks its gonna be final 1, 2, and 3 right here. They talk about how Ragan has to go this week… Enzo says that Ragan wont even talk game with him… he's just like its all down to the POV. Enzo asks them if and when they should out the Brigade… Enzo say that both he and they know that he doesn't stand a chance in the end against Ragan or Britney.. Just three do-do's till the end…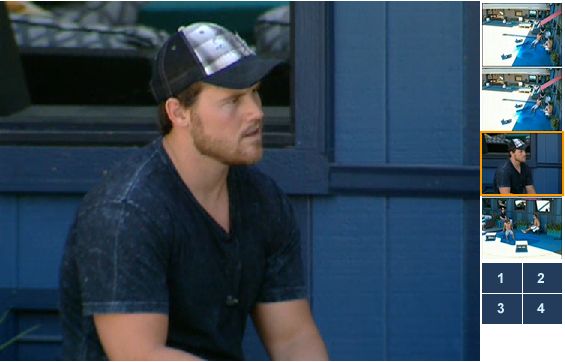 3:18pm hairdo and Enzo resting outside dreaming about how awesome they are. Ragan in taj studying (This guy has his shit seriously figured out)

Share it YO!!
Tweet