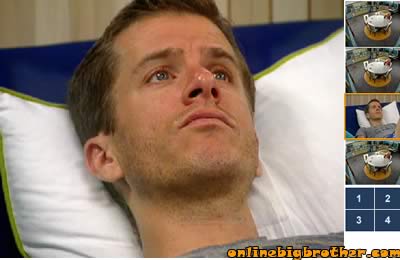 3:00pm HOH Enzo and Lane. Enzo is talkign about the POV and apparently he did something to Ragan that Ragan thought was too aggressive. Enzo: "We're fighting yo if that POV was in a pit bulls mouth i'm punching it in the face to get it". LAne: "The brigade is winning everything now yo" Enzo: "We're in the final 4 we did it". Lane tells him when he was at the top and was screaming lane became a enzo fan right then. Enzo says he's "super amped up" ready to win HOH next week. Enzo: "Why the BLANK is ragan pissed this is a fight.. i was more hungry than he was"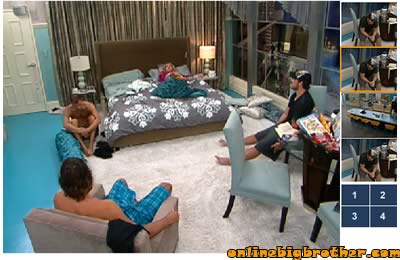 3:19pm HOH Brit, Hayden, Lane and Enzo There talking about the POV comp. Brit says that it took so long for production to get back to them she thought they would had to redo it. Hayden and Enzo both say if they had to redo the comp they would of quit. Enzo goes on and on about how it is a fight.. he's fighting to survive. Enzo told Ragan it is what it is he doesn't care about Ragan's vote he doesn't care about ragan if ragan comes at him he'll bring it, Enzo: "BLANK Ragan". Enzo thinks Ragan should just walk out the door cause he's gone on Thursday. Brit leaves the 3 guys alone. They are talking about the HOH and how it's critical it is. There all feeling like they have the game in the bag. Lane reminds them that he can't play for HOH so it's up to them 2 to bring it. Hayden: "We're the best alliance ever". Lane: "THE BEST alliance ever" Enzo: "I'm getting blasted yo… no ones ever done this BLANK before". Hayden doesn't think there next HOH is a quiz he's sure they can beat brit at anything else. Lane brings up last year and the won Natalie won was a quiz.
3:30pm HOH Lane and Hayden They start talking about who they can beat in the final 2. Lane thinks they can beat Brit. Hayden doesn't think so, hayden thinks she's won too many competitions. Lane: "I want her gone next week" Hayden: "Of course we need her out". Hayden we got out goal you and me in the final 2.. Enzo comes back in tells them he can't believe the brigade is winning all the comps now "yo 3 in a row yo". Doesn't take long for enzo to start talking about Ragan and the POV. lane: "you turned into the devil you were a demon". Enzo brings up that maybe they should backdoor brit. hayden quickly says that Brit isn't as smart as Ragan they need ragan out. Enzo doesn't think they should base who goes home on what the next HOH will be he thinks they should just send home the overall stronger player. Hayden offers to go up as a pawn against Brit, he already has a speech planned.
3:40pm HOH hayden, lane and Enzo Enzo telling them that he doesn't want to go back to work after this he wants to do something big.. go on auditions.. whatever. Lane brings up there bar and grill idea, hayden says he's game for that. They go over how awesome there alliance was and how they ruled the game. Lane points out that them 3 were the most trustworthy people in the house. Hayden: "We were running a business our side alliances reported to us and we knew everything that was going on". Enzo thinks they did a good job but the game also depends on LUCK. Lane brings up the fortune cookie that he had before coming ont eh show it read "a unexpected event will give great fortune" Lane plans on framing it when he gets out of the house.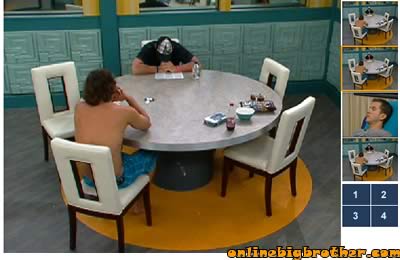 4:10pm Lane and Hair playing domino's
4:15pm Brit and Hayden Brit is saying that ragan studied for 10 hours a day and he still didn't win. hayden is glad Enzo won because he hadn't won anything yet. brit: "it's good that enzo wins because now he's calmed down he won't be as thirsty to win the HOH". Hayden: "OH my GOD i'm so excited".. lane comes down from HOH.
4:50pm Kitchen Brit, Lane and hayden They are talking about Ragan being in the DR getting all pumped up by production to go get votes. Brit thinks Ragan is going to fight hard for votes this week. Hayden says that Ragan is smart player he should know he's going home.
5:13pm kitchen HAyden, Brit and LAne Talking about snowboarding in the back country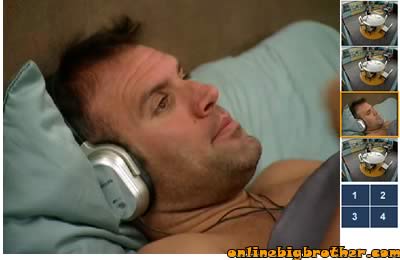 5:15pm Enzo listening to music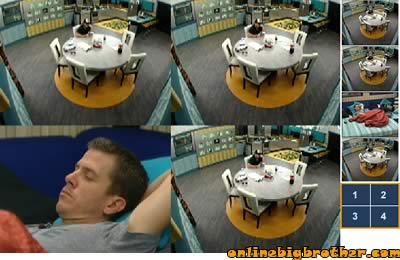 6:12pm Domino's and Sadness (not much going on everyone is just keeping to themselves) You get Ragan saying the odd thing in the cabana room. Ragan: "Ohh what a humiliating day"
6:20pm Kitchen Enzo and Hayden Enzo talking about the POV and Ragan. He said that if Ragan would of brought the fury there would be 2 hits on Ragan. Enzo says when he "hit" Ragan he made a cry, Enzo: "Like i stepped on a kitten" Hayden impersonates Ragan by making a sick whimper. Enzo says that both him and Ragan saw the CD but Ragan was closer they each ran for it and collided. Enzo says he's ready he's coming out with the brigade if he wins HOH (HAHAHAH nice) . Enzo goes on and on about how good it feels to have won POV and be on top of that hill (the hill and the cd were part of the POV comp) Hayden goes on about how awesome they are winning all the comps. Enzo: "Ragan's being such a little BLANK.. he's lucky i didn't throw him in that clam and tie him up with that veto thing". Both the guys are itching to go outside, Enzo has his night all planned out it involves working out, eating into the microphone, talking about how awesome the POV is, talking about winning the money and going in the hot tub. They wonder it there is a luxury challenge tomorrow, Hayden thinks it's next week.