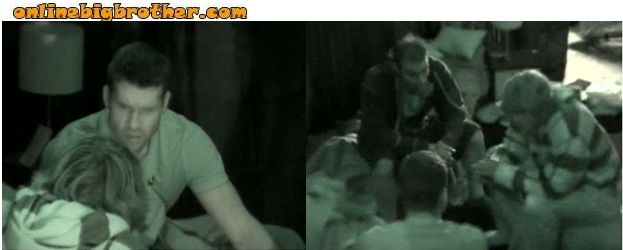 Watch everything LIVE as it happens!!
Superpass – 3 Day FREE Trial
12:20am Hayden, Enzo and Lane are talking in the Taj bedroom. Enzo tells Lane that he thinks Matty is the saboteur. Hayden says that if he wins the POV he will pull Enzo off the block. They hope to get Britney to put up Matt in his place. They talk about what they would be willing to do in a how bad do you what it competition. Brendon says he would do anything. Enzo says that he said it from the beginning, Matty could be the saboteur. Enzo turns and looks at the camera and says we're going to out brain the brain, were going to out gremlin the gremlin.. I created him. Brendon and Enzo head into the in the have-not room, Enzo farts and says yo that's the broccoli. Hayden joins them in have-not room. Brendon wonders if telling Britney that Matt was the saboteur will be compelling enough to get him put up. They say that the saboteur has to still be in the house. They think the only way that Big Brother could get someone to be the saboteur would be to offer them the Diamond Power of Veto. They talk more about Matt being the saboteur. Brendon says that when he opened Pandora's Box, he got one good thing and one bad thing for himself, and Rachel coming back to the house which he thought was a good thing. Brendon says that he knows matt got a good thing and a bad thing happened to the house, but he thinks a bad thing happened to Matt and that he's the saboteur. They talk about all the evidence again and again. Brendon and Enzo are convinced. Hayden isn't saying much. They talk about whether Lane will use the POV or if he will even try to win it. Hayden says that he will work on Lane. They start studying the events of the house and the saboteur messages.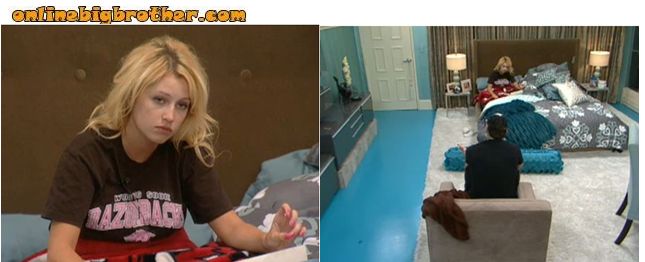 1am Ragan and Matt are talking in the cabana room. Lane comes in and is curious where Britney is, they tell her she went to bed. They tell Lane that Britney is so freaked about this POV competition. Matt asks Ragan about how the what would you do for the veto competition usually works. Lane heads up the HOH, Britney is still awake with the lights on. Lane tells Britney that they need to talk. Lane tells Britney what he is going to say is important and she can't go tell anybody. Britney says she won't. Lane tells her she needs to make a big move this week and back door Matt. Lane tells her that if Hayden or Enzo wins POV they are taking Enzo off. Lane says that Matt is a bigger threat than Brendon. Britney says that if they backdoor Matt, Brendon will still be coming after her. Lane says thatBrendon would put up Ragan, Britney, and that Ragan would go. Britney asks that what if Ragan won POV? Lane says that they haven't thought of that. Britney says if Brendon wins POV tomorrow, she is on board with getting Matt out but if he doesn't win the POV she says she feels safer with Matt than Brendon. Britney worries that her and Hayden are just trying to get her to do this because it will benefit them. Britney asks him if he likes her or Hayden better. He doesn't really answer. Britney says she wants a final three deal with him and Hayden. Lane tells Britney that the only way to get Matt out is to back door him. Britney agrees. Lane tells her that he thinks Matt was the saboteur. Britney thinks his arguments for Matt being the saboteur are interesting but she says he swore on his wife that he wasn't. Britney then remembers that Matt asked her tonight if her and Lane were the pair of lifelong friends and thinks Matt could put her and Lane up against each other. Lane says that the game has really started now and getting rid of Matt would be a big move. Lane says that the only way to get Matt out is this week ideally Hayden or Enzo will win POV. Lane tells her that Brendon told Enzo that he thinks that Hayden and Lane are the pair. Lane says he went from being the saboteur to being in the pair. Lane tells Britney that him and Hayden already discussed that if Enzo was in the finals he would win and they can't have that but they wouldn't tell Enzo that. Lane says that Hayden is down with the final three being him, Lane and Britney. Lane and Britney start talking about Nick. Britney says that she thinks Nick still likes him even after making her cry. Britney says so what happens tomorrow isn't that big of a deal. Britney and Lane are talking about her being the last girl. Lane says Kathy hated Britney and that she wanted her to go home. Britney asks why? Lane says that she got in with the guys and figured they could take her further in the game. Britney says that she's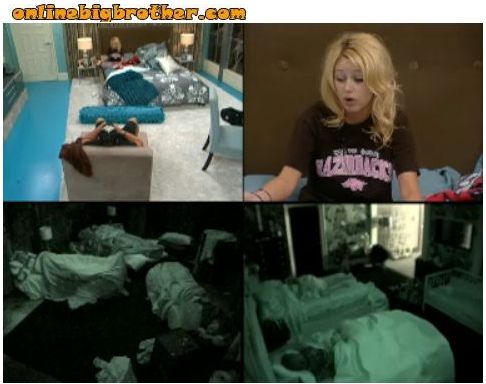 loony, she has problems! Britney brings up how Kathy is always talking about her morals, and says she's got none! Lane says can you believe that after this week, we will probably be down to five people?! Lane says I know you don't want third… Britney says don't worry about that and says she feels good going into the last HOHs against him and Hayden. Britney brings up the previous competitions she has already won. Britney says that she beat him both times in endurance competitions. Lane asks Britney what flaws does Nick have, something her mom wouldn't like? Lane asks her if her mom doesn't like her hanging out with Lane because he has tattoos? Britney says that her mom hates tattoos! Britney's say that her mom would say ick! Lane asks her about her brother. Britney says he's seventeen. Lane says that he'll be old enough to buy porno mags soon. Britney says that her brother has asked her to buy him a porno mag before! Lane asks her about her other brother. Britney explains the two sides of her family. Britney says the people in the photo are the ones she lived with, her mom, stepdad and little brother. Britney says the other side of her family is her dad, her stepmom, her older brother and a younger sister.
TRY the Live Feeds for FREE!!
Superpass – 3 Day FREE Trial
1:30am Enzo, Hayden and Brendon are trying to going to sleep in the have not room. Matt and Ragan are trying to sleeping in jumanji room. Britney and Lane are the only house guests that are awake in the HOH. Britney tells Lane that her mom told her to just fade into the background in the house. Britney says that didn't work out for her, she's a loud person. Britney says that she is glad she stuck around so long because they've gotten to see who she is. Britney says that people have told her that when they first met her they didn't like her. Britney says that she makes weird faces. Lane tells her that Hayden told him once that he didn't think Britney liked him because she was making mean faces at him. Britney says she thinks she just has sinister face. Britney says she has never smoked a cigarette, kissed a girl, or had a one night stand. Britney says the worst thing she has ever done is drink …and get a speeding ticket. Lane says he has done way worse. Lane says that he's been arrested. Lane tells Britney that his mom is really funny and that his dad tries but is nothing compared to his mom. Britney says her dad is way smart but is not very funny. Lane asks her what her dad does? Britney says he's an electrical engineer. Britney talks about her stepdad who she refers to as her dad. Britney is tells Lane about the dynamics in her family. Britney says her older brother would love to come to California for the wrap party and that he hasn't really been many places, he has to work really hard. Britney says that if she won Big Brother she would love to go on a vacation with him. Lane brings up his brother. Britney says Lane's brother is like a bigger version of you, and that she can't imagine.
Matt cant sleep and goes up to the HOH and joins Lane and Britney. Matt says that he is really bored.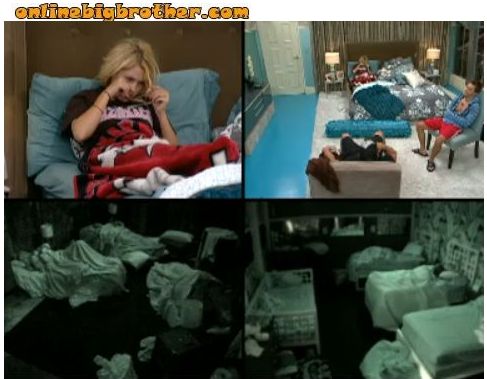 Lane asks Matt if anyone is up. Matt says that everyone went to bed a half hour ago but that he heard them yapping in the have not room about fifteen minutes ago. Matt says that he wishes they would have talked a little louder, he thinks they thought he was asleep because Enzo had walked by and saw that Matt was in his cave. They start talking about the POV competition. Britney says that she doesn't think it will be a what would you do for a veto competition. Britney says that they haven't done that since season 7, all-stars. Matt and Lane talk about Enzo, they say that production may not love him anymore….(The feeds cut out) When the feeds come back they talk about other possible competitions they could have for tomorrow's POV. Matt says that there is a weird vibe in the house now and that no one is hanging out, no pool tournaments, and no ones playing just the tip….
2am Hayden and Enzo get up and leave the have not room and go into the heading to the bathroom. Enzo says don't BLANK with the BG. Hayden says the real BG. Enzo says if they save Brendon and next week they win HOH, they can put up Britney and tell her that she's the pawn against Ragan. Then if Britney wins POV they can put Brendon up. Enzo says she made Britney swear that he wasn't going home. Enzo says he thinks Lane has her. Hayden brings up, what if Lane and Britney are the pair? Enzo says that if we get rid of Matty, he's going to throw us under the bus. Hayden says so what if Matty reveals the Brigade, they still have three people playing in the HOH. They hear the HOH door open and they stop talking. Matt comes into the bathroom. Enzo tells him Hayden is in there taking a smash.
SEE what they CAN'T show you on TV! 3 Day FREE Trial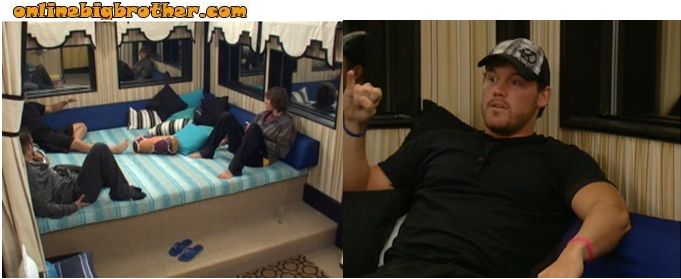 2:15am – 2:40am Enzo, Lane and Hayden in the cabana room. Enzo says its getting serious. Lane tells them that he told Britney about their plan to keep Brendon around this week and back door Matt. Lane says she is worried that if Brendon stayed, he would put her up. Lane said he would put up Britney and Ragan but she'd have the votes to stay but Britney asked him what if Ragan wins POV. Lane says he was like BLANK. Enzo says Ragan won't win POV with the three of them there. Lane says after talking to her, Britney said she would put up Matt. Lane tells them Britney is worried that Matt would put her and Lane up if he were HOH. Hayden says if they don't save Brendon this week they have got to win HOH this week. Enzo says this is what we came on the show for, we have to play now. Lane says that Matt gone and its us three and Britney. Matt comes into the room. Hayden starts talking about the Brigade coming out to the other house guests. They laugh about getting their Brigade t shirts. Matt says there is no way that Britney would put up Ragan in place of Brendon if he wins POV so it will be one of them. Hayden says so Brendon can't win. Enzo asks why didn't they didn't get a message from the saboteur? Matt says because we didn't get the saboteur out of the house. Matt and Enzo are talking about the Brigade making history in Big Brother and how they kept it a secret alliance since day one. Matt says that Rachel was bragging about making history as the first evicted house guests to return for 24 hrs. Matt says that is nothing compared to the Brigade's secret alliance. Lane comes in and says he almost fell asleep in the diary room. They decide they all want to go to sleep….
** Updated **
TRY the Live Feeds for FREE!! Superpass – 3 Day FREE Trial!
8:25am – 9:50am Big Brother wakes up the house guests. Big Brother continues to turn the feeds on and off and show the we will be right back screen. When the feeds are showing the house guests are still laying in bed talking. Brendon says that he hopes for a surprise guest visit during today's power of veto competition. Big Brother cuts the feeds again from 8:50am – 9:10am when then finally come back up all four cameras are of the have not room. Enzo, Brendon and Hayden are all still sleeping in their cots. All the house guests are still sleeping.