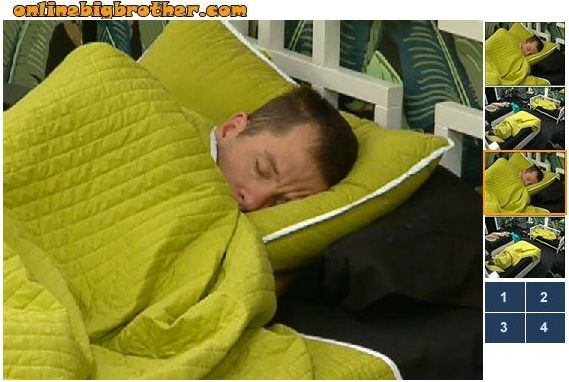 10am – 1020am All four cameras are still on the have not room. Brendon gets up from bed and leaves the room. Hayden and Enzo are still sleeping. All four of the cameras switch to the other bedroom where Lane, Ragan and Matt are sleeping. Lane sits up in his bed and then lays back down to go back to sleep.
10:30am Hayden and Brendon have breakfast at the kitchen counter. Hayden leaves the kitchen. Lane comes in and asks what Brendon is doing. Brendon says that he is eating slop and then going back to bed. Brendon washes the dishes and then goes back to bed in the have not room. Brendon holds up the little stuffed dog and says that he is going to win for the dog. Enzo says hahaha yeah …alright I'm gonna win for the dog dick. Both Brendon and Enzo go back to sleep. Big Brother calls Ragan to the diary room. Brendon says BLANK loud.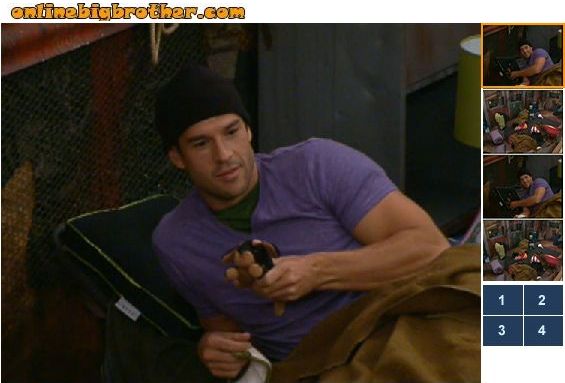 10:44am – 11:20am Lane and Matt are in the kitchen making breakfast. Lane looks at the date on the milk and says okay so use by September 1st. …then says oh yeah its August. Britney and Ragan come into the kitchen. Britney talks about how they were called into the diary room early and how she was rude to them. Matt says that they have to understand that your going to be rude when they call them in early especially you. Britney says yeah. They talk about how they can hear them building stuff outside. Matt says that he is running on fumes and is going back to bed. Enzo comes into the kitchen and says that he is a have BLANK today. Enzo decides he's going to have broccoli for breakfast…. broc broc… Ragan comes into the kitchen and says…. the amazing ENZO! Ragan comes through the kitchen and asks if the speakers in the bedroom are louder now. Enzo says that he thinks the ones in the have not room are. Ragan says okay I'll tell them to turn them down. Enzo says that he though it was just part of being a have not. Hayden comes into the kitchen and asks Enzo if he can have some of his broccoli. Enzo says yeah …just think like you're Tom Hanks from cast away, he didnt have anything …at least we have broccoli. Britney tells Enzo that was a movie set though. Enzo says that he is trying to break Hayden in on how to be a have not.
Watch everything LIVE as it happens!!
Superpass – 3 Day FREE Trial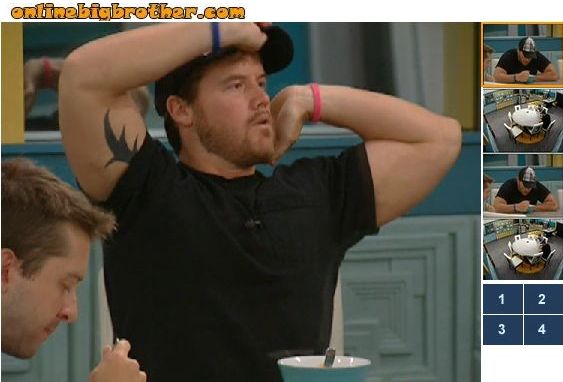 11:15 – 11:30am Big Brother switches the feeds to the "We will be right back screen….
12:50pm Still showing TRIVIA on the live feeds …they are having their POV competition right now… We didn't get to see who is playing for the POV, Big Brother cut the feeds …so we will have to wait until they are finished to see who won and who played….
1:35pm ….STILL TRIVIA..
1:50pm TRIVIA…
2:15pm TRIVIA continues…
2:37pm TRIVIA continues…
3:06pm TRIVIA continues…
3:40pm TRIVIA continues…