SEE what they CAN'T show you on TV! 3 Days FREE No Commitments
10:37pm MAtt and Ragan Hammock,
Ragan: "Brendon is so frightened right now I love it " Matt "Well he should be he's in all sorts of BLANK next week". Ragan: "Creepy Creepy staring guy". MAtt: "Brendon staring?" Ragan: "Yeah". Ragan saying that the person walking away with the most to gain from a final 4 deal is enzo. Ragan telling him he needs to work it harder.. Matt says he has been he talked to Hayden and Enzo for hours last night they know his position. Ragan: "god I can't trust Kahty". MAtt: "yeah of course you can't she's just as bad as Brendon she's on his same level". Matt and Ragan briefly talk about all of Ragans Campaigning he's been doing and Matt thinks Ragan better turn it down because just in case Matt leaves ragan needs to stay as long as he can. Ragan: "Creepy Creepy". MAtt: "He's staring again.. he's a creepy dude"
Ragan: "Come on big brother Karma.. you got something good coming to you" MAtt appreciates all the hard work Ragan been doing.
Ragan: "I think it's funny what that BLANK was saying I never got a chance to fight for myself.. well BLANK you, you had a chance to play for veto" (Rachel was saying that because she didn't have a chance to play for the HOH" Matt brings up how it sucks he didn't have a chance to play for POV. They start doing abs and brit comes by, tells Ragan all the things they hid last week is still hidden.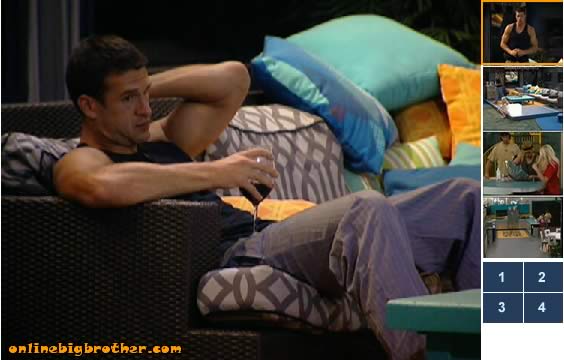 11:00PM Brendon The most worried guy in the BB house tonight.. he's 2 glasses deep.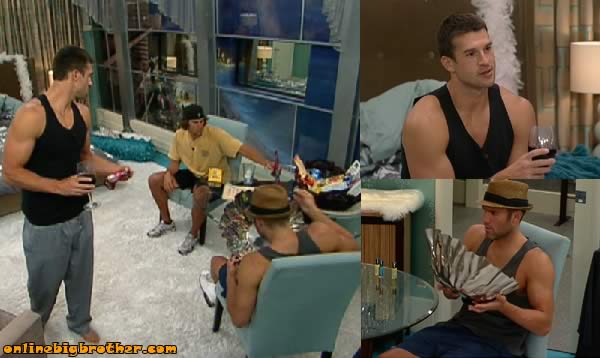 11:10pm Brendon, Hayden and Enzo Studying Going over the big brother says event earlier today. Brendon wants to go over the order he doesn't think he accuracy of what they did is as important. Brendon almost has it all down but none of the three are anywhere close to how well brit and ragan know the events. Enzo seem more interested in eating nuts and checking out the tournament bowl.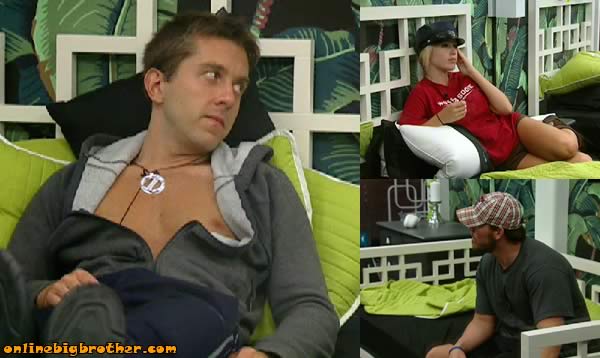 11:45pm Jumanji Room Matt, Ragam, LAne and Brit Matt saying he'll leave the flag but only have it at 1/2 mast. Ragan asks what the HOH room (Hayden, Brendon, Enzo, KAhty) is doing.. He doesn't understand what they would have to talk so long about. Ragan: "I really wonder what is going on up there" Matt doesn't know but he thinks it's no good. Matt: "theres a fine line between recon work and crossing over to the other side and they are crossing it, LAne agrees. (MAtt mat be clueing in on whats Hayden and Enzo are up to) Ragan tells them that Kathy is upstairs..Ragan: "is there something fishy going on is it just me?" Brit and matt agree something is going on.
SEE what they CAN'T show you on TV! 3 Days FREE No Commitments
Midnight Jumanji Brit, Kahty, Ragan and LAne
They are talking about the comp tomorrow and decide it's going to be a quiz. Matt is pretty annoyed with Hayden and Enzo, He keeps saying something is up and how can they be up there for so long. MAtt tells them that Hayden got called into the DR and instead of hanging with them he runs back up to the HOH. Lane wonders if Hayden/Enzo will even put Brendon up. Matt thinks they will throw the HOH comp tomorrow. Brit says it pisses her off that Enzo and HAyden are not trying to win the HOH comp because they know her and Ragan re the targets of Brendon. LAne gets up to get ice water says It could bite hayden and enzo on the BLANK. They talk about the next couple of comps, matt tells them this next HOH is pointless it's the POV that is important. Lane thinks Hayden and Enzo will throw the POV comp matt disagrees.