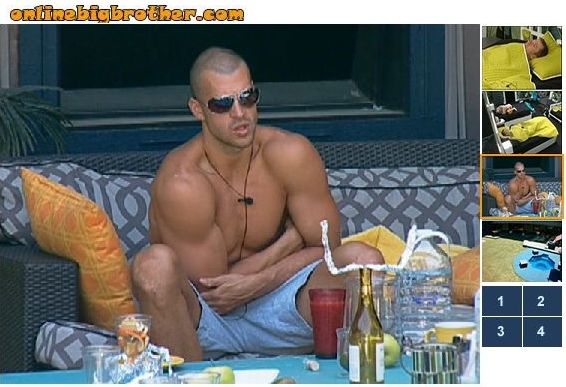 11:50am Big Brother switches the live feeds to the "We will be right back" screen to wake up the house guests. 12:10am The live feeds come back on. Matt and Ragan are in the bedroom ….Matt is talking about the colour of his pee. Ragan starts talking in a robot voice. Meanwhile out in the backyard …Brendon give a shout out to Riverside …and throws up some gang signs …Big Brother doesn't want to listen to him either …they switch the cameras to the have not room where Enzo is speaking Italian. Enzo gets up and says that its time for el penguin to come out. He picks up the suit and says you got to get washed …this shit is dirty!!

Watch everything LIVE as it happens!!
Superpass – 3 Day FREE Trial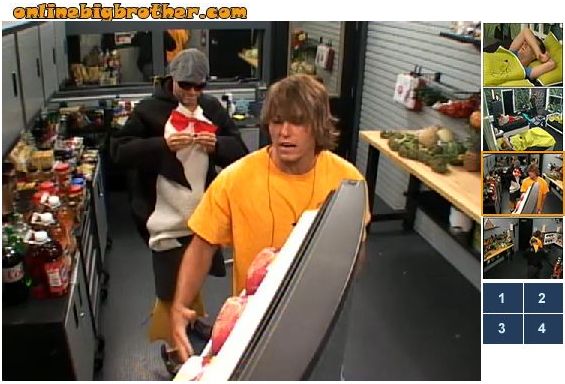 12:30pm Hayden heads out to the backyard and Brendon talks like he is the host of a talk show. He welcomes Hayden and then tells him that he was just talking to the camera about how you experience every emotion in the house but intensified. Enzo comes out …and Hayden welcomes him to the show. Enzo says happy anniversary to his wife. Hayden and Brendon also say happy anniversary to her …and Brendon says that he can't wait to meet her. Hayden says that he's going to go take a smash then get in the pool ..then take an out door shower… Brendon is trying to remember the singer of the music this morning. Brendon says that he can't remember who it was but that he was rumoured to have gotten with Mick Jagger. Enzo asks …what Mick Jagger is gay? Brendon says that he doesn't think he is gay but that he has rolled around with a guy. Matt comes out and Brendon asks who the singer is that is rumoured to have been with Mick Jagger. Matt says that its David Bowie. Enzo says what David Bowie is gay? Brendon asks Matt if David Bowie is openly gay. Matt laughs and says UHh YEAH! Enzo says woe… I didn't know he was gay!




12:40pm In the bedroom Matt is telling Ragan that he wishes had a fast forward button …then says wait a minute no I want a rewind button… Matt takes about how he wishes he could just pass the time but theres nothing to do to pass the time. Matt says that he doesn't even want to do a speech tomorrow. Matt says that it is his third time up and just doesn't even want to bother. Ragan says that he could just say something nice to everyone. Matt says yeah … I did that the first time. Matt says that maybe during the next day he might just have good conversations with people before he goes. Ragan says that this is going to suck. Matt says yeah it sucks. Matt and Ragan talk about if it will be 3 people in the finals that the jury votes on. Matt heads to the bathroom and talk to Enzo, Hayden and Brendon about how the finals play out, whether there are two or three people in the end that the jury votes on. None of them really know, Hayden says that he only watched last season.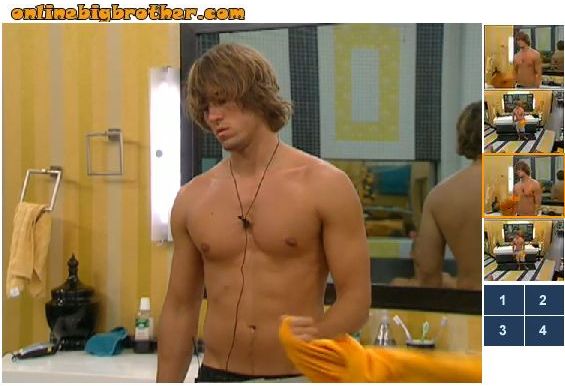 FREE Live Feeds!! Superpass – 3 Day Trial!
12:50pm – 1pm The conversation changes to talking about survivor. Ragan comes in and asks if Matt asked them. Matt says yeah …they don't know. They talk about how they don't think there has ever been a tie in the end and that its always been a landside. Matt heads back out into the backyard and tells Enzo that he doesn't know what to do with himself. Enzo asks him if he is going into the pool. Matt says no. Enzo says that the world finds out that he is a penguin today. Matt thinks that Enoz will get his clothes back next week. Enzo asks him if he thinks it will be a double eviction. Matt says no but if it is I think it will be a two hour show. Matt heads inside. Ragan comes out and sits down with Enzo .. Ragan says that only Matt would eat slop on his last day in the house. Enzo says yeah. Ragan then says holy fuck its hot!! Hayden comes out and Ragan asks him if the hot tub looks better. Enzo says yeah I think I'm gonna go piss in it. They all start talking about how fishy it is that they got to sleep in today… They wonder why the backyard isn't locked down for big brother to set up the competitions. They keep saying that something is fishy.. ..something is off.. Ragan says that he isnt sure whats up … he thinks maybe it will be a double eviction where it is spread out over the week … Ragan goes back inside. Enzo says that Ragan's a dummy … he reads into everything.. its gonna be a double eviction ..go play Sherlock Holmes at home .. Brendon comes out and Enzo and him start running through the saboteur messages.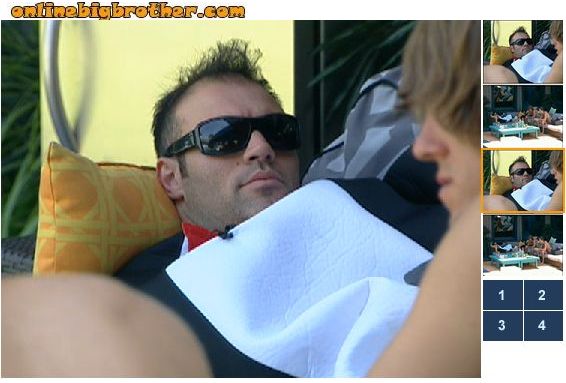 1pm – 1:10pm Britney joins Enzo, Hayden and Brendon out on the backyard couch. They talk about Britney getting the HOH camera soon, probably around 1:30pm today. They talk about how no one wants to take pictures anymore…and that no one has wanted to since week 3. The conversation changes to anniversaries. Britney says that he and he old boyfriend used to acknowledge their anniversary every month. Brendon and Hayden both think that its crazy to remember it every month. The start talking about UFC and boxing …

SEE what they CAN'T show you on TV! 3 Day FREE Trial