11am – 11:10am All of the house guests are sleeping. Big Brother Production still has not given them a wake up call. Enzo gets up to go to the wash room and then heads to the living room.. He looks at the camera and says he's going to win the show and bring home 1/2 a million dollars.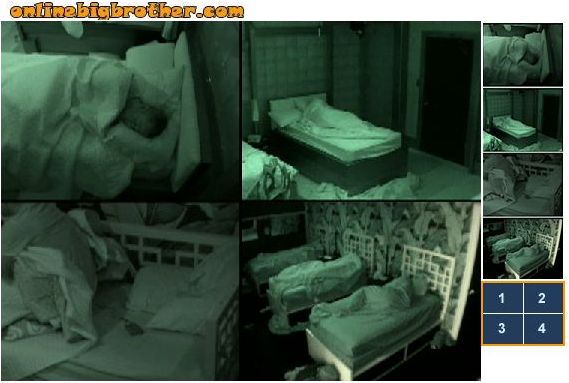 11:35am – 11:50am Britney wakes up and goes to the kitchen to start the coffee machine, then heads into the bathroom to get ready. At 11:40am Big Brother Production switches the live feeds to a different "We will be right back" screen showing the fish tank.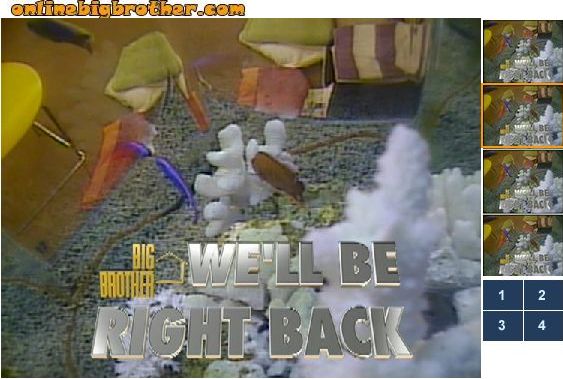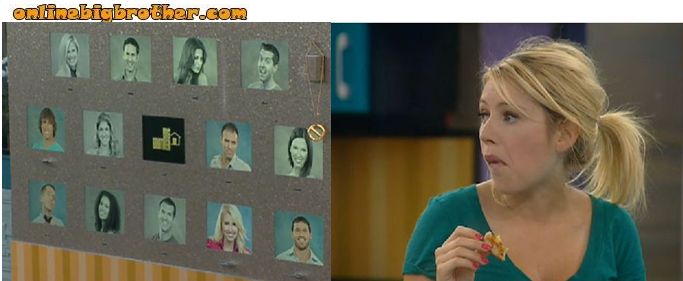 12pm – 12:15pm Enzo is passed out in the backyard on the double lounger. Lane, Hayden and Britney are in the kitchen looking at the memory wall talking about how Kristen and Annie's faces will be the hardest to recognize. Britney is eating cinnamon toast. Britney says that Kristen's will be hard just because her picture doesn't even look like her. Hayden asks Britney who won the faces competition last season. Britney tells him that Michelle won it. Lane asks if he would be able to get his beard trimmer today …so that he can look decent for Thursday. Lane hopes that maybe they will be lenient since there are so few of them in the house. Britney says that she wishes they would be lenient. Lane heads outside and Enzo shows Lane a praying mantis thats by the lounger. Lane pick the praying mantis up with a lid and puts it up on the lounger beside Enzo. Lane keeps playing with it and it attacks him. Lane says ohhHH shit! Enzo heads over to the couch to take a nap. Britney is in the kitchen cleaning up, she then heads into the bathroom to clean..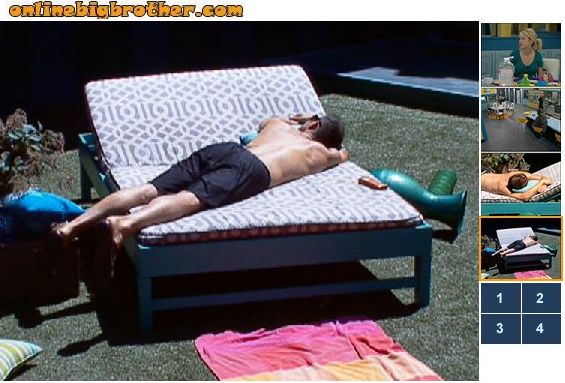 12:30pm Enzo and Hayden are out sitting on the backyard couch talking. Hayden asks what's up with Britney cleaning this morning? Enzo says yeah …what is she worried shes going to loose tomorrow? Hayden says yeah I dunno .. I'm hungry for it I want it. Like a wolf. Enzo says what's up with cleaning? … there's no more of that now we're the final four. Enzo and Hayden are just relaxing on the couch not talking while Lane works out with the weights.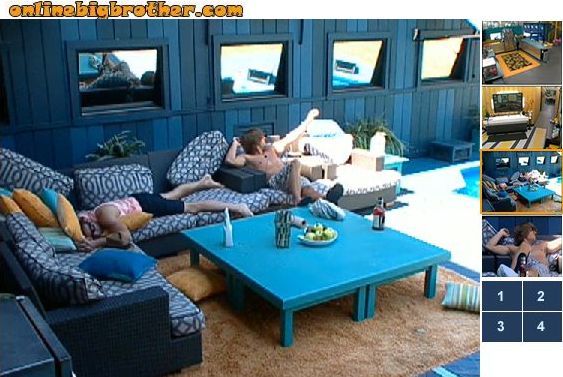 12:45pm Britney comes out into the backyard for a second and Lane asks her what time they usually do that camera. (What time they get the HOH camera for taking photos.) Britney says they usually get it around 1:30pm and that its 12:45pm now.. Britney heads back inside. Silence again in the backyard. Ragan is in the Taj bedroom staring at the wall. Lane gets out of the pool and heads up to the HOH room. There are two cameras on Britney cleaning in the kitchen and two on Ragan in the bedroom. Lane comes into the kitchen and Britney tells him that they will call him into the diary room and tell him that there is something in his HOH room. Britney says that they will already have the computer set up in the HOH room. Britney then tells Lane that the shorter amount of time he spends taking pictures means that he will have more time blogging. Lane then heads into the cabana room to feed the fish.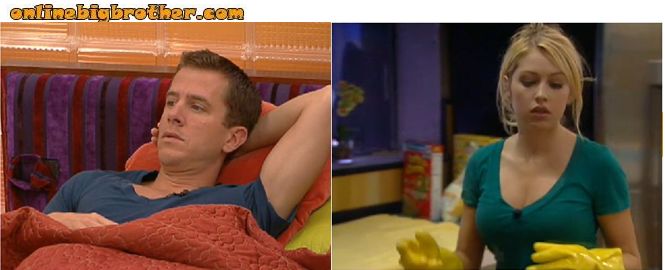 1:10pm Britney puts on her bikini and heads out into the backyard to suntan. She stops at the backyard couch and asks what Enzo and Hayden are up to .. she says are you just hanging out? Britney then heads over to the pool and lays out to tan. Big Brother then calls Lane to the diary room.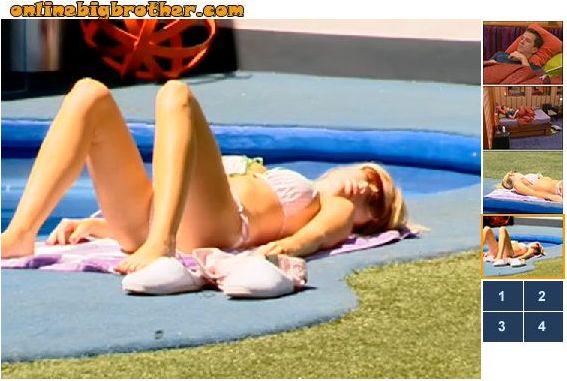 Share it YO!!
Tweet