Watch the last 2 weeks of BB12 for ONLY $9.99!!
FREE 3 Days TRIAL

1pm – 1:25pm Ragan is in the Taj bedroom talking to himself, he says Dead man walking … waiting patiently for my Thrusday execution. The cameras switch to the backyard. Lane says this is it next week. (Talking about how all the people in the backyard are the people who are going to be left in the house next week.) Britney yells its CRAZEE … with a double "e" Lane start teasing Britney about how she chose the show over her fiancé Nick. Lane starts saying that its okay that he will take Nick out and introduce him to some nice girls. Britney starts getting annoyed and says that she didn't choose Nick over the show …she says its just like how Enzo didn't choose his wife over the show. Enzo its different he is married. Enzo says that his wife has already cheated on him a bunch of time …and that he doesn't care he's going to get out and love her just as much. Enzo says just kidding baby … she wouldn't do that. Enzo says that when he gets out he and his wife are going to go at it… that his neighbours are going to hate them. Enzo says that he doesn't care if his wife's mom is even in the room …he'll tell her to hold up a leg. Enzo starts talking about how much he loves aeronautics…. any thing to do with the military …and UFO's. They try and figure out what the speed of sound is… and figure that it is more than 550 miles per hour. (It's 761 miles per hour) They start talking about how Ragan is going home and that he knows it. They keep talking about how this week is in the bag… can we just fast forward to Thursday …its done already. Enzo says that he keeps thinking he is going to say the wrong name when he votes. Hayden says yeah don't mess it up this week.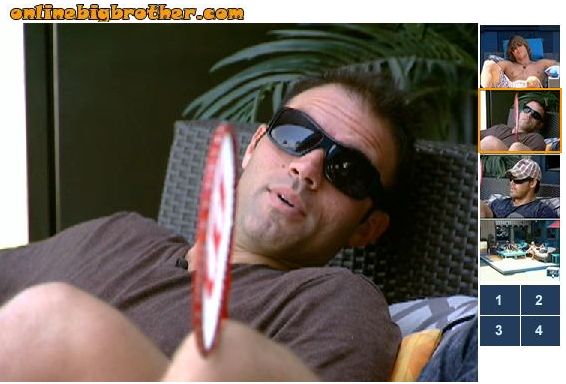 1:30pm – 1:45pm Hayden says that in Ragan's speech he accused him of hooking up with a clam. Enzo and Lane are laughing and Enzo says yo! don't even worry about that ..he speech was too long they will edit that shit out. They talk about what if they were given a challenge in the DR where if they got someone to cry they got $25G's … Lane says that he would already be at $50 G's Enzo says that he would go straight to Britney because she cries at that drop of a hat… I would just start telling her that Nick is cheating on her and shit. Enzo heads inside to get something to eat. Hayden and Lane are outside talking by themselves. Lane says that his HOH power sucked …he put up two Brigade members. Hayden says awe it doesn't matter none of us are going home. Lane asks Hayden if he is going to move to LA. Hayden says oh for sure. They talk about how they can make a lot of money together because they made it to the finals.  Enzo comes out with at pita sandwich.  They talk about how they like Ragan but that he is a little annoying with his Big Brother season 10 and 11 talk. Big Brother cuts the feeds…

FREE Live Feeds!!
Superpass – 3 Day Trial!

1:50pm The feeds come back and Hayden is telling Lane that Enzo told him that his wife works as a CFO for a fortune 500 company. Lane says that Britney told him that Enzo told her that he really wanted to win so that his wife could take a year off. Hayden says WOW .. he really doesn't need the money. Lane says that Britney doesn't either … she is what 22 …she has a degree she just got a house ….and the worst thing that has happened to her was that she had to ask her parents to make her car payment before she came in here. Lane says so what everyone does that! Hayden says at least she has a car. Enzo comes back outside and tells them that both Britney and Ragan are sleeping. They talk about how they bet Big Brother has already gone out to their families homes to interview them. They talk about how pretty soon they will be at the finale and doing interviews in the backyard.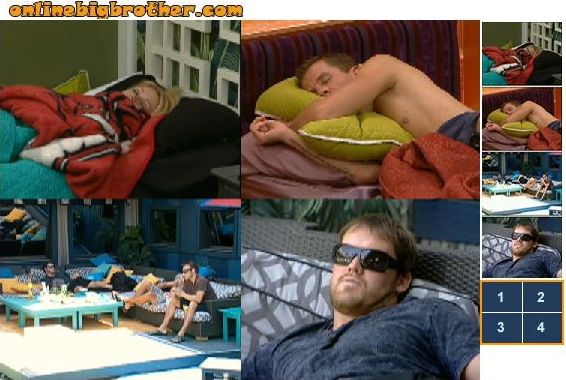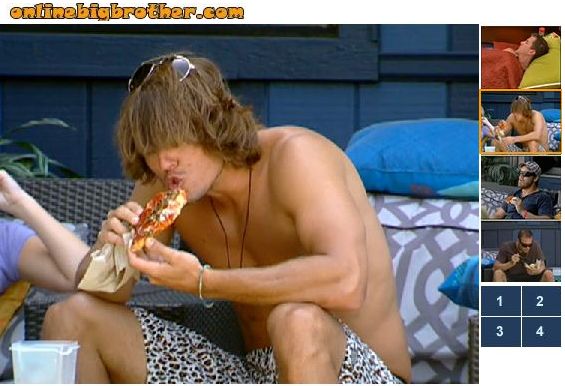 2pm – 2:50pm They talk about how they never really trusted Matty. They talk about how Matt was trying to get Hayden and Lane up on the block. Enzo says that the plan was that they could talk shit about each other to throw people off but not tell people to put one of us up on the block. They start talking about who everyone thought was the saboteur. Hayden tells Enzo that Kathy thought he was the saboteur. They think that Matt was the second saboteur. Enzo starts to get pissed and asks why do people think that?! Lane says wow you really hate it when people thought it was you?! … Enzo says well its stupid! I didn't do nothing. They talk about how Britney talked shit on every one in the beginning. Enzo starts studying asking them who got evicted on day 55 … Hayden says I don't know you tell me. Enzo starts naming off names and dates. Britney comes out. Lane asks her where she's been. Britney says she took a nap. Britney heads back inside. Enzo says she gets so crabby when she sees us talking.. Britney comes back outside to eat her lunch. Hayden talks to Lane about how long it takes to become a pilot. Britney keeps complaining that she wants to go home. Lane says you made it to the final four and you turn into the devil. Hayden says you can trade places with me …why didn't you say that before. Britney says no ..I don't want to go home I just want the game to be over. Hayden and Britney talk about how they can't wait to be home so that they can walk around naked and not have to get dressed right away after a shower. Lane gets called to the diary room. Enzo yell oh you're gonna start this shit now! Hayden says what are we gonna do now …give us a football!! Enzo says give us a person to play with. Hayden says yeah give us a midget! Britney says I want to check the mail!! Hayden says that he cant wait to go to the movies. Britney says that he is asking for something too big …shes just asking for something small. Britney and Enzo hang out on the couch and talk about random stuff.. Enzo talks about his wife and Britney talks about Nick. They talk about nicknames they've given to their friends.

$5 off Discount – LIMITED Time OFFER! ONLY $9.99!
PLUS try it FREE for 3 Days!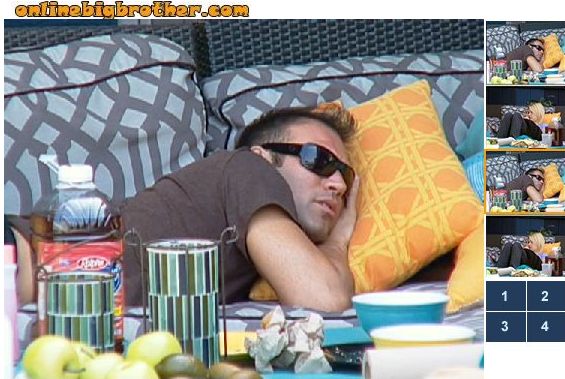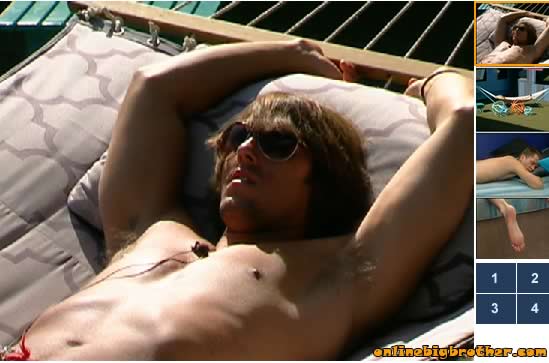 4:20pm Hayden silent on the hammock
(nothing but silence on all 4 cams)
5:15pm Sleeping and "Sexy Bitch Abs"
5:55pm Cabana Ragan talking to himself He's making a mental list of everything he needs to get ready for the upcoming semester.