$5 off Discount – LIMITED Time OFFER! ONLY $9.99!
FREE for 3 Days!

6:15pm Lane and HAyden Lane saying he sucked at his DR session today. Hayden says his DR session was about how he was trying to get Lane to put up Brit. (with never really happened but I guess they needs some storyline for the broadcast). Lane says he saw Hayden laying in the sun all day. Hayden says it was nice but as soon as he was out of the sun it started getting cold outside. Lane wants to work out soon hayden thinks its a good idea because it's starting to get cold. They agree to cook up burgers and Weiners for Dinner. Lane heads to the kitchen. Lane joins him suggests that maybe they should grill up some chicken and burgers instead. Lane agrees, Enzo walks by and says he's up for some burgers and chicken.
Lane and Hayden head outside to start the BBQ, Lane is surprised at how cold it has gotten. Hayden starts up the BBQ, Lane says he likes feeling the heat when it's cold outside. Hayden wonders how they are going to eat the chicken without utensils. Lane: "I'll grab them and eat them like chicken nuggets". They head inside to prepare the chicken. Hayden says that brit doesn't like grilled chicken, lane says she likes hot dogs to. Hayden: "Lets just dot he chicken we can do hot dogs later". Lane: "Sounds like a plan"
They head outside to start grilling. Theres a crow cawing, Lane: "I just love hearing crows like that reminds me of life on the ranch". Hayden: "How many acres you guys have lane: "Only a hundred in Texas but he's got some other places leased.. In Oklahoma theres Acres" Hayden: "Thats sick" Lane: "MONDAY DOWN"…
7:22pm HOH Lane and Brit Brit asks him if he's going to work out tonight. Lane says he 's going to work out so hard he cries. Lane is starting to go crazy in the house, he has to start from square one with his workouts when he gets out. Lane: " I don't understand why they have such a shitty weight set here" Brit: "They gave you a new bench" Lane: "thats a 2 person weight bench it's crap"
Brit tells him it's do or die on Thursday. Lane thinks everyone is in danger next week, He says that enzo would put him up with BRit and if Brit wins the POV then Lane is going home. Lane says him and Hayden are both gong to invest their money in the oil field because they want to retire when there 30. He explains theres wells out there that if you put 250K down in 6 months it pays you back. Brit points out that 250K is probably all they will get after taxes. Lane calls her a Debbie Downer. BRit thinks his Oil investments is risky, she's going to put hers in the bank and use it to buy a house. Lane can't understand why she wouldn't want to invest her BB winnings in oil, Lane: "I've never met someone that didn't want to make money". Brit says she wants to make sure there is money saved away for her kids when they want to go to college.

brit is feeling like she's lost the game, she doesn't have a single jury vote and she needs to win or she goes home. Lane tells her she has Jury votes because she's won a lot of competition.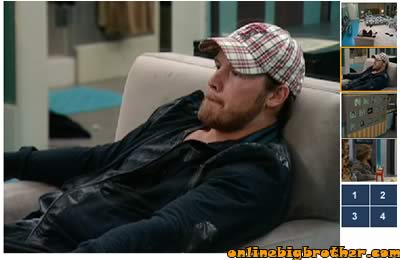 Lane: "Go do something with your life go work out your life is BB right now and your pouting all daY"
Brit complains that the today was soo boring. Lane: "Today is done be happy" Brit: "Today has just begun we're going to be up until 4am" Lane: "This week is over for me theres no competitions and we know what is happening on Thursday" BritL "I'm not Stupid I know what is going on here.. I know that the conversations you me and Hayden are having are the same as you enzo and Hayden are having…. She knows that her and enzo are the ones to get the shaft unless they win the comp" She goes on and on about being the only person in the house that got nothing, she lists off all the prizes everyone had. She points out that even LAne got 50 bucks for pandora's grand. Brit tells him that her and enzo are the two that do not have anyone taking them to the final 2 and that has her worried. Lane: "I would much rather have you in the final 2 then Hayden"
Brit: "You are so in love with Hayden"
Lane Tells her he's going to be good friends with both Hayden and Brit after the show is over so she should just chill out and focus on winning the comps. Lane tells her they should just relax and tan all day.. he's not stressed at this week. Lane explains that even if he goes home next week then he'll be in the jury house for a couple weeks then he gets to go home and live his life and be with his family… Lane: "Once i'm home I'll shun the 50 thousands and the 500 thousands… If I don't win the money now i'll get it 6 years from now working a job" Brit says her mom will be mad at her if she doesn't win. Lane tells her that she's got a lot of exposure from being on this show she doesn't want to be known as the girl who sat in HOH bitching and moaning all day long…
7:51pm Lane tells her that enzo came up to him and Hayden and told him that he knows nobody will take him to final 2 so he's prepared to win every competition to get there. Brit doesn't want enzo to win the money she doesn't think he deserves it.
$5 off Discount – LIMITED Time OFFER! ONLY $9.99!
FREE for 3 Days!