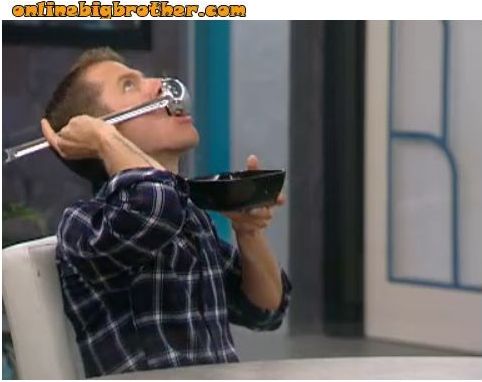 Enzo finally won a competition. Beating our Ragan Enzo now has the Power of Veto and since he's nominated for eviction Enzo used the veto on himself. Lane as the Head of household gets to now choose who the replacement nominee is. It's pretty much decided that whoever goes up against ragan will be safe from eviction. The Big Brother nomination is Hayden.
11:25am – 12:05pm Big Brother turns the live feeds back on… Hayden is in the kitchen making lunch. Enzo is finishing off making his spaceship. Britney is out in the backyard trying to nap on the couch. Ragan is in the kitchen eating, then he goes out into the backyard. Enzo and Hayden are talking. Enzo says that Ragan is an okay dude. Hayden says yeah he's alright …too bad we got to vote him out. Hayden and Enzo go up to talk to Lane. Enzo says that Ragan gave a good speech. Hayden says yeah …and he apologized about the cd. Enzo says I didn't care about that, it was an accident. Enzo says that they were waiting to …for me to snap on him. Enzo says that he aint doing nothing today… just laying out. Enzo says so Ragan out this week… Hayden says we need to win HOH next week. They talk about how one of them are winning this thing. Enzo says unless Britney pulls something and then shes in the finals. They talk about who would have the votes. They wonder if people in jury house would switch their votes if they find out about the brigade.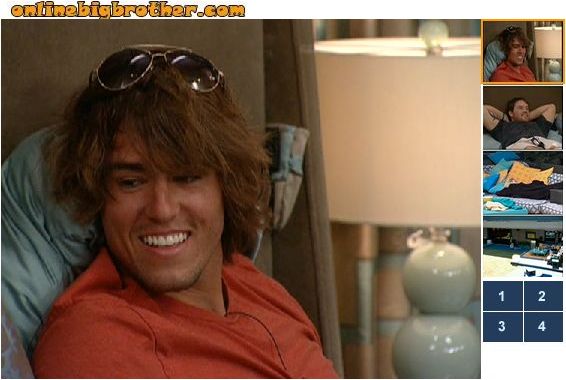 The feeds cut out and when they come back Lane is telling them that Britney was saying in the beginning that she didnt want to be in an alliance because they are always picked off first. Enzo, Hayden and Lane laugh that they are all in an alliance and they are in the finals. Lane tells Hayden that he 100% has to win the HOH. Lane and Hayden talk about how either one of them is going to win $500,000 and the other $50,000. They talk about taking a trip together. Lane says that he would look like an idiot if he took Britney to the final two. Lane says that she would definitely skunk them in the finals …Lane says that Britney is 22 ..shes ditsy. Hayden and Lane says that they are definitely final 3 unless Enzo and Britney split one of the next two competitions. They talk about how the people in the jury house will understand once they learn that they have been in an alliance since day 2. Hayden says that Brendon thinks the biggest secret in the game is Matt lying about his age. They talk about coming about the alliance if Hayden wins the next HOH. They laugh that if they get t-shirts with the Brigade on it Britney will be the only on not wearing one. Hayden says that he'll ask for Brigade t-shirts if he wins HOH. Lane says yeah because there is nothing Britney can do about it then.. Hayden says that he will tell Enzo to ask for them too just in case he wins HOH. Hayden leaves the HOH room … Both Hayden and Lane plan to go down and get in the pool. Enzo leaves the HOH to go out to the backyard to work out with Ragan.
Watch the last 2 weeks of BB12 for ONLY $9.99!! FREE 3 Days TRIAL!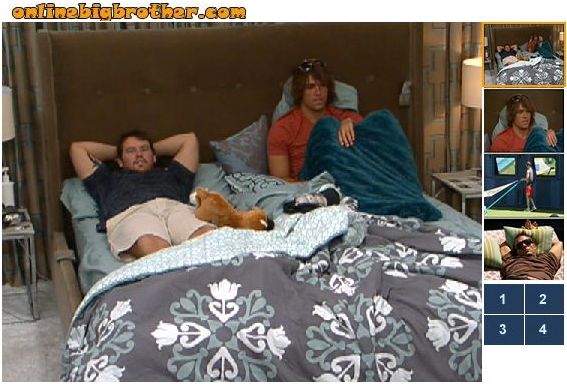 ** Updated **
12:15pm Ragan is in the backyard working out. Enzo is laying out on one of the lounge chairs. Enzo says that he would like to crack open a beer. Ragan doesn't say anything. Enzo goes and gets one from the backyard fridge and goes back to the lounge chair to drink it. Hayden comes out and says you're drinking already?! Enzo replies its the afternoon yo! Hayden says that he wasn't saying nothing …he was giving him a compliment.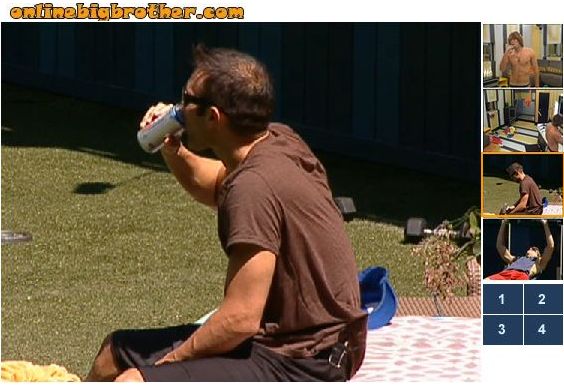 12:35pm Hayden joins Enzo by the lounge chair. Hayden puts on sunscreen. Enzo and Hayden are studying the time line of events in the house. Enzo tells Hayden that him and Lane won't take him to the final two unless he wins the next two HOH's. Hayden asks why do you say that?! Enzo says because you guys are smart you're not going to take me. Lane comes out into the backyard and asks Enzo if he's drinking already. Enzo says I'm celebrating …I made it to the final four… I solidified that shit. Enzo tells Lane to have one .. theres 3 more in there. Lane starts playing pool with himself. Hayden, Lane and Enzo start talking about Heidi from the reality tv show The Hills. They talk about how Heidi was way hotter before she got plastic surgery. Hayden says that he hung out with Heidi's ex-boyfriends friend Colby and Lane figures that its his cousin from his moms side of the family. Enzo says oh now we're name dropping now yo! Hayden and Lane talk about the bad ass mustang he has… Lane says that he's got a hot ass girl friend now and he's a virgin… he and Heidi didn't even have sex. Enzo says that Heidi probably has a dick now… she is all jacked up …why mess with your face like that … thats your money maker.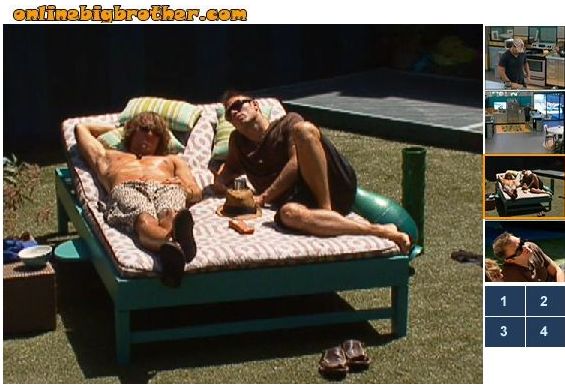 12:40pm – 1pm Lane goes and sits with Britney on the couch. Lane asks her why she's pouting …she isn't nominated… she is in the final 4. Britney says that she isn't pouting its just her face. Britney talks about how she just wants to go home already… she doesn't want to go to Vagas or any of that she just wants to go home and not have to care how she looks all day. Lane tells her that she's not going to be able to relax that people are going to be wanting to take her everywhere. Britney starts talking about how she wants to go work as a commentator for the NFL.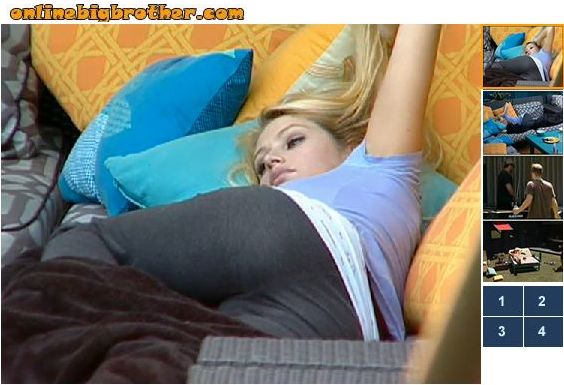 LIMITED Time Offer 33% OFF – Plus try it free for 3 days!
Big Brother 12 LIVE FEEDS!