11:00pm Backyard Brit, Brendon, Hayden and LAne practicing. Brit asking him if NeedleDick is any good at it. Lane asks who is that you mean BRendon… says that Brendon sucks at it. Hayden is sure they are going to win this competition, he tells LAne that this HOH is his. Hayden and Lane try to give Brit some tips on how to do the comp. Brit makes excuses that she's too short and can't see where the ball is lined up when she ready's her shot. Matt and Ragan are there, Brit asks Ragan wheres he been and Ragan answers in the DR. Brit didn't hear him getting called in, Ragan says he went in. Ragan and MAtt start to practice, lane and brit go to play pool. enzo and hairdo head into the hot tub.
11:25pm Hot tub Enzo and HAyden Enzo saying that they have to win the HOH then they have it in the bag. Hayden is positive they are going to win, they'res 3 of them fighting for it. Enzo knows comments that by the looks of things they'll win this competition. Hayden points out that the comps are always different than the one they let them practice.
11:49pm Matt, Enzo, Hayden, Lane and BRit. Brit tires to starts up some Brendon bashing but Brendon comes out to practice on the apparatus. BRit starts talking about her HOH blog, Enzo is having a side conversation with Hayden and Lane about football. Brendon joins them.. Ragan is inside the rest are around the hottub. 11:57pm Ragan joins them talk is on the double eviction. MAtt is saying that he's not sure theres a double elimination but it still double. Ragan doesn't think so because there is too much stuff to set up and they haven't called a lock down yet. Brit agrees thinks theres no way they can set up 3 comps in the little time they have left.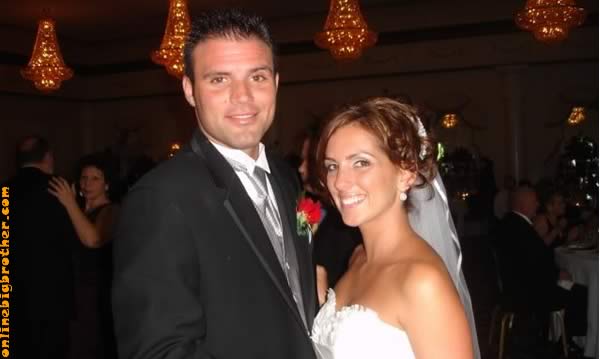 Enzo and his wife .. More pics here