SEE what they CAN'T show you on TV! 3 Days FREE No Commitments
9:14pm Cabana room Brendon and HAyden HAyden saying that they cannot let Ragan win HOH. HAyden: "if we win then we can get one of the three out then it's us three against 2" Hayden says that they need to get Brit and Ragan out then Lane. Brendon is worried about Brit winning HOH and putting him up again. Brendon is going to put Brit and Ragan up and tell her that shes not the target. Hayden says if POV is used Lane could go up. Brendon: "Is she ok with Ragan going". Hayden: "I think she is I dunno though I can say for sure… I see her pulling Lane off more than pulling Ragan off". Enzo joins them, They all bring up how awesome he's doing in the practice comp. Enzo thinks the comp will be the POV. Brendon heads into the kitchen.
Enzo: "you hear what Brendon has been saying.. i hope the vote is 2/2 so we can out that piece of BLANK out"Lane joins them they ask hayden who Brendon is putting up Hayden says Brit and Ragan.
9:24 Lane and Enzo Lane telling him he's safe this week so don't worry. Enzo doesn't trust anyone beside Hayden and LAne he wants Brit and Brendon gone. Enzo: "I think he gets upset when I don't hang out with him and it drives him crazy". Brendon joins them tells them that theres no way Ragan is going to be winning this competition. Lane brings up his conversation with Ragan a hour ago when Ragan told him he was really worried because he felt he didn't have the skill set to win. Enzo: "the power will shift the power will shift rachel was right the power will shift". Brendon says that Ragan has only won a puzzle that doesn't mean he'll win every single competition in here. Enzo: "Yeah yeah good for you ragan you won a puzzle". Lane leaves to shower hayden comes in asks them what are they doing . Enzo: "if i win hoh brit and ragan going up " Brendon says he'll put up brit and ragan or ragan and lane. Brendon thinks that maybe they should keep Brit off the block to gain her trust for next week. Hayden agrees says that they have the votes so he can put up anyone. Brendon says he's going to be practicing all night. They start talking about comps and how double elimination works. Enzo asks Brendon if he's talked to Ragan lately, Brendon says no ragan knows better then to ask BRendon for a vote. BRendon says that his number one target is Ragan and Ragan's number one target is him. Brendon gets up to grab something to drink, Hayden asks Enzo if brendon is BLANK them Enzo says yeah of course he's playing both side i'm putting him up with Ragan next week BLANK it. Brendon comes back and says this about Ragan "We have one advantage when we were playing video games and working on hand eye coordination he was dancing and playing with Barbie dolls and listening to TLC" Hayden agrees
9:50pm Backyard Ragan and MAtt practicing Ragan is really worried he's BLANK in the comp. Matt trying to give him encouragement telling him that Lane isn't doing as good as he thinks and Ragan is getting better. Matt is convinced that they will make this comp a crapshoot so he shouldn't get too stressed out. Matt heads inside ragan left alone practicing.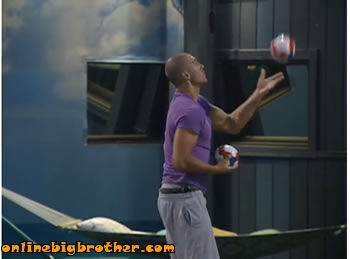 10:29pm A juggling Astronaut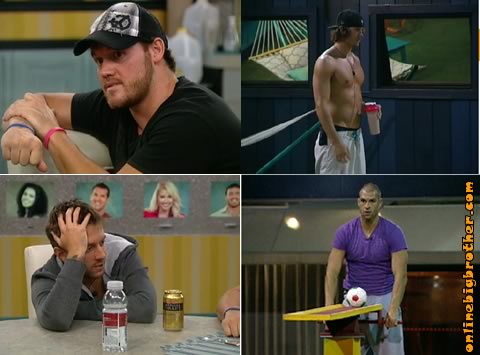 10:36pm Backyard BRendon and Hayden practicing in the kitchen Lane, Enzo, Matt and Brit talking about college football.