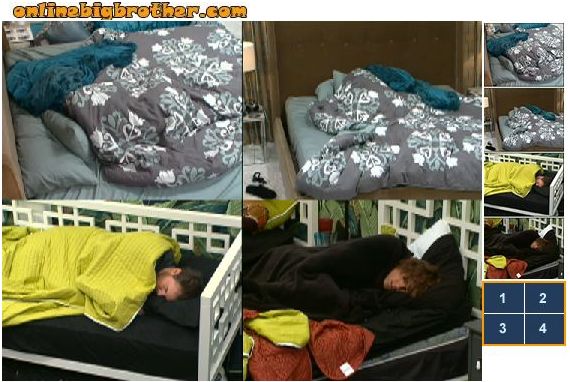 8:10am Big Brother cuts the feeds to wake up the house guests.  8:20am The feeds come back. Hayden and Britney are in the storage room changing their batteries.  Hayden goes to the bedroom and Lane complains about being too tired and that he is going back to sleep.  Hayden crawls into a bed and grabs Britney's soft blanket.  Brendon comes down to the kitchen and then goes back up to the HOH and gets back into bed.  Britney is in the kitchen; she gets a glass of milk and uses it to swallow an Advil.  Britney starts making slop on the stove.  Kathy is in the bathroom getting ready.





8:44am Britney sits at the table and eats her slop and from the look on her face I don't think she is enjoying it. (lol)

TRY the Live Feeds for FREE!! Superpass – 3 Day FREE Trial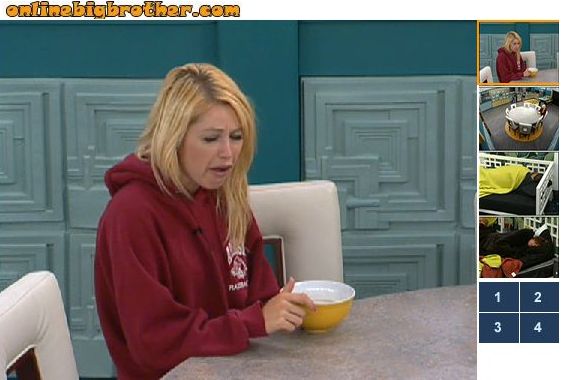 8:50am After Britney is finished enjoying her breakfast she goes back to the have not room and tries to go back to sleep in her cot.  Kathy is the only house guest that is up all the rest are trying to sleep more.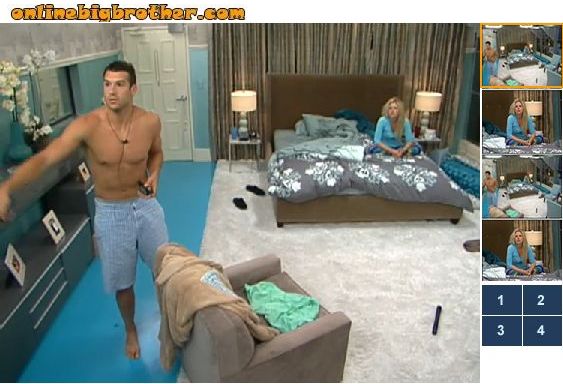 9:50am – 10:20am Kathy says that something ain't right… right now … I just feel it. Kathy is worried something else is going on. Kathy tells Brendon that Matt and Britney are not nervous at all and that something is going on. Something in my heart tells me something ain't right. I don't know what it is but I just feel like something ain't right. Brendon says that no matter what who ever wins the POV if I feel like someone is doing something …we can use the POV and get rid of them. Brendon says that he is going to pull them up here individually before the POV competition. Kathy says that she knows they (Brendon and Kathy) will are the target in the next few weeks and if they can get someone else on their side then they can get rid of them. Brendon tells Kathy that he doesn't trust Matt or Britney. Kathy says that she can't eat or sleep because something doesn't tick right! She says she would have sat up all night and smoked if she could have gotten into the backyard. Kathy says that she doesn't know whats going on and that she knows they are gunning for him and her. Brendon asks all of them? Kathy says no not all of them. Brendon asks well who's still talking about taking me out? Kathy says Britney. Brendon asks what makes you think that they want to take me out?… did they say that after they came up to talk to me? Kathy says well no, I just know that they want to take you out. I don't care what they tell you, I saw it before when Rachel was HOH, but they want to send you to the jury house. I don't know your reasons for putting up Lane but, I know that they want me out and you right behind me. Brendon says that if one of us wins the POV …Ragan is going to be really anxious for us to use it on him. Brendon says that they could use it as leverage to get him to spill all the beans about Britney and Matt. Kathy says that she is going to sneak back down stairs before someone notices she is up talking to him … Kathy says that the thing might be happening soon. Kathy says again that something ain't right. Kathy tells Brendon that they might be coming up to talk to him to get him to put her up as a replacement ….and if they do all he needs to do is holler down at her to tell her to come up and that she will know what it means. Brendon says oh yeah …I would love for them to try that. Kathy heads down stairs. Kathy goes down and lays in her bed and stares at her monkey…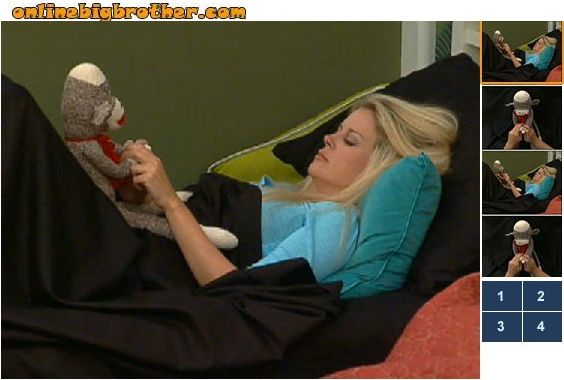 Watch everything LIVE as it happens!!
Superpass – 3 Day FREE Trial
Share it YO!!
Tweet