10:30pm Brendon, Enzo, and Rachel Taj Room Enzo working b/r yo.There going over the sab theory's Enzo is playing very friendly to them there laughing telling jokes.
Brendon is acting tough saying he got into Ragan face today and he's not scared to get into Matts face. Brendon says CBS and Big Brother production are going to need to turn off the live feeds because he's not going to stand down from Matt. Enzo keeps playing along. Rachel gets called into the DR. Brendon leans beside enzo says this house is full of pairs, Ragan and Matt, Lane and Brit. Enzo:"you have to talk to Hayden yo" Brendon says he will tells Enzo which ever one goes home out of me and Rachel you and hayden need to team up with and take them all out. Enzo just flows with the conversation never agrees to anything but still is active in the conversation making Brendon think he's on board. Brendon: "If I win the pov i'll use it on Rachel". Enzo: "no no man don't do it man don't take the risk yo". Brendon: "I dont' care about the risk i'm doing it to save rachel, when i go home you have to team up with Rachel and get Hayden on your side ". Enzo: "i'm telling you if you win pov you better use it on yourself yo". They go back to joking around Enzo tells him not to worry about the POV until after the game is one.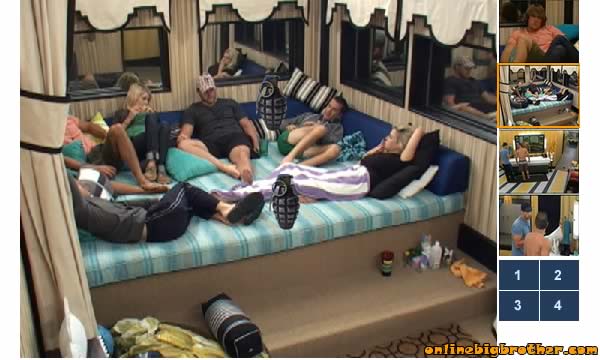 10:53pm random chit chat they get to go outside at midnight they think they'll get to practice for the POV competition.

11:20pm Hayden and Enzo TajEnzo: "Yo i'm playing Brendon big time yo "Enzo tells him a quick summary of the conversation with Brendon conversation. Tells him Brendon won't come after us next week he wants to team up with us. Enzo says Brendon told him he's using the POV on rachel, Enzo: "I was telling him don't do that bro don't do that keep yourself in the game then you me and Hayden talk" hayden: "Thats Huge..thats Huge.. " Hayden gives him a quick rundown of the Salvatore, tells him to keep a look out for unusual behavior. Enzo just hopes it's not matty. Enzo wants them to have a Brigade meeting (yo) and damn fucking soon.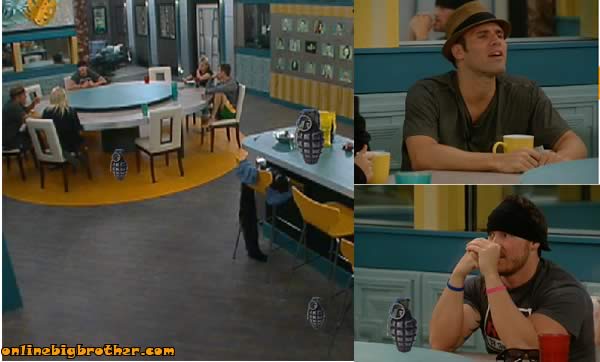 11:37pm Kitchen at midnight they get to go practice for POV.. brendon tells them all he has the machine from 12 until 2 then other people can try. Enzo tells Brendon the coffee he made was good. Brendon: "It's my special blend" Enzo: "What saboteur blend". Lane and Enzo start joking about the saboteur. Enzo says once you get to the final 4 there will be 3 sabs and you'll be one of them and you won't even now it. He goes on to say they'll have the sabs fight it out with their bare hands.

12:16am POV comp practice

12:19am Brendon saying that he once bowled a 267 he tells Rachel "I got 6 strikes in a row.. after everyone goes to bed i'll show you my special techniques"





12:22am Enzo tells them they can have a fashion show using the bowling alley. He then goes up to practice, picks up 3 balls throws them and knocks down 3 pins. Everyone is in shock Enzo: "Thats it i'm just practicing tis once"
12:38am Ragan and Enzo are the only ones to get all three pins down.. Enzo: "Batting a thousand baby "