SEE what they CAN'T show you on TV! 3 Days FREE No Commitments
6:55pm Enzo and BRendon in the Have nots

7:00pm HOH Brit and Enzo brit apologizes to Enzo for putting him up. She tells him there is no way he is going him but she needed to pick a pawn and he's never been up yet. She talked to MAtt right before the nominations to be the pawn and he said no so she went with plan B. Enzo understands tells her that he's going to fight hard for POV. She says that this week there could be a tie and if there is she won't be voting Enzo out. Enzo asks her if Brendon wins will she take out Matt, she says yes but she wants him to keep it a secret. Brit swears on her family and Nick that enzo will not be going hom this week. Brit brings up all the bullshit brendon told her right before the nominations. Enzo tells her not to worry about BRendon he's going home this week and Matt is gone next week.
7:20pm POOL Lane, Enzo, Hayden, Brit.. Enzo saying that in the have nots Brendon was telling him that he's going to win POV tomorrow then HOH then take Brit out. Enzo: "Then your back on the block next week". Enzo starts to give hayden advice on how to be on slop. Enzo: "Day 2 or 3 you will feel like shit the rest of the time it's alright"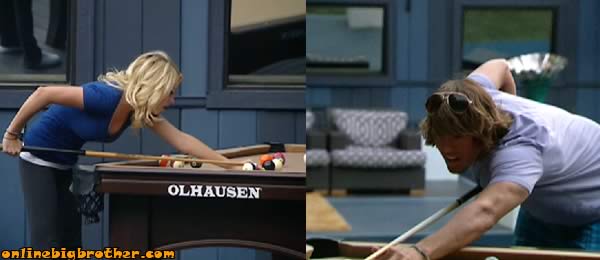 7:25pm Pool Brit and Hayden Brit asks him if Brendon is mad. Hayden says no he's doing alright, we all know Brendon has to go so we're cool with it. Hayden says the best thing she did was call them up and talk right before the nominations he thinks it prevented a blowup. HAyden wants to confirm they are still on the same page if Brendon gets the POV. Brit says yes they are but thats the worse case scenario she really wants Brendon gone.
7:34pm Brendon and Enzo backyard couch Brendon: "No matter what happens don't lose lane". Enzo: "What? " Brendon: "Don't lose LANE". Enzo :"yeah (he gets up walks away)… dinner was good yo"