9:15pm HOH Lane and MAtt MAtt's telling him that Ragan and BRit are very fired up about winning the HOH they know your guys are not the targets if Brendon wins. Matt was telling Brit and Ragan that Brendon and them are the only three that will be really fighting for the HOH.
Matt i don't blame the brigade for not wanting to win HOH because if Brendon does win HOH he's going to put Brit and Ragan up and if POV is used he'll back door me. Matt is kinda hoping that Brendon does win HOH and take Brit or Ragan out then the brigade can get HOH the following week and take Brendon out then. Matt is sure that Ragan is going to collapse under pressure but brit could win it. Lane: "You know it's not bad if he wins". Matt: "Even if I go up it's 3-1 I stay because of the brigade" (4 deep yo).
Matt wonders if one of the brigade is teh sab and they are voted by America to get me out next week do you think if the other 2 memebrs in teh brigade will tell me that a breigade member is trying to vote me out? Lane doesn't think any of the brigade members will turn on the other until final 4. Lane doesn't think theres any chance it's a Brigade member he gets pissed off thinking it is. Lane: "There no way any of use would be the saboteur we're not that stupid". They agree that Brendon needs to win HOH this week to take out either Brit or Ragan.
9:40pm Enzo, Kahty and Brendon Brendon is asking them to please vote him out because Rachel deserves to be here. HE says that everyone in the house is saying it's not personnel so why keep him over Rachel. Enzo explains to him that he's voting with the house so brendon needs to get all the votes in the house. Brendon says if Kathy, LAne, Enzo vote to keep her then thats the house. Brendon knows that it sounds unappreciative for wanting to leave but he's thought about it and he wants to go. Brendon says he's fallen in love with her he's wants to give her this. Enzo (jokes) that maybe Brendon should hit the exit button and leave that would be easier. Brendon: "I would just hope that there's not 2 people in here that would try to vote Rachel out just to spite him even more"… He thinks that would be a whole new level of maliciousness. Brendon swear that if someone does that he will make their life a living hell. Enzo and KAhty really don't say much, Enzo cracks the odd joke. Brendon tells them that he thinks Lane is the sab because he's going around doing what Annie did. Brendon eventually leaves. Enzo and Kathy start talking, Enzo asks Kathy how many times tonight has he asked you that. Kathy say not once. Enzo: "He's asking me all the time yo"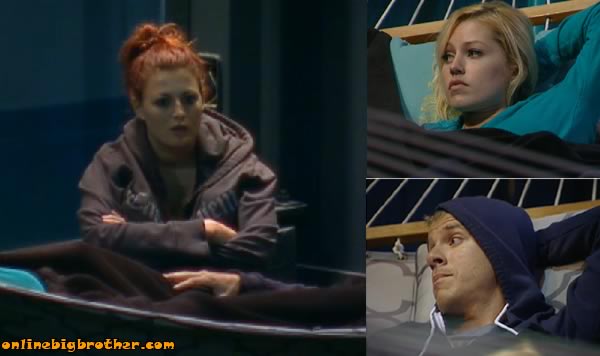 10:00pm Hammock Ragan, Brit and Rachel Rachel is BLANK and ragan is trying to get her to understand why everyone is pissed at her. Rachel is denies everything ragan Pleads with her to go away because he's "in reality" and she's in a BLANK up DRUNK VEGAS world.
Ragan tells her that nobody has said a cross word to anyone except for Rachel. rachel doesn't get it other people have Said BLANK in the house. Ragan: "theres a difference between playing the game and attacking people"
Rachel: "I haven't attacked anyone"
Ragan: "I don't get your behavior don't understand I've seen a lot of my 34 years and I've seen a lot of BLANK go down and I don't know what to think of your behavior"
Ragan tells her that there is things that she did that blows his mind and for her to come back and accuse other people of doing the same thing is shear madness to him.
Brit interrupts tells them they shouldn't try to bring up past events.
Ragan "when i'm having trouble with a friend and we decide to talk about it I own up with what i did i apologize for it and we move on and that is the way we interact" .. "We at least try to understand a fraction of what the problem is"
Ragan brings up B/R calling people pussy's and screaming at people that they are going to go home
Rachel: "who said that"
Ragan: "floaters got a life vest.. it's called being gracious it's sportsmanship"
Rachel: "uh uhh uh me and kristen have nothing to do with us".." kristen was yelling at me to and what about when Kristen went off on Andrew"
Ragan: "Oh my god Rachel because andrew said on national TV that Kristen and hayden are hooking up at night.. she's responding to something not creating it"
Rachel feels like she the victim
Ragan: "all i'm saying is you're not a good sport when you win you do what you did in the knock out Comp when you lose you cry and whimper"
Rachel denies what she did as being anything substantial
Ragan: "huh what wre you talking about?
Rachel starts crying: "I have nothing to say you don't want to talk to me I'm sorry i'm tha bad guy i'm sorry i'm sorry" She runs away crying.
Brit: "oh my god she doesn't live on this planet she lives on the planet I never did anything wrong.. Her denial is preposterous"
Ragan: "I cannot believe she denies she's never caused arguments, she never was a poor sport she's never made a face"
Ragan: "did i handle myself ok?"
Brit: "yes you did"
Ragan: "we're operating on a entirely different level"
Brit: "I would live my lilfe with no responsibilities"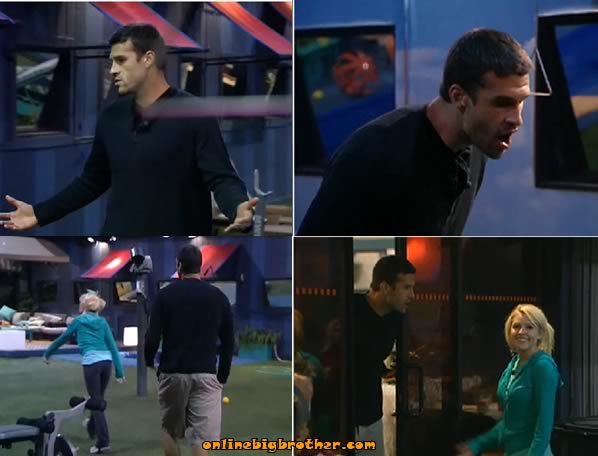 Brendon starts charging outside.
Brenodn: "What the HELL DID YOU SAY to her.. BLANK YOU Ragan you've gone from being her friend to this BLANK YOU"
Brit: "starts to giggle"
Brendon: "You and Matt are in an alliance you planned this out"
Ragan: "your so dead on your a greusome twoesome"
Brendon: "I can't believe you"
ragan: "your a early man you a neanderthal"
Brendon corrects Hayden in how to pronounce neanderthal. Bit starts laughing like crazy.
brendon: " screw you I'll win HO and i'll watch all you cockraoches scramble "
Brit get up and starts walking like a cave man Brendon geting freaky mad at her. He insults her height and her fiancée Nick . Brendon storms inside looking for rachel find out she's in the DR and stays by the door talking to himself.