10:30pm Brit crying after the blow up Lane site beside to tell her it's alright this is how the game goes. Lane tells her to toughen up she's a southerner we have more emotions than this west coast people. Lane tells her Brendon id doing his last hurraay right now because he thinks he's going home but he's not he's staying here and he'll have no one. ragan asks her if she's alright Brit says yes she's not use to yelling like this. She asks them if they heard the comment about her height. Brit: "He said what you going to do 3ft nothing" Ragan said he never heard it (I heard it). Lane tells her it's time to get up and go win a pool tournament.

SEE what they CAN'T show you on TV! 3 Days FREE No Commitments
10:30pm Beside the DR Door Brendon is talking to himself saying he was raised differently then the people outside and how Brit and Ragan are liers and they're attacking Rachel. He gives his side of the story which is messed up but there some truth in it. Brit goes into the Kitchen see's him siting beside the DR door talking to himself and says "No wonder why your family doesn't support you, you humiliate them." (I swear it sounds just like pazuzu) Brendon : "Ohh thats a good one gee willikers Nick such a lucky guy after he's done hooking up with all those chicks"
Brendon goes on saying he's so exhausted, he won't stand for it anymore. He believes Rachel is an amazing person and she does not deserve to be talked to like Brit and Ragan do. He doesn't care if he looks like a crazy lunatic, he won't put up with them being mean to her. Brendon: "I don't want to look like an a$$hle on TV, but I'm not going to stand by and let people treat people like that."
10:50pm Taj Brendon and rachel are drinking some wine. Brendon goes over his blow up with with Brit and Ragan, Rachel goes over hers as well. Brendon tells her he won't put up with people making her cry he got really mad at Ragan and Brit. Rachel tells him she went over to apologize to ragan and he takes it so personally, Rachel: "they wouldn't even listen to me" Brendon: "I'm so sick of both of them thinking they are so high and mighty" Rachel cannot understand who they can be so mean to her what did she do that was any worse than the rest of them. She keeps repeating that she went over there to make peace with Ragan and Brit (Rachel really does live on a different planet)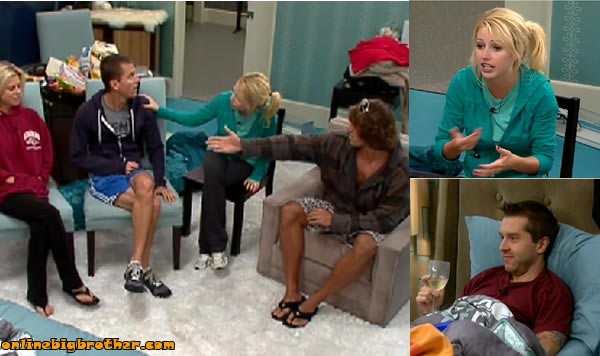 11:10pm Just the Tip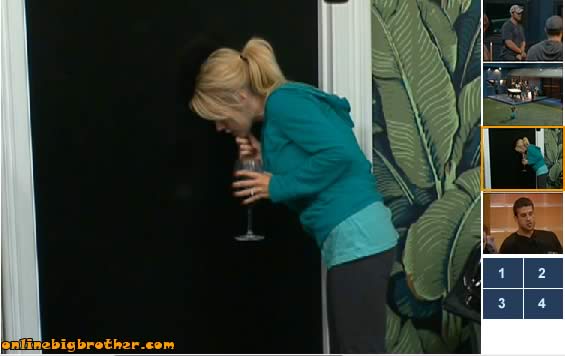 11:30pm Brit sneaks up to the taj door and listens in on B/R's conversations. She finds out here talking about the Salem witch trials and how it's just like that in the house.
11:40pm everyone else outside in the pool tournament Brit comes back and tells them there is no way that Brendon is going to quit.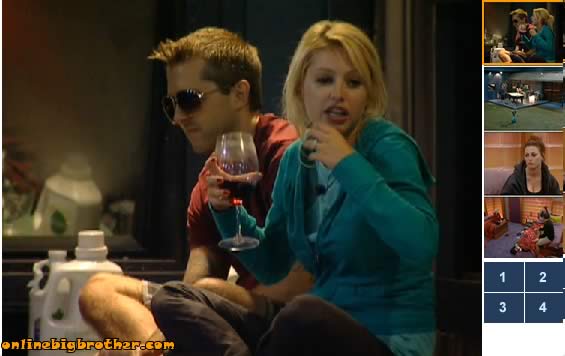 11:52pm Pool tournament with a bit of B/R bashing They mentions that in 30 minutes Rachel is going to come out the sliding glass door drunk with her crazy jokers face on.