SEE what they CAN'T show you on TV! 3 Days FREE No Commitments
2:30pm Everyone but BRendon and KAthy They are talking about how Kahty is pissing them all off. Enzo brings up that KAthy has been trying to say the saboteur message was BRit, Brit gets pissed about how kathy one minute is trying to be her best friend and the next she's throwing her under the bus. Brit: "she spends all day sucking on his balls then she comes out here and says how much she can't stand him" Brit brings up that it was the same thing with Rachel she was saying how much she hated Rachel then once Rachel came back in shes running up hugging her.
Ragan: "The one quality I dont like in a person… if your going to talk mad BLANK about them then when they walk back in the door you don't run up and give them a hug the second they are back in" . Enzo brings up that Brendon was upset last night because nobody hangs out in his HOH room, The group starts to laugh. They all start talking about how disgusting Brendon in and how much they can't stand him, (enzo says a bit, Hayden doesn't say anything) Brit: "if he walked down there right now and his legs snapped off his collar bone broke and his chest exploded I wouldn't feel sorry for him" Ragan: "ohh i wouldn't go that far". Enzo says that he's buddies with Brendon they talk and BLANK, ezo rips on Brendon just like he's sure Brendon rips on him. Matt: "he's lied to each person in the house he's made deals with everyone". Ragan brings up when Brendon is nominated he whines and complains, he says things under his breath he calls us pussy and when he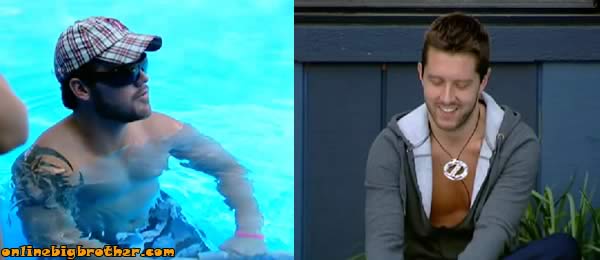 nominates us he's in our rooms telling us to not take it personally and to be a good sport about it". Hayden agrees that BRendon is a poor sport. Matt: "The pretzel note is actually against the rules that is real not his stupid ledge being too small in the HOH comp" Raga: "did you notice that when he won a comp that was clearly geared towards him winning I went up to HOH said good gob, you worked very hard to win that… you deserve it" Hayden: "Yeah I remember you doing that" Ragan: "why the BLANK does he put someone on the block for the 3rd week" .MAtt: "and when we nominate him next week he's going to be another little BLANK you just wait". Ragan explains to them that Brendon and Rachel go out 2 decent good people in the house (Monet and KRisten) and when they won HOH they got the sabetour out, Andrew and Rachel some of the more crazy people here" Enzo tells them that Brendon is going to walk up to everyone in the house next week and show them his two fingers and say, "see this… this is how many jury votes I'm worth". Enzo: he literally thinks he's not going up next week because he says he has a deal with everyone"
They start talking about double eviction and Ragan is sure it's not going to be because a) they haven't started to set up the set b) they will have to show the saboteur storyline tomorrow and theres not enough time to do a 2 evictions, a POV/HOH comp and the sab message all in one show.
They start to talk about Rachel and how her fight episode will be tonight. Matt thinks that tonight episode will be one of the best. They rehash the fight, everyone laughing when Ragan told her to to go make him a drink. They talk about how shocked Rachel will be when she sees herself on TV, Hayden thinks Rachel will just like it. Ragan thinks how you play the game is more important then if you win or lose, ragan: "It's a honor to have Rachel not vote for me if I make it to final 2".. They talk about doing just the tip tonigt.
3:10pm lane, Ragan, Brit and enzo sleeping Lane going over what he'll say to Brendon if he put shim up "I don't have a real reason for putting you up just like you didn't have a good reason for putting me up" Brit tells them that if they don't want to win HOH then she does want to win. She goes on about her conversation with him this morning how he's asking her who is studying. Brit: "He really doesn't want Ragan or LAne to win.. but he thinks Ragan will get jittery" ragan: "I think without rachel he's just a plain character he's not very interesting". Enzo: "I know he'll come up and ask me or Hayden to use POV but I know what to say to him… I'll tell him that if I use POV then they will put Hayden up because everyone thinks we're tight… and hayden will say the same if he wins POV"
3:20pm OGRE and Hayden, talking about cells phones and of course Brendon has a family member or friend that he can tie into the topic of their conversation
3:35pm Brit and Ragan going over the big brother says game they played this morning. Ragan and brit have it fully memorized. Brit comes to the conclusion that all the big brother says things have to do with have nots so it'll be used for the end of have nots
Share it YO!!
Tweet