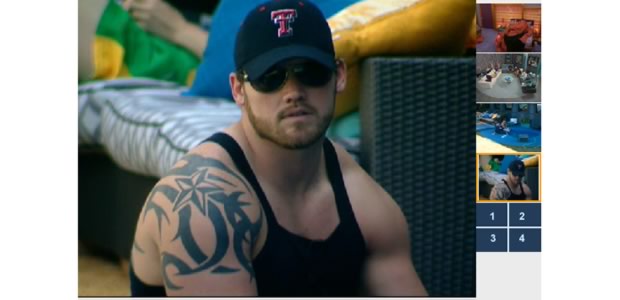 3:30pm Hot Tub Lane And Annie. Conversation is pretty funny bitchybigbrother tweeted this
Annie: "You look just like my uncle." Lane: "Did u have sex w/ ur uncle?" Annie: "No" Lane: "I'm gonna fight ur uncle when I get outta here" Tweeted by https://bitchybigbrother.blogspot.com/
They continue to flirt..
Lane is getting grossed out by Annie calling him her Uncle he asks her what she would think if he said she looked like her sister then make sexual vulgar comments about her. Annie says it's different she's just teasing.
Annie: "Did you get a tatoo of me yet"
Lane:"Ya I did, it wraps around my waist and comes to my front. your name is right beside my pubs and it says Annie was here…"
Annie laughs says the people on the live feeds must love Lane. Lane says he tries not to think about the people watching he just goes with it. Annie sprinkles in hints that Rachel and Brendon are a powerful duo, she thinks they will go far unless they are broken up. She tells him that Brendon is very smart and Rachel is a big fan of Big Brother. Lane doesn't think he is "I got loads of street smarts" Annie tells him she's talked a bit to Brendon and he sounds very smart, Lane still doesn't think so. Annie wonders it Hayden and other people would be receptive to her. Lane thinks most people are looking to play the game so they'll make decisions based on strategy not feelings. Annie again brings up Brendon and Rachel and how Brendon isn't thinking about game by being in a showmance so early. Lane agrees. They start talking about the make up of the cast this year and go over the stereotypical people that are on BB.Lane "You gotta put in the mean bad a$$ guy (he points at himself), a BLANK, a old chick, a dude with long hair.. Annie agrees and jokes that she's the sk**k in the house. Annie says if she's the winner of the HOH she'll split Rachel and Brendon up.




4:00pm Backyard Most of the BB house is out back chit chatting… They talk about a endurance competition where one team has to have a conversation with Natalie and another has to have a conversation with Mr Pec (Jessie) the first group to run away in agony losses.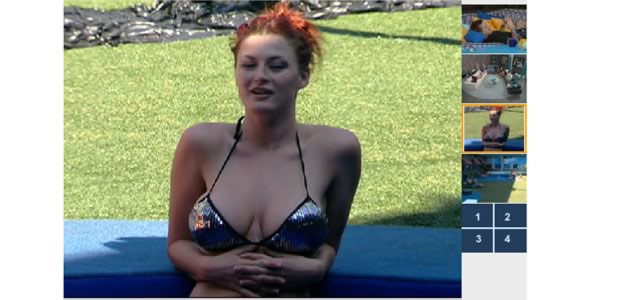 4:07pm Look who joins us on cammera 3