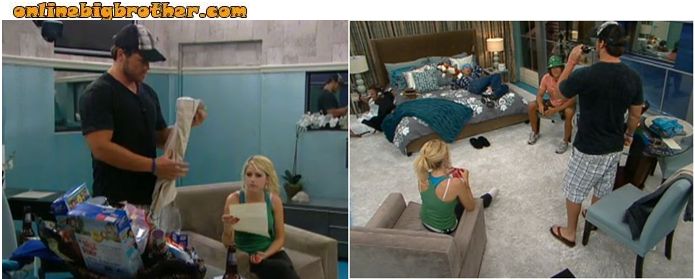 LIMITED Time Offer 33% OFF – Plus try it free for 3 days!
Superpass – 3 Day Trial!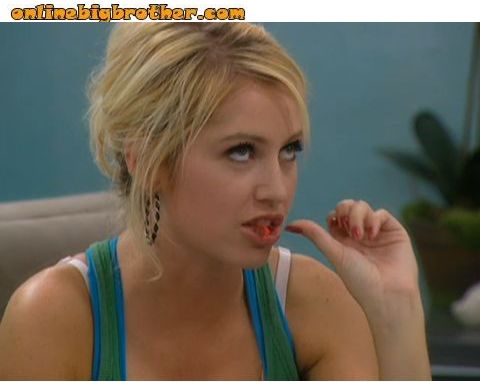 12:40am Big Brother calls Lane to the diary room to get his HOH key. Lane comes out of the diary room and asks who would like to see his HOH room. Everyone heads up to the HOH room. Enzo looks at the photo that Lane got of his brother and says dude, that's your brother, Whoa dude. Lane got dominos and a CD. Lane says we're going to drink and play dominos tonight! Lane grabs his letter from home and starts reading it. Everyone is asking Lane about his brother. They say that he looks cool. Everyone leaves the HOH room but Enzo and Lane.
1:15am Up in the HOH room Enzo and Lane are talking. Enzo says you're not afraid to put up Britney right? Lane says he isn't afraid. Enzo tells him to just lie and say she's only a pawn then he and Hayden will vote her out if Ragan gets veto. Enzo says he feels bad he didn't win so that this wouldn't be in Lanes hands. They talk about getting Ragan out this week and that hopefully Enzo wins HoH next week and the brigade make it to final 3. Enzo says should they come out as the brigade. Lane doesn't care. Both agree that it aided them to keep Brendon. Still think Matt was sab. Enzo mentions how he must have known he only had to agree to be so for two weeks. Enzo thinks that no matter what the brigade will get some money. Enzo thinks that there's no way they won't get money considering they made the season. They say that Matt helped get them this far but he also started to turn on them so he had to go. He started spending to much time with Ragan. Lane is just agreeing and not talking too much. Lane starts talking about his family.
Britney comes out of her diary room session and goes to the backyard where Hayden and Ragan are sitting. Hayden asks Britney to go up to HoH and ask Enzo and Lane to come down. Britney goes up to the HOH and tells them that Hayden said for them to come down stairs. They talk about her drinking and Enzo says they are final 4. Lane goes down stairs. Britney and Enzo stay up in the HOH and talk about how Ragan is sad Matt is gone and how he misses him, they can't understand why because Matt spent all week throwing Ragan under the bus. Britney and Enzo start talking about Lane's pictures. Britney tells Enzo that her first impression of him was that he was a young guy from Miami. Enzo tells Britney that Brendon approached him to make an Athlete Alliance. The conversation changes to talking about prizes. Britney says if she could go back she would have taken prizes during the power of veto competition last week. Britney says that it sucks that Matt is going to be taking a Hawaiian vacation. (Hayden is the one who won the vacation) The live feeds cut out and when they come back. Britney says that Arkansas does not love Kathy. Britney says that she thinks Jersey loves Enzo and Arkansas loves Enzo! Britney says that she thinks her friends will ask about Enzo the most out of all house guests. Enzo says he has always been a character. Enzo says that he loves to get a reaction out of people. Enzo says that he is ready for the movie business! Enzo says he'll act opposite Jennifer Aniston. Enzo tells Britney that he always thought since he was a kid that he was meant to be on TV. Enzo says that his sister-in-law was going to try out for Big Brother and she convinced him to come along. Enzo talks about how on season 2 there was a kid from his hometown was on it. Enzo says the guy from his hometown in season 2 only made it to Day 10, and then tells Britney that his goal was to beat that! Enzo sasy that its been 56 days! Enzo says he wants to make Final 2 and if not then he wants to win the America's Vote for $25,000. Enzo says he'd also like a standing ovation when and if he exits the house. He says that would mean so much to him to see people get up for him when he leaves it might make him cry. The feeds cut out and when they return Britney leaves the HOH room and Enzo stay to listening to music. Britney heads out to the backyard to sit on the couches with Lane, Hayden and Ragan.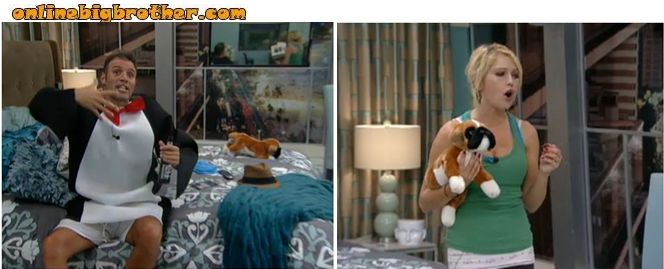 2am Lane, Britney, Hayden and Ragan are in the backyard on the couches talking. Lane tells them about how his brother and him broke into a public pool, they threw a plastic table in the pool and he told his brother to jump off the high dive onto the table. Lane says that he did and the table ended up slicing him up and now he has scars from it. Ragan says that is how people die, that's why he doesn't understand heterosexual men.
Watch the last 3 weeks of BB12 for ONLY $9.99!! FREE 3 Days TRIAL
Lane heads up to the HOH room where Enzo is listening to music. Lane and Enzo are talk about Lane's brother. Lane asks him how the CD is? Enzo says that he is really into it. Lane says that it is a new album and he hasn't even heard it before! Enzo tells him he has to listen to track 9 and track 15. Enzo says just blast that shit. Lane says that he wonders if he gets to keep the CD when he leaves. Enzo tells Lane that the Final 3 is straight up Brigade. Enzo says that Matt even lied about his age and by 3 years. Enoz says yo! ..if you're going to lie about your age lie by like six or seven years..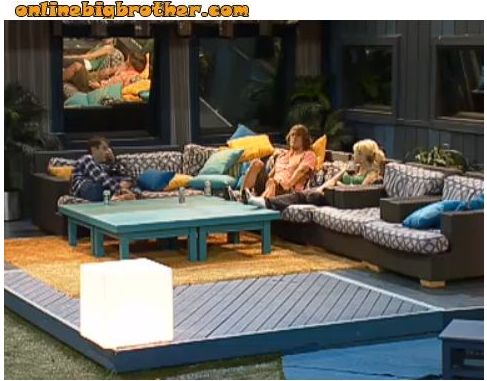 2:25am – 3am In the backyard, Hayden and Britney are talking. Britney says that she feels really proud of being the last girl standing. Hayden asks her if she thought Brendon was going to win…she says she did she was dying at the thought! They check if there is any more beer and Enzo doesn't think there is. Hayden says they finished off 18 beers tonight. Britney, Lane, Enzo and Hayden are all up in the HOH room. Ragan is in the diary room. Britney tells Lane that he looks like Tim McGraw in this picture. Britney says that she would make out with the guy in this picture. Lane says don't say I look like Tim McGraw. Enzo says he is 48 years old. Britney says that he is a good 48! Britney Lane, and Enzo playing dominos while Hayden listens to Lanes CD. Hayden says that track 9 reminds him of Lane's brother, it's hard! Lane says don't give Gunter a big head. Britney says that Lane drinks muscle milk but Gunter drinks milk straight from the cow's teat, he doesn't need it to be pasteurized! Lane says that he thinks his brother is going to love to hear them talk about him being such a badass! They're still playing dominos, its Lanes move. Britney says go Lane, Gunter would have gone by now, Gunter would have won this game, Gunter ain't scared! Ragan joins them in the HOH and tells them it is 3am. Britney is so surprised that it's so late. Lane leaves the HOH room. Hayden tells Britney he is hungry and then decides to eat one of Lane's burritos. Ragan asks him if he is glad to be eating again. Hayden says that it's unbelievable. Hayden asks Britney to guess what type of burrito he is going to make? Britney says bean, you're ridiculous! Britney and Ragan leave the HOH room. Enzo raps out loud to Hayden Bri, Bri, Bri… BRIGRADE!! Hayden then leaves the HOH room. Everyone except Enzo is down in the kitchen.
They all head back up to the HOH room except Ragan. Ragan goes to the bedroom to change and when he changes the camera zooms toward him and he calls the cameraman a pervert. Up in the HOH room, Lane wants to know if Britney is drunk enough yet. Britney says no and asks for her wine Lane says that the people in the diary room called him a pussy for drinking wine. Britney asks Lane why his hard hat is green? Lane says that it is because he is a worm, he's still a newbie. Britney asks what hat would he pick if he could? Lane says that he usually wears a white one out on the job. Lane talks about his family. Lane says his parents were high school queen and king, they've been together 30 years. Britney thinks they are so cute! Britney says that Gunter makes Lane look like the gummy bear and Gunter is the grizzly. Lane says he is stronger than Gunter! Britney grabs a picture and holds it up to Hayden and says tell me he doesn't look like Tim McGraw! Hayden says that he doesn't see it. Enzo is listening to Lanes Eminem CD. Lane says that Hayden's arms are bigger than Gunter's. Hayden says that Gunter looks hard, I don't want to mess with that guy! They're all excited about getting to meet Gunter! Enzo gets up and says Gunter is a linebacker that punts. They bring up the do-rags in the picture and start talking about do-rags. Hayden says leave it up the Gaygan to wear the powder blue do-rag. Enzo puts on a do-rag. Lane says that's a hard penguin right there.
$5 off Discount – LIMITED Time OFFER! ONLY $9.99!
PLUS try it FREE for 3 Days!
3:15am In the backyard Ragan is in the hammock talking to himself. Ragan says that he is not making waves and seeing where the chips fall. Ragan says he has to win the Power of Veto to stay in the house. Ragan says that he thinks Britney wants him gone real bad this week because he is the only one who can give her a run for her money in a quiz style competition. Ragan heads to bed.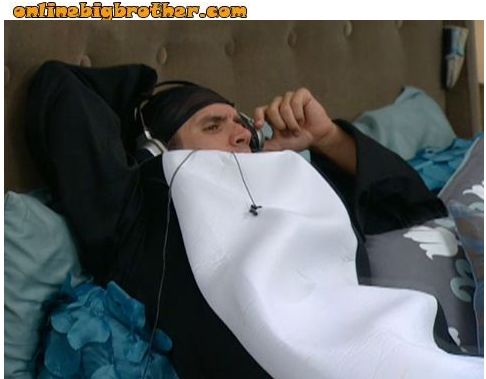 Up in the HOH room, Enzo says that if he doesn't win anything next week they can vote him out …then he says that he is just joking, don't vote him out. Enzo says its getting crazy in here! Lane and hayden decide to eat another burrito. They head down stairs to heat them up. Enzo and Britney start joking around and getting loud in the HOH. They say talk game Lane and Hayden, we don't care we got Gunter, I'm going to make an alliance with Ragan and then vote him out! Enzo says that he feels so bad for Brendon today! They make fun of how Brendon was after the HOH competition. Enzo says that Matty got destroyed against him! They say that Ragan will be next! Britney says that Matt 4-0, Brendon 3-0, Ragan 2-nothin…. Enzo says that everyone loved Matty until he went up against the meow meow…
FREE Live Feeds!!
Superpass – 3 Day Trial!
3:45am Hayden and Lane talk. Lane says that he doesn't care if Britney goes, she is a good girl but… Lane asks so who do I put up as a pawn? Enzo or Britney. Hayden says put up Enzo as the pawn. Hayden says that him and Lane will tell Enzo together and explain it that Britney will think she is safer and not play as hard. Lane says Britney will take Hayden and Lane to final three. Hayden and Lane say that its tough because Britney will take them to final 3 but they can beat Enzo. Hayden says best situation is Enzo in Final 3, but they say that it will work out either way. Lane says that he is getting cocky in the diary room session because since the start he has been saying he and Hayden would be final 2. Hayden says they have a small window of opportunity once Big Brother is over to try and make something out of it. Hayden says that if we make to the final 2 we have a good shot at coming back for All-Stars. Hayden and Lane say that they need to convince Enzo to be okay as the pawn. He then says it could change between then and now. They talk about how they are both friends with Britney. They say they would rather Enzo be pissed and that they can both beat Britney in final 3. They say its better to put Enzo up, they can beat Ragan in POV. Hayden jokes and says that they need to sit Enzo down and tell him he hasn't been pulling his weight. They say if a person on the block wins POV its easy for Lane to put up Britney in that case. They says that if Britney wins HOH Enzo goes home. If Enzo wins, Britney goes home. They wonder how they even got here and says that they're the dumbest in the game. Lane and Hayden head back up to the HOH room. Britney and Enzo hide in the bathroom. Enzo jokes about deciphering Lane's letter for secret information and says that he caught that shit!! Britney starts talking about Gunter again. Britney holds up the powder blue shirt Lane got and asks would Gunter wear this shirt? NO! Lane says YES! Enzo says that he thinks that the have-nots are done! Enzo says that he thinks we'll get a Matty was the saboteur message tomorrow. Hayden asks penguin you ready to go to bed? Enzo says that one of their boys got made today!
4am Enzo says he was so proud when Hayden won the HOH! Enzo thought Brendon won it at first. Enzo says that he knew he was safe but still bummed. They talk about how the fans were going crazy when Hayden won! They says that they could see the audience when Brendon left. Hayden says he made eye contact with a few girls. Enzo wonders what happened to Lanes old Horse. Enzo and Hayden talking about turning it into glue. Britney says that Rachel's weave is probably horse hair. Hayden, Lane and Britney says that they all had horses. Enzo says he only had a little dog. Hayden says that he is tired and leaves the HOH to go to bed. Britney, Lane and Enzo stay up in the HOH room to talk. Enzo says that they will treat Ragan like Brendon, play with him a little then send him on his way. Enzo says that he loves his kid so much and believes that is why he was put on this earth. Enzo and Lane can't believe how any parent would walk out on their kids. Enzo says that he wants to just bite Lanes Nephew he is so cute.
Britney says that she is still totally wasted. Enzo asks her if she thinks Monet is watching and pulling for her? Britney says that she hopes so! Enzo says that he thinks Monet probably hates him because he told her she isn't cut out for the game she should go home and watch it on TV. Enzo starts talking about Brendon wanting to makeup an alliance name for them, the Athletic Athlete Alliance, they could call it the AAA. Enzo says Yo! ..my car ain't broken down! Lane asks Britney if Nick likes BLANK up Britney? Britney says yeah! ..he likes her a lot! Enzo asks if she thinks Nick and Brit are divorced. Enzo asks how long they have known each other. Britney tells him 8 months. Enzo says they are done. Britney laughs and says that's not nice. Lane tells her to look at the picture of his nephew and tells her that she is missing out on kids like that. Britney asks Enzo if he is really sleeping in the Taj bedroom? Enzo asks her if she's scared? Enzo says that the jumanji is over, its all about the Taj now. Britney says that if she slept in the Taj then him and Hayden would have to share a bed and that would be awkward! Enzo says it wouldn't be awkward Hayden goes everywhere he goes! Lane asks Britney if she wants to sleep in the HOH bed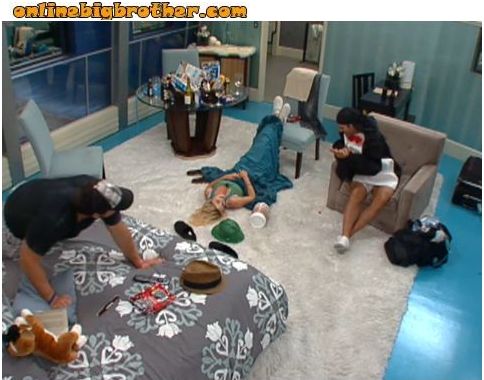 with him, he says she can sleep on the far side and put up a wall of pillows. She laughs. Lane tells her he'll wear shorts instead of just underwear. Lane asks do you want to sleep up here in this bed? Do you need to get more drunk to answer that question? Lane and Britney talk about how they can't believe the game is going to be over soon! Lane asks her again you want to stay up here tonight? Britney NO! Lane says you're divorced! Britney says she isn't, she asked in the diary room if she was even still engaged after the bogey contest and they told her she was still engaged!
Limited time OFFER! $5 off!!
Superpass – 3 Day Trial!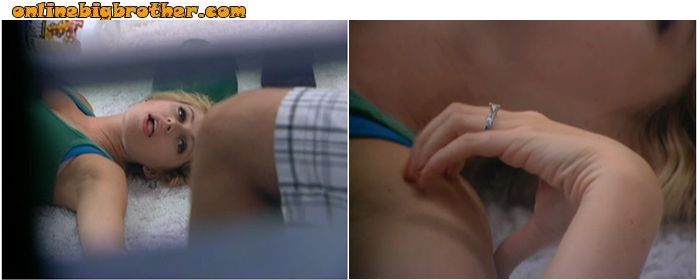 4:40am – 5:25am Britney asks Lane who he will be nominating. Lane says Enzo and Ragan, even though Enzo is going to be pissed at him. Lane says even Hayden offered himself up as a pawn. Britney says Enzo plays harder when he is on the block! Britney says that she thinks it is better for him to put up Enzo. Lane says him and Hayden need to talk to Enzo and show him the pros. Britney asks if he thinks that will work? Lane says yeah. Britney asks if he has thought about putting up two pawns. Lane says no. Lane asks what if Ragan wins and then I'm left with two pawns! Britney says regardless if Ragan wins then you'll be left with two pawns. Britney thinks that Enzo just plays harder when he is on the block and they would have a better chance of Ragan going home. Lane tells Britney he doesn't want to put Hayden up as a pawn. She says it would be better if he didn't. Britney says that Lane winning HoH was the best day of her life. Britney tells Lane that Ragan told her that he knows he needs to win every competition to stay in the house. Britney thinks that she and Lane could beat Ragan at an endurance. Enzo stops listening to the Eminem CD. Lane says that winning the POV this week would be bigger than winning HOH. Enzo starts talking about his speech tonight. Lane and Britney say that he went over forty seconds and that Julie was trying to cut him off. Enzo says that Julie was probably thinking this BLANK is crazy he is safe and he's trying to make himself unsafe. Enzo and Lane talk about Matt's lies and how he didn't like the nickname Gremlin. They laugh about Matt lying about his age by 3 years! Enzo says you said you were 30 but you're 33, yo! Enzo says that he thinks the Gremlin is the best thing that happened to Matty. Enzo says don't say you're 33, say you're the Gremlin! Britney and Enzo say goodnight to Lane. Enzo and Britney are in the kitchen. Enzo says that if he wasn't wearing his penguin suit he would wash the dishes…Enzo and Britney start talking about Brendon ..Enzo says he was a good player. Britney says she guesses. Enzo says that first Brendon wanted to hook up with Annie but she turned him down so he moved onto Rachel. Britney says that she can't believe they only have three weeks left… Britney and Enzo go to sleep…
8:50am All the house guests are still sleeping…
10:22am Wake up call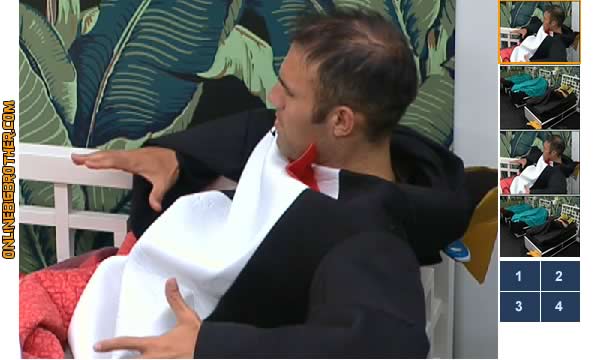 10:30pm Jumanji Enzo, Lane Enzo is joking around talking about how bored they are. Enzo wants there to be more for them to do he's tired of the dominos he wants 2 wrestling figures so he can fight with them.
… Lane falls back to sleep.