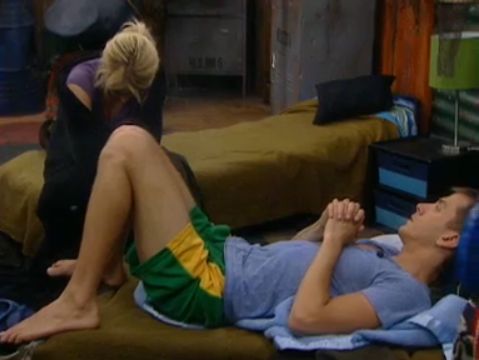 12:30pm Ragan is talking to Britney and Matt in the have not room. Ragan won the POV!! Ragan says that they're smarter than he is and that he doesn't want to make a deal with Brendon. Britney says that if she wouldn't have had Ragan last week she would have shot herself in the face. They talk about how much they hate Brendon. Ragan says that he thinks that was worse case scenario for Brendon. Britney tells Ragan that Brendon told her that Ragan lets Matt make all the dirty moves and that he doesn't respect that.

Watch everything LIVE as it happens!!
Superpass – 3 Day FREE Trial

1:10pm Ragan and Britney come into the kitchen. Ragan whispers cockroaches to Matt who is cooking something on the stove. Matt says to Regan that he gets to play in every POV from now on, you made it to final 7, how about that, huh? Regan says he was so nervous towards the end because he couldn't seethe others, but knew he was close. He just wanted to focus on himself so he didn't look at the others. Regan tells Matt what Britney just told him about Brendon not wanting to backdoor anyone. Regan says he hates him. Regan jokes about how Brendon says Regan threw both endurance competitions to Matt. Matt says its a dig at his pride too to say that Regan let him win.

Watch all drama on FLASHBACK! FREE 3 Days TRIAL

1:40pm Ragan goes into the cabana room with Lane Enzo. Lane says Kathy is definitely playing that dumb card. Enzo says Bren told Kathy dont worry, you are safe. Ragan says Brendon is so full of shit. He talks about floaters, and then he's full of shit. They all agree Brendon likes Kathy because he doesn't have anyone else in the house. Enzo says yeah thats all he has. Enzo says Ragan has a good chance to win next HOH if its a quiz. Regan says yeah and makes a gun shooting gesture. Enzo tells Ragan and Lane that Brendon is talking like he knows he is going very soon. He says he just wants to get people out that he doesnt like. Ragan says he does not like him at all. Enzo says that Brendon will tell you one thing, then change his mind. He says Brendon doesn't trust anyone in the house now.
Ragan says can you blame him? They all agree that Brendon isn't here to play the game, and he should just go. Hayden comes back to the cabana room and tells Ragan that he did a good job. Ragan talks about how he thought he was going to faint because he hadn't eaten much, but he thought, that would be such a gay way to get out of the competition. They laugh. Hayden says he liked the Zing-Bot. Ragan says is could have been Andrew because in another season Jessie came back. Hayden says it had long hair though. Enzo asks what they think about the zing-bot making jokes about them all. He thought he was going to give them advice. They all talk about old house guests coming back into the house. They don't mention Rachel coming back. Enzo says maybe someone from an old season will come. Ragan says no it will be someone from their season, maybe Annie or Andrew but he would LOVE if it was Kristen and she could stay. Ragan says if it was Rachel coming back he would stick a gun to his temple. They all say yeah and laugh. Ragan says she is still pissed off about our bitch fest. Ragan laughs about how Kathy came to talk to Ragan about him making fun of her. Ragan says what game does she think she is playing.

2pm Ragan says that Brendon's nice guy routine is all bullshit. They all wonder if Brendon will cause drama this week. They talk about how Brendon is a bully when someone is there to back him up. Ragan tells the guys about Brendon's apology and said he considers Regan a friend. Regan says yeah you put me up on the block, on slop and now let's braid each other's hair. Regan thinks the nice guy routine will continue but may do something to get between the others to make them mad at each other. Enzo says that he doesn't trust him at all. Hayden asks Ragan if he is stressed. Ragan says we need to do whatever we can to make sure all six of us are here after the next eviction.

Watch all drama on FLASHBACK! FREE 3 Days TRIAL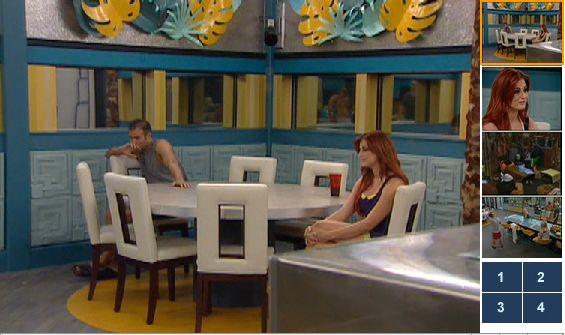 2:20pm Big Brother cuts the feeds until 3pm…. RACHEL IS BACK IN THE HOUSE FOR 24 HOURS !!!