SEE what they CAN'T show you on TV! 3 Days FREE No Commitments
3:40pm Have nots Lane and Matt. Matt really wants Lane to make sure Brendon goes next week if Matt is the one evicted. Matt is worried about Enzo and Hayden wanting to keep Brendon around to be part of some crazy ass deal he tells Lane he has to talk them out of it. Lane doesn't know what direction Hayden and Enzo are taking. Ragan comes in and tells them about BRit thinking the big brother says game will be used for the end of Have nots show tomorrow. They start to talk about the chances that tomorrow will be double eviction. Matt thinks there might be a chance because even though they haven't had knockdown yet some of the competition sets do not take too long to set up. Ragan now says that maybe they won't show too much of the big brother says game because sometimes they use old footage. They mention that there has been no DR session today. .

3:55pm Hayden joins them. They talk about the big brother says event, the saboteur, brendon being a douche. Ragan tells them about Brendon going up to BRit this morning and telling her that Ragan won't win the HOH because he gets to jittery during the comps. Ragan wonders why Brendon is so certain he'll be safe next week. Matt doesn't think that BRendon really feels safe he's just in denial, "He's as mental as she (rachel) is, just in a different way." Lane agrees. They start to go over all the big brother says messages and trying to find how they are related to have nots. TP the HOH because the HOH picked the have nots this week, look in the mirror and do a muscle pose because when your off slop you feel strong.. etc etc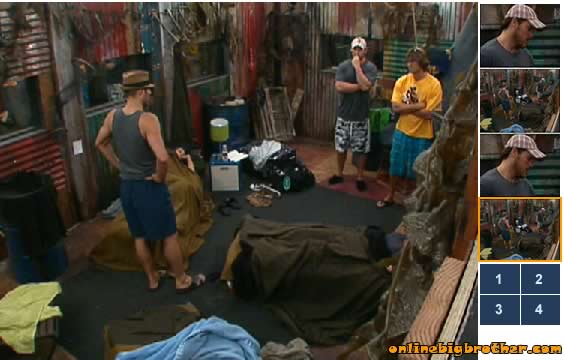 4:20pm Enzo, Matt, Brit, Hayden, LAne. THere joking around with enzo asking him what his power is. They ask him if hos secret power is fire. Matt mentions that its the coup d'etat, RBit gets all excited about the idea and hopes everyone puts Brendon up with they use it. Enzo tells them that Brendon asked him to go up to the HOH and talk. THey find out they are in lockdown.

Watch all drama on FLASHBACK! FREE 3 Days TRIAL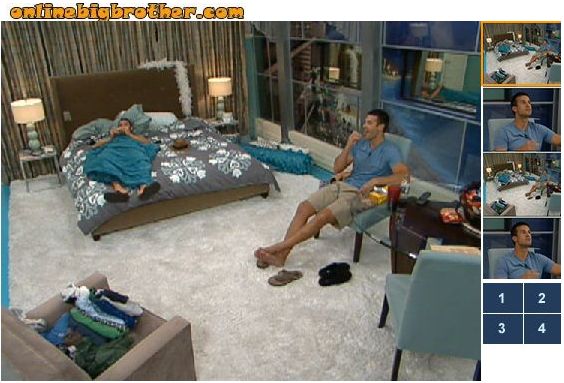 4:30pm Enzo comes up to talk to Brendon. They start watching the spy cam … Enzo says that you get an idea now what people look like on tv. Enzo talks about the letter he got. Brendon says that it make Lane suspicious. Enzo says that there is actually a saboteur in the house. Brendon says that Britney was acting weird today. Brendon says that she was trying to get in on all his conversations. Brendon really thinks Lane is the saboteur. Brendon says that now people don't think you are the saboteur … because who would write a saboteur message to themselves. They both think that Kathy would make the worst saboteur and that they would catch her right away. Enzo really wants the saboteur to ask him about the note. Brendon says that if Matt is the saboteur and he gets evicted …then in a couple days they will get a message saying they got the sab. Brendon says that now they know that Ragan is a competitor. Enzo's say to Brendon that it will be a four to one vote tomorrow and that Matt will be the one leaving.

4:45pm Ragan and Hayden are talking in the cabana room. Ragan says to Hayden that he would be shocked if Brendon got to the final 2 because Brendon would have to alternate winning HOH and POV each week. Hayden says yeah. Ragan tells Hayden that him and Enzo would not be able to win HOH next week and be able to put up Brendon because they have been up being buddy buddy with Brendon and so if they put him up they would look really shady. Hayden says yeah. Hayden says that he really likes how he can talk with Ragan about the game and get his perspective on things. Hayden says that he is not going to throw a competition. Ragan says that the only currency you have in this game is your word. Ragan says that for players like Hayden that is what is going to get increasingly important for him. Ragan says for Kathy to make it to the finals ….he would not vote for her. Hayden says that if they have a chance to take out someone like me or Kathy …they will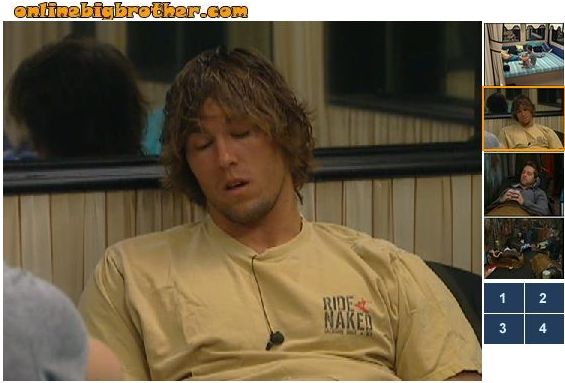 SEE what they CAN'T show you on TV! 3 Day FREE Trial

5pm – 5:25pm Hayden says that if he wins POV he will keep the competitions the same. Ragan says that if Hayden says he will that he will trust his word that he will. Hayden says that he has to fight for the POV because if he doesn't and Brendon wins he knows that he will be going up. Hayden talks about how he love Matt and Lane equally and that he doesn't know what he will do. Ragan says that he wants Hayden to make the decision that is best for him in the game. Ragan says that he will not hold it against Hayden if he votes out Matt. Ragan says that he doesn't think that it is a good move to split the votes. Ragan says that this move at this time in the game is not about friendships or splitting the votes. Hayden says that he and Enzo talked about this and about spitting the votes earlier in the game and that he is going to vote the way that is best for him…. If Enzo doesn't agree then it will be a split vote. Ragan tells Hayden that he should talk to people and that it really helps to vocalize what he is thinking to really be able to make a decision. Hayden says that he is going to tell both Lane and Matt what his decision before the vote. Ragan says that he and Britney are two people that really want one person or the other to stay. Ragan says that he is really going to be upset no matter what happens.
Ragan tells Hayden that all it takes is one wrong move and then your goose is cooked. Ragan says that his one mistake was not putting on a game face and sucking it up when things started going wrong with Brendon and Rachel and him. Ragan says that one move was what ultimately almost drove him out of the house. Ragan says that when Rachel asks Kristen if she was going to put her up …and Kristen said that she couldnt tell her that ….Ragan says that one sentence is what ended her game. Ragan says that one last thing he will leave with him and tells Hayden that what ever decision he makes it cant be one that he will regret. Ragan says that this is a game where you have to look forward not back. Hayden says that he talked to Matt and that Matt said regardless of if he stays in the house or not … you can trust Ragan… he is a good dude. Ragan says that after the POV meeting he could have gone up to the HOH and had a talk with Brendon and said that he would save him ….but Ragan says that he is not going to do that and blow smoke up his ass …I just wont do that. Ragan and Hayden talk about last season and who deserved to win like Jeff/Jessie because they really played the game. Hayden tells Ragan that Matt is where he is because he got his hands dirty and was winning things. Ragan says yeah …and tells Hayden that there will not be repercussion from him regardless of which way you vote. Ragan really stresses that both Enzo and him need to sit down and talk to both Lane and Matt and tell them what you are going to do.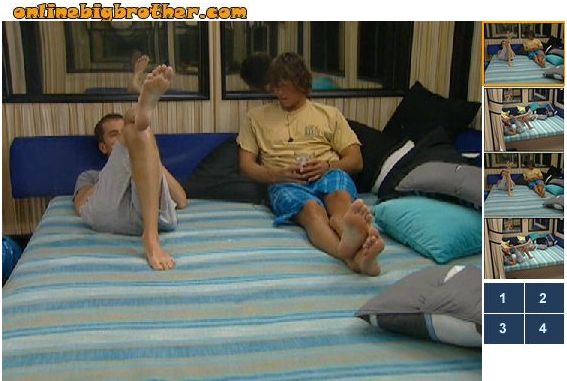 5:30pm Ragan says that he might want to cut a deal with Matt because he is a better competitor than Lane and that Matt could potentially help him. Ragan says that Matt operates from a different perspective than he does like how he told Rachel and Brendon to put him up instead of Andrew. Hayden says that he will definitely be talking to Enzo and figure this all out. Ragan says that makes him really happy that they are going to really think it through and let each know what they are going to do. Ragan and Hayden start talking about the saboteur. Hayden says that he knows he is not the saboteur so it is a one in 7 chance. Ragan then says that he is not the sab either. Ragan says that he think it is either Brendon or Kathy. Hayden tells Ragan that Brendon is throwing around names of who he thinks is the saboteur. Hayden says that even yesterday Brendon was asking where you (Ragan) were thinking that you were up to something.

Watch everything LIVE as it happens!!
Superpass – 3 Day FREE Trial