Every season RealPlayer offers the EARLY BIRD DISCOUNTon the Big Brother LIVE FEEDS, and this season is no different:

Discount period: Friday June 18th and will run ONLY until July 7th:

Pre-season/early bird special – three months priced at $29.99


After July 7th the pricing will go back up to the regular offers:
• Quarterly: 3-day trial, then $39.99 for three months
• Monthly: 3-day trial, then $14.99 a month

DO NOT MISS OUT ON THIS SPECIAL OFFER!!
Why pay full price after the season starts when you can get $10 OFF!! $29.99 is cheap considering you will be able to watch the entire Big Brother 12 Season plus all the extras! Along with having access to Big Brother 12, you can re-watch Big Brother 10 and 11! There are improved chat rooms, exclusive MEMBERS ONLY chats and interviews with Janelle Pierzina, Chelsia from Big Brother 9, possibly Big Brother 10's WINNER Jordan, as well as other previous Big Brother houseguests.
On top of all of that, you will also get 10 FREE music downloads per month… AND a FREE game download each month!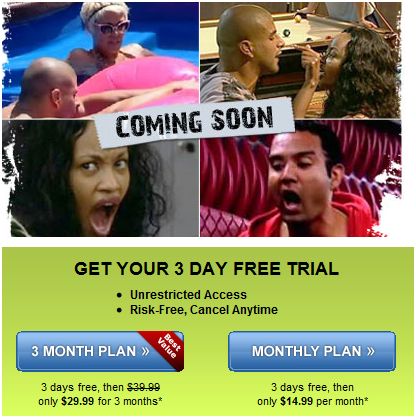 SIGN UP NOW!! ONLY $29.99!! DON'T MISS OUT ON THIS
LIMITED TIME OFFER!

This season the LIVE FEEDS will be Flash-based, much like YouTube, this will provide easier access without the need to download a player. This will give you immediate access, easier-to-use, clearer context and messaging, improved content discovery experience, and will have a scalable foundation.

Big Brother 12 Live feed 24/7 streaming video of the Big Brother house:
Don't miss anything this season, with the "FLASHBACK" feature if you miss any of the fights, drama, romances, game talk you can NOW jump back in time on the live feeds to see all the action!! Here at Big Brother 12 Spoilers we'll report all the action that goes on and at what time in the Big Brother house throughout the day and then all you have to do is login to your LIVE FEED Account and Flashback to that time and watch all the action for yourself!!! What could be better than that, no more wasting time watching the live feeds when nothing is happening!!!

Try the live feeds FREE for 3 DAYS:
Your first 3 days are FREE! Explore the premium player features of
the SuperPass membership as much as you want during your FREE TRIAL
period.
Free trial access begins at trial sign-up and expires 3 days following trial sign-up.
You will NOT be charged during your trial period
Leave us your comments on what you thought of the live feeds from previous seasons.. Were you glad you got the live feeds? Did you miss out on the Early Bird discount and wished you had signed up sooner? Tell us why everyone should get the live feeds this season.. Or if you have any questions/concerns about getting the live feeds, ask us and we'll do our best to answer…

Follow our Big Brother Twitter Account