Every season RealPlayer offers the EARLY BIRD DISCOUNT on the Big Brother LIVE FEEDS, and this season is no different:
Discount period: Friday June 18th and will run ONLY until July 7th:

Pre-season/early bird special – three months priced at $29.99

After July 7th the pricing will go back up to the regular offers:
• Quarterly: 3-day trial, then $39.99 for three months
• Monthly: 3-day trial, then $14.99 a month

DO NOT MISS OUT ON THIS SPECIAL OFFER!! Why pay full price after the season starts when you can save $10!! $29.99 is cheap considering you will be able to watch the entire Big Brother 12 Season
plus all the extras!

Here is the NEWEST Big Brother 12 Commercial: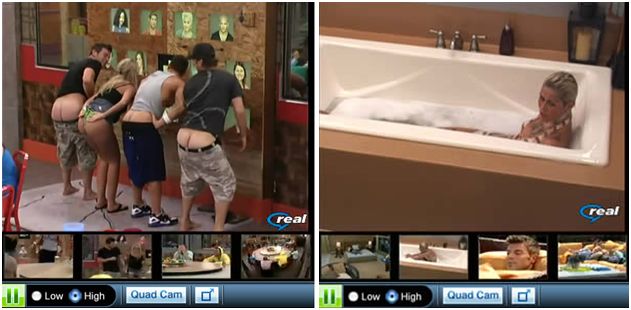 This season the LIVE FEEDS will be Flash-based, much like YouTube, this will provide easier access without the need to download a player. This will give you immediate access, easier-to-use, clearer context and messaging, improved content discovery experience, and will have a scalable foundation.

Members Get the LIVE FEEDS and More on SuperPass:
• LIVE FEED REWIND: Miss something? Catch up with FLASHBACK, your live feed instant replay. We'll write the Big Brother Spoilers and let you know when the good stuff happens. If you have the feeds you can go back and watch them for your self.
• WATCH VIDEO HIGHLIGHTS: On-demand – Just browse, click, and play
• DAILY LIVE FEED EVENTS: Catch up with your favorite BB Houseguests and more with live video Q&A sessions (Janelle part of the sub experience, potentially Jordan as well)
• CHAT, REACT AND INTERACT: Debate and discuss with fellow fans via the live feed chat, Twitter & Facebook

Key Dates:
• Season Premiere: July 8th
• First Live Show: July 15th
• Weekly broadcasts: Sunday, Wednesday, Thursday

CHECK OUT The NEW updated CBS BIG BROTHER 12 website!! CBS.com

A brand new season of Big Brother is just around the corner!! Are you ready?!

Follow our Big Brother Twitter Account