POV Holder:
?
POV Competition
Aug 15th
POV Used
?
POV Ceremony
Aug 10th
HOH
Liz
Next HOH
Aug 17th
Original Nominations:
Johnny Mac and Becky
After POV Nominations:
? and ?
Have Nots
Vanessa, Johnny Mac, Steve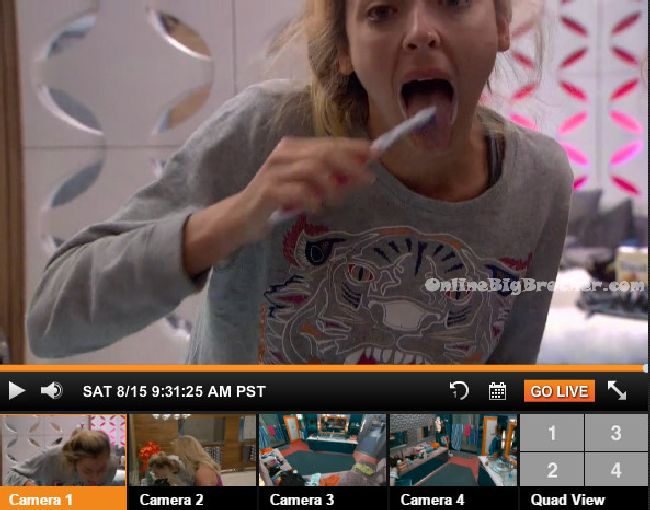 9:30am Big Brother wakes up the house guests. In the HOH room – Julia says ewww! His hair is everywhere! I want to throw up. Liz comes over to see and says whatever. Julia says ewww! Nasty f**k! Liz says you know you're really mean. Julia says get your life, get your hair!! Liz says I'm so scared for me today! Julia says I know! Liz says you understand today sucks. I need to win. I was called to the diary room at 4am. Basically when you're HOH you get no sleep! I need to sleep more during the day. Julia asks do I really want to be HOH. I'm like a bitch when you're HOH. Julia asks so you guys make out every night? Liz says no not that often. Julia says don't do it often because that sh*t is on the live feeds. Julia tells Liz about the pranks James was pulling on her. My bed literally smells like chocolate. Austin joins them. Austin tells Liz when we found out from Becky that James threw the BOB when Vanessa was HOH .. that will be a big moment on the show. Liz says well she can't feel bad because even though we found out I'm still not backdooring her. Austin says but its put the plan in motion for next week. Liz says I want the nominations to stay the same so bad. Austin tells them strategies to play the stay and fold veto comp just in case its that one. Austin thinks John will be good at it but Vanessa might be manic. Austin says we can't use Steve as a pawn because JMac is a wildcard. And we've told him he's a pawn. If Becky wins the veto its probably best case scenario because then we put up one of the six of us (brass tacks) to cover us working together. If Johnny Mac wins the veto and Meg or James goes up its going to look really suspicious to Becky. She will flip her lid because it means she's going home. Best case is I win the veto. Or best case Vanessa wins the veto because she won't use it either. I think Vanessa will throw the veto, she throws a lot of things. Julia says remember if JUJU doesn't get chosen JUJU can be host!
Watch the NEXT WEEK of the Live Feeds for FREE! Click here for your: 1 Week Trial
9:55am In the bathroom – Meg tells Becky that they've thought through a lot of this. They're on to Vanessa. Becky says she's scared she won't win. Meg says its just a game. Becky says worst case I go home and watch Johnny Mac win. Meg says its getting down to be a numbers thing. Austin joins them and tell them he thinks its going to be the counting one.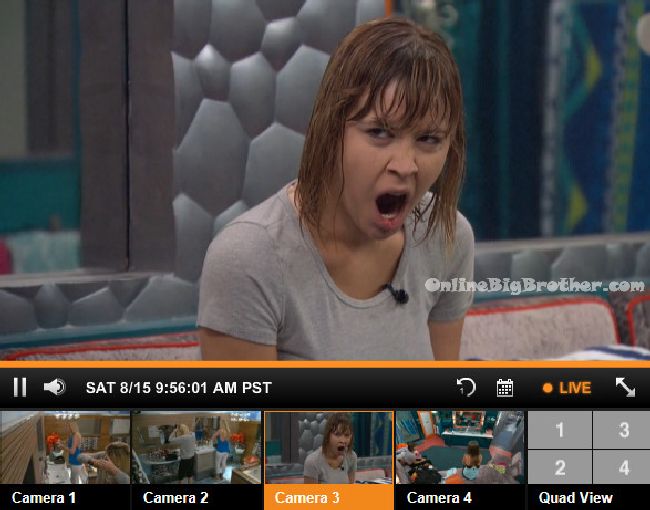 10:05am – 10:15am In the kitchen – Austin talks to Becky. Becky says that John is acting like something is up. I'm scared that if he wins the veto Meg would go up in his place next to me. Austin says no, no, no. Its going to be messy if he wins the veto. Becky joins Meg in the bathroom and says that Austin doesn't know what would happen if JMac wins.. Do you really not know? You would think he would know. Meg says its scary. Becky says you very well could be the one sitting next to me. Meg says I would be pissed if that happens!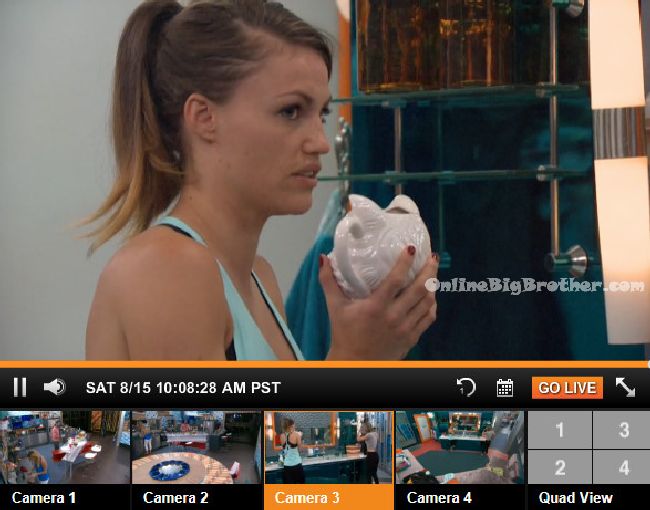 10:20am Becky tells Austin I'm dammed if I do and dammed if I don't. If I win then I'm a comp beast. Liz has won just as many comps as I have. Becky says I'm just scared especially when we don't know who the replacement would be. Becky says I am just scared if JMac wins and then Meg or James are sitting next to me. Austin says I know. Becky says I believe if it gets frozen then I'm fine. If its just if he wins it. Austin says that's why I have to go to work. He just won one so maybe his luck will run out. He's a three already. I think the record is 5 or 6. Becky says I just need to win. Its tough sitting next to the veto king.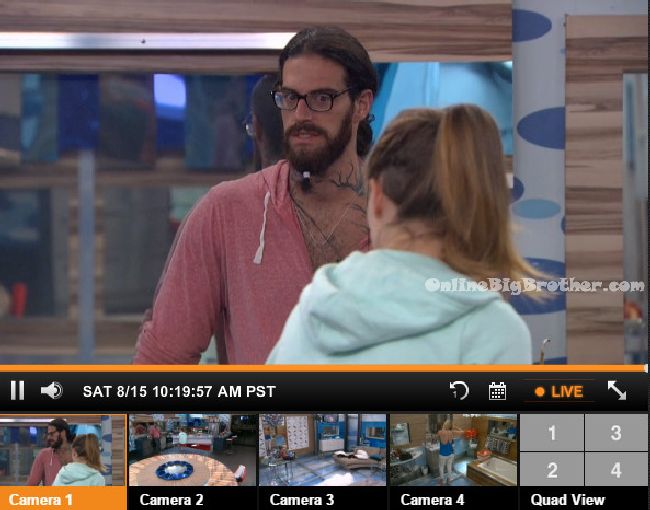 10:25am Austin goes up to the HOH room and tells Julia and Liz that Becky is only scared of one situation, if JMac wins it. Austin says even if Johnny Mac wins and we put Meg or James up and Becky goes home .. then Steve will be pissed and be like why the F**k didn't you send one of them (James or Meg) home. If it came down to that we would have to tell Steve we're working with or have a deal with Meg and James.

10:30am – 10:50am HOH room – Austin says we're in an alliance with everyone left. Its risky. We're in the center of everything and the only person that can ruin it is Vanessa. Liz says its best we don't tell Vanessa anything Austin. Austin asks why would you look at me I talk to her less than you. Liz says she's going to blow up the brass tacks and the freaks and geeks. Austin says but she's in all that too. And we always say she forced all these things. We're being bullied. They talk about their conversation with Steve last night. Austin says its also good if Becky and Jackie are in jury .. only one of them could come back. Julia says it is good if JMac stays because he's looking for a team and he could be loyal to us. Austin says and Vanessa and him will go at it. Austin says we're five people and no one is coming after us. This is nutz! Julia says people are scared of you! You've never been put on the block. Austin says like Derrick (BB16). I guess I'm not such a bad player after all. Big Brother calls Liz to the diary room.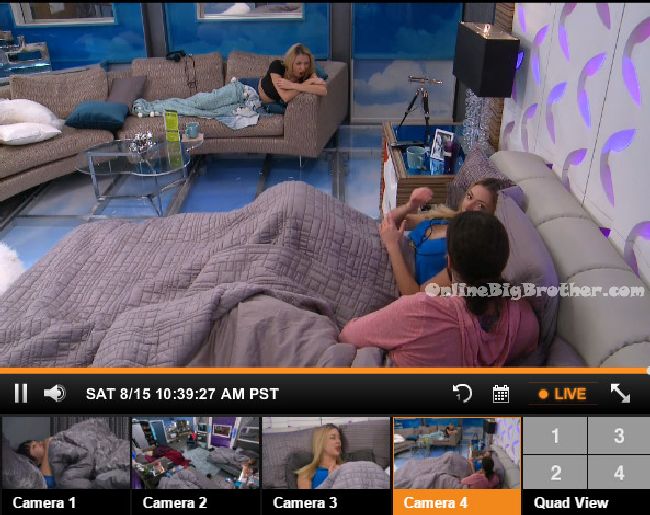 11am Big Brother blocks the feeds for the picking of the veto players..
11:55am Still blocked..
12:30pm Still blocked.
1pm Still blocked ..
1:10pm The live feeds return to sleeping house guests. Veto competition hasn't happened yet. Not sure who is playing either. Julia says its like 1pm, what the f**k is going on. The house is dead and you go down stairs it smells like James and Axe. Steve heads up to the HOH room. He says that literally everyone is sleeping right now. Big Brother calls Liz to the diary room. Julia starts screaming yeah, yeah, yeah, yeah, yeah…

1:20pm
Big Brother blocks the feeds again..
** No mention of who is playing in the veto other than the obvious.
Veto Players: Liz, Becky, Johnny Mac, ?, ?, ?
Veto Host: ?

ALLIANCES:
Goblins/Gremlins = James and Meg
Generals = anyone allied with Becky
SOS = Steve and Vanessa
Rockstars = Steve and Jmac
AUS-Twins = Austin, Julia and Liz
"Brass Tacks"  Gobins and Austwins
The new "Brass Tacks" = Aus-Twins, Meg, James + Vanessa
"Freaks and Geeks" "The Scamper Squad" – Aus-Twins, Vanessa, Steve
[polldaddy poll=9025485]