POV Holder:
?
POV Competition
Aug 15th
POV Used
?
POV Ceremony
Aug 17th
HOH
Liz
Next HOH
Aug 20th
Original Nominations:
Johnny Mac and Becky
After POV Nominations:
? and ?
Have Nots
Vanessa, Johnny Mac, Steve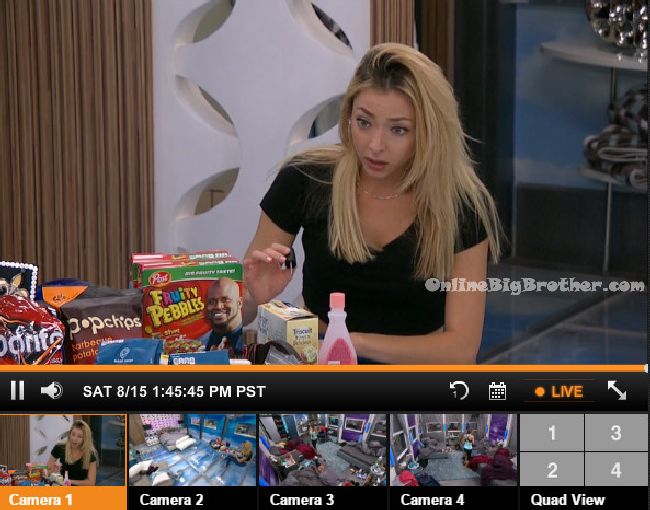 1:45pm The feeds return. In the HOH room. Julia says Meg got picked last time. Liz says and Steve he's got picked in two. Julia says I wanted to play and if I didn't I wanted to host. I guess I'll just sit on the side! The one person I didn't want picked was stupid Steve! I don't want to change the nominations so he better keep it the same. Liz says we had a conversation with him last night about him not using it. He feels bad for Johnny though. Julia says tell him if he uses it on Johnny Mac he is going up. Julia says she wants to Steve to not throw the POV. He needs to win and keep the noms the same. Liz says no wait he can't go up. Julia says I wanted to get picked so bad. Austin better tell Meg she better not use it if she wins it. Liz says obviously .. anyone who uses it is a target for next week. Julia complains that Austin acts like the HOH room is his. Its not. Julia asks what did Vanessa say to you? Lets Jedi mind drill? Liz says yeah. Julia says no, you're a joke! Julia says I don't get why people get picked more than me … its rigged!! I hope Austin tells Steve he better try and win it. Liz says that's what he's down there doing. She he does everything I don't want to do.
Veto Players: Liz, Becky, Johnny Mac, Steve, Meg, Austin
Veto Host: James

1:50am
Johnny tells Austin it was a nice draw. Austin says very good draw.. Johnny says I don't care if I win it because I'm with you guys. I don't care if I win or not basically. Austin says if you could throw it to one of us, we got you. As long as Becky doesn't win, you're fine. It sucks but its numbers. I'm going to go hard for it. Hopefully Steve will too. I know he would be disappointed to not use it. I think it would be good if he won it and didn't use it because it would confuse people after last week. Johnny says I trust you guys a lot. Austin says I trust you. Austin says you could throw it to anyone of them as long as Becky doesn't win it. Johnny says I'm down.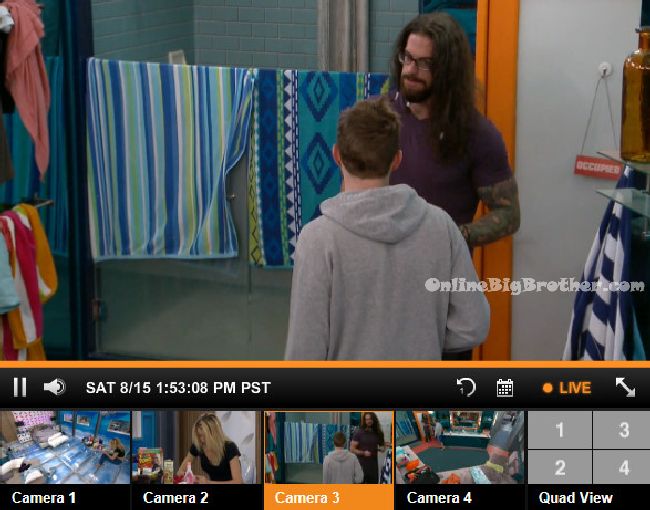 1:55pm – 2pm Austin heads up to the HOH room and tells Liz and Julia that Johnny said he would throw it to me. He's a good guy! Austin says I told Johnny to tell Steve to try and win it and not use it. Liz says Johnny Mac better not tell Becky. Austin says he won't because if he does he knows he might be going home. Austin says that Vanessa is freaking.. she can sense that she isn't up here running sh*t.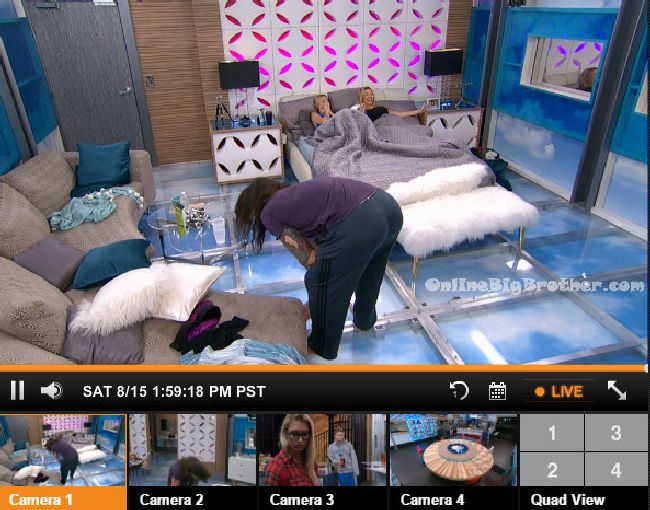 Watch the NEXT WEEK of the Live Feeds for FREE! Click here for your: 1 Week Trial
2:05am Bathroom – Johnny tells Becky the only way both of us stay is if you win it so I might throw it! Becky says if its logic or memory I can't win sh*t. I can only win if its physical. I'll be the first one out if is not physical. Johnny asks what about if its counting? Becky says I would do well at it but I don't think its that one. Meg and James are safe, they're not going to win it for me. Its a 1 in 6 chance at winning it. I know I'm most likely going home this week. If you come down, I bet Meg would go up and I would go home. But I have a 1 in 4 shot at coming back and its usually physical.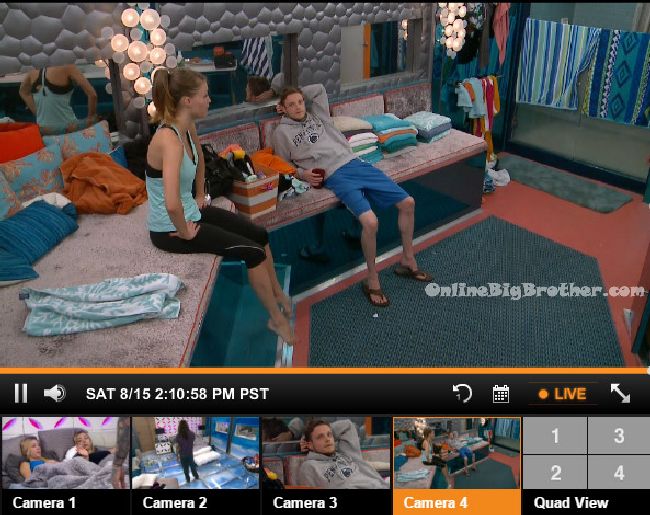 2:15pm Havenot room – Julia talks to Vanessa and says I think everyone knows to try and win because she wants to keep the nominations the same. Vanessa says of course.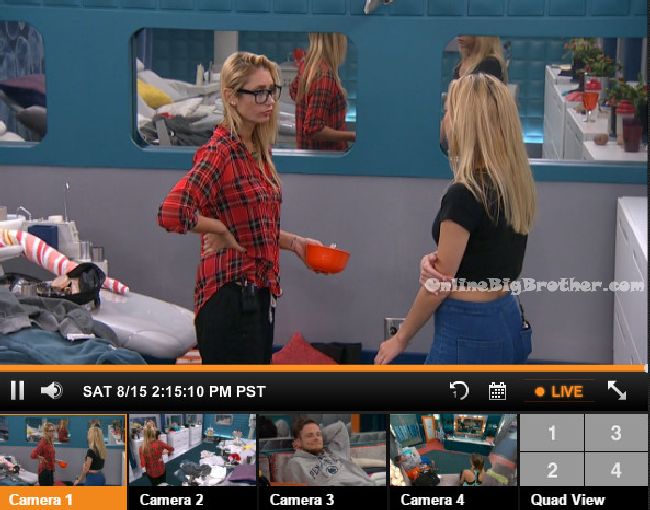 2:20pm Austin comments on it being a nice line up. Liz tells Austin we're the last king and queen standing. Liz tells Austin he needs to win. Austin says I know, I like it when you're happy. I'm going to go pretty hard out there. Liz says thank you!
2:30pm In the bathroom – Steve asks Johnny if there's been any update? Johnny says he ONLY got a warning for eating the cookie. Steve says that's good! Johnny says I just need to stay out of the kitchen.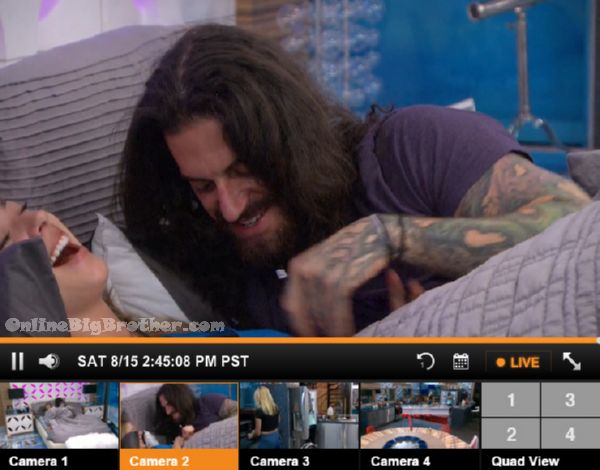 2:33pm Austin and Liz
Liz is worried that Vanessa is going to sway Steve. Austin tells her Steve is with them he's onto Vanessa like the rest of them. At this point whatever Vanessa says sis dead in the water.
[envira-gallery id="128587″]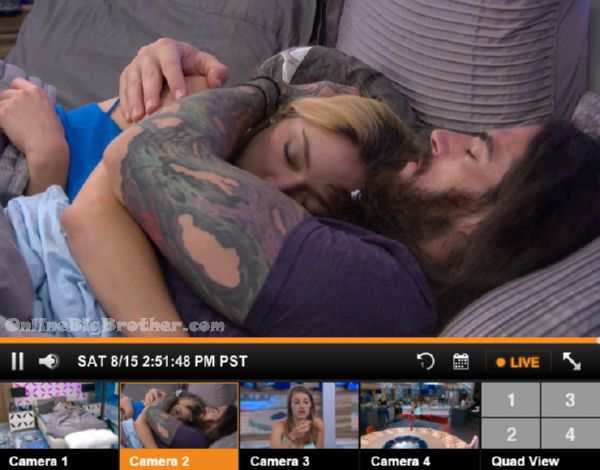 Liz to Austin – I'm like a trapped princess and you're like the evil warlock
Austin – You're my prisoner for all eternity
Liz tells Austin she wants to Keep Vanessa until after the 4th jury member comes back because everyone will be gunning for her.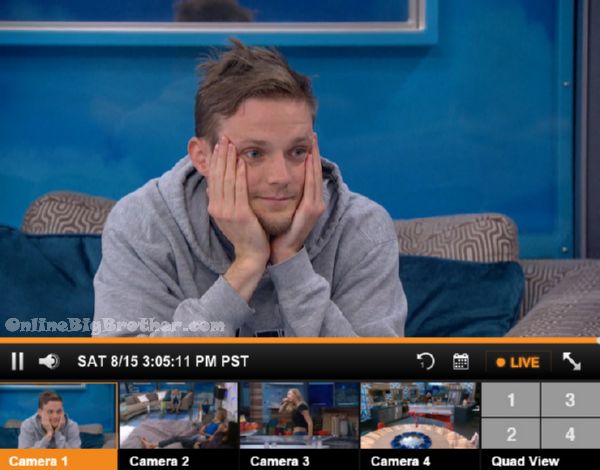 2:58pm HOH Jmac joins them says the POV will be soon.
Jmac- I'll throw it I trust you guys
They tell him as long as Becky doesn't win it they don't care what happens.
Austin tells him they've talked to everyone the votes are locked Johnnymac will be safe.
Liz – this means a lot to me thank you for being on board with this.. we want you to stay
Liz says they want to work with Jmac
Jmac – I'm down with that my alliance has dwindled down these last couple weeks.
Austin says nobody trust Vanessa anymore
Jmac says if words are coming out of Vanessa's mouth it's lies.
Jam hasn't heard her say anything negative about them because they are HOH. Austin thinks it will start once the Veto is over.
Jmac sasy Vanessa told him she wantst to bury the hatchet. He's playign along with her but once he gets a chance he's taking her out.
Liz warns him if Vanessa catches on they are suspecting her of being shady she'll go insane.
Austin – by the end of the week she will make alliance with everyone and come HOH she will throw it .
Jamc says SHelli really trusted Vanessa and gave him all the information he told Shelli .
Liz – wowwwwwwwwwwwwwwwwwwwwwwwwwwwwwwww
Liz – Shelli was fooled by her.. Sometimes JUlia gets fooled by her
Austin – Julia now know s
Jmac – you told her what I told you
Austin – Ya, she knows everything that comes out of her mouth is calculated..
Jmac says Becky know she's going unless she wins the Veto.
Austin warns that Vanessa is going to try and pull Steve and Jmac aside and form a group.
Jamc – she's already started working that hard
Austin and Liz tell him they don't want Vanessa to start feeling secluded otherwise her wheels will start spining
[envira-gallery id="128594″]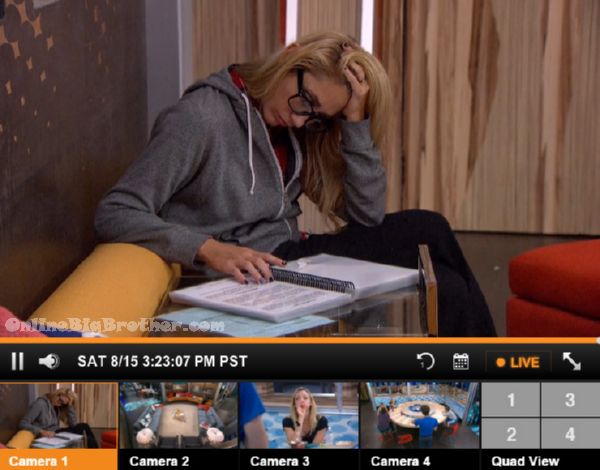 3:24pm Vanessa studying the big Brother rule book.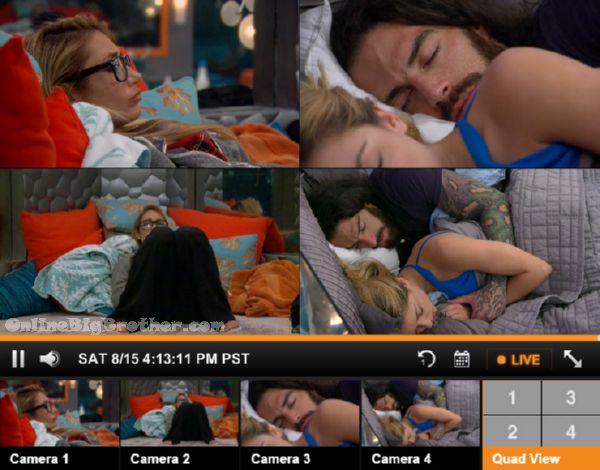 4:00pm Chit Chat but mostly just sleeping waiting for the POV competition to start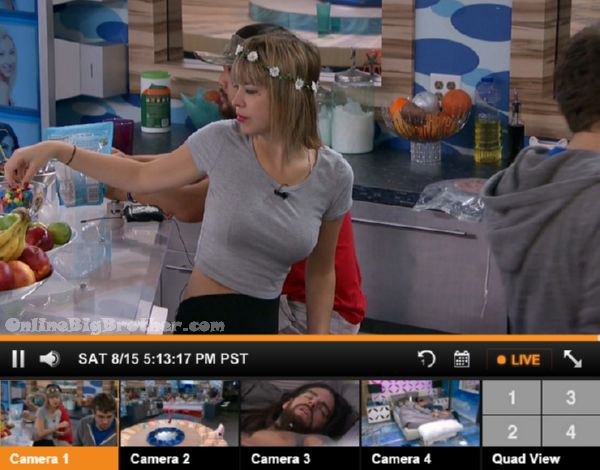 5:19pm POV has begun…..
6:31pm No feeds for you
7:29pm NO
ALLIANCES:
Goblins/Gremlins = James and Meg
Generals = anyone allied with Becky
SOS = Steve and Vanessa
Rockstars = Steve and Jmac
AUS-Twins = Austin, Julia and Liz
"Brass Tacks"  Gobins and Austwins
The new "Brass Tacks" = Aus-Twins, Meg, James + Vanessa
"Freaks and Geeks" "The Scamper Squad" – Aus-Twins, Vanessa, Steve
[polldaddy poll=9025485]