POV Holder:
?
POV Competition
Aug 15th
POV Used
?
POV Ceremony
Aug 10th
HOH
Liz
Next HOH
Aug 17th
Original Nominations:
Johnny Mac and Becky
After POV Nominations:
? and ?
Have Nots
Vanessa, Johnny Mac, Steve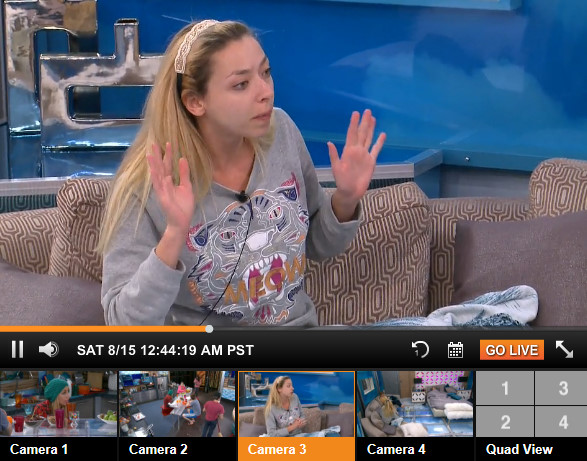 12:40am HOH room – Meg, Liz and Julia are talking about Shelli and Clay. Julia says I was being nice to Shelli and Vanessa was in my ear about it. Meg says and Vanessa had this super friendship with Shelli yet she was trying to have her put up. Liz says we were friends with Shelli but she kind of put all her eggs in one basket. Julia says once Clay left Shelli was trying to go to us but I didn't have more than a minute conversation with her and you have to remember you did very well in the competition part of this game but there is there is a very strong social game and you were looking for a showmance with a guy no offence 10 years younger than you. Meg says and you can't just be with him the whole time. Julia asks did you see her when the Ed Sheeran song came on? I was like is she 13 years old!?!? She was acting like a 13 year old ..she's 33!! Liz says its not even about the age because he is that fine and I would look past that but you shouldn't be crying over a guy you've know for 2 months. Julia says she was so concerned he would be over her and find a girl … his age. Meg says he kind of has a wild side. Austin joins them. Julia says I literally had no conversation with Clay.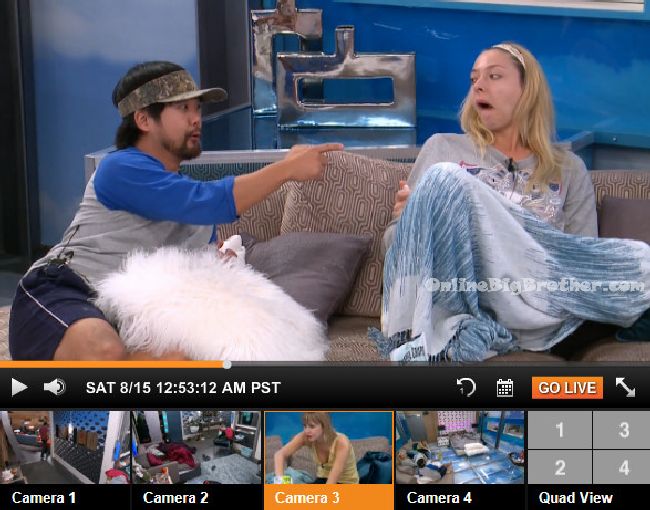 James joins them. James tells them if you go to google and put in glory hole foul stuff comes up. I've definitely tried it. Its good stuff but its foul to you! Liz says ewww what is a glory hole? James grabs the bathmat from the bathroom and says you walk into a bathroom at a truck stop and there's a hole and something pops out of it. Liz then what happens. James says then you go to town on it. Liz asks do truckers pay to get gl*ry holed? James says that I don't know. Liz asks what is the point of the gl*ry hole .. like who is on the other side sucking that d*ck? Girls don't suck d*ck for free. Julia says Lizzzz! We're on the live feeds! Julia says I don't feel any girl would want to do that?! Julia asks what's in it for the girl? James says so she can get down to brass tacks. James says then the girl can turn around and boink!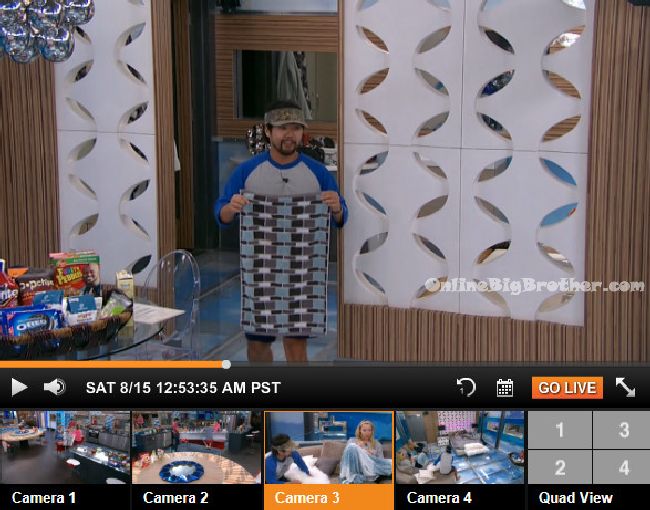 12:50am Becky says my target is here, my best friend is gone and I'm on the block! Steve says I'm sorry its entirely all my fault. Becky says she's good and she'll keep doing it to the people in power she will convince them she's their friend. Nobody wants to ge rid of her because they all feel she's with them. When the reality is if you're on the block she'll just send you out as long as it saves her skin. Steve comments on how they're do for the counting Veto competition. Becky says and Zing Bot will be roughly around final 8. Johnny Mac says I want some money. Steve says Becky took it all.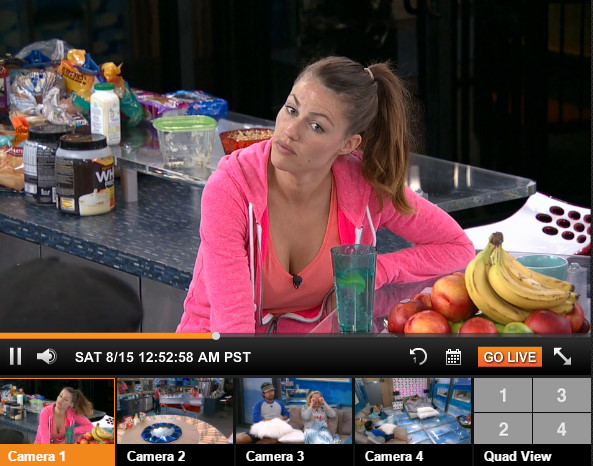 1am Meg and James whisper in the bedroom. James says who's their target this week. Meg says Becky or Johnny Mac. James asks what if one of them wins (veto). One of them comes down and someone goes up. James says f**k! Meg says oh you don't have to worry about that. James asks you? Meg nods. Don't think I don't know what I'm used for. James says you do have a purpose in this game. Sending people home. Put someone up like me and I could go home. Meg says but you only need 3 votes to stay. James says Austin, Me and Julia. Meg says I've already accepted the fact that I will probably go up. James says I just need to win the veto. I would be like sorry Johnny you did it, I've got to do it too. The only thing is Johnny Mac is the veto king! Meg says we need to make a deal with Vanessa for next week. She didn't make a deal not to put us up. We want her to make a deal with everyone so she won't try to win HOH.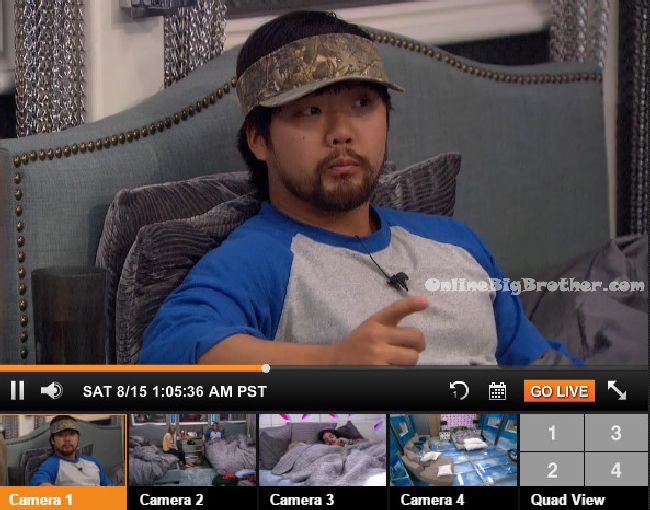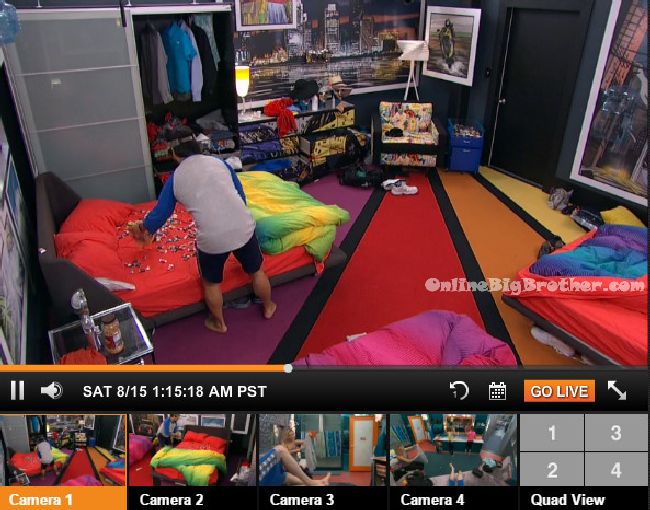 1:18am – 1:30am James pranks Julia by putting candy in her bed. Julia wants to scare James and tells Steve to bait him into coming into the bedroom. She hides under the bed covers and Steve goes to get James except Steve tells James she's hiding in the bed so James isn't scared by her. James then hides in her closet and she realizes he's in there. Julia goes to bed and James is hiding under her bed. He sneaks out and taps the bed scaring her. She runs screaming out of the room.
Watch the NEXT WEEK of the Live Feeds for FREE! Click here for your: 1 Week Trial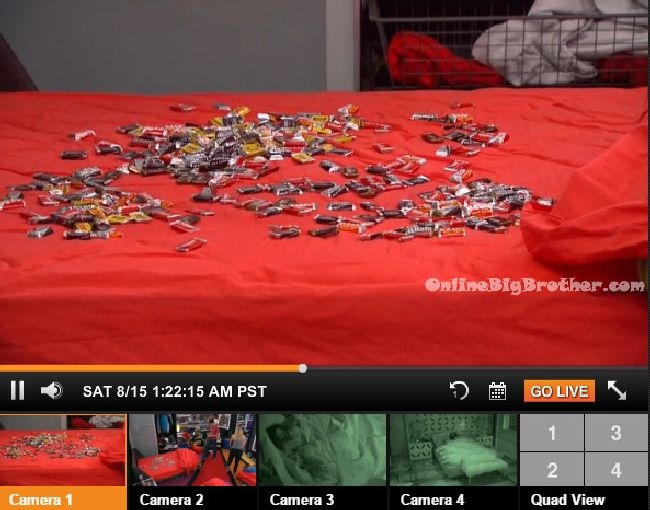 James pranks Julia @bigbspoilers #bb17 pic.twitter.com/21spUQRk9p

— Dawg (@DawgsBigBrother) August 15, 2015
1:38am Bathroom –
Johnny Mac tells Steve that he asked them and they're okay with you playing for the veto for me. Steve says okay. What did you need to tell me? Johnny says that's pretty much it at this point. Johnny tells Steve the Vanessa denied all day that he walked in on Shelli and Clay talking about the 8 person alliance. She's trying to call me a liar. Steve says we still need to play nice with her because she has power and you're on the block. Johnny says I know. Steve says and you're a pawn right now and need to stay that way. I talked to the Aus-twins today about you. What is scaring people is your attitude. You've been staying in bed. You haven't been you. Since Clelli left. We want you back. Johnny says when I talked to them we did very well. My head is other places you know what I mean. Steve says for your game you need to get out of your head and be like you were when Shelli and Clay was here. Johnny says okay. Steve asks about Johnny's convo with Austwins. Johnny says they said to go win the veto and that Becky and I are up because we've won sh*t. Steve says lets play nice with Vanessa even if she's lying to our faces she is still a vote. Johnny says I will. Steve says if I win the veto it makes it really obvious. Johnny says I will pick Julia then. Tell them I will pick you or Julia. Steve says if you are up and aren't the target it might be better to not take you off. Its a risk vs reward. Steve says you do have my vote 110%.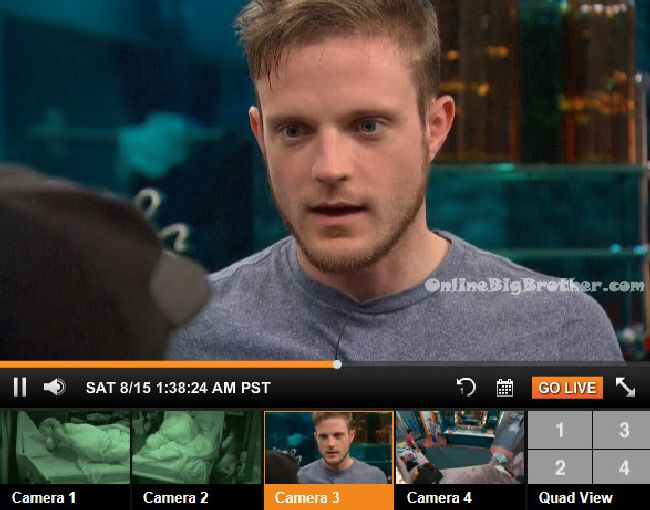 See what they can't show you on TV Try the live feeds for FREE!