POV Holder:
Liz
POV Competition
Aug 15th
POV Used
No
POV Ceremony
Aug 10th
HOH
Liz
Next HOH
Aug 20th
Original Nominations:
Johnny Mac and Becky
After POV Nominations:
Johnny Mac and Becky
Have Nots
Vanessa, Johnny Mac, Steve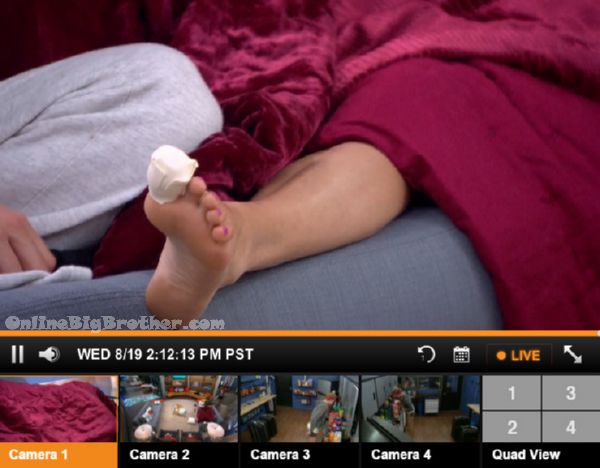 2:12pm Becky in a lot of pain, keeps moaning in pain.
Becky – it's gone from being OK to throbbing..
Becky thanks Steve for his help but asks him to leave she needs some alone time.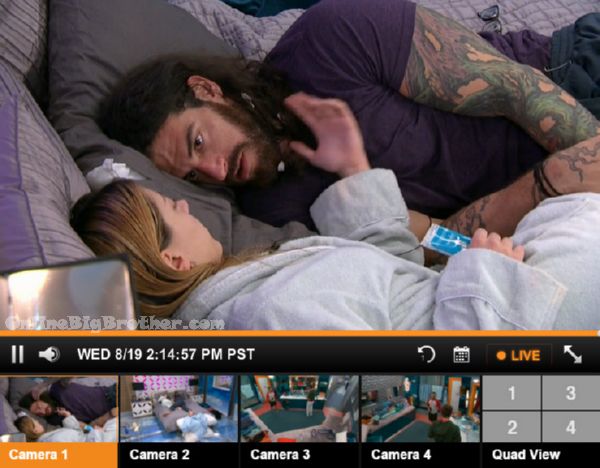 2:14pm HOH Austin and Liz
Austin saying they find out today the status of Becky's toe
Liz – recover in jury hun
Austin wonders if Becky will even be able to compete in the Jury competition.
They decide whoever wins next week is the person they work with. Austin comes back after getting Liz a water.
Austin says Becky is moaning in pain she's going to go back into the Diary room.
Austin thinks Becky is "Milking it" he adds "I think it's strategy"
Liz – 100%
Austin just hopes Julia isn't falling for Becky's toe, He points out how sad Julia is acting downstairs.
Liz – made her (Becky) a cup of tea and that's all I'm doing
Liz – it does look really inflamed though
Austin – it's a big toe, I can move around like this if I had to.. Look she has it hangin out so everyone can see
Says Becky is going to come up to the HOH tonight and tell them to keep her because she cannot compete.
Liz says she doesn't want to keep Becky "It's going to heal in a day"
Austin – whatever you want
Liz not whatever I wantttttttttttt
Austin – Yes whatever you want
Liz – noooooo, whatever you want tooooooooo
Liz – we are the king and queen of this house, we make mutual decisions
Austin – OK thank you..
Liz – It's so convenient poor becky and her toe.. I don't want her in this house she's the one coming after me, Johnny mac isn't
Austin – it's kinda weird it just happened right when she needs it to happen
Austin – Jmac isn't coming after us, he's good but isn't as good as her
Austin – right now it's him and James and JAmes/Meg with Becky who knows
Liz – who the F knows
Austin – We got 2 and 2 and ,1 Vanessa, they're all connected to us
Liz instructs Austin to go downstairs and Talk with Julia/Becky
Austin leaves.
Liz to the mirror – "Girl got hit by a train I'm not feeling sorry for her because of a friggin toe"
[envira-gallery id="129395″]
2:51pm Liz and Austin HOH
Liz is saying Julia is acting super nice to Becky right now.
JUJU comes in.. "What the f***"
Liz – what's going on down there I'm watching (Being extra friendly to Becky)
Julia – If I was in that position I would want someone to help me out
Julia points out that Liz was making Becky tea
liz – I know what kind of Tea she likes
Liz – I have my caretaker
Austin – mmmm Hmmmm
Feeds switch to the kitchen,…
3:08pm The feeds come back to this conversation..
Liz is saying the house is feeling sorry for Becky right now, she won 10 grand she can go fix her toe.
Wondering who is coming back. They seem to think Jackie has a good chance. Twins saying James winning the HOH is the best case they think he'll put up Vanessa and Jmac.
Austin – OR JOHNNYMAC (ZONG!)
Austin "He's not coming after us Steve's in his ear"
3:00pm Becky makes her way to the bathroom
Becky could probably still beat a few HG in a comp #BB17 @DawgsBigBrother pic.twitter.com/ZocVSuWlX2

— OnlineBigBrother.com (@bigbspoilers) August 19, 2015
3:18pm Becky and Jmac
Becky – I feel like a pregnant woman that gets the contractions..
Becky moans in pain
Becky is waiting for production to get her prescription.
Becky is in tears "It's unbearable"
Becky hopes it doesn't get on the show all the toe pain
Jmac – it'll get on the show
Becky says she's allowed to wear flats "I can pull off sandals"
Becky – I could even imagine the thought of putting on a tennis shoe
[envira-gallery id="129402″]
3:34pm The twins
Talking about how they are sick guys winning this show all the time. Liz says this year the girls are running the show last year it was the guys.
Austin joins them.
Austin talking about how they can trust Johnny Mac next week. Austin thinks the goblins will go up with Vanessa being the b@ckdoor. (I believe Jmac's real plan is Austin and Liz nominated and the backdoor is Vanessa)
Austin says Vanessa has done more sh1t to them than the rest of the house. Austin adds if they vote Vanessa out next week and she comes back they're f****d.
Austin – what if Vanessa tries to poison people against us
Liz – that's what I'm scared of Austin
Liz is freaked out if Vanessa wins the HOH everyone is going to talk to her.
Austin – she can't win
Julia doesn't think Vanessa has a chance if it's endurance.
They all seem to think it's endurance.
Austin tells her people are not going to believe what Vanessa says she's lied to way too many people.
4:01pm
ALLIANCES:
"Goblins/Gremlins" = James and Meg
"The Generals" = anyone allied with Becky
"SOS" (Students of Sound) = Steve and Vanessa
Rockstars = Steve and Jmac
AUS-Twins = Austin, Julia and Liz
"Austin's Angels" = Austin, Liz, Julia, Vanessa
"Brass Tacks" = Gobins and Austwins
The new "Brass Tacks" = Aus-Twins, Meg, James + Vanessa
"Freaks and Geeks" "The Scamper Squad" = Aus-Twins, Vanessa, Steve
"The new Freaks and Geeks minus Vanessa" = Austin, Liz, Julia, Steve, Johnny Mac
[polldaddy poll=9025485]