1:18pm – 1:30pm Comic bedroom – Vanessa tells Julia and Liz her speech for tonight. Ten years ago when I was in law school and trying to figure out what I wanted to do with my life I thought of the following words that have guided me ever since. I find my calm not at the finish line looking back at the distance I've travelled but in the moment on the run out of breath looking forward. I don't know where I'm going and I guess I hope to god I don't get there. I'm happy as I am chasing something eternal and ethereal the destination isn't, and has never been what it is all about for me.. and that's just the way I like it. Guys thank you for being a part of my journey so far, I would be so very blessed to continue it with you even just a minute further. Please vote to keep me. Julia and Liz love it.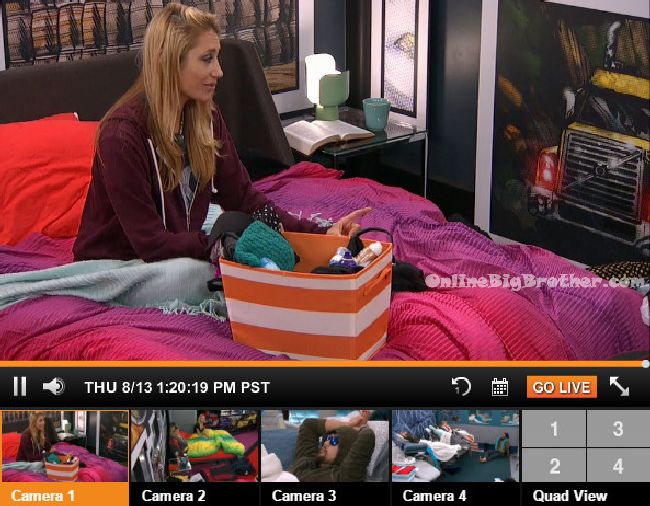 1:40pm – 1:55pm Comic room – Vanessa asks you don't think its weird they asked just her? Julia says yeah. Becky was in there and then went to the diary room. I am going to explain to her its better for our game to evict her. Why are we going to vote out Johnny Mac when he doesn't win. Vanessa says she is a beast. Without her we would have wont that comp. Julia says I know. Austin only cares about himself and Liz does what ever he wants. Like I'm like NO! You need to get out of Lalaland and do what's best for us not for Austin. He's going to throw the competition to day. He is in that room brown nosing them. He's the worst. Vanessa asks you don't think he would make an alliance with them? James, Meg, Jackie, Becky, Liz. Please just win HOH! Liz joins them. She says they were jedi-mind drilling with them. Vanessa asks why!? That's not a good idea. Julia asks if the plan is to put up Johnny Mac and Steve? Liz says yeah. Vanessa asks if I put up Becky, will you evict her? Liz says absolutely. Julia asks if he is going to try and win? Liz says yeah. Vanessa says I don't understand why he is studying with them. I told him a lot of information. That is not cool! You understand if they win I go up! Julia asks why is he doing that. He is acting sketchy! Liz says he is trying to be good with everyone. Vanessa says you cant be good with everyone. That's what happened to Audrey. Its so incredibly not cool. He was supposed to get information and bring it to us. He hasn't once done that. Julia says he is fake, what is he doing?! They start studying. Austin and Steve join them.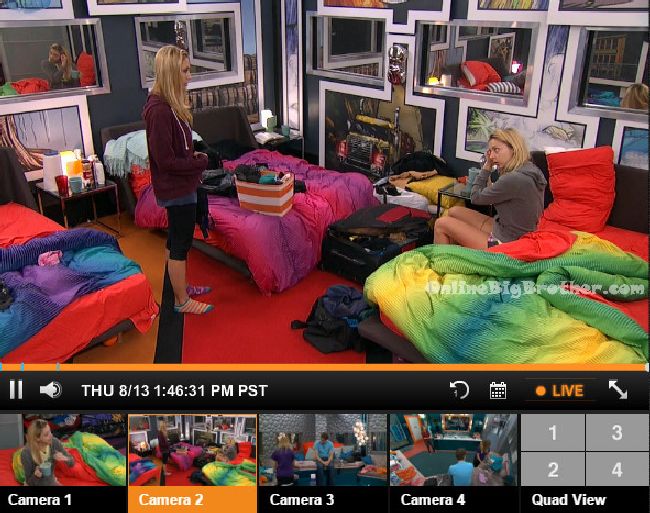 2pm – 2:35pm Austin, Julia and Liz are talking. Austin says the promise with them right now is that we're putting up Steve and Johnny Mac if we win today. They're (James, Jackie, Meg) going to put up Vanessa and Johnny Mac. But they're voting out Johnny Mac. Like we're all voting out Johnny Mac. If Johnny Mac is on the block we're all voting him out. It doesn't matter who wins HOH. Julia says I'm not putting up Vanessa. I agreed to put up Johnny Mac and Steve. They're going to keep the noms the same. We have to keep it the same, we cant use the veto on Vanessa. Liz asks what if Johnny wins veto? Austin says then I would have to put up Becky. Vanessa joins them. She tells Austin that they aren't on our side. Austin says not now .. too many conspiracy theories. Vanessa says I will break it down to you .. I am on your side and so are these two girls. They are not on your side!! Austin gets mad and says he doesn't want to hear it right now. He storms out of the room. Julia tells Liz she is right. Please don't tell me you side with him. Liz says he is trying to be buddy buddy with him. Liz says he think he is doing a lot of work for you and doesn't want to hear it. Vanessa says he wants them to believe he is on their side. I was telling him the reality that they're not. Julia says he is being so dumb right now. Vanessa says don't you think its odd that you went into that room and both answers you got were wrong. Clay is right handed and would hold the bowl with his left hand and the spoon with his right hand. Liz leaves. Vanessa tells Julia that he is feeding her the wrong information> Steve comes in and tells Vanessa he is voting to keep her. They hug. Steve tells her to f**king win this HOH for him. Vanessa says I'll try. Julia tells Steve he needs to win this one. Steve says I'm going to try. Vanessa tells Julia that she thinks Austin picked the fight with her so that if he had to put her up he could and say it was because of the conspiracy theories or whatever he just said. Julia says that Liz is never on my side. I will never forget what he did to me. He is Judas! I know he doesn't like me and I do NOT like him at all! Vanessa says I hope this isn't a double eviction and I have time to sift through this information. We need to drop it.. we can't let him realize I'm on to him. Its easy to catch him in a lie. Please don't tell her about it until after this HOH. Don't let him realize I'm on to him. I'm going to go out there and tell him I'm sorry and thank you for everything you've done. Julia and Vanessa start studying again.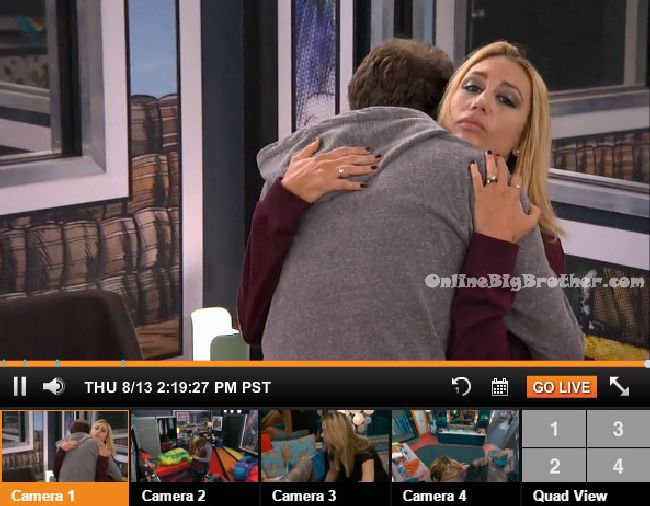 2:20pm – 2:30pm In the bathroom –
Austin tells Liz f**K her I am sick of her and her conspiracy theories. I could walk in there and change the vote and she would go home. I am sick of her conspiracy theories. Everyone is not lying. The bible stuff! I am sick of it. She needs to stop! She needs to stop telling me every five seconds that the only person I can trust is her. I am playing my own game and can make my own relationships. I don't answer to her and don't want people to think she is running us. Liz says I know. What if she puts you up? Austin asks why would she do that? Austin tells Liz to give him a hug. Why don't you tell her to calm the f**k down. Liz says I told her that you've done more for her than anyone else in the game. I said you were just being nice to them because its a double eviction. If I didn't do half the sh*t I did the last couple days Shelli would be staying. Austin says she should just be happy she is here. She made a bunch of dirty deal without me. I don't owe her anything. I am sick of her doubting me at every turn.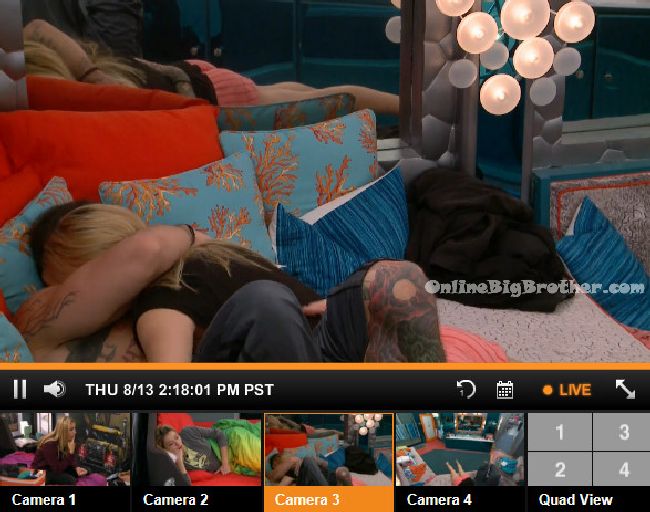 2:35pm – 2:40pm Liz returns to the comic bedroom and tells Vanessa that she calmed him down. He is just sick of you telling him what to do. Vanessa says he is acting like I am trying to control him and I would never try to control him I am only expressing my opinion. If he wants to be mad and throw a big fit fine. They start studying again.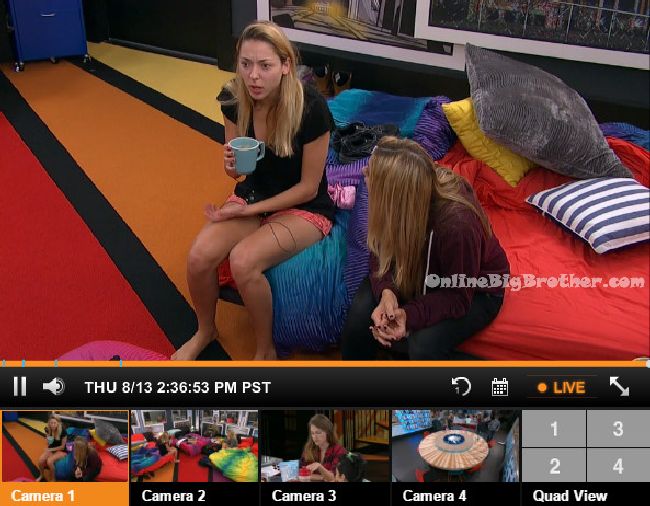 2:50am – 3pm Julia talks to Liz about what Vanessa was telling her about Austin. Liz says that Vanessa needs to stop she would be going home if it wasn't for him. Julia says he was rude to me today and I am tired of it. I don't trust him. Julia says I hope Austin doesn't put her up? Liz says no, but that's why she needs to stop fighting with him. Liz tells Julia that she made out with Austin under the covers last night. Julia says EWWW Gross! Julia tells Liz to stop going under the covers with Austin .. its not a good look. Julia says if you do anything more than making out I will be mad. Liz says I won't, stop!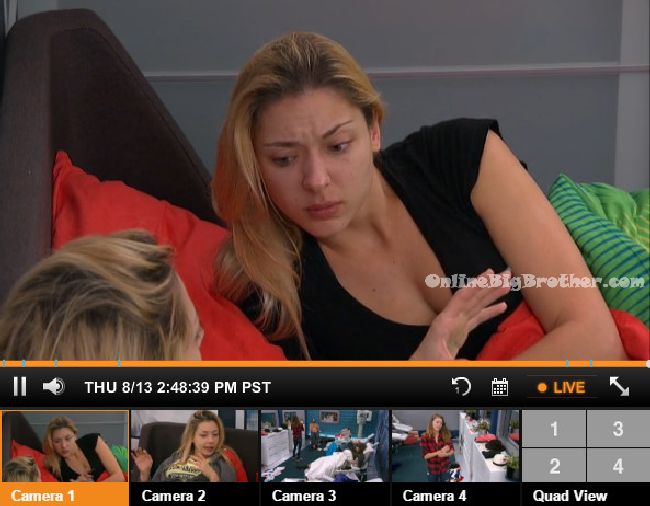 Liz tells Julia she made out with Austin under the covers last night @bigbspoilers #bb17 pic.twitter.com/p7HTTwz6JN

— Dawg (@DawgsBigBrother) August 13, 2015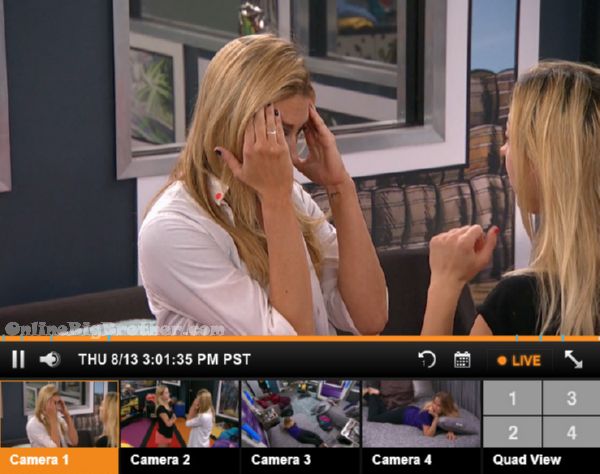 3:01pm Liz and Vanessa
Liz says she has Austin on a tight leash "I control him" and if he tries anything with Vanessa , "We're done.,.. f****g done"
3:13pm feeds cut to jeffish. Mostly likely won't be back until after double eviction.. Holy shit
ALLIANCES:
Goblins/Gremlins = Jackie, James and Meg
Generals = anyone allied with Becky
SOS = Steve and Vaenssa
Rockstars = Steve and Jmac
? = Becky, Shelli, Jmac, Steve
Freaks n Geeks = Austin, Twins, Steve, Vanessa
AUS-Twins = Austin, Julia and Liz
"Brass Tacks"  Gobins and Austwins
[polldaddy poll=9015303]
Share it YO!!
Tweet