POV Holder:
Steve
POV Competition
Aug 8th
POV Used
?
POV Ceremony
Aug 10th
HOH
Becky
Next HOH
Aug 13th
Original Nominations:
Shelli and Steve
After POV Nominations:
? and ?
Have Nots
Meg, James and Jackie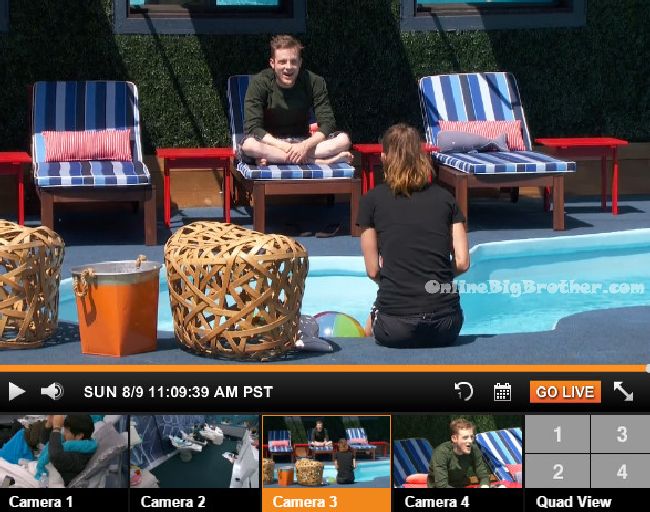 Watch the NEXT WEEK of the Live Feeds for FREE! Click here for your: 1 Week Trial

10:20am – 11:40am Big Brother wakes up the house guests. Johnny Mac and Becky lower the awnings. Steve comes out and says that he keeps losing socks. Johnny says that's weird because I keep gaining more socks. Steve says he only has 5 pairs of socks now and should have double that. Becky, James and Johnny hangout by the pool. Becky says that for the veto competition she was locked in the storage room for 4 hours. (It was an individual competition where they had to be separated) James heads back to bed. Becky and Johnny talk about home reno tv shows. Johnny asks has she (Vanessa) come to you worrying yet? Becky says yeah. She's psycho. She came to James and pretty much kind of threatening each one of us in like a light way Like she (Becky) would be stupid to put one of us up right?! She would be stupid to not put up Johnny Mac. That's the only way that Shelli would go home. Becky says after the veto Vanessa flew into the dentist room asking. And Meg was like yeah that's the plan. Becky says I keep telling her of course the plan! The plan of course Johnny Mac. After she kept saying I have your word right?! I have your word right! She is all about our group she didn't care about Austin and the twins. Becky says Thank you for bullying me into your plan for my HOH .. like I should protect you when you had mine and James's a$$ on the block with our suit cases packed. She came up freaking out last night and I told her she's always so paranoid, you need to relax. I told her I'm not putting her up. Johnny says she's covering her bases and being really nice to me. I asked her if she would vote Shelli out and Vanessa said yes, I think its the right game move. I was like perfect. Shelli has Vanessa's back even when she is on the block. The one person that is trusting you right now you're sh*tting on. I'll talk to Austin and the twins after the veto ceremony and explain it after. After let her be the crazy one. johnny says the only way I could see it being bad for you is if one of the twins win HOH. Becky says she thinks it will be okay once she explains everything. She threatened to put up Austin and made him feel like he owes her. She's freaked out at everyone at this point. My hat!? Holding onto her beanie! What just happened!? I don't know what just happened?! Everything's been ruined! F**k her word! I vomit in my mouth every time she says "My word!" The people that get you to promise your word so much are the people that lie the most. Vanessa preaches about loyalty and I think she is the one with the least loyalty in this house. I promised her I wouldn't go after her till jury… its jury .. goodbye!! Becky says between you and I .. you and Steve aren't really a target for James, Jackie, Meg and I wouldn't be after you. I think Shelli is still a target. You guys have been so good about things. Meg joins them and the all head over to the hot tub.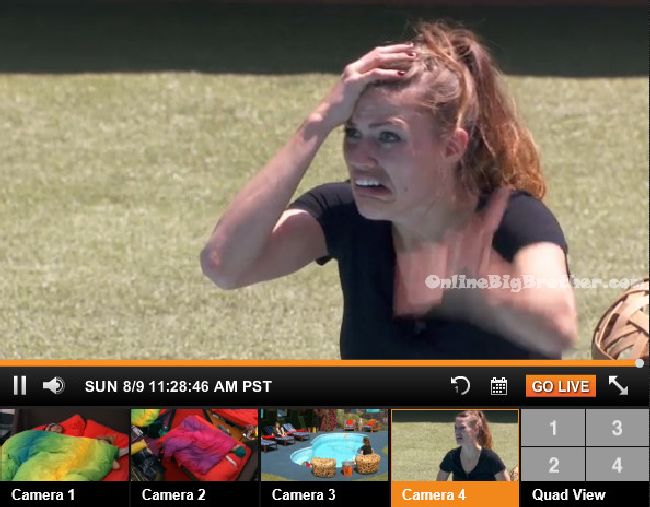 Becky about Vanessa "My hat!?" Holding onto her beanie! "What just happened!?" @bigbspoilers #bb17 pic.twitter.com/mLR0bDtanj

— Dawg (@DawgsBigBrother) August 9, 2015
11:50am – 12:15pm Becky, Meg and Johnny Mac talk about the veto competition. Meg says I can't get over the fact that Steve did that in 13 minutes! Becky says I'm convinced he has comp set up in his backyard. Meg says that had a lot of physical to it too. They talk about the possibility of someone coming back from jury. Meg says she (Julie Chen) said that going to jury doesn't exactly mean your game is over. Becky says we kind of figured it out too from there being an extra week. Everyone kind of already knows that the first 4 people into jury will get a chance to come back. Meg says she's nervous about double eviction. I just need to win. Becky talks about what to say when she nominates Vanessa. Meg says I think you need to explain it or she will go off even more. If everyone knows then there can't be any he said she said because that's how she works. If everyone knows then she can't go around making up reasons as to why you put her up. Becky says she tells me I need to put up Johnny .. like F**K OFF! Vanessa joins them.
12:25pm – 12:50pm Meg tells Becky the only thing she has on you is that you went back on the plan. Becky says but I didn't. Meg says you could say that the plan was for double eviction. Becky says that the twins and Austin have been in summer camp but Shelli is one of the people that will be hard to beat. I think she should remain the main target after. Becky says that Steve is Dan Gheesling.. throw throw throw .. then when he is on the block he wins. Every time he is in danger he pulls off a win. He is Ian Terry meets Dan Gheesling. Becky says at the end of the day if we need someone Johnny Mac is with us. If he wins he will go after the twins and Austin. Becky says they can't win after starting to play after day 57. You think its a blessing but its not. Meg says that's why Shelli has to go. Meg says that of the four of us if James does go out .. he will be the one to come back. Becky says we need to stick together. Meg says I don't think any of us would do that. Becky says but Jason did it to me. Vanessa joins them again and the conversation ends. They talk about New York and Miami.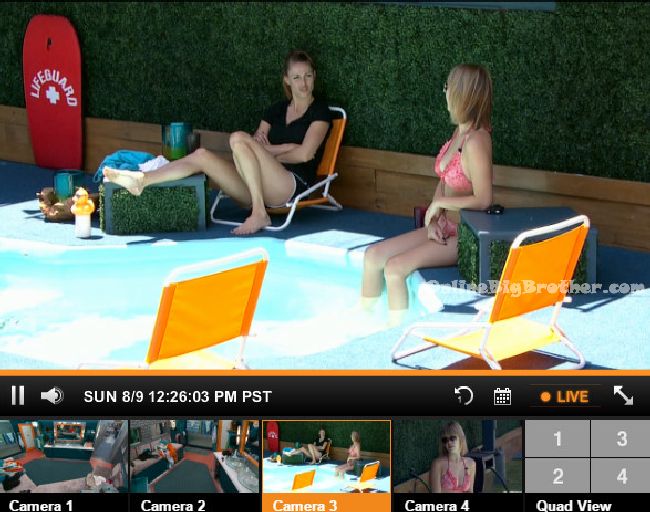 1:15pm Eating and suntanning..
Liz "Austin when you win HOH you'll be my knight in shinning armour until then you're the Jester" @bigbspoilers #bb17 pic.twitter.com/fqFU0CLie4

— Dawg (@DawgsBigBrother) August 9, 2015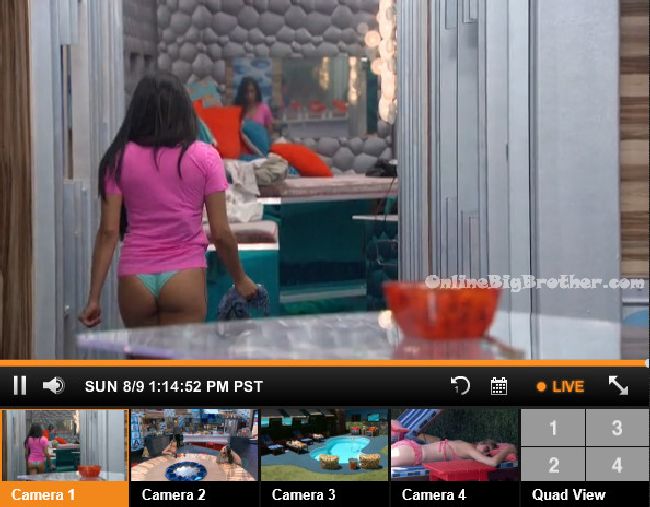 1:30pm – 2pm Quiet day in the bb house… Backyard – Austin and Johnny Mac are working out. Austin tells Meg AKA grandma (they call her that because of her old style of glasses) that she would be showmancing Jerry (BB10) if he was in here (Jerry was 75 when he was on BB10). In the kitchen – Vanessa asks Shelli are you okay? Shelli says yeah just thinking. Vanessa asks I wonder if you won HOH if BB would let Clay send you a letter. Shelli says I hope so .. I told him if I win he better send me a letter. Even one of our pictures together. Shelli says she's annoyed that when James was HOH he didn't even come to them to take an photo with the HOH camera. We were sleeping but still I would have preferred we were woken up.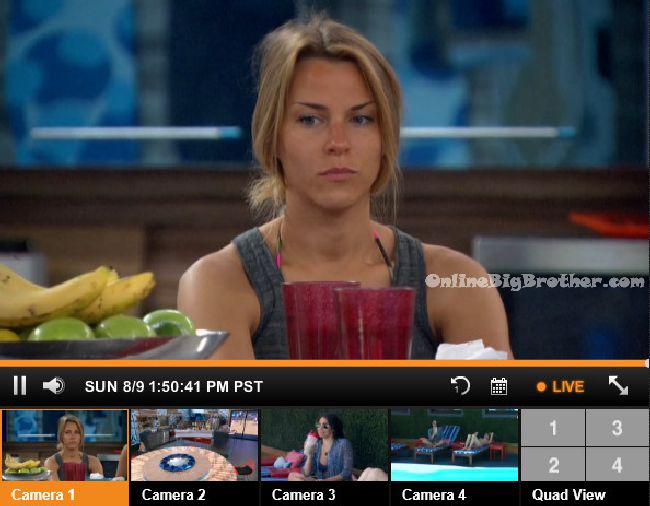 2pm Backyard – Jackie says we could make a 6 person alliance with Johnny Mac and Steve. Meg says no, Steve has to go. Especially after yesterday (Steve pulling out another win). Meg says there are four of us it will be so easy to get out Johnny Mac and Steve. We just have to get Shelli out. Jackie agrees.
2:30pm Liz asks Austin how he's trying to impress by lifting 305 pounds? Steve asks Liz does this relationship have potential outside the house? Liz says yes if he will cooperate with me. Steve asks so you want to continue this outside of big brother? Liz says yes, we'll see though .. we haven't gotten there yet.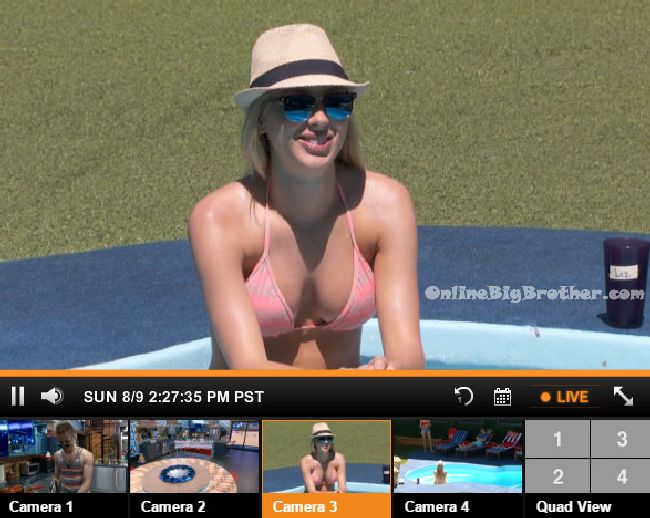 [polldaddy poll=9015303]