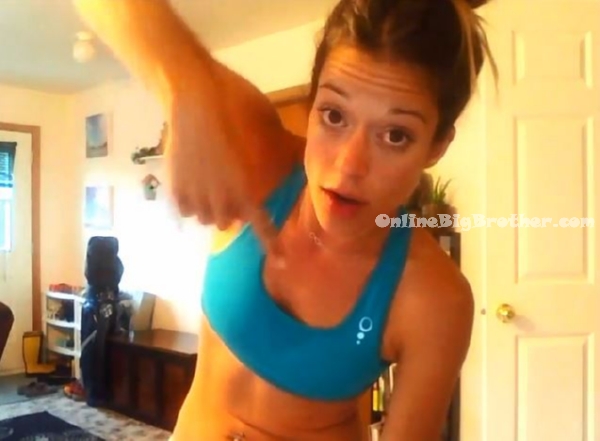 One of the 15 cast members of Big Brother Canada season 2 is Anick Gervais. She is a free spirited girl from Hanmer, Ontario – that claims she has severe ADHA (Attention Deficit Hyperactivity Disorder) which you will agree after watching a couple of her psbyanick youtube videos. She also says that she is a "Breathairian".
TUNE into the Big Brother Canada season 2 Premiere on March 5th – 9pm EST – only on SLICE!
Anick states:
"I don't work out. I became a Breatharian ( https://akahmi.com) a year ago and that definitely had a BIG nudge to where I am today. I've learned a lot. I've learned to let go of "guilt". You are more than a human being you are a spirit having a human experience. Your body can handle SO MUCH MORE than you give it. Stop thinking you are aging and growing old! I've told my body I am 22 years old. I am not aging more than that. lol

I don't work out… well.. I don't spend any time at the Gym. I do a lot of stretching, kicking, moving and A LOT of dancing ( in my living room)."
Spirit Stretch- My work out:

Powering YOU Workshop with Anick Gervais:

My Dream by Anick Gervais:

BIAM FREE FOOD!


Anick Gervais – @AnickGervais Twitter account has 4256 follower and is protected but she states: "Born to LOVE & HELP! Spiritual Coach, leader, motivator, entrepreneur. I am not just a human. I'm a spirit having a human experience. Also known as Anickdotes – sudbury, Canada"
On her Linkedin profile she states she's a member of Toastmasters since 2012 which is a public speaking club. "Toastmasters is all about personal growth.An international organization dedicated to improve
your leadership, speaking abilities and so much more."
ANICKDOTES – BLOG Post
MY STORY – The Short Version – A girl that has a lot to say.
One thing about me. I LOVE to talk, share, inspire, motivate, entertain and be silly. Born and raised in Hanmer, Ontario, also known as Sudbury. Move to Ottawa when I was 17 to attend Post Secondary School. Fell in LOVE with business, when I took the Marketing program at Algonquin College. Moved to Scotland when I was 20 for a year and discovered a different side of me. I then moved back to Sudbury started my advertising career with Quebecore. At 22, I was really annoyed of working for people and decided to work for my self. lol Self employed since I was 22, I sold pretty much anything you can think of. I love selling. Life took another hard turn late 23's and got into what I call a "mini meltdown" I just didn't know where I was going? I thought I grew up too fast. I didn't know what was important to me, anymore. I felt lost. At the time I thought it was a depression, I now realizes it was a spiritual awakening. I started to meet wonderful people who helped me understand more about the world, about my self, about energy.
Read her full blog post: ANICKDOTES – MY STORY
Stay connected and interact with other Big Brother Fans on our Facebook page.
And Follow: @BigBspoilers and @Dawgsbigbrother on Twitter for the most up to date spoilers.
[polldaddy poll=7833634]