| | | | |
| --- | --- | --- | --- |
| POV: | ? | Next POV: | Aug 4th |
| POV Used | ? | POV Ceremony | Aug 6th |
| HOH: | Angela | Next HOH: | Aug 9nd |
| Noms: | | Have Nots | |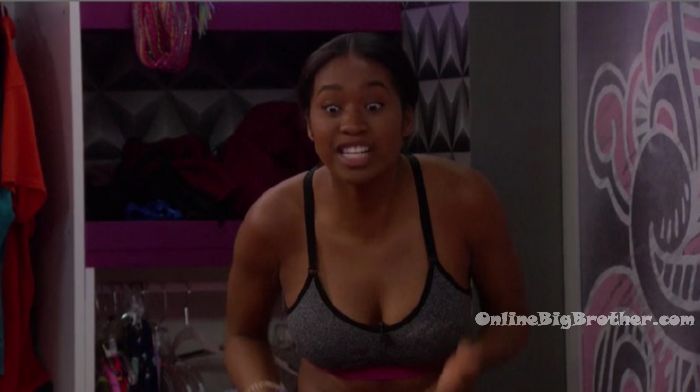 11:09pm Bedroom. Bay and Rockstar. Bay – I don't want to be lied to. Rockstar – I hear you, so tell me what's up? Bay – everyone thinks you're the one that flipped. Everyone thinks you have a deal with Brett and that you lied and told everyone that you did not speak to Brett. Rockstar – I didn't!! Bay – I saw you and Brett in the havenot room this week. Rockstar – I DID NOT SPEAK TO BRETT! Bay – no! You're talking too loud. I saw you in there with him Rockstar! It was just you and him. There is no way you could not be in the room with him and not speak to him. So tell me the truth! You were in the room so tell me what y'all talked about .. STOP making me look stupid. STOP making me defend you. LIKE I look so f**king Dumb right now. I am supposed to trust people to vote and I can't even trust you to vote where you say you're going to put them.. AND then you want to say you haven't even spoken to him?! You have spoken to him! Just eat that up! You have! I SAW YOU!! GIRL you can not argue with something I saw with my own eyes! I saw you and Brett alone in the same room. Rockstar – when was that? Bay – this week in the havenot room. Not in the havenot room .. the geometry room. So you can't say you haven't spoken to him because I know you have .. even in regular conversation.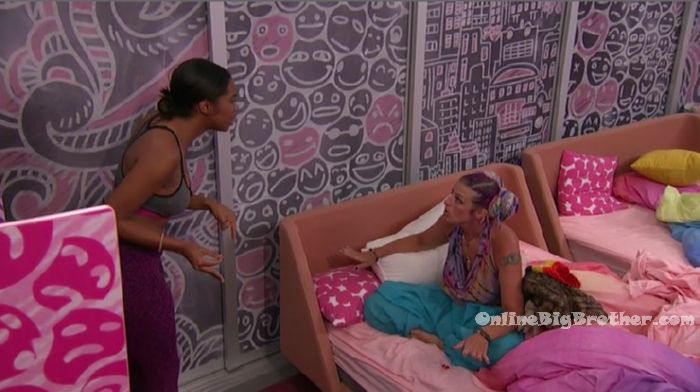 Bay – I need to know what is going on because I need to know who is looking me in my face and lying to me. I am sick and tired of being played with! If I have people in my corner.. its you, its Fes, its Scottie… if one of y'all are lying to me and I can't figure out who it is and I am supposed to act like I am good. Every single vote I have been lied to. Rockstar – I agree. Bay – so tell me what's up!? Rockstar – I don't know. Bay – so everyone just pointed the finger at you and you say you don't know. Do you have a deal with Brett?! Rockstar – I swear to god I do not have a deal with Brett!! And you will see when you watch the show. Bay – I don't want to watch the show.. I want to know now!! Rockstar – I am telling you now. Bay – okay so if I go and ask him now .. he is going to say the same thing? Because he said that you're lying. Rockstar – WHAT?! Bay – can you lower your voice … if I am whispering, you need to whisper too. I need to know what is going on and I need to know quickly. Rockstar – I have no idea. Someone flipped a vote while I was on the block. True or not true? Bay – true, but everyone collectively agrees that was Rachel. Rockstar – I do not have a deal with Brett!!! They said to me in the doctor (DR) that four times you've voted, four times you've been wrong.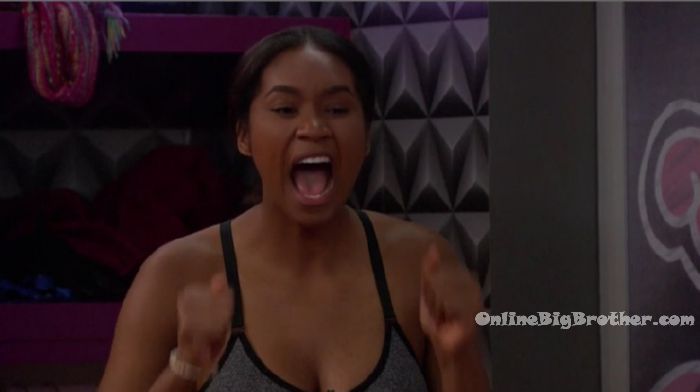 Bay – I don' care about that, you can't prove that. I need hardcore facts!! I need to know because I am sitting here looking dumb as f**k! You have never come to me and said I've got you over everyone else. Rockstar – we have a final 3! Me, you and Haleigh! Bay – we never friggen named it (lol). I need to know who is lying to me!! Rockstar throws up her hands. Bay – nope I don't need you to swear on your kids, you already did that! We will get to teh bottom of it! If y'all want Bay to fly off the handle I will because I am pissed right now!!!! I can't even look anyone in the eye. Rockstar – I voted Brett out. Bay – you know what I am on the edge of doing right now. Its not a good thing. I don't need stories. If we all five need to sit in a room and look each other in the eye and go through details that's what we need to do because I am sick and tied! Rockstar – I voted f**King Brett out! I don't like him. I don't talk to him. Bay – but that's the perfect reason to work with him because no one would suspect it. Rockstar – I wish I had come up with that genius plan. Bay – how convenient that he didn't vote you out last week. Rockstar – I've pulled aside Haleigh, I've pulled aside Scottie, I've pulled aside Fes.. Bay – okay that literally solidifies.. you have just confirmed that I can not trust anyone in our group. You've had friends since day one. Bay leaves. Rockstar – come back I am talking to you..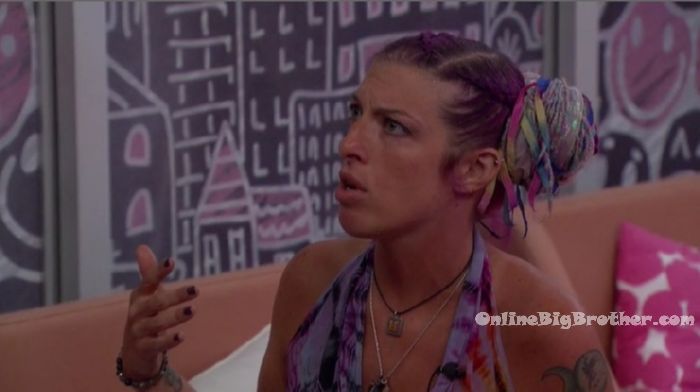 11:50pm Bedroom. Rockstar – you're telling me that I have some mastermind plan with Brett who embarrassed me on my daughter's birthday and never has spoken words to me outside of calling me out in an eviction speech. I've had a buddy system this whole time and I've been waiting for him to come campaign to me .. and he didn't. Bay – how do you explain being alone with him in the geometry room? Rockstar – I don't remember that. Bay – do you want to go ask him? Rockstar starts to go get him and Bay says no I don't even want to deal with that. Y'all have had each other coming into this game so I am going to leave all of you alone. I don't want to get into the drama any more. I am tired of being lied to. Rockstar – I feel the same way. Bay – Haleigh tells you everything. You and Fes are really close and you and Scottie are really close. Rockstar – we are obviously not that close if A one of them are lying and B saying its me. You've never done that? Promise me when you watch the show we will still be friends. Bay – I've had your back never come after you. Haleigh joins them. Rockstar – are you saying I have a secret alliance with Brett? Haleigh – its been brought up. By everyone in the group. I've had 6 people bring it up to me. I have also had people come up to me and say that you said I flipped. Rockstar – who said that? Haleigh – two people from inside our group. Bay – why would you think she flipped? Rockstar – I would think that you flipped ..even though I didnt say that because you have Brett laying in your lap all the time. You hang out with him all night in the hammock. Haleigh – JC walked in on you and Brett in the geometry room. Rockstar – don't remember being in the room with him.
12am Angela's HOH room is ready! They all head up to the HOH room. They all look at her HOH photos and then she reads her HOH letter.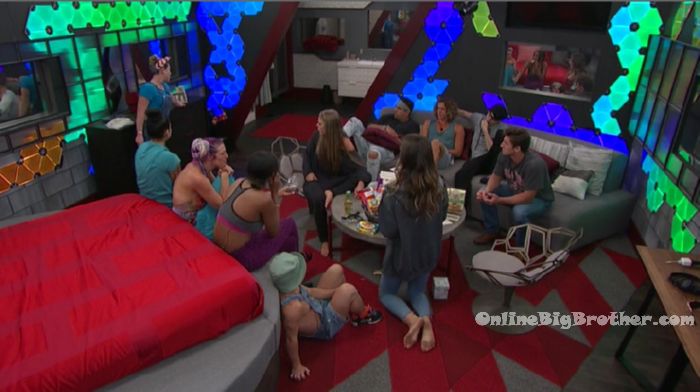 12:18pm Rockstar, Fes and Haleigh. Fes – have you talked to her (Angela) yet? Rockstar – I think she is putting me up. Haleigh – why? Rockstar – because I think so. Regardless if I go home or not.. Haleigh – you're not going home. Rockstar – she said because of all the opportunities to take yourself off she wasn't putting up anyone that she wanted out. I do not have a f**king secret deal with Brett!! Fes – its not JC .. he came into this late. It doesn't make sense for him to jump into this late and then jump out.
12:25am Lounge room. JC and Tyler. JC – this week I want Bayeigh out. If I get the app card I am going to tell you.
12:23am HOH room. Angela – I want you to be the first black girl to win this thing. I would love to be sitting next to you in the final two. Bay – that makes me so happy. I support you in what ever you do. When this house goes up in chaos this week because it will happen. Bay – after all this it will be awkward. Angela – It's been awkward. Bay – do you think all those tears were fake. (Rachel) Angela – absolutely she is an actor and could cry at the drop of a hat.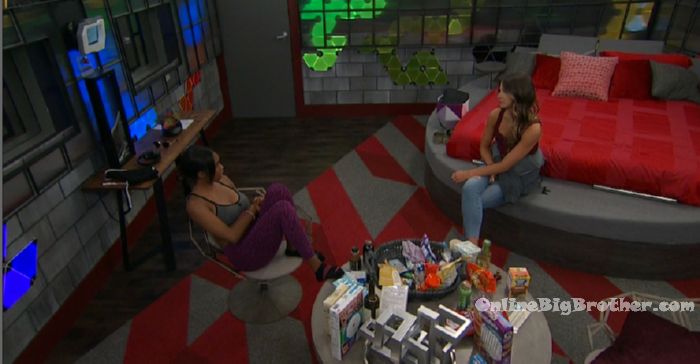 12:38am Havenot room. Bay and Brett. Bay – I do understand that you were calling Rachel out and I did not know that she said what she said. I just thought you were coming for me. Now that everything is going on the table. When I talked to you the other day I mean it. I respect you as a person. That's why I walked off. Bay – I didn't want anyone to know about this power. Brett – last time we talked you said if I am going to use it I will let you know and you never did let me know. I am not holding a grudge and I didn't meant to throw you under the bus. Bay – I am not just trying to clean up the mess. I really think you're a good person. From here on out I will treat you like my private school boys. Just no more Honey. Brett – I will never forget that. They hug and leave the room.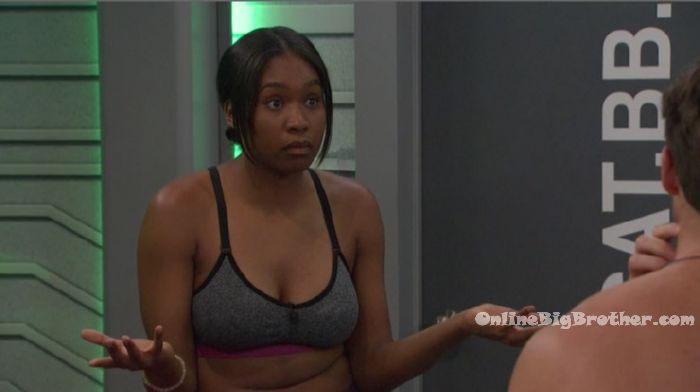 12:40am HOH room. Haleigh and Angela. Haleigh – When I heard Scottie was out I was like WHAT? He thinks he is an evil genius. Haleigh – I will support you in anything that you do. Its hard for you this week because you don't get a normal week. Angela – I am not going to put up people that I would be mortified if they left. I am going to put up people that are able to compete.
1am HOH room. Fes and Angela. Fes – whoever you put up it will be someone that I'm cool with. The only think that I can say that would benefit you is if I win the hacker comp.. Angela – you will keep them the same. Fes – I think you can look me in the eyes and know that I am a loyal person. If I get picked to play in the veto I will keep the noms the same if that's what you want. Angela and Fes talk about how its going to be a crazy week.
1:20am Bay – its all water under the bridge now. Rockstar – I love you. Bay – I was just freaking out. Rcockstar – I'm sorry. Big Brother switches the feeds.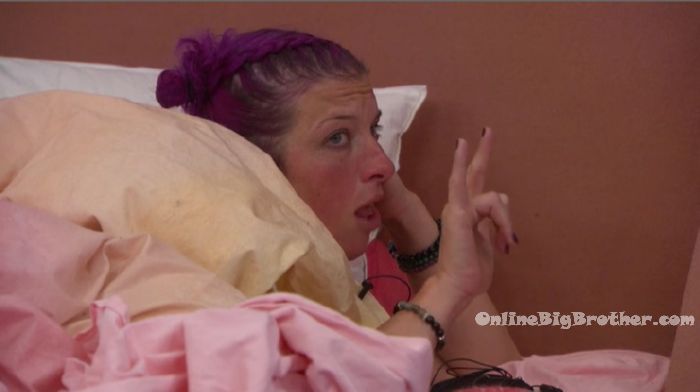 1:40am – 1:50am Angela tells Scottie that she is thinking about putting hand either way Rockstar is a bigger target than you. Its an easy target this week. And I know that no one is targeting you. The girls.. everyone loves you. If I do decide to do that just know that you are not my target. If I do put her up, I think she will just sit there and not do anything about. IF I do use you as a pawn, I don't think anyone would pull her down. And if I do win the veto I will ensure that it is not used on Rockstar. If I have a different target in mind maybe I would pull you down and put someone else up.