POV Holder:
?
Next POV
July 11th
POV Used
?
POV Ceremony
July 13th
HOH Winner Team 1:
Vanessa
HOH Winner Team 2:
Austin
Nominations 1 :
?
Nominations 2:
?
Battle of the Block Winner
?
Next HOH/ Next BOB
July 16th / ?
Original Nominations:
?
Current Nominations:
?
Have Nots
?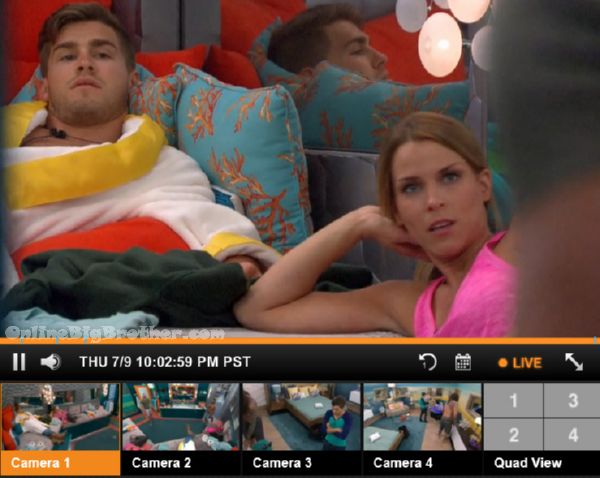 10:01pm Clay and Shelli
Complaining about Audrey making it sounds like Jeff is working with the other side. Shelli says she say him talk to them and it "Look suss-pish"
James/Jeff come in
Jeff – how did two people in an alliance win HOH
Jeff says Liz is an alliance with Austin and Vanessa
Clay – is it official
Jeff – You already knew this dude.. I've been telling you this forever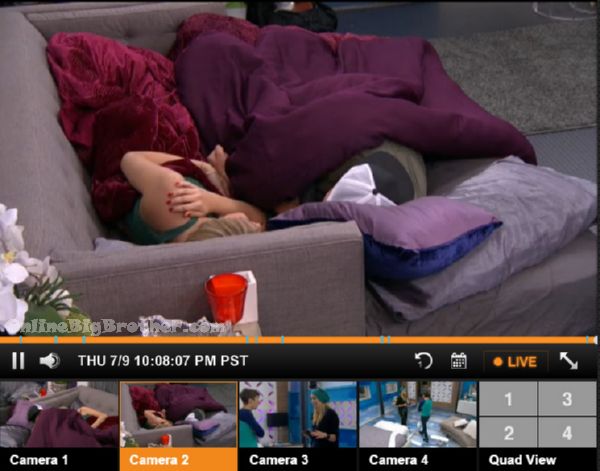 10:08pm Jeff and Meg
Meg – Things are sketch
Jeff – I wonder why
Jeff – I already know exactly every single person I want out of this place.. I know the order
Meg – We need Audrey or Steve someone like that to go
Meg says Shelli is in a scary position, "Jason's Worried"
10:12pm Jason joins them
They start scheming on how to get Steve/Audrey as the target.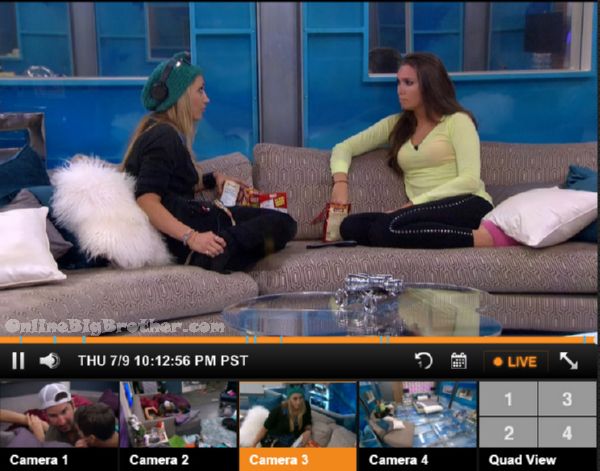 10:11pm HOH Audrey and VAnessa
Audrey – I have one concern, Clay.. I have a gut feeling he's with the other group
VAnessa – what group

Audrey – Umm.. OK Jeff, Jackie, Becky, James, Jason, and Meg
Vanessa – you think they are all together
Asurey – Ya.. Jeff made a really weird comment after we came inside.. well for one him and Clay were rooting for James on the couch
Vanessa – Clay was.. oh really
Audrey – I think they were more concerned about Austin winning
VAnessa – Austin had already won
Audrey – Oh ya right
Vanessa says she'll do what benefits Sleeper cell. Audrey says before the HOH James told her she's OK this week because they have bigger fish to fry.
Audrey again mentions Clay is working with james.
Vanessa is getting a loyal vibe from Shelli and Clay she thinks they can trust them.
Vanessa says Shelli putting Meg up was a big deal for her and showed her she can trust them .
vanessa wonders if Audrey is being a little bit too paranoid.
Audrey thinks maybe.
Audrey says James and Jeff are throwing Steve's name out.
Austin – it's an easy name to throw around
Audrey asks them for advice or tasks to do
Vanessa says she needs to fix her image of looking too strategic.
Austin – right now their panicking you're up here.
Austin – They're telling me go after Audrey we got your back
Vanessa says there's some big time backdooring this week so they are making the house thinks Audrey is the target.
Vanessa – I'm telling you straight up you have sh1t to worry about
Austin – If you go we go next you have nothing to worry about
They tell her it's not Clay that's saying put up Audrey.
Audrey wants a sleeper cell meeting.
Vanessa instructs her to hold the information she gets throughout the day and let Vanessa know at night. They tell Audrey it's ideal if Vanessa wins the HOH.
Austin – Why doesn't any one come up what the shelli
Audrey – they're talking they're strategizing
Vanessa tells her the other side has no idea they were close because they are still telling them sh1t about Audrey.
Audrey tells them if Jeff goes Jackie has no one.
Austin wonders if he's able to woo her.
Vanessa laughs – I think the wooing is going the other way
Audrey – you have Liz
Austin – We're just best buds,..
He adds he's not looking for a showmance.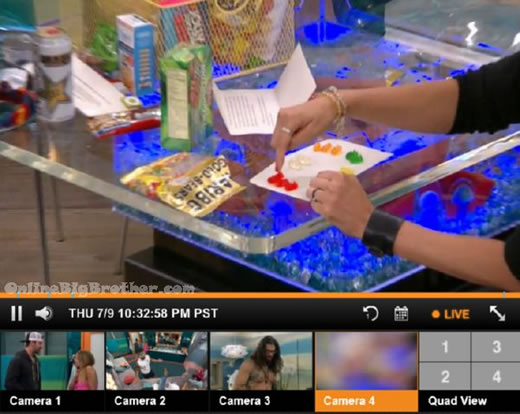 10:32pm HOH Austin and Vanessa strategy talks
Vanessa explaining with gummy bears the house is in 5 quadrates.
Shelli/Clay
John/Steve/Becky Yellow
Steve/Becky
Jeff and Jackie
Jason/James and Meg, Jeff and JAckie
Audrey in the middle
Austin doesn't think they can trust Audrey Before they can continues their planning, liz joins them. They've switched.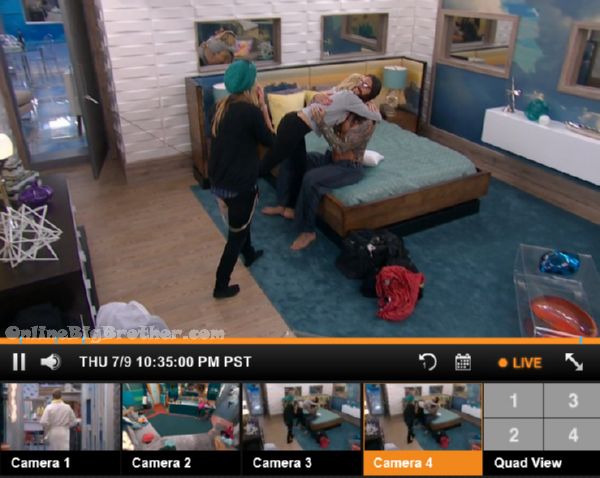 They warn her that Jeff is all over the twin twist right now
Clay comes up "Are you lizz"
Liz – ya
Clay – Oh my god"
They start filling her in on what is going around the house
Clay – Julia forgot about the Shrine
Clay – I've been hanging out with them (other side) a lot so I can see what they're talking about
Clay says the other side is talking like he's with them
Austin – are they throwing me under the bus
Clay – no
Liz is saying now that they have Julia they have the numbers
Clay – we got to get there
Liz – F*** james, F*** jason, F**** jeff
Liz – last time I left the house was monday and no one new..
They tell her they targeted Julia on the talk show and she slipped up
Austin says Julia slept the whole time
Vanessa warns her Jeff will inspect you.
Liz – Jeff is the biggest narc in this house
LIz – I'm literally dying you guys are HOH
Vanessa says Julia has been really quiet so best for Liz to lay low.
Vanessa warns her about the weight difference that the house really noticed. They laugh that Liz is on a diet "No more gummy bears"
Austin has a name for their alliance "The sixth Sense" (Liz, Julia, Clay, Shelli, VAnessa, Austin)
[envira-gallery id="120223″]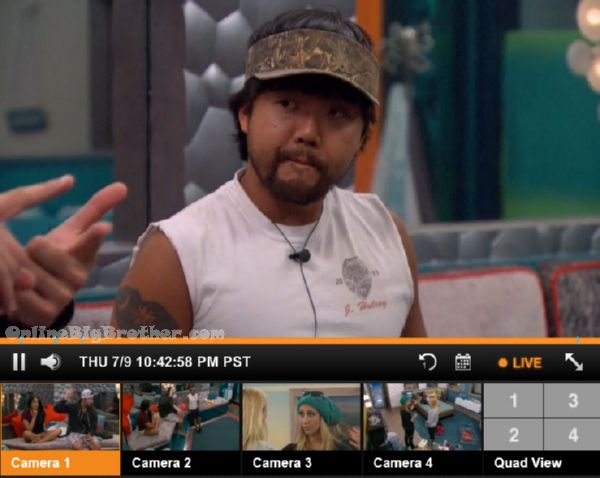 10:43pm
Sounds like their plan is to rally as many people as they can to go up to the HOH and say the house wants Audrey and Steve out.
Share it YO!!
Tweet