POV Holder:
?
Next POV
July 11th
POV Used
?
POV Ceremony
July 13th
HOH Winner Team 1:
Vanessa
HOH Winner Team 2:
Austin
Nominations 1 :
?
Nominations 2:
?
Battle of the Block Winner
?
Next HOH/ Next BOB
July 16th / ?
Original Nominations:
?
Current Nominations:
?
Have Nots
?
TRY the Big Brother 17 Live Feeds FREE for 1 WEEK:
Click here to ensure your live feed subscription supports OnlineBigBrother.com at no extra cost to you.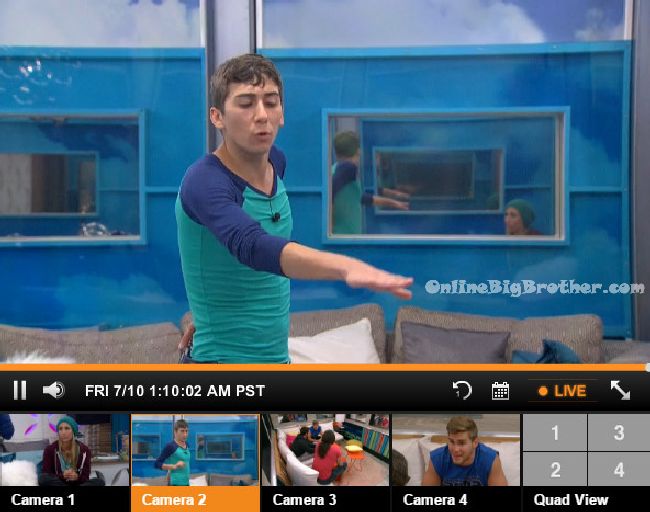 1am Jason and Vanessa continue to talk in the HOH room. Vanessa says that I feel like Clay and Shelli really like you. Jason says I connect more with Shelli. Vanessa says I get it you connect more with girls. I connect more with guys. Vanessa asks when you guys were HOH did anyone throw comps? Jason says apparently Jace told Steve to throw it. Vanessa ask why? Jason says James sat with us and told me he made an alliance to backdoor me. When we were both up here we made a plan to backdoor Jace either way. I was like why was it so important to have me dethroned. Jason says that Steve didn't throw it. Vanessa says alright I think Steve wanted to talk so send him up. Jason says I would just like to relax for one week. Jason says if you don't put me up .. when I am up here next week or in 5 weeks you are good. Vanessa says that's a good offer, thanks. Becky comes up to the HOH. Vanessa says I trust you and know you're a good person. Becky says I'm not with them with they have their power convos. Becky says you would be someone I would not target at all / put up until Jury. Vanessa says I would take that deal. Becky says I know my name has been dragged through the mud. Vanessa says I really like you and her (Shelli). I can see the three of us working together later down the road. Becky says I can see that too. Vanessa asks why didn't you just throw Audrey up. Becky says because there are too many chances for her to get off. Becky says Jackie and I talk in such general terms and don't talk names or targets. Vanessa asks is anyone targeting me? Becky says no. Becky leaves.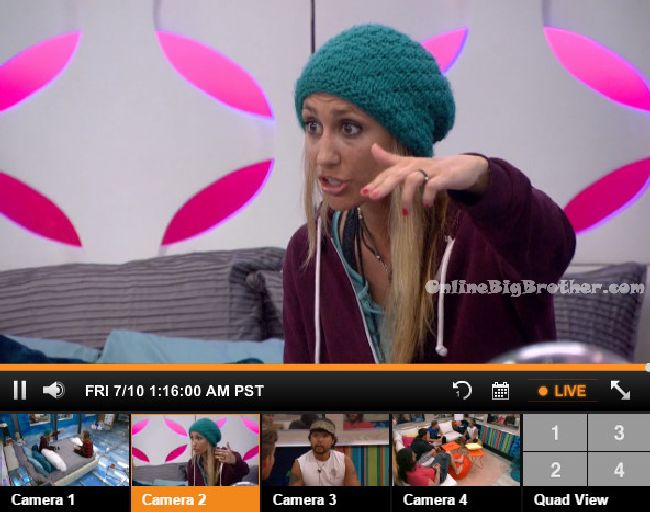 1:15am – 1:30am In the cabana room – Jeff, Clay and Austin are talking. James joins them. James tells them that Jason confirmed that Day had the phone power. James says all those crazy a$$ votes are from Audrey. James says Audrey is so full of sh*t man. Clay says make Audrey think you're going to backdoor Becky. She hates Becky. Austin says okay I like that. I just want to make sure I'm okay next week. James says you're good. Jeff says I think everyone would agree on would be to do what the house wants. You go after anyone else then you start a war. Jeff says that's why you're worried about Vanessa because you don't know where she's at. Jeff says yeah I thought it was you and James. Austin says yeah that would have been perfect. James says one of you will be dethroned so ya'll should be on the same page. Austin says that Vanessa and I already talked and if I get dethroned I would still stay up there to make sure my voice is heard. James says I think because you guys are doing this for the house .. then I think we can get everyone together to say you guys are safe. Jeff says I am okay with once we get Audrey out, then we get out Steve. He's been getting on everyone's nerves.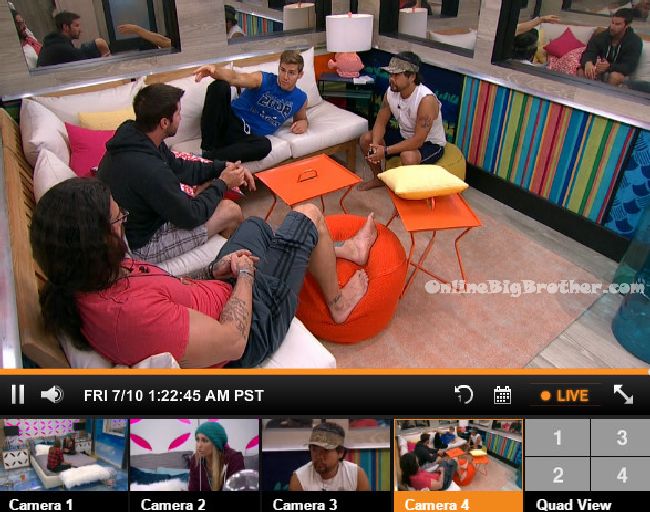 In the bathroom – Jeff tells Austin I know at first you and I had our issues. It's cool that you and I were able to bond over a pod cast. This is a game so I know you were doing stuff to protect the people that you were working with. I need to start thinking about who I want to work with. I don't have an alliance right now. So dude maybe I do need to stop being so friendly with everyone. Jeff says maybe me, you, Vanessa and Jackie. Austin says yeah that sounds great. Jeff starts talking about the differences between Liz's stories and why he thinks she might be a twin. Austin says I talk to this girl so much but I can't get anything out of her. Austin heads up stairs to his HOH room.
Jackie talks to Austin – Austin tells Jackie that she can trust him and that he wants to work with her. Jackie says okay good. Austin says so if Audrey goes this week then who goes next week? Jackie says Jason. Austin says I might throw him up as a pawn this week. I would like to stay HOH this week too because I think everyone would be more comfortable with me as HOH than Vanessa. I am trying to get away from the Jace stigma. Austin says maybe before I get kicked out of here we can have an IPA together. Jackie says yes! Austin tells Jackie that Steve called me a sketchball to people. Jackie says he told people that about me too. Austin says its not cool. Its time to give him a swirly on the toilet. He is sketchier than me running around listening to peoples conversations.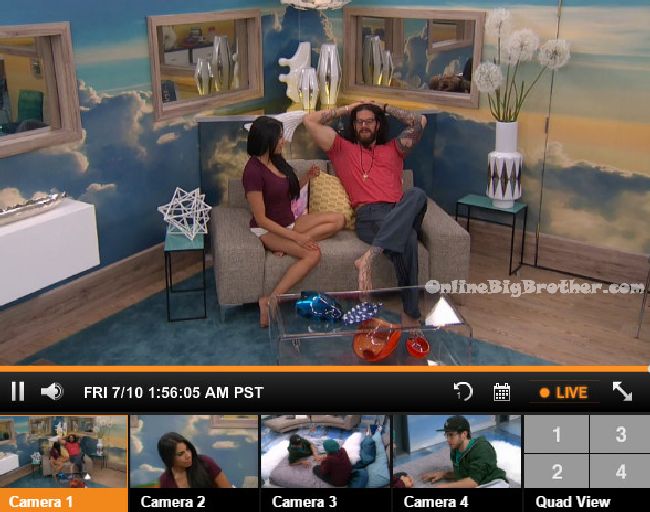 1:40am HOH room – Steve talks to Vanessa. She tells him that he is safe with her. Steve says okay good. I would have won if I hadn't hit the camera. Vanessa says that some people are throwing your name out there. Someone told him something about you that made him mad. He will talk to you tomorrow about it. I will try and help you if I can. Steve asks what can I do for you? Vanessa says the only thing I've heard about you is that you take information but don't give any. Which is good and I know you've given me information so I appreciate that. Vanessa talks to Steve about Jace's nickname for Steve was "Geek Squad McGee" and how Jace had made it up. She tells him that he actually felt bad about making it up. Steve says he likes the name and would actually make it his twitter handle when he gets out. Vanessa tells Steve to try and not act so intense. You need something to make people feel less alarmed by you. Steve says like twerking?! Vanessa says yes like that and to come off less about the game. Steve asks are you targeting Audrey? Vanessa says yes but its hard to put her up. Steve says she is alone but there are other people who can do more damage. Putting her up is personal. Steve says I don't want you to think I am working with her. I don't trust her .. I just think there are bigger fish to fry. Vanessa asks like James? Jeff has specifically thrown you under then bus. Steve says I believe it. You are my number 1 ally in this game right now. Steve says I think Jeff could be a beast in comps. Vanessa asks who do you think are bigger targets Jason or Jeff? Steve says I don't know. Vanessa says I like Jason.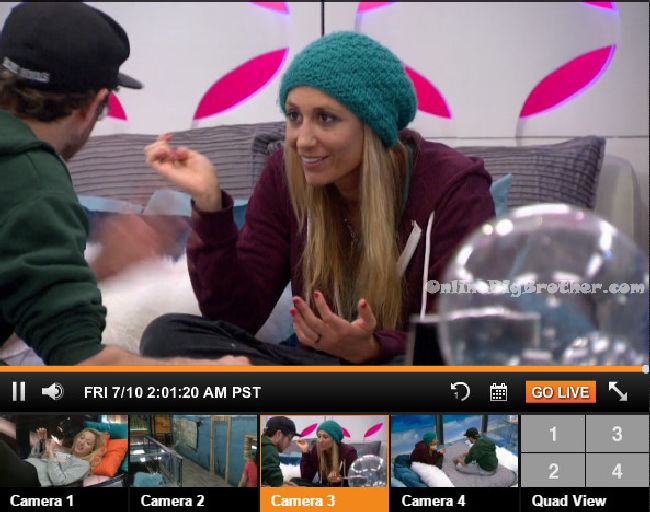 2am HOH room – Austin talks to Liz. Austin says part of me wants to trust Jeff and Jackie. They are throwing Steve under then bus. They want Audrey, Steve and then Becky. Austin tells her that Jeff said one of you likes me and the other likes him. Liz laughs. Austin says he also said that your memory wall photo is a photoshop of both of you. Liz laughs. Austin asks is it true? Liz says no that was me from press day. Austin says Jeff was saying to put up Steve and pawn. I told Jackie she is safe. I don't want to do it. Vanessa might. I don't want to put up Becky either. Liz asks what about Jason. Austin says he told me that Day had the Phone power. Austin tells Liz about how the main people that are paranoid about you were Jason and Day. He said he couldn't tell if you had switched yet or not. He said it would be today or tomorrow.

In the cabana room –
Shelli says that Vanessa is as smart as a whip and I trust her decisions. Shelli says that she is scared about keeping Audrey another week. The camera switch to Becky talking to Austin. He tells her that there is no way she is going up. I want to work with you. Becky says okay good. Becky says that James is shitting bricks right now. I actually think Shelli is cool. Jackie is too. We talk game but its a very general game. Austin says I would really like to bring her in. Becky says that everyone is a woven basket and everyone touches. Becky says that Audrey is trying to throw out as much sh*t about everyone else so everyone targets each other and not her. At the end of the day I believe the sh*t that comes out of your mouth and Vanessa's mouth. Austin says I'm on the same page. Becky says do what is best for you. Take out Audrey if you want or .. Austin says if I don't take out Audrey people will be pissed. Austin says ideal world Vanessa wins and I'm off the hook. Then she puts up two pawns .. and wins the veto and puts up one of the boys or Audrey. If she puts up one of the boys I would be like I didn't see this coming. I would be like Vanessa's gone rogue .. then we get out one of the boys and next week we get out Audrey. Because we know what Audrey is like. Austin says that they're all telling me I'm safe and I know its bullsh*t. I already told Johnny Mac I am not using him as a pawn. I'm sick of it. I told Jackie she is safe with me. Austin says I still don't like that Audrey is throwing my name under the bus.
2:25am In the HOH room –
Steve leaves. Austin and Vanessa talk. Austin says that either Jeff is either really really good or he is legitimately coming over to this side. He came up to me and told me he thinks Liz has a twin. He started telling me all the signs. I just pretended I didn't know anything. He said that if it is true then we need to work together .. and then we could have then both in jury house. Jackie had a good conversation with me too. About how Audrey and Steve need to go and that Steve is throwing me under the bus. Vanessa says Steve just told me he is happy you and I won HOH because he has no one. Austin says everyone wants Steve up and a pawn. Vanessa says that's what they want. Its not good for us. If you want to listen to them, I will do the dirty work. James joins them. James tells her about how Jason told him that Day was the one that had the phone power. James says I have always been up front and honest with you and I've never said anything bad about you. Vanessa says the Audrey is a slipper piece of soap .. but its more like a gun if you drop it, it could go off and hurt someone.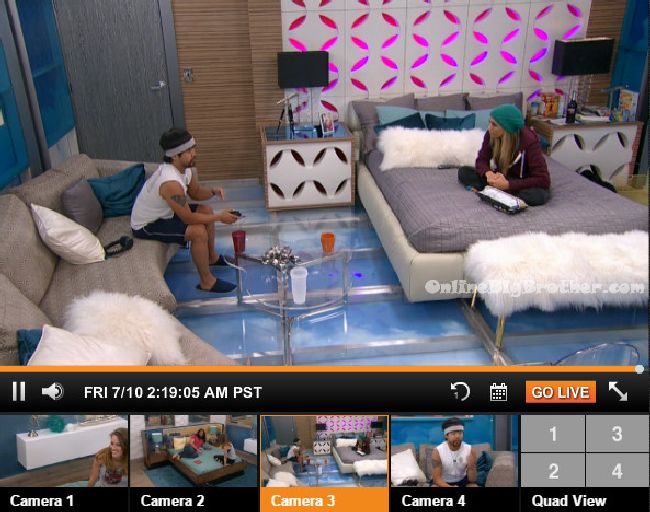 2:40am Austin talks to Meg. Meg says for me I love Jeff he is fine but I mean I haven't seen anything that he has been disloyal about. You are also someone that once you gave me your word I believed you. I like the game player that you are .. that I assume you are. I think Audrey would be a great idea. Austin says I think she would be a great backdoor plan. Me and Vanessa need to come up with pawns. Vanessa and I haven't talked much yet but that is the plan. My idea was to put up Steve and a pawn. Austin says Vanessa said I could stay up here too if I get dethroned. I think we will be on the same page. I don't think she would use you as a pawn but I don't know. Meg says I just don't want to be know as the pawn girl.
TRY the Big Brother 17 Live Feeds for FREE: 7 DAY TRIAL
Share it YO!!
Tweet