POV Holder:
?
Next POV
July 11th
POV Used
?
POV Ceremony
July 13th
HOH Winner Team 1:
Vanessa
HOH Winner Team 2:
Austin
Nominations 1 :
?
Nominations 2:
?
Battle of the Block Winner
?
Next HOH/ Next BOB
July 16th / ?
Original Nominations:
?
Current Nominations:
?
Have Nots
?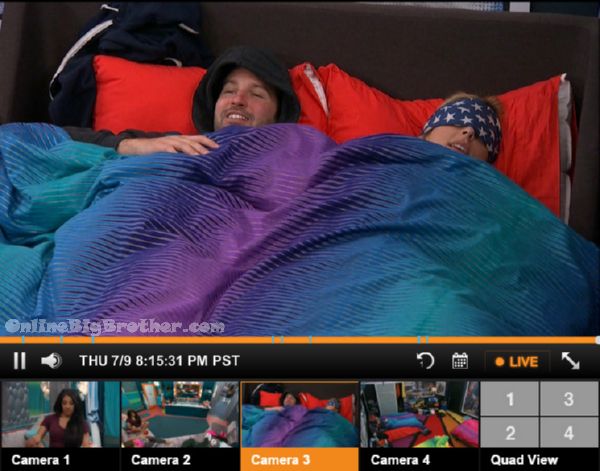 8:10pm Liz, Becky and Jeff
Jeff saying he didn't recognize "Gronk" Liz didn't either.
Becky – Super bowl champion
Jeff says he liked College football moore
Liz – In 5 minutes i'm going to change positions
Jeff – Yeah you are.. hehehe
Jeff thought there was going to be more votes to evict Meg, "Day was doing some serious insane campaigning'
Jef says Da's eviction speech was nasty he didn't like that.
Jeff – If she was pointing a finger she should have pointed to Shelli and Clay
Jeff doesn't think the Speech was a game move it was a personal move a Personale l vendetta
Liz – might as well go out with a bang right.
Liz says she took a peek outside and say the audience.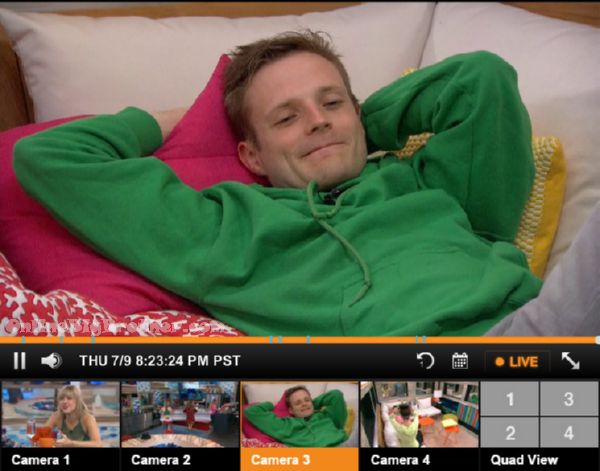 8:24pm JohnnyMac and Audrey
Audrey thought he threw the HOH because he did so good in the practice. He didn't throw it. Audrey now calling him psychic because during the practice he arranged the bins the same as tonight's instead of all random.
They start speculating about the twist. Audrey thinks they will have a luxury competition.
JOhnnyMac says he talks to Vanessa so he doesn't think he's going up but if he does well it's nothing new.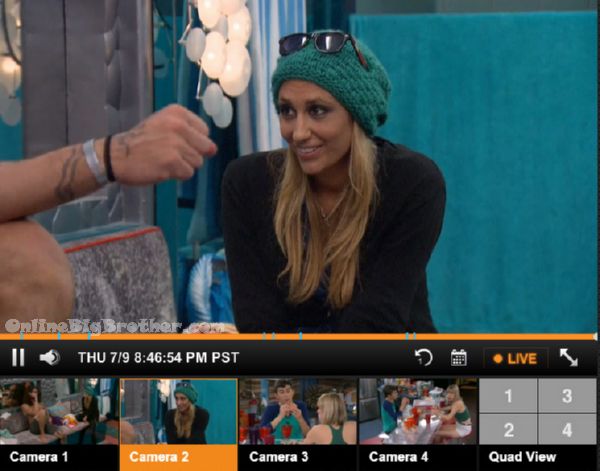 8:38pm Austin and Vanessa
Vanessa says she's got a plan she only needs 10 minutes to explain,
Austin – I'm worried about Jeff
Vanessa – He's a target
Austin – What's he doing in the bed with liz
VAnessa – I want to smack her
Vanessa says Julia sleeps more than Liz, "When liz coming back"
Vanessa – Tomorrow

Austin says this is the other side's worst nightmare.
Austin – Audrey's already starting
Explains she's saying Clay is bummed out James didn't win the HOH
Vanessa – we can't target her
Austin – I know it would be stupid
Austin – we got the luck on our side.. now we gotta roll
VAnessa says her number one target is James personally but Jeff strategically. Says JAmes is the only one in the house she doesn't like
Austin mentions how James and Jeff are telling him they got my back
Austin – I'm not putting up any Steve or Johnnymac there side only
Austin says if Jeff goes Jackie is lost.
Austin says Johnnymac threw the HOH 100%, "He's been told by everyone he's good.. they've done more manipulation on him than we realize"
Austin laughs says Steve hit the camera (During the HOH competition)
Vanessa is excited for the week she's going to make some deals.
Vanessa says it's better for her to keep the power because he can play in the next HOH plus he has more relationships than her.
Austin – they want me to be HOH because they think I'll do what they want..
Vanessa is certain Jeff is coming after Austin she knows a lot more she'll tell him when they get their HOH rooms. Austin is pissed he wanted to work with Jeff.
Vanessa tells him if she gets the HOH he should still sleep up there so they can talk
Vanessa's first goal is to find out who won the Last Laugh.
Austin wishes they can just sit Audrey down and tell her to stop starting rumors she's making it really hard for them to "Do sh1t"
VAnessa saying Clay and Shelli are Great allies they can win sh1t.
Audrey – everyone thinks we're backdooring Audrey …
Vanessa – It's going to be like a bomb
Austin – Hell ya
Julia joins them. They start thinking about what to do If the twins get figured out.
Vanessa says she has a backup plan. Liz and Austin go make a side deal.
Austin – you have it all figued out all I do is work out
Liz – Steve's scared .. No..
Austin – He should be i'm going to terrorize his ass
Austin – Finally I'm not going to be in the dark
[envira-gallery id="120202″]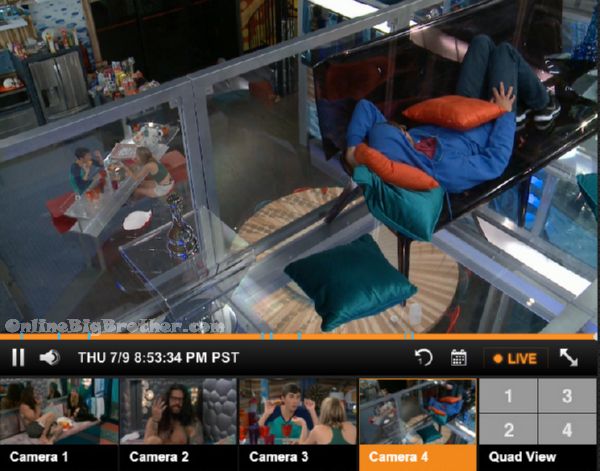 8:54pm Meg and Jason whispering Steve listening in. (Nothing really huge and I doubt he heard most of it)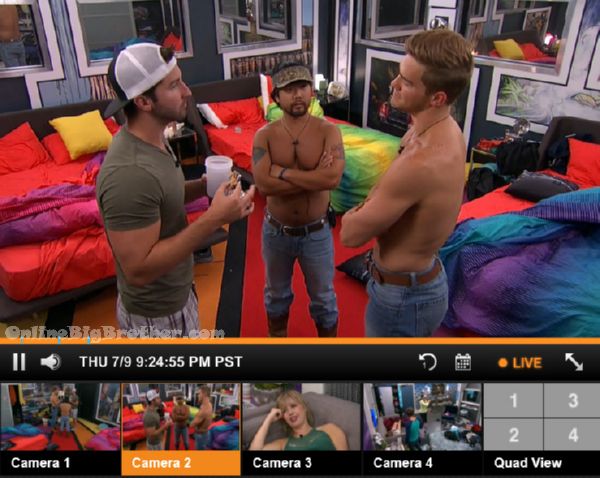 9:21pm Meg, Jeff, James and Jason
Meg – Can you guys put shirts on
James can you put a shirt off
Jeff and James meet Clay in the bedroom.
Jeff saying he's been grilling Liz and finding she's slipping up, 'She doesn't know anything about the shrine Jace made'
Clay – that's not concrete enough..
James and Clay say Liz might not be too bright and just forgot about it.
Jeff – Maybe too many moly pills
Jeff keeps saying there's ton of stuff he's noticing
Jeff says the liz in the house right now is the one that liked Jace
Clay doing his best to deflect and reduce Jeff's Twin paranoia.
James says he's going to be looking fro a red dot on the right foot.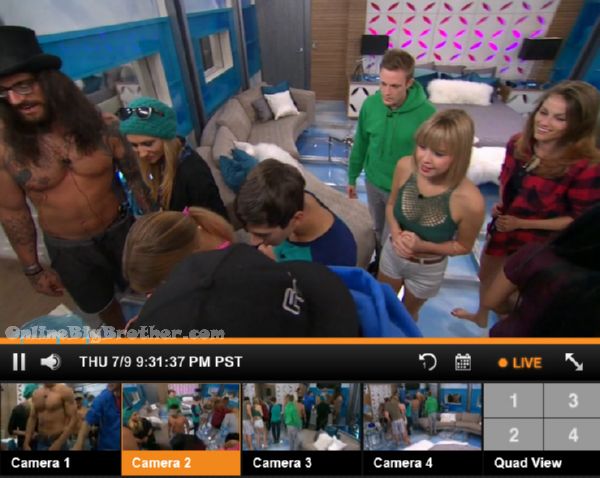 Vanessa and Austin get their HOH room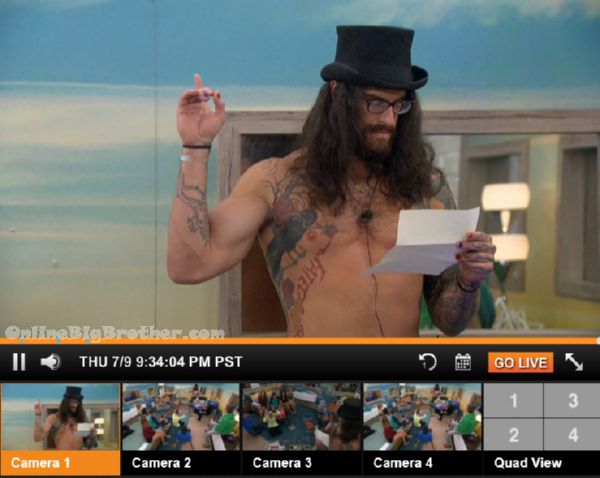 Dear Austin
Never thought you would make it here today good jobs on your HOH Victory. Please try to stay as long as possible because we're all thinking of renting out your room and try to win some money you're going to need it. Eli (My Brother) has been training Jordan and he's up to a 80lb max on his bench. We're all following your workout routines and taking good care of your gymnastic rings. Toby and Clyde your little doggies miss your scratches and party time. Seriously you are doing a great job and we're proud of you stay positive..
Much love from all of us XOXOXOX
Austin – Ok that;s encouraging I have messed up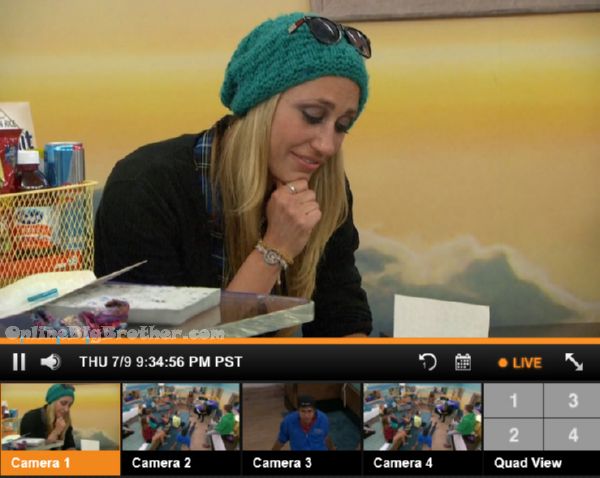 Vanessa's letter
My Beautiful Baby that we miss so much I would like to start by saying how proud I am of you It's been a lot harder than I thought not being able to talk to you family misses you incredible Bear and maverick lying at the door waiting when moms coming back his face on my hand as i'm writing this also baby i when you're feeling down. (Vanessa – Bear's the 125lb mastiff is so funny)
you're so beautiful stay strong
Live Feed subscription gives you CBS All Access thousands of archived shows. Live Shows like Big Brother, all the Big Brother Seasons, and 24/7 coverage of what is happening inside the Big Brother House. Plus there's flashback that lets you go back to any second of the feeds and rewatch what happened. Simon and Dawg will index the season just watch the parts worth watching. All this for $5.99 a month try it out 1 week free. Support our efforts and get your feeds via a link on this site. Live feed subscription Sign up
[polldaddy poll=8972565]
Share it YO!!
Tweet