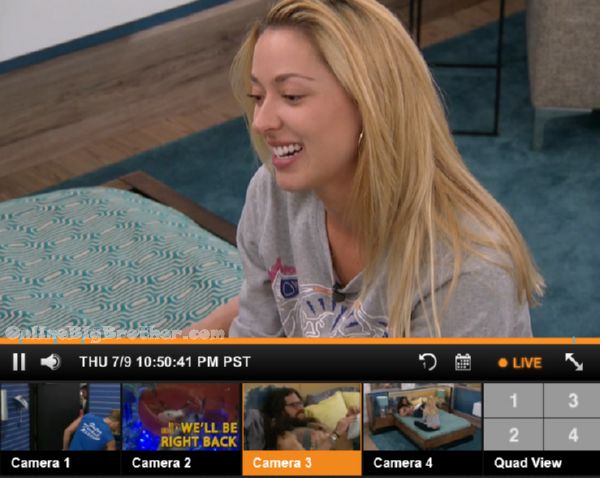 10:45pm Austin and Liz
Liz – Julia told me you had no idea.. can't you tell
Austin – I do now.. I feel a big connection with you.. I look at you in the eye's .. the energy was different.
Liz says Julia told her on Wednesday that the house is catching on. Says it was on Tuesday Da started asking her questions.
Austin says he can tell the difference 100% Jeff is going to know
Liz says her and Julia are the same person they are really not all that different. She says Julia doesn't have the same connection with Austin as she does
Liz says she can' tell them about the production aspect of the twist they swtich every 3 or 5 days. Liz was able to talk to Julia yesterday she was in tears.
Austin says Jeff wants to get rid of him so he can be alone with Liz.
Liz- You guys need to just help me.
Austin- I'm going to try to protect you with everything I can.. I tried to win it for you
Liz – I heard she got really close
Austin says when he won the HOH Jeff looked depressed and worried. Liz is so happy she says Julia told her the only people they can trust are Austin, liz, Vanessa, and Clay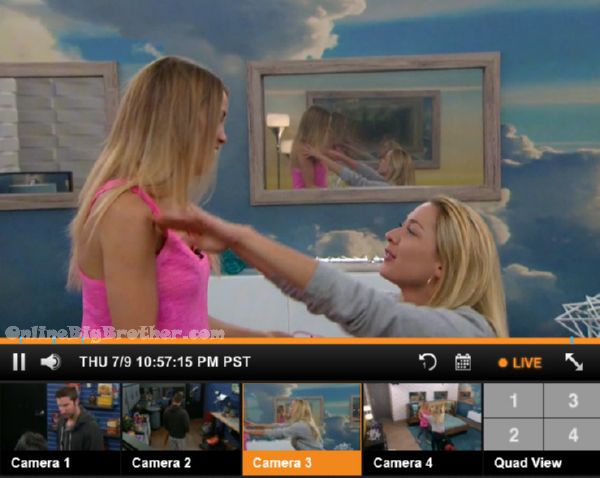 Shelli runs up screaming hugs Liz
Liz – I'm LIz
Shelli – I've met your sister
Vanessa joins them they start trying to fix
Liz bows to Shelli for not putting her up as the replacement.
They're all comparing notes telling Liz what she needs to know and what she needs to not know.
Vanessa warns them if Liz gets taken out they will bring someone already evicted back into the game.
They tells her only the past 5 days can they tell them apart before that they don't know who they were talking to. Liz asks if she stays in a Hotel when not in the house. Liz says she can't tell.
Shelli asks them if Audrey is the plan
Asutin no, 'Bigger than that.."
Vanessa – Big Moves
Shelli – why
Asutin – if she goes we're next
Shelli says the other side is tlaking about making sure Austin is the HOH not Vanessa.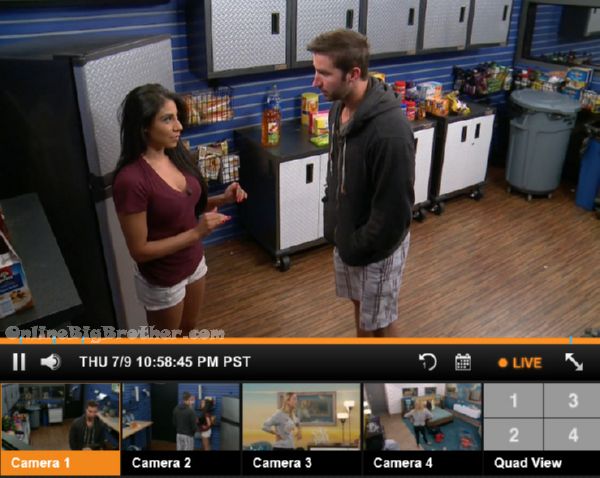 10:58pm Storage room Jackie and Jeff
Jeff saying it's bad for them to be seen together people are so freaked out.
Jeff – Anywhere we go is sketchy.. people are so weird in this house
Jackie – you feeling more paranoid
Jeff – peopel are lilek Jeff's sketchy there's a lot of talk going around..
Jeff says Vanessa is really unpredictable this week.
Jeff says he heard today that Vanessa was telling meg she needed to double check with jeff's' vote. Jeff says steve is saying he can see right through them., "Like we know each other more than we say.. he sees it as a issue
jackie – it is what it is we came in the way we are
Jeff – some of these people are 21..22 they're Nieve and young
Jeff says he's now being seen as the guy who's friendly with everybody
Jackie doesn't plan on going up to the HOH tonight. Jeff mentions how Austin wants to snuggle.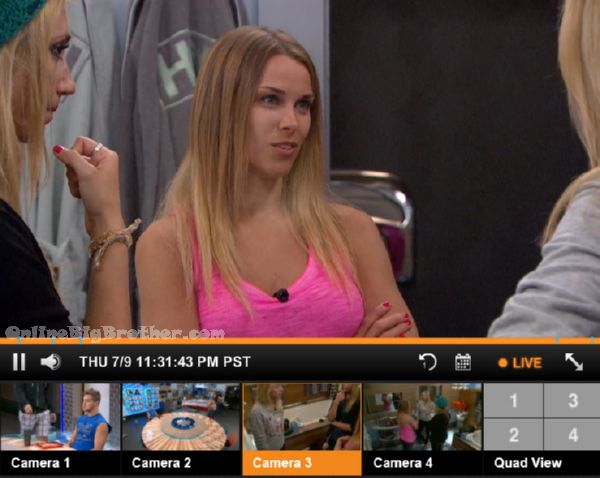 11:30pm Vanessa, Shelli and Liz
Vanessa says she would have told Austin earlier but she couldn't have a chance. Vanessa mentions that Austin tried to cuddle with Julia and she shrugged it off he was really embarrassed.
Liz – You guys should know I don't like him like that
Vanessa says she thinks Austin likes her. Liz can tell.
They give Liz tips on how to handle "transitioning" they think she should lay low the first day and wear baggy clothes. Liz and Vanessa were calling Julia the 'Skinnier" one they decide to stop calling her that because Liz and Julia both look amazing.
Liz – That b1tch is skinnier she's always been"
Austin comes in says the house is going nuts downstairs.
Vanessa Heard Jeff and James talking "that's the way the game is sometime it's worst case"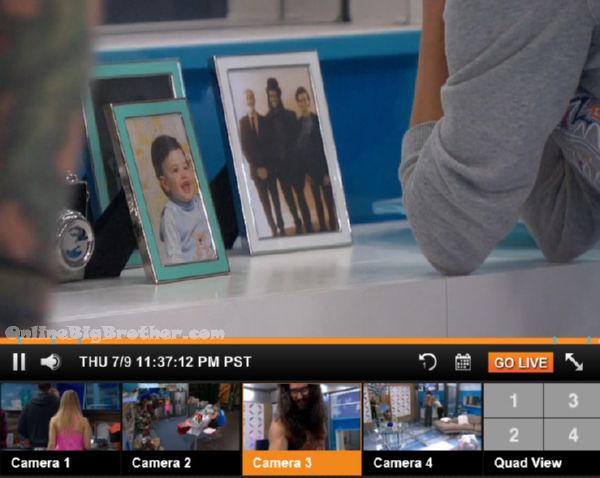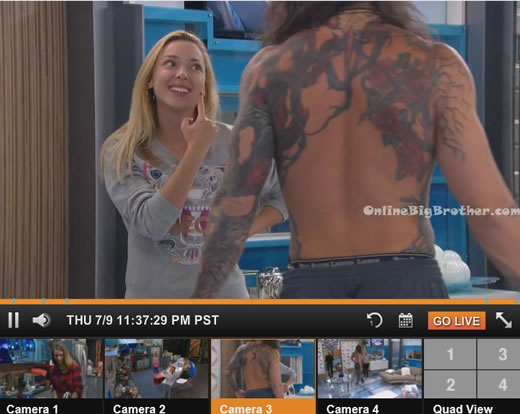 Liz shows off her fake pimple
11:43pm Liz is scared to go downstairs. Austin doesn't thin there's any point of them hiding he's working with her.
They're looking at teh HOH screen at Jeff looking into the camera.
Liz – Ewww.. He looks so ugly and creepy
11:48pm Liz heads downstairs to get her stuff. Tells James and Jackie she's Spending the night in the HOH.
Liz – I'm like Marlon Monroe I sleep with people in power
She says it was Audrey that first said that week 1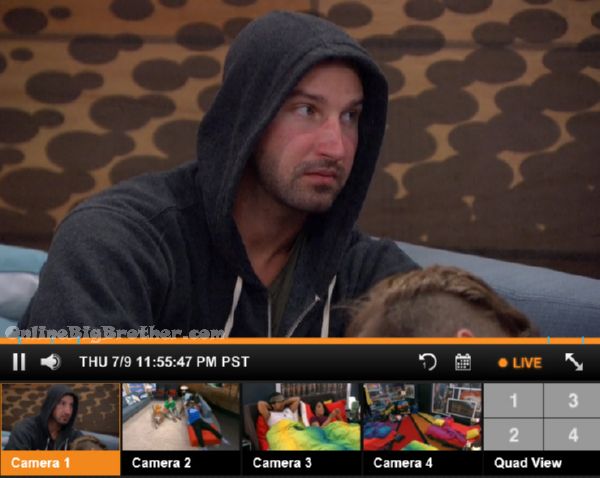 11:52pm Jeff and Austin
Jeff is trying to make Steve out as the target says Steve is a rat.
Austin says he's going to make Steve squeal this week.
Austin points out Johnnymac and Steve were playing chess outside the door when did they ever play chess.
Clay joins them. Jeff – I don't know who's scarier Audrey of Steve
Jeff saw Vanessa and Audrey up in the HOH for 40 minutes today
Austin is going to ask her what that was about
Austin wants to find out who got the power.
11:58pm Bedroom Jackie, Jeff, James, Johnnymac
James is thinking Da had the power. Jackie and Jeff agree. James says jason would have known so that means he was in on trying to get Meg out. Jeff isn't sure Jason knew for sure none of them did.
Jeff about Da's speech – Da, who's this pack of cowards that sent you home it was two people (Clay/Shelli)
Jackie and Jeff mention bringing up the twin twist in the Diary room and they laughed at them.
Jackie doesn't think there is a twin she's just playing along because it's fun
Jeff says Liz must have done a lot of "Substances" because she can remember one day to the next.
JohnnyMac – I need to see this liz right now up close"
Johnnymac says he saw Liz(Julia) with a crown on number 9
JohnnyMAc says the one before definitely has a crown he doesn't know if the liz in the HOH has it..
They run upstairs to talk to liz and find out.
Jackie stays in the kitchen tells Shelli and Clay JohnnyMac thinks he noticed a crown on liz and they want to see if liz up in the HOH has one.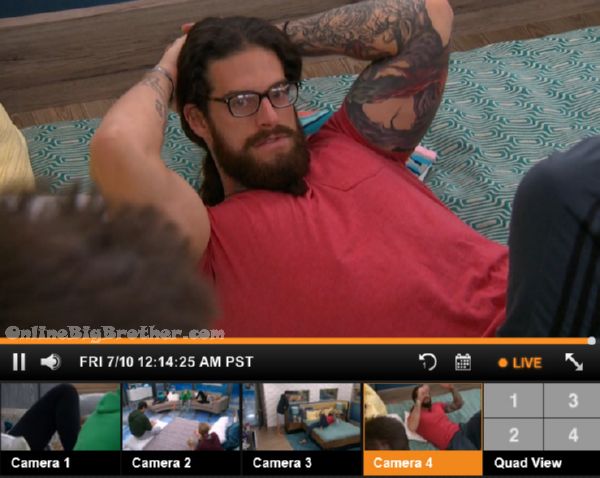 12:14am Jeff and Austin Austin says the plan is Audrey he's just trying to figure out who the pawns are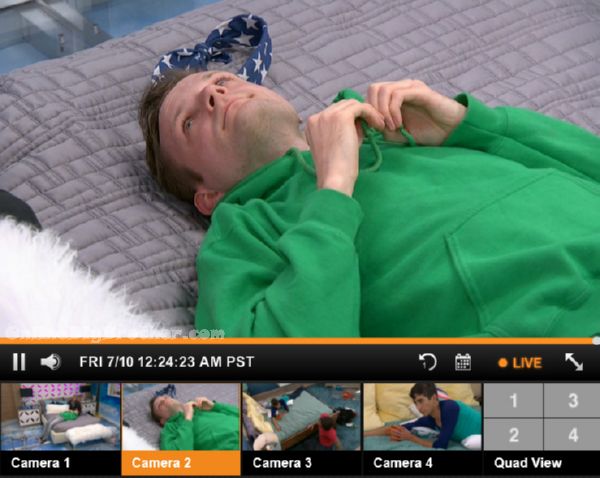 12:20am Vanessa says he's not target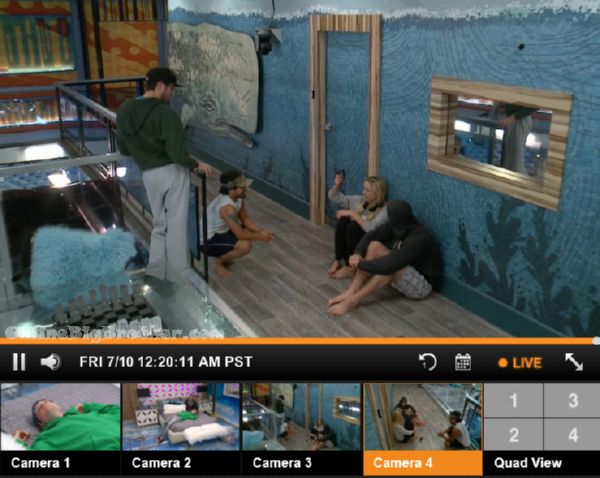 12:20am Liz tells Jeff, JAmes and Steve they are being creepy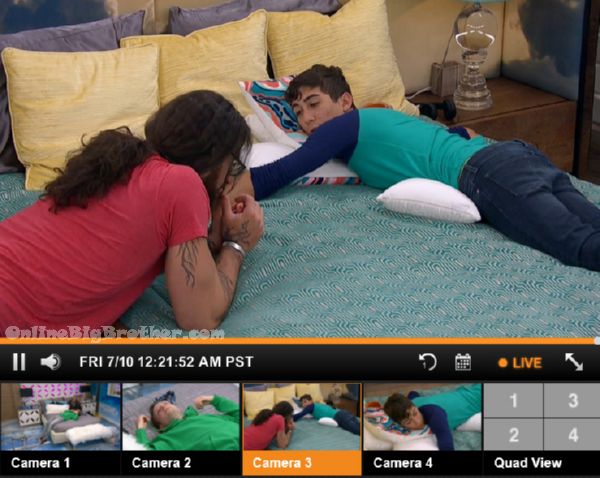 12:22am Jason and Austin
Jason saying that Audrey was the second vote for Da.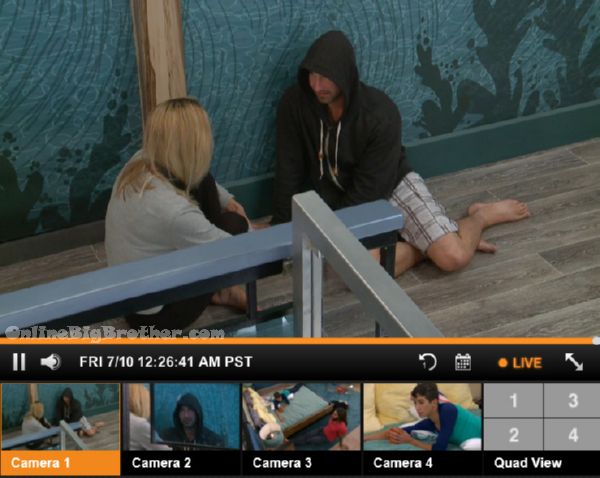 12:26am Jeff and Liz
Liz tells Jeff Austin was sketched out by how he acted after the HOH.
12:32am Vanessa talking to Jason, Austin talking to JohnnyMac
Jason tells her Day had the last laugh, Says supposedly Audrey was the second vote for Da. Vanessa tells him he's not her target.
Austin tells him he doesn't want to use him as a pawn.
JohnnyMac says Audrey is a easy move and the house will be happy. Austin is going to put the people that took Jace out up as pawns to take out Audrey, "that's the plan right now but we'll see if it changes.."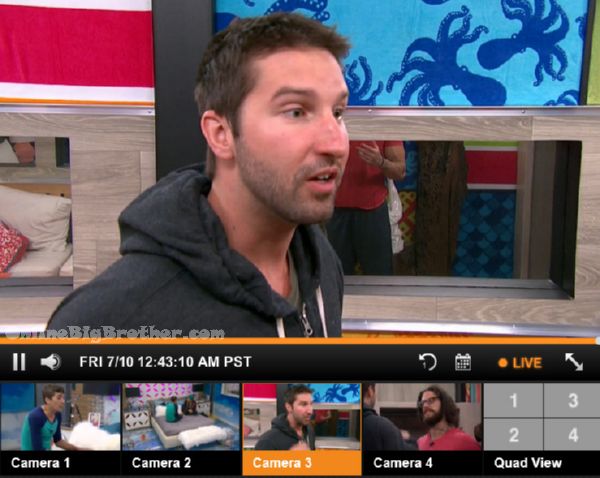 12:41am Austin and Jeff
Austin – Dude you name isn't coming up at all
Jeff says there is a conspiracy theory about liz and it's super interesting
Jeff – Twist type crazy half the house thinks it's true
Austi – Why don't I know about that
Jeff – You know who we talk about her memory isn't good
Austin – ya
Jeff says sometimes liz likes to work out sometimes she doesn't
Austin – Sometimes she sleeps a lot
Jeff – do you think it's possible that Liz has a identical twin..
Jeff – we've noticed weight fluctuations
Austin – Oh no.. why won't she tell me this..
Jeff – DUDE we can use this as our advantages
Austin wonders if he's the target now because he's close to her.
Jeff says no. He brings up Liz not knowing about the Jace Shrine today.
Austin makes a big deal about this says this is a lot for him to process right now. (Austin knew about this)
Jeff says the general consensus in the house is get Audrey, Steve, Becky than JohnnyMac out
Jeff – We need to collaborate.. the only people worried about you is James and Jason
Jeff says one of the twins has a crush on Austin the other one has a crush on Jeff.
Jeff – Johnny just was up there looking at her teeth he says she has a crown on number 9 .. he's good.. Dude keep you eye peeled
Jeff – dude it's really weird on was into Jace the other wasn't into JAce
Austin asks him what they should do with this twin information.
Jeff doesn't know.
Jeff hasn't noticed any difference yet he thinks they are going to change Thursday night or Friday morning.
(Austin plays along with Jeff)
Jeff now claiming they should protect Liz. Warns that JohnnyMac is with Steve and Steve is calling him and Austin sketch balls.
Clay joins them.
Jeff warns them about Becky says you can't figure out where here head is at.
They wonder hwy Da had so many cheers during the show. Austin suggest maybe they're the villains.
Austin wants to know what Pawns should he use.
[envira-gallery id="120245″]
12:56am Vanessa and Jason HOH
they are agreeing to work with each other. Jason warns her people are going to try and manipulate her HOH. He thinks his was during his short HOH.
Live Feed subscription gives you CBS All Access thousands of archived shows. Live Shows like Big Brother, all the Big Brother Seasons, and 24/7 coverage of what is happening inside the Big Brother House. Plus there's flashback that lets you go back to any second of the feeds and rewatch what happened. Simon and Dawg will index the season just watch the parts worth watching. All this for $5.99 a month try it out 1 week free. Support our efforts and get your feeds via a link on this site. Live feed subscription Sign up
[polldaddy poll=8972565]
Share it YO!
Tweet