POV Holder:
Vanessa
Next POV
July 18th
POV Used
Yes
POV Ceremony
July 20th
HOH Winner Team 1:
Liz
HOH Winner Team 2:
Shelli
Nominations 1 :
Jackie & James
Nominations 2:
Jason & Johnny Mac
Battle of the Block Winner
James and Jackie
Next HOH/ Next BOB
July 23rd / July17th
Original Nominations:
Jason & Johnny Mac
Current Nominations:
JohnnMAC and Audrey
Have Nots
Jackie, Audrey, JohnnyMac and Becky
TRY the Big Brother 17 Live Feeds FREE for 1 WEEK:
Click here to ensure your live feed subscription supports OnlineBigBrother.com at no extra cost to you.
8:16pm Backyard Becky, CLay, Jackie, JAson, Steve
Chit chat..
Becky said Season 16 was a great recovery for Big Brother . (LOL exact opposite BB16 almost killed the feed fans)
8:26pm James pours honey in Steve's mouth
[envira-gallery id="122905″]
owned #BB17 @DawgsBigBrother pic.twitter.com/y1VsOotnaU

— OnlineBigBrother.com (@bigbspoilers) July 21, 2015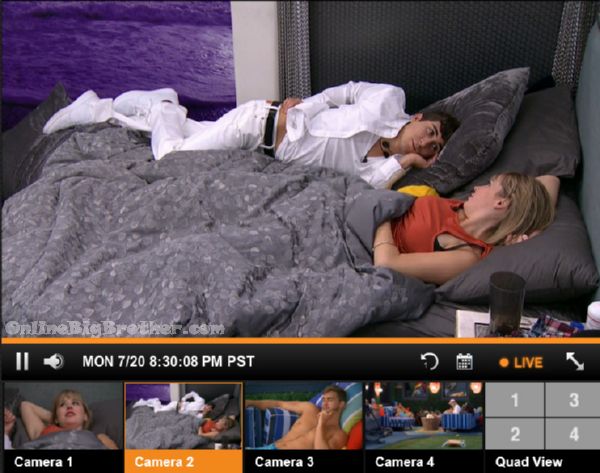 8:28pm Meg and Jason
(Meg and Liz are back to calling Liz/Julia Helga/Cruella)
Jason says Liz knew about the dance even the new ending part.
Meg walked in on "Cruella" (Julia) and Austin talking where Austin was telling her about their date. They Agree Austin knows and is protecting Liz and her twin.
Meg says every time Liz comes into the game her and Austin run to the Hammock and talk that is were he tells her everything she needs to know.
Meg says she was talking to Jackie and she's saying it's better for Liz to stay in the game because if she leaves they might bring one of the evicted players back.
Jason thinks they would bring back a jury member not pre jury.
They agree "Helga" is better at the competitions. If they put her up "Cruella" will most likely play in the BOB. jason thinks the twins are alternating playing in the competitions.
8:47pm Backyard Austin, Liz, Steve, Clay and Shelli
Talking about Audrey having not spoken with anyone today.
Liz points out how the couch smells like mildew after the ran.
Clay and Shelli head to the hammock.
liz asks Steve how she did in the wackstreet dance.
Steve says it's funny John and Liz are having such a good time and Jason is hating it
Steve tells them that Jason knows Liz switched.
liz is shocked
Steve – "I told you a couple weeks ago.. they know"
Steve – he watches you every time you go into and out of the diary room.. he knows you switched today"
liz – But I knew the dance perfectly
Steve says Jason knows that her sister gives her tips in the Diary room and Austin fills in the gaps after.
Steve tells them not to put any effort in protecting liz secret because everyone else thinks it by now. Adds that Jackie and JAmes are a bit skeptical.
Steve – It's not worth stressing over..
Liz tells him next time to tell her right away someone is onto her.
Steve says this is the first time they talked since she's been back.
Liz – Ok thank you.. \
Liz – 1 week left
Austin corrects her – 2 , top 10
(The story they have been telling it's final 10 the twin comes in but the truth is they come in next week)
Steve tells them it's not going to be endurance because of the BOB twist, "They like 1 comp a epsiode.. " explains endurance comps don't end during the live show they can't have the HOH spill into the Sunday episode.
8:59pm Hammock Clay and Shelli
Getting paranoid about Vanessa suggesting one of their alliance members goes up as a pawn to throw off the scent.
Clay suspect Steve has been throwing Competitions. He hopes Steve will actually try in this next HOH. They agree Steve has won the competitions that mattered.
They also think Steve knows with Audrey going he's a big target this coming week.
They start talking about back home, Clay says as a kid he use to catch frogs and tadpoles out of a giant cattle trough.
Shelli misses the happier times they had with Audrey.
Clay says he doesn't think anyone will break them up.
Shelli says there's bigger targets in the house, Steve, Austin, Becky
Clay – yup
She asks if she should approach Audrey or wait for her to approach Shelli
Clay thinks she should wait and let Audrey come to her. He thinks Shelli has done enough,
They start talking about James pouring honey in Steve's mouth. Steve took it well all he said "Well played.. well played"
Clay – "Steve didn't flinch he just closed his mouth and was like Well played.. "
Shelli says she loves liz mentions how obvious her and Julia are by just looking at their face.
Shelli makes a lot of excuses why she's not working on while in the house, Doesn't like the Cardio machine, always gets called into the Diary room after, I don't like working out outside.. etc etc..
9:19pm Bedroom Steve and Vanessa
Steve says Becky wants to talk to him.
Vanessa wants them to talk first thing tomorrow morning, "People are very suspicious of us working together.. Audrey told everyone that"
Vanessa asks her if her name is getting thrown out there.
Steve says Jackie and becky are annoyed about last week and jeff adds there was a rumour that the fight was Jeff was planned by Vanessa. Steve doesn't think people believe it.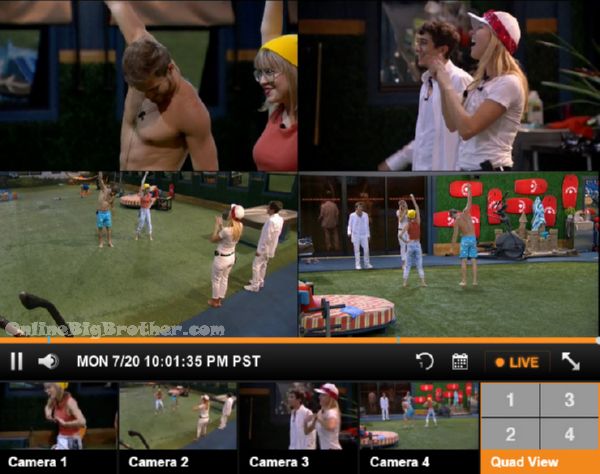 10:00pm Backyard practicing the dance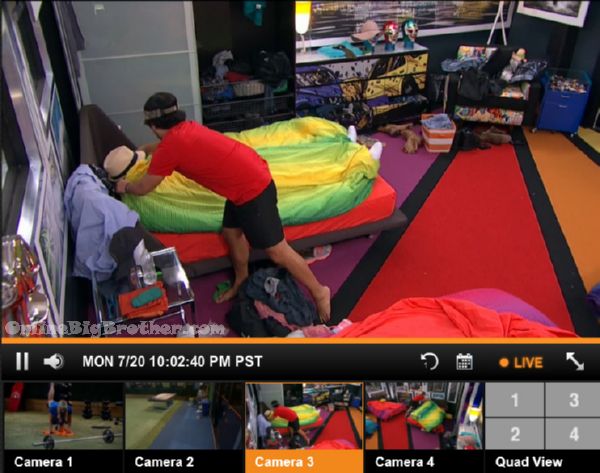 10:02pm James up to something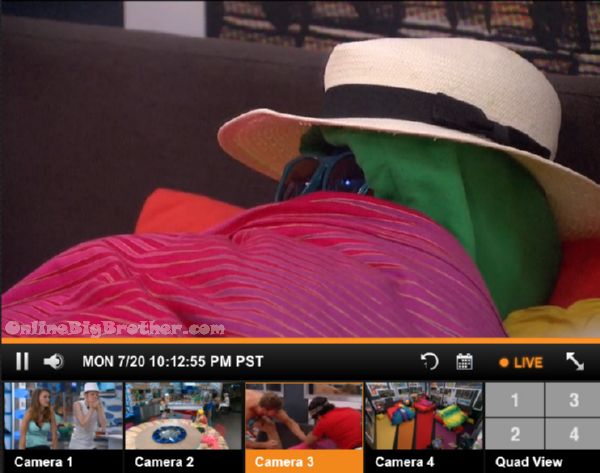 10:11pm Austin and Clay giving JAmes a hand making fake houseguests in the beds.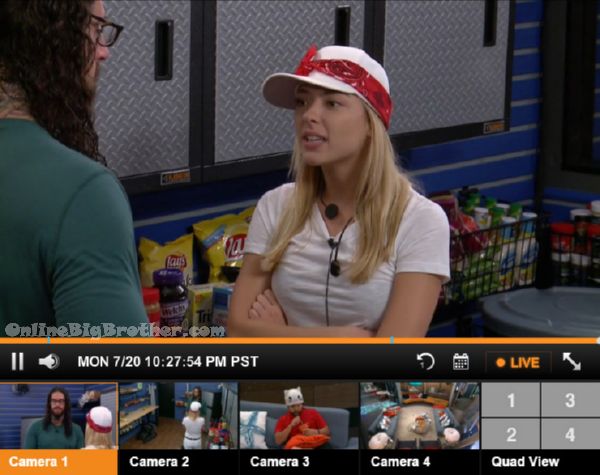 10:53pm Storage room Austin and Liz
comparing notes..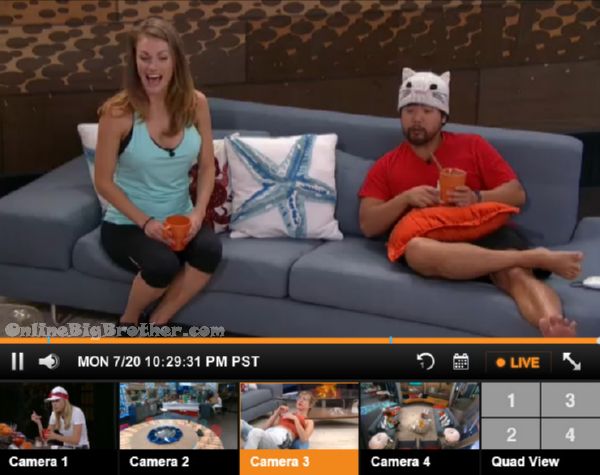 10:29pm James says everyone is completing him when hearing that had.
JAmes jokes that all the ladies except for Meg like his hat.
Becky jokes says Meg has to play hard to get.
James- I'm like a celebrity back home girls line up .. I got my own fan page.. with nothing going on nothing brilliant I got 500 followers..
Becky says people that leave before jury get 200K twitter followers people that say longer get 600K
Becky – my dating life is going to change after this..
James – I think i'm going to get his pretty hard.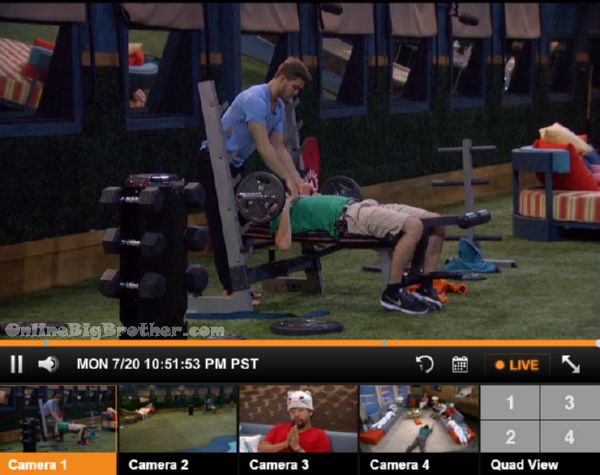 10:49pm Clay and Steve working out JohnnyMac watching from the hammock
11:03pm
wackstreet dance including Clay, Meg and Steve as backup
11:11pm – midnight Hammock Austin and Liz
Talking about Audrey never coming out of the have nots. Liz wonders where Audrey pees? Austin doesn't think she's drinking/eating so doesn't need to use the washroom.
Austin wonders if Audrey is putting "Hexes" on them .
Austin mentions Steve has been working out to prepare for the HOH competition. Austin's worreid that Steve gets nervous during the competitions. Austin thinks it's just up to him to win it.
Austin tells her about his Judas persona when he wears his top hat he become judas.
Austin tells her about his injury that sidelined his wrestling gig. He has a sports hernia. Says there was a bunch of bullsh1t with the wrestling coaches that he can't talk about "Don't want to get sued"
11:24pm on the feeds
They just checked the beeper (Each of the 90''s dancers got a beeper that lets them know when they have to perform. it's also showing them the time) at it said the time is 11:49pm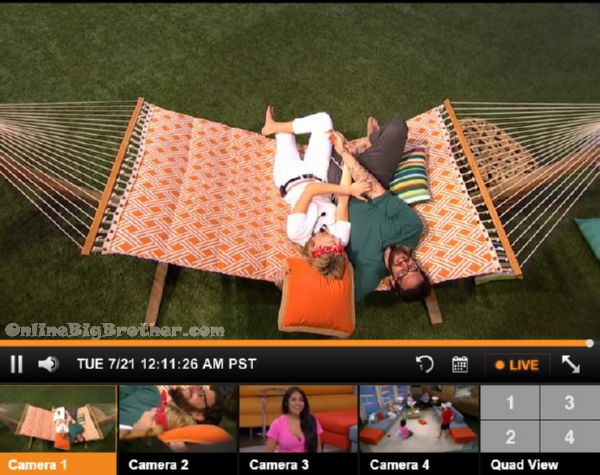 12:15am Hammock Austin and Liz
Austin talking about having to watch what they say around Vanessa because she get so paranoid. He told her he had a high IQ and she got all weird about it. Liz thinks Vanessa has a high IQ.
liz asks him who will JAmes put up. Austin – Clay and Shelli.. everyone's making deals with everybody..
Austin thinks a lot of people will throw the HOH because they made so any deals.
** Please note feeds are 26 minutes behind since last night. a little glitch **
Live Feed subscription gives you CBS All Access thousands of archived shows. Live Shows like Big Brother, all the Big Brother Seasons, and 24/7 coverage of what is happening inside the Big Brother House. Plus there's flashback that lets you go back to any second of the feeds and rewatch what happened. Simon and Dawg will index the season just watch the parts worth watching. All this for $5.99 a month try it out 1 week free. Support our efforts and get your feeds via a link on this site. Live feed subscription Sign up
[polldaddy poll=8983592]