POV Holder:
Steve
Next POV
July 3rd
POV Used
?
POV Ceremony
?
HOH Winner Team 1:
James
HOH Winner Team 2:
Jason
Nominations 1 :
Steve, Jackie
Nominations 2:
Becky, Johnny mac
Battle of the Block Winner
Becky and Johnny Mac
Next HOH/ Next BOB
July 2nd / ?
Original Nominations:
Becky, Johnny, Steve, Jackie
Current Nominations:
Steve, Jackie
Have Nots
Austin, Da'Vonne, Liz, Vanessa
Watch the first week of the live feeds for FREE with the 1 week trial!
Click here to ensure your live feed subscription supports OnlineBigBrother.com at no extra cost to you.

Take a look at the second HOH room with the fish tank table and the new diary room hallway: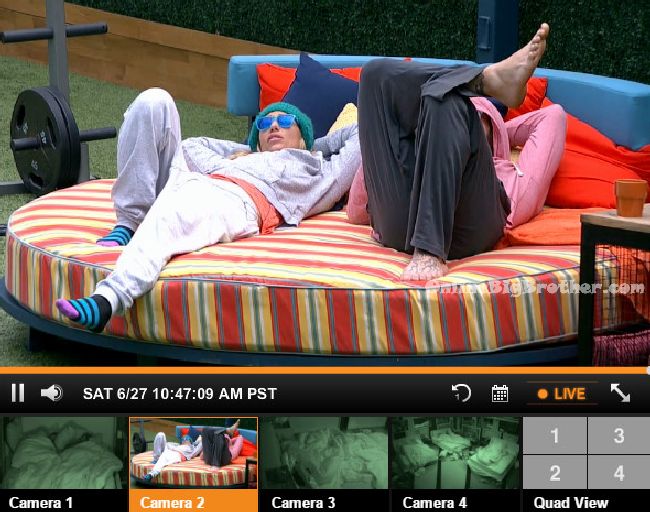 10:45am – 11am All of the house guests are still sleeping except for Austin and Vanessa. They're out in the backyard talking game. Austin says I'm worried about who might get put up. I'm worried Jace might get backdoored. Vanessa says it definitely might happen. Austin says I had to go eat crow with Audrey. She seems to be controlling James. She is trying to make an alliance with everyone. She is always silently talking game with everyone. She almost called a house meeting yesterday. And then Day threw us under the bus. She said she didn't trust Audrey and then 10 minutes later Audrey is pulling me and Liz aside saying did you guys try and throw me under the bus today? I was like what?! This is ridiculous. She started calling people into the room. I was like WHOA! This is a little extreme. Vanessa says you have to be careful of what you say. Austin says we then squashed it. Either Audrey and James are going to trust me… She said she trusted me after because I looked her in the eyes. Austin says James wanted to backdoor Jason. I think he was just saying it to bait me to talk bad about Jason because I think they are working together. I think James, Audrey, Jason, Day, Steve… I think Meg and Becky are on the outside and they're trying to recruit them. Steve is with Day 100%. I caught it day 1 that he wanted to be an eavesdropper for Day. I caught him the other day listening at the door. Here's who I think we can trust .. Jace. He's a straight shooter. Clay is trustworthy. Shelli is very trustworthy. Liz is surprisingly trustworthy too. Vanessa says I made a decision to not down play my intelligence too much because it would be obvious… Have you thought about taking measures to fake an injury to not appear so much like a physical threat. Austin says that's what I wanted to do coming in here talking about my past injuries. I thought about faking a back injury during a competition. Austin says if they're going to backdoor Jace now.. he is going to go nuts and out them as liars. Why would Audrey want to blow up her game like that. Vanessa says its just really hard for Jace to sit on the block next to Jackie. Jeff is the best game choice for him (to put up as the replacement). Austin says I am 100% certain Day isn't a school teacher. I think she's lying about that.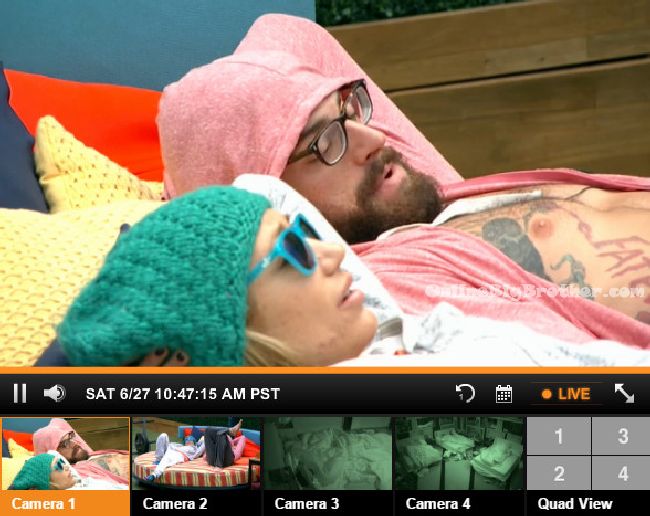 11:05am Big Brother blocks the feeds to wake up the other house guests. When the feeds return – Jason is talking to Vanessa out in the backyard about random things.
11:15am – 11:35am In the bedroom – Jeff, Audrey, Shelli and Clay are waking up talking about the wakeup music. Jeff says I had a dream I got stabbed in the back. Clay says I had a dream .. that I got backstabbed with a 15″ blade. Jeff says well I woke up with a ragging boner! You kind of were getting stabbed in the back. Audrey tells Jeff that he's very inappropriate and shouldn't talk like that on television. Jeff says Audrey you should wash your mouth out with soap. Jeff asks Clay did you really have a dream about being stabbed in the back. Clay says yeah by Audrey. Jeff says those aren't dreams, those are premonitions. Audrey says I wouldn't stab you in the back I would cut you into pieces.
They talk about what they would do with the money if they won. Audrey says that her transition to a female was over 30K and her parent paid out of pocket for it. She says she would pay them back.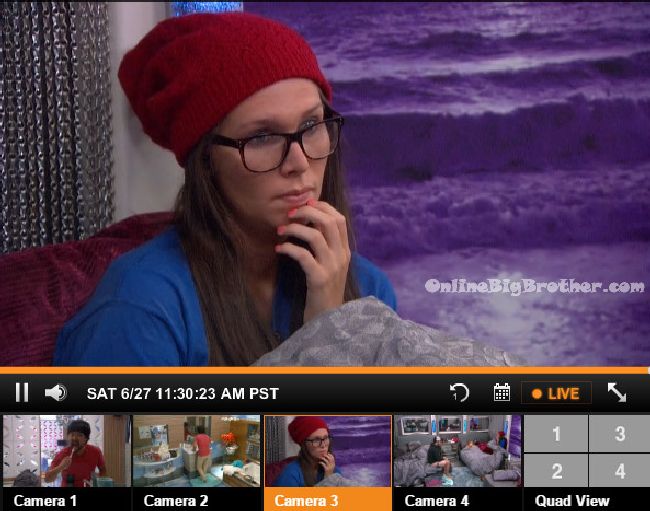 11:40am – 12:20pm In the backyard –
Johnny Mac and Jace are on the backyard couches. Jace heads inside. Clay, Becky and Jason join him. They talk about random things.
Meanwhile –
Jace and Audrey are in the hammock. Jace says I have no idea who he's (James) is going to pick. Hopefully Five Alive (Jace, Austin, James, Audrey and Clay ) is honoured and we can all move forward. Audrey says I haven't seen you with Austin much are you still good? Jace says yeah we're good. We worked out last night. Jace says there is a rat though.. there's one person that's been talking to everyone. Audrey says I have an idea of who it is. There are a few people that are socially active. Jace asks so you growing up as a boy did you always feel like a girl. Audrey says yes. Jace asks if it was scary. Audrey says surprisingly no. Audrey says its easier to transition from a guy to a girl. Jace asks if the d!ck still works when going from a girl to a guy. Audrey says yes but I don't think its that big. Audrey says that her doctor is transgender and has been on Oprah and DR Oz. Jace says I think I would be a good looking girl. Audrey says only one way to find out. Jace says I've got the hair.
12pm In the kitchen – Vanessa, James, Jackie, Liz and Steve are talking. Vanessa says she's ready for another HOH to happen. Liz says I want to lay outside. Steve says why don't you. Liz says I want to do a lot of things I can't do. I can't wait till I'm off slop. When I was outside yesterday I was literally ready to faint.

12:25pm Hammock – Vanessa and Audrey are laying out in the hammock talking. Audrey says Jace is so paranoid. Vanessa says its hard to fly under the radar when you're a physical threat. Audrey says I knew coming in here it would be impossible for me to fly under the radar. Vanessa asks do you think Jace knows James is going to do that? Audrey says no. Vanessa asks why would he do that, we're still going to have a few days before the eviction. Audrey says I think it defects off us. Vanessa says I think blindsiding him makes it worse. Audrey and Vanessa talk about Steve and how they think he's lying about his schooling. Audrey says she thinks he wants to be the mole and report back to Da.
12:30pm – 12:45pm Meanwhile – In the bathroom. Austin says you need to solidify things more and more today especially with Audrey. Austin says he wouldn't put you up because it would out the alliance they made with us. Austin says Audrey trusts us. Jace says I was out there the other night and James forgot the alliance name. Austin says that wouldn't be hard we had like 3 alliance names for it. He can barely say his nominations. Austin says he's not going to do it. It has to be Jeff. We have to sell Jeff as this monster. Austin says because we made the alliance we're good this week and then next week its open f**king season. Should we stage something with Jeff? They head to to the storage room. Austin says since Audrey trusts me. Jace says the whole reason I am F**ked right now is because we were worried about Audrey. Austin says I will say that Jeff was trying to blow us up. Austin says if you go up its f**king open season. Jace says I can't go home .. not the first week! That's embarrassing.
The Live Feed subscription includes CBS All Access which has over 6500 archived shows. Live Shows like Big Brother, Past Big Brother Seasons 1 – 16, and 24/7 coverage of what is happening inside the Big Brother House. Plus there's flashback which lets you go back to any second of the feeds and re-watch what happened. Simon and Dawg will index the season just watch the parts worth watching.
All this for $5.99 a month try it out 1 week free. Support our efforts and get your feeds via a link on this site. Live feed subscritpion Sign up