POV Holder:
James
Next POV
Aug 1st
POV Used
No
POV Ceremony
Aug 3rd
HOH
James
Next HOH
Aug 6th
Original Nominations:
Shelli and Clay
After POV Nominations:
Shelli and Clay
Have Nots
Austin, Liz, Julia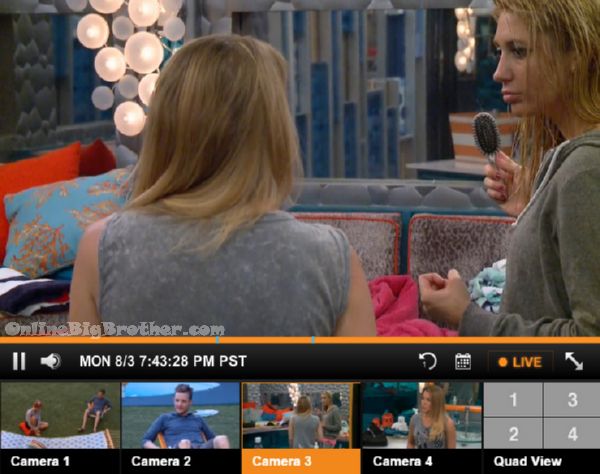 7:45pm Vanessa tells Shelli she has the votes to stay They'll talk later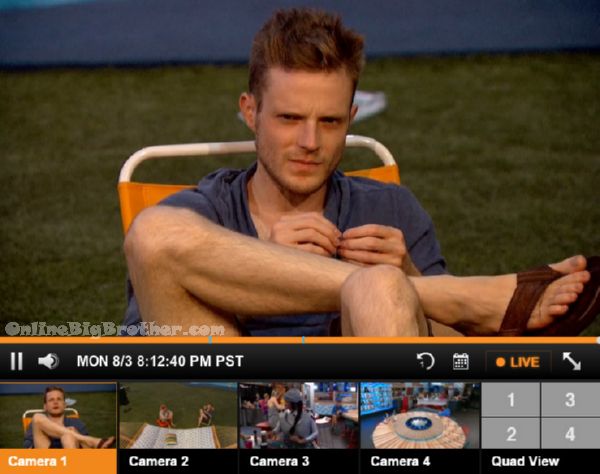 7:57pm
Julia – I Like Boar… I like Alligator..
Jmac tells her about a place close to where he lived during college that sold Kangaroo, alligator and ostrich.
Jmac – I hate fat in my meat.. "Rawrawrwahaha WQhtrat atha aAA"
Julia jokes says Liz wins everything "I'm the sucky twin. "
Jmac asks her why people call her JU JU
Julia – People just call me that I go with it.
They start talking about Dental school. Jmac says they need a 3.5 GPA science. Jmac says if you want to go to Nova Dental you have to be a hot girl .
(Lot's of chit chat)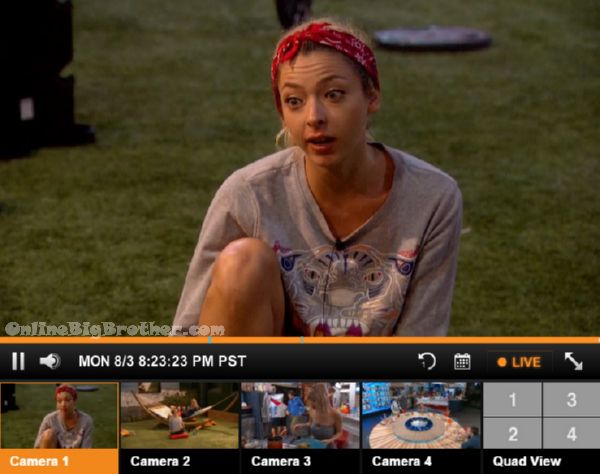 8:20pm Liz and Julia Hammock
Liz says Clay is a f***G coward "I feel so much more hostile towards Clay.. he hasn't tried to apologize at least Shelli apologizes,,
Liz says that Clay is telling people they want Austin out.
Austin joins them. Says he told jmac they all thought Shelli and Clay were going to be cool but they were and Austin almost wound up on the block.
Liz – for me personally I'm voting Clay out f*** him
Austin – we don't want to be here with Clay
Julia says Jmac is saying he's voting out Shelli, "Johnnymac knows the whole house wants to vote Shelli out"
Austin – the whole house doesn't want to vote Shelli out
LIz and Austin say they have to really be selective with what they say.
Liz – It's something we all really need to work on moving forward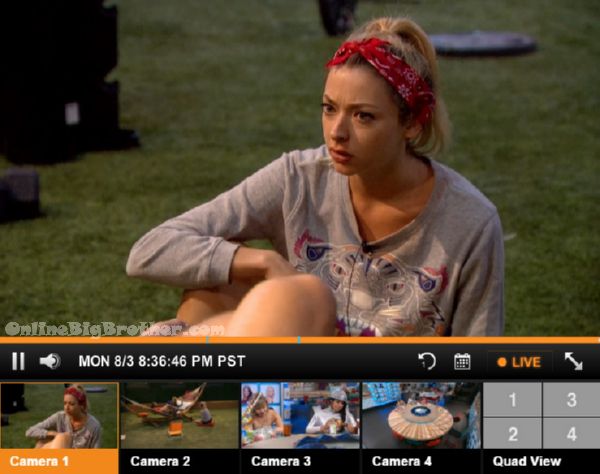 8:34pm
Julia says Liz and Austin had a cute kiss unlike Shelli and Clay's kiss
Liz – they're weird they're bizarre
Julia – poor kid maybe he'll get a kiss in ireland
Liz – No they'll f***
Julia – LIZ
Liz is super pissed that Clay and Shelli sold Austin out.
Julia tells them to stop giving evil stares to Clay.
Julia tells them she's not voting out Shelli Clay has never talked to her he's nothing to her.
Liz oh my god guys we need to jedi drilllll.. lets start jedi drillinggggggg
Julia – what's jedi drilling
Liz – oh my god you re totally slackingggggggggg
LIz explains they study the dates, "Before and Afters"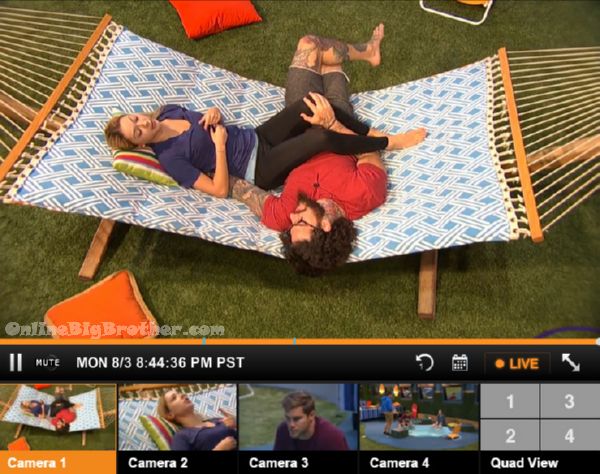 Julia heads into the house Liz and Austin start Jedi Drilling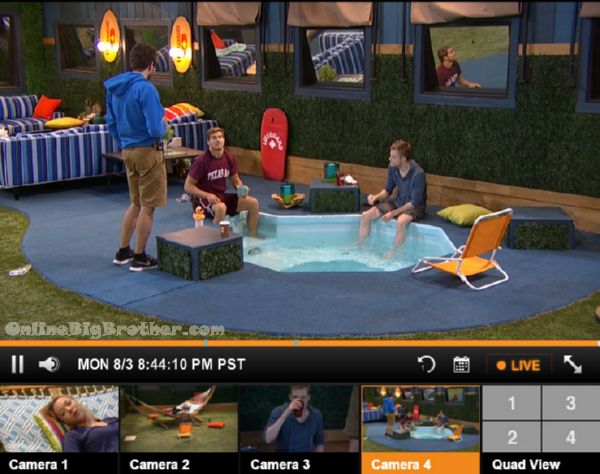 8:43pm Clay, Jmac and Steve,
Clay to Steve "Your name never came out of my mouth"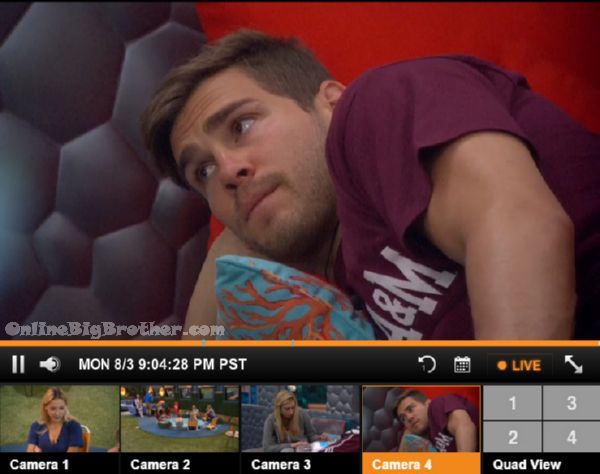 8:57pm Clay and Vanessa
Vanessa says she's not scared of James she'll do whatever the f*** she wants.
Clay thinks he's staying tells her if him, Jmac or her don't win the HOH he'll go up during double eviction.
Clay – I don't feel like being with anybody.. it's hard
Vanessa – I know .. it's not a fun week that's for sure,.. i'm being left out of every conversation..
Clay says when they enter a room people start to migrate out.
Clay – "People just float to power"
Clay tells her all the good players are going out earlier it'll be a season of floaters, with Meg, the twins and steve.
Vanessa – do you think Austin and the twins are working with james no
Clay – yes.. the twins float to power
Clay says the twins and Austin have no loyalties with anybody they're in the Jury they hold 3 votes they are powerful, "No one wants to be the first to take a hit on them"
Clay – they didn't fight for us even after everything we did for them so .. .
Vanessa – have you talked to Austin
Clay – no.. it will be awkward .. huhummmmmm
Vanessa – he's pissed
Clay – so are we
Vanessa – he's willing to forget
Clay – he's not an asset to me.. so I could care less to talk to him.. only reason would be to relieve the awkwardness.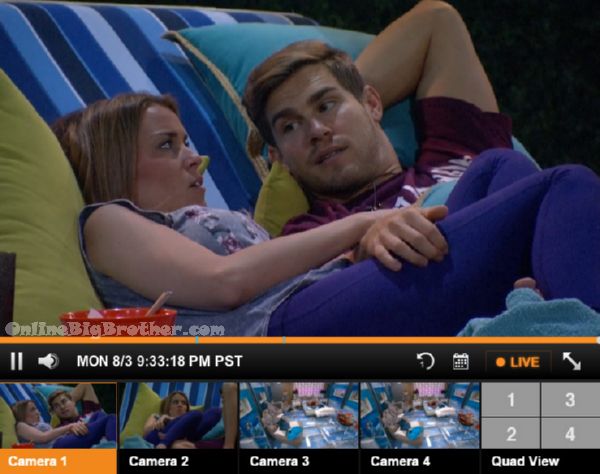 9:29pm Shelli and Clay
Shelli says the only person she feel anger towards is James not even Austin.
Clay saying if he stays and wins HOH "they'll all sing like a mocking bird"
Clay – i'm getting claustrophobic anyways
Shelli – in this house
Clay – ya
Clay says they trust the wrong people "Audrey and Jeff"
Shelli misses her clothes she's tired of wearing a tank top and yoga pants
Clay – Uhhhhh I just want to take you out on a date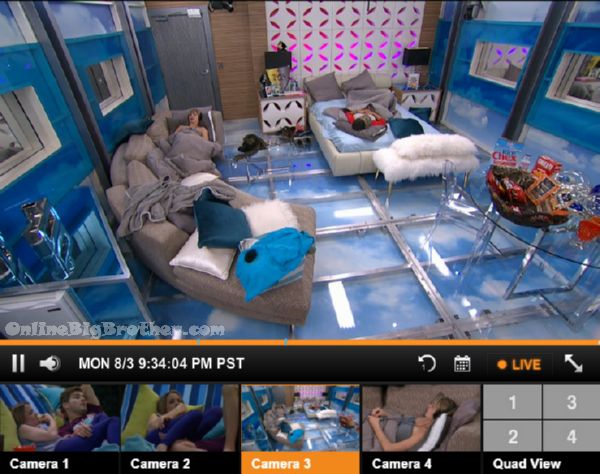 9:33pm Meg and JAmes HOH
Meg says Clay is being "Super Awkward.. he's being silent"
She thinks he just wants to make sure they keep Shelli here. Shelli has been acting normal.
9:40pm Austin and Liz
Austin says Clay is now wanting to stay. Liz has heard from Vanessa.
Austin – that's so f*** up after making us swear.. Swear to vote him out
Austin is saying Clay doesn't even look at him he's acting like f***d and making him uncomfortable. Austin it's going to talk to james about this. "Like I didn't something terrible what did I do"
lIZ – Like Chill dog.. from us He's not getting the votes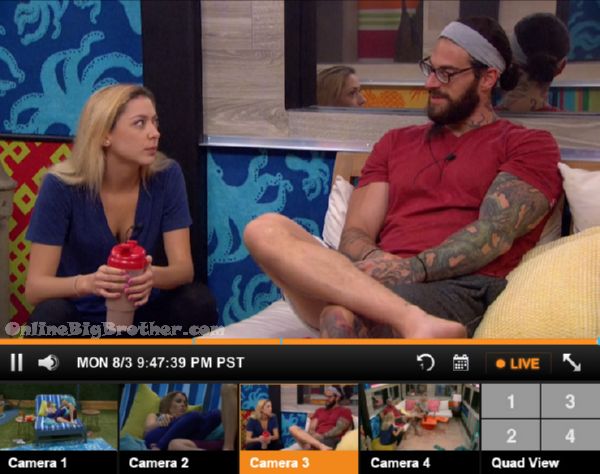 9:47pm Austin and the twins
Austin is not supporting they blindside JAmes with the Vote. James wants Shelli out it might be best for them to honor that.
Austin – what should we do where should we scamper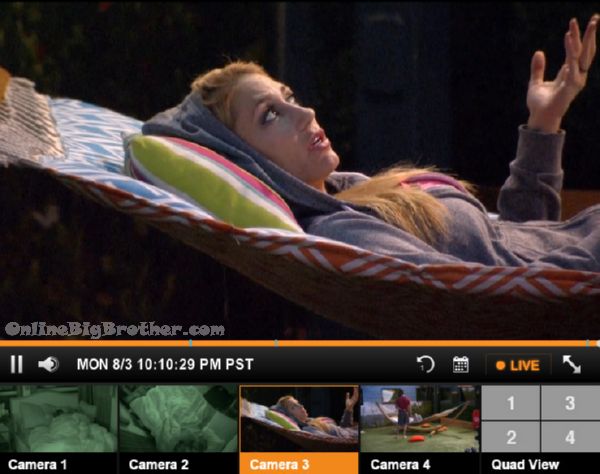 9:55pm Austin and Vanessa
Austin saying that Shelli/Clay were telling james the twins didn't like Austin and wanted him out.
Austin – CLay making me feel really uncomfortable right now
Vanessa Says shelli staying is better for her game. Austin is down for that. Vanessa says Austin is in a very powerful position right now nobody wants to take a shot at Austin and the twins risk losing all those Jury votes.
Vanessa thinks Clay's had some agreement with Meg that goes back early.
Austin – that's why we're keeping here (Shelli)
Austin is going to tell James Tomorrow the house is wanting Clay out.
Austin about Clay – he's showing his age right now
Vanessa – totally
Austin – Finally
Austin says Johnnymac was crying for Shelli and Clay, he's going to still be close to whoever stays.
Austin doesn't think the other side of the house will target them he thinks they'll stick to the plan getting out a floater.
Possible nominations…
Austin – Get Shelli and Johnnymac up..
Vanessa – Steve or Shelli
Austin – If one of us win HOH we'll put up jackie and Shelli.. Shelli is the pawn.
They'll tell the house Steve is the Backdoor but it really isn't
Vanessa- that's what we'll say
Austin – Put up Steve and Johnnymac to Backdoor Jackie , There's other ways we can play this.. POV isn't played Johnnymac goes home.
Austin – Jmac is still in Shelli's pocket
Vanessa – that's why I want him out
Austin doesn't know what to do with Clay he's being so awkward, "Dude he's walking by me glaring at me.. Like a road house bouncer"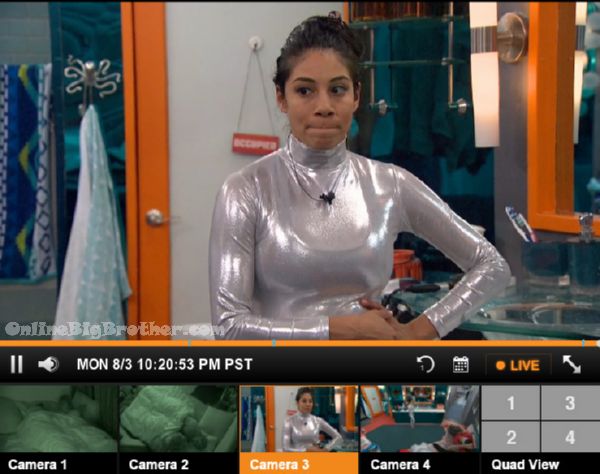 10:19pm Jackie and Austin Bathroom
Talking about CLay not looking at them and being rude
Jackie – they were playing the house
Austin doesn't know what Clay and Shelli wanted him to do blow up a game to help them, "It's unreal shows how desperate they are.."
Shelli and Clay were playing both sides of the house and got caught.
Jackie says Clay/Shelli told James Austin was gunning after him and Jackie during the HOH LIz won. Austin says Shelli and CLay were 100% in on the pawns going up that week.
10:34pm Bathroom Liz, Meg,
Meg is saying Clay is ignoring everybody they believe it's part of his strategy because Shelli is being unusually nice.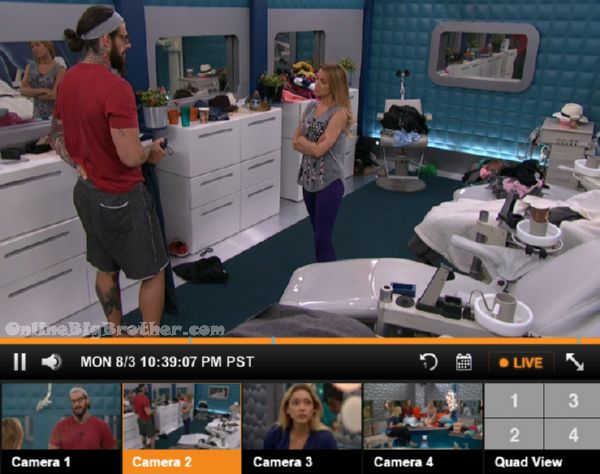 10:36pm Austin and Shelli
Austin says he's not angry with them "This separates us further and we have the votes moving forward"
Austin says the house thinks Clay is acting like he is so they vote him out, in reality the house is voting you out.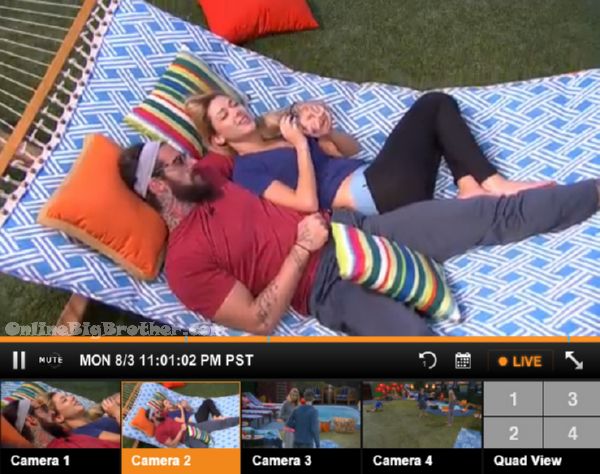 10:45pm Austin and Liz Hammock
Austin says they can work with Shelli after this week not Clay. Austin talked to Shelli he thinks it's good with her. Even if she's pissed..
Austin – it's doesn't matter we're still a power couple a power trio.. three votes in jury badda bing badda boom
Austin tells her Freaks and geeks controls the vote this week. Liz wants Shelli to stay she thinks the girls want Shelli out because of jealousy reasons. Liz adds JAckie and Becky like how Clay looks and want to keep him in the house.
11:01pm Vanessa, Austin and Liz
Vanessa says Clay hates Austin
Liz – Oh my god he has to go now
Vanessa – he's convinced you did something
Austin – I tried to help him..
Vanessa – talking to them is like talking to landmines.
Austin – he's dumb I'm voting him out.. sorry this guy's enemy number one he's coming after me
Vanessa – he's wild card enough to put you up he's got a backdoor deal with James
Austin – Is Steve good
Vanessa – I think so
Austin says if JAmes tries to get upset because they are voting a different way they can remind him his HOH rein is over.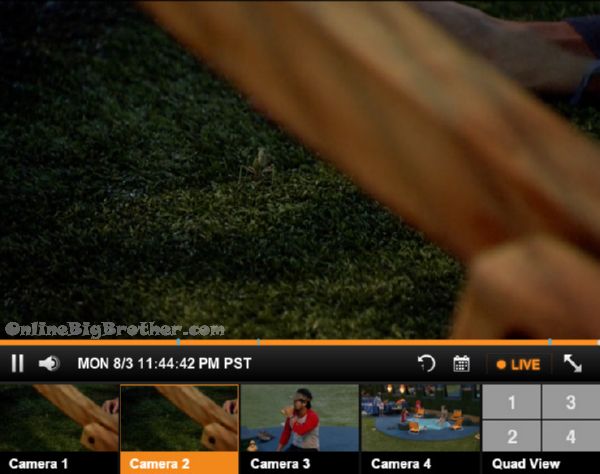 11:45pm A praying mantis is found.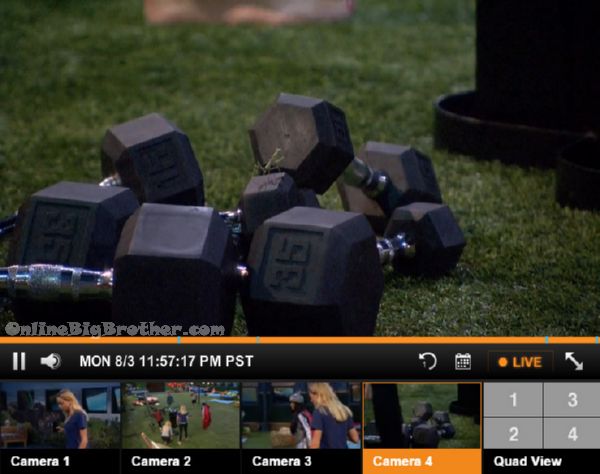 The praying mantis name is "Pery"
[polldaddy poll=9004995]