POV Holder:
Steve
Next POV
July 3rd
POV Used
?
POV Ceremony
?
HOH Winner Team 1:
James
HOH Winner Team 2:
Jason
Nominations 1 :
Steve, Jackie
Nominations 2:
Becky, Johnny mac
Battle of the Block Winner
Becky and Johnny Mac
Next HOH/ Next BOB
July 2nd / ?
Original Nominations:
Becky, Johnny, Steve, Jackie
Current Nominations:
Steve, Jackie
Have Nots
Austin, Da'Vonne, Liz, Vanessa
Watch the first week of the live feeds for FREE with the 1 week trial!
Click here to ensure your live feed subscription supports OnlineBigBrother.com at no extra cost to you.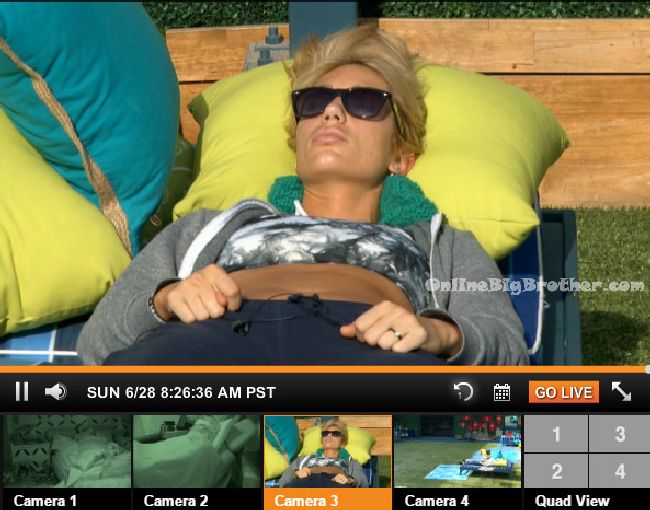 9:10am Backyard. Vanessa and Austin are out in the backyard. Vanessa says if Jace goes out this week. I think you should use your WWE skills to fake an injury. At least give you space until I win. That way if I win or Liz wins at least you could heal. You would be put up next to someone who would also be physical. Vanessa says I just caught Clay in a lie. He and Audrey aren't on the same page. Audrey pretty much confirmed an alliance and Clay flat out lied to my face. Austin asks maybe he is trying to be loyal to that alliance and Audrey is not. Vanessa says could be but why would he throw those people under the bus? He is pretty sure Jace is going home. Austin asks where does Jeff stand. Vanessa says Jeff said I am going to kill Austin. I said you were sleeping with a blindfold and he said oh he'll need it. Austin says I already told Audrey that he was one of the people I would replace. Vanessa says I think he is already planting seeds for you to be the next target. Austin asks what this house has already flipped?! Vanessa says I think you can trust Liz. She's not lying or conniving. Austin asks What about Day? I have a feeling if one of us wins they would have us target Da or Jason. Vanessa says I think Audrey is brilliant. Austin asks I don't know why James would be such a double crosser the first week. Austin asks why do they hate us so much. Vanessa says its not hate its manipulation. Your size and skill where going to make you a target coming in. Vanessa says just fake an injury isn't that what you do? Austin says but then I can't work out any more. Vanessa says did you come in to win a half million dollars or come in to workout. Austin says Audrey told me things are going to get weird the next couple week just know I have your back. Vanessa says Audrey is smart at what information she says. Austin asks so I should let this blindside happen. So I shouldn't get mad? Should I talk to James about it? Vanessa says maybe talk to Audrey.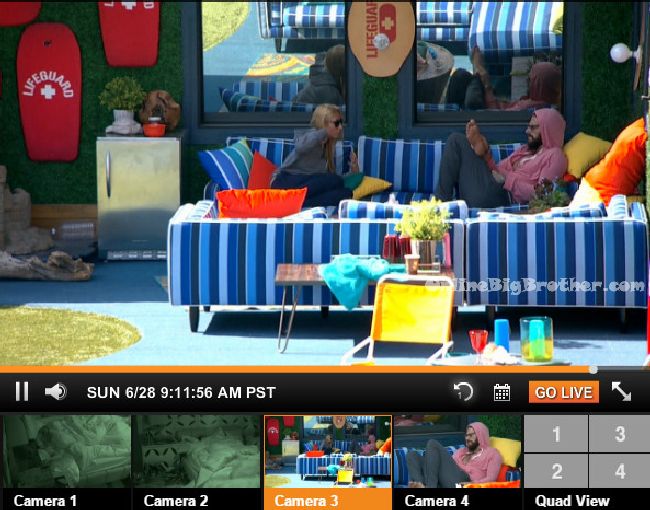 9:30am – 10:14am Backyard Austin and Vanessa. Vanessa and Austin agreeing Audrey is starting all this paranoia around DA. Vanessa asks who is more a puppet master Clay/Jeff or DA. Austin thinks Clay and Jeff, He points out those two guys want DA out so maybe he's not the main target. Vanessa – That's what I'm trying to tell you you're not. Vanessa doesn't think James has any tight alliances he's a lone wolf. She suspects people are using him. Points out during social interactions he seems a little lonely.
They both have heard Jeff and James making inappropriate comments. Sounds like more people in the house have noticed it as well. They both plan on winning the HOH. Vanessa says she was a professional gambler before she was a DJ and she would bet her life that Audrey's number one is Clay.
Austin can't believe Clay's so good at lieing. Vanessa thinks that the fake girl alliance rumour was pinned on her because she doesn't associate with them (audrey) and spread lies. Austin wonders if it's normal for people to play so hard so fast. Vanessa says it's not and it's really bad game play.
Austin – Jace is going to go APESH!T.. it''s going to be a bloodbath
VAnessa – what's going to happen
Austin – He's going to lose it you'll see the biggest explosion in Big Brother History.. easily going nuts screaming calling Audrey outr calling out Clay hell call out the whole alliance.
Austin – Umm Hello don't you think he's going to do everything he can to show who's not trustworthy?
Austin says Audrey really disappointed in him
Vanessa – Too Hard too early
Austin really confused about Clay says he was so convincing he pulled him and Jace aside.
Vanessa thinks James gave his word to JAson before he gave his word to Jace. Points out that James military background means he won't break his word.
Austin – what should I do today. Vanessa – Be nice to people continue to build relationship there's a lot of underutilized people in this house.. Becky is one of them.. Hs'e trustworthy.. She's loyal and a smart physical threat.. Vanessa warns him about Jackie she's close to Jeff. Austin says Jeff freaks him out, "Why did he say he was going to kill me" Austin says Johnny Mac is trying to be loyal to Austin and JAce. Vanessa trust him thinks he's smart. Austin – what about Meg
Vanessa – I don't' have a read on her she's close to JAmes and Audrey. Austin – Ya
Vanessa – she's not very genuine with me.. I get the read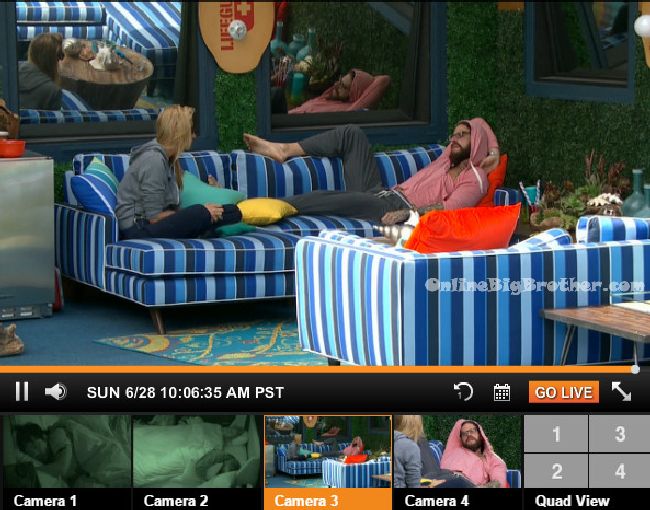 Vanessa jokes she's going to start a floaters alliance. She adds that Steve is a nice guy.
Vanessa says he's a bit with DA but he's not with the other side (Audrey)
They bring up Audrey wanting to call a house meeting yesterday. Austin thinks they should get her to call it because it's usually so bad for people's game. Maybe she'll be the target.
Vanessa thinks Audrey was bluffing she won't call a meeting
Vanessa thinks they need to lay low.
Austin – basically we're letting her run the game.. I'm not afraid
Vanessa – i"m not afraid at all, this is a LONG LONG LONG Game
They agree this game isn't for hot heads. Austin realizes that is why JAce has got to go.
Austin thinks once Jace goes up he's going to blow up james' game. Vanessa doesn't think James has a choice, "There's no easy solution for him it's tough"
Austin suspects if Meg and Audrey are nominated Audrey will go home, "She's talking to everyone"
Vanessa says Shelli gave her word to Clay and Audrey, but once Something happens with "Them" (Clay and Audrey) Vanessa trusts her.
Vanessa – I really don't trust James
She asks him if he's evil
Austin – I'm not evil.. I just came on here to be ridiculous
Austin doesn't think he has a chance to win because of his size.
Austin asks who would go home if it was him and Liz
Vanessa thinks Liz will go.
Vanessa back to telling him he needs to fake a injury during the next HOH if he can't win it. Austin doesn't like that idea he kinda wants to work out.
Vanessa – You need a f****g injury and like next week
Austin think he might be able to do one during working out.
Vanessa instructs him to get a sling or a boot, makes something up see the Doctor.
Austin says its going to be really hard to not workout. Vanessa says you could work out alone like in the hallway to the DR or something. Austin says we could be safe if Becky wins HOH. Vanessa says Because she's isolated. I am going to work to keep that door open. Austin says I thought we would be fine till week 4 or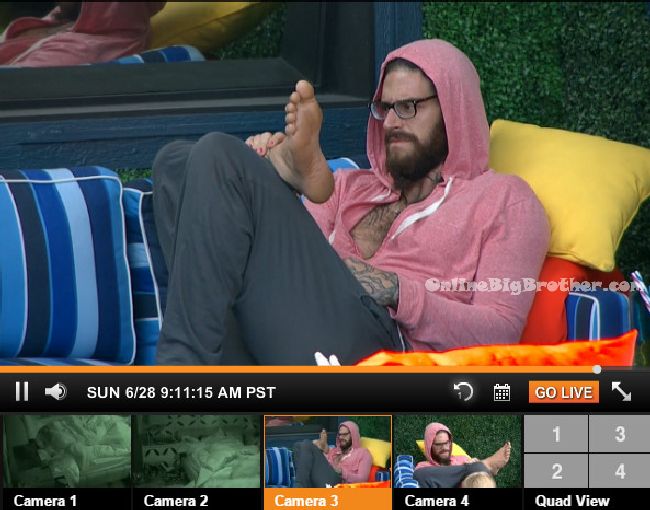 10:20am – 10:30am Big Brother blocks the feeds. When the feeds come back – Austin is in the backyard with Johnny Mac. Austin talks about working out his legs today. I just can't sleep in the bed (havenot) any more. Johnny says you've got it. Just 4 more days and then its over. Austin heads inside. Jackie and Becky come outside and wish Johnny a happy Birthday.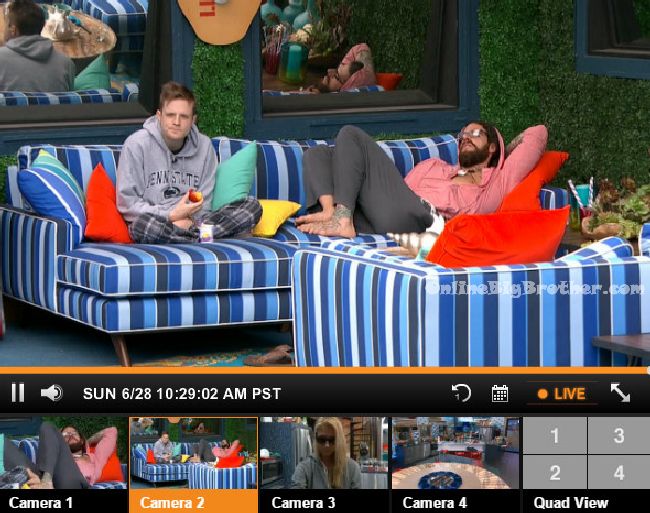 Live Feed subscription gives you CBS All Access thousands of archived shows. Live Shows like Big Brother, all the Big Brother Seasons, and 24/7 coverage of what is happening inside the Big Brother House. Plus there's flashback that lets you go back to any second of the feeds and rewatch what happened. Simon and Dawg will index the season just watch the parts worth watching.
All this for $5.99 a month try it out 1 week free. Support our efforts and get your feeds via a link on this site. Live feed subscritpion Sign up