POV Holder:
JohnnyMac
Next POV
July 11th
POV Used
Yes
POV Ceremony
July 13th
HOH Winner Team 1:
Vanessa
HOH Winner Team 2:
Austin
Nominations 1 :
James & Johnny Mac
Nominations 2:
Jason & Meg
Battle of the Block Winner
Jason and Meg
Next HOH/ Next BOB
July 16th / July17th
Original Nominations:
James & Johnny Mac
Current Nominations:
Jeff & James
Have Nots
No HAve nots this week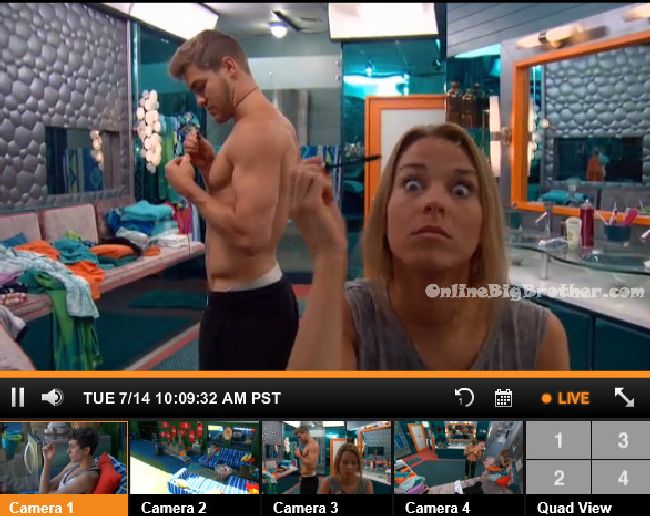 TRY the Big Brother 17 Live Feeds FREE for 7 Days!:
Click here to ensure your live feed subscription supports OnlineBigBrother.com at no extra cost to you.
10am – 10:40am
Big Brother wakes up the house guests. Clay talks about how he was called into the diary room at 4:30am .. I don't have the right mindset to talk about things. Shelli says that she was talking to Jeff last night. He still hasn't asked for me to vote for him. How can I vote for him? Clay says I can't get passed the point that he literally said.. tried to campaign to get us out. Shelli says then he came to us and said he did it to protect us. Clay says I think he would be loyal now. I'm not a really .. how many times do you give second chances you know? Shelli says it sucks! Shelli tells Clay its like what (Audrey) was saying .. I know when you leave you go back to being a college boy. Clay says its not nice to say that. Shelli asks why are you naive. Clay says I know you think I'm clingy. Shelli says I don't think you're clingy at all. Clay says the amount of enjoyment I get from you and our talks .. I enjoy those a lot and I could … enjoy those more and more. Shelli jumps on Clay and tells him he's so cute. Shelli said she talked to Audrey about how if Clay is as popular as we think and he had 8k instagram followers ..he has a lot more now.. and probably a good percentage of those fans hate me. Clay says they love you because you're a sweetheart. Clay says he doesn't like the spot light. Shelli says you don't like the spot light but you came on tv. Clay says I want to get to know you better but I don't want to if you're not feeling the same. Shelli says I know ..well we have a hot date tonight so we'll so how it goes. She laughs.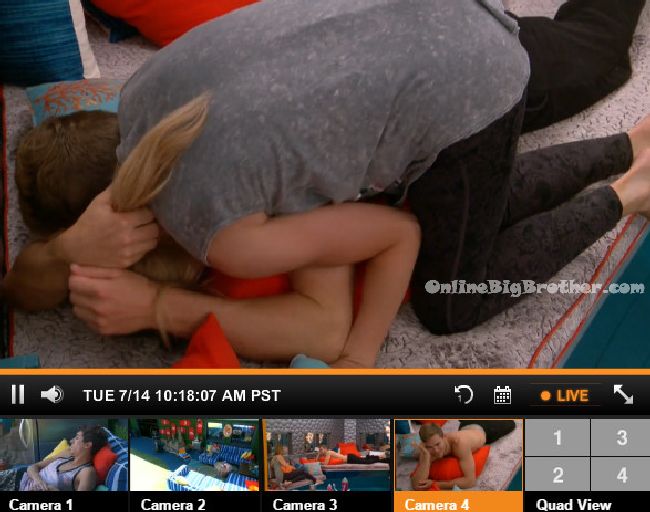 10:50am – 11:20am Kitchen – Vanessa, Shelli, Clay and Audrey are hanging out. Shelli kissed Clay on the cheek. Vanessa gets called to the diary room. They talk about how she is probably going to do her blog now and get the HOH camera. Clay comments on how the eviction before jury is a double eviction where one person goes home and the other goes to jury. They head out to the backyard. Audrey says you want to know my deepest thoughts and fears.. I'm in an alliance with 2 couples. You and Clay and Austin and Liz. Clay jokes we could bring in James for you. Audrey says there are no alliances just cliques.. that's really dumb. I've committed myself to you guys. The people that I could see actually making the move to split you guys up are Jeff but he's going, James, Becky because she's logical. I think the expiration date is 2 weeks. Clay thinks the second part of the game is going to be harder. Shelli says I don't know why you feel every time you're with us you need to sell yourself to us. Audrey says I think Austin is loyal to sleeper cell but I think he has these sub things going on that are good for him but not for the group. Johnny joins them and the conversation ends.
Test out the Live Feeds FREE for 7 DAYS! Click here for your: Big Brother 17 Live Feed Trial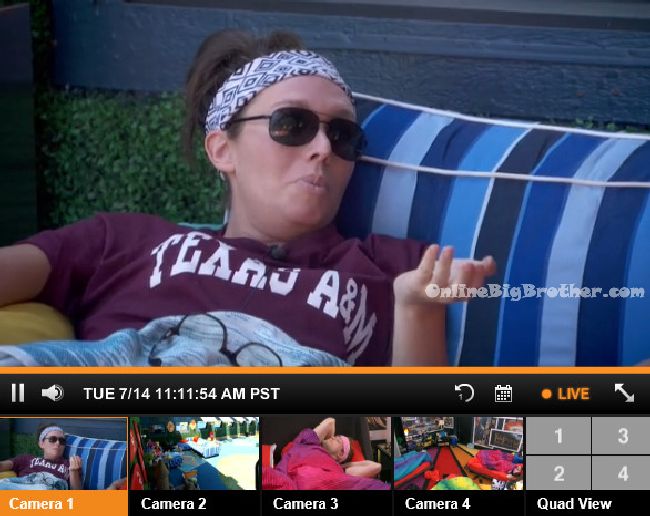 12:10pm – 12:30pm Backyard – Shelli and Clay are talking about their families while Audrey sleeps beside them. Johnny Mac is in the kitchen eating cereal. Vanessa is doing her HOH blog in the HOH room. All the other house guests are sleeping. Big Brother tells them they'll be on a backyard lockdown.
12:30pm – 1:35pm All the house guests get up and eat / get ready to be locked in the backyard. Vanessa has the HOH camera. They take a bunch of group photos. Audrey gets annoyed and says she's had enough of the photos.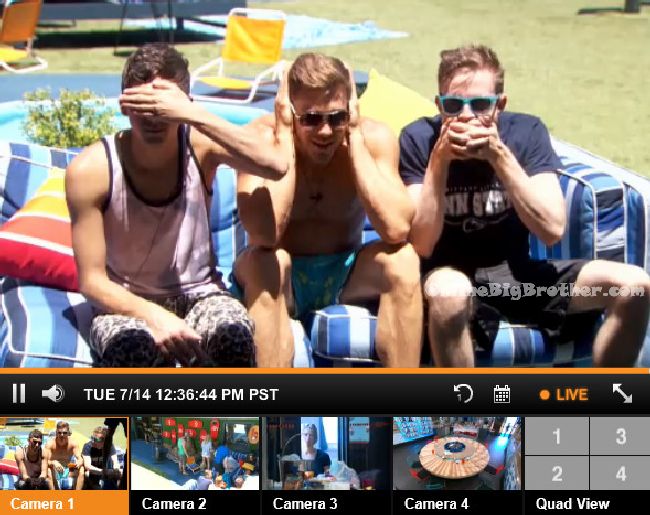 James sneaks under Audrey's lounge chair.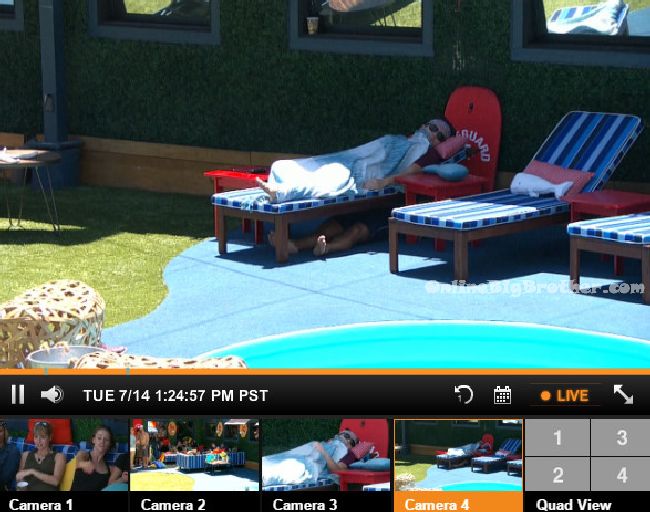 1:55pm – 2:25pm Shelli and Clay are sitting by the pool. She says I like today. Its been relaxing and low key. Shelli says I'm worried about someone putting us up together. Obviously our goal is to get to the end. But if that were to happen ..like if we got split up once jury happened that would be okay because eventually we would both be in there together. If you or I went home before jury I would die. Clay says I would tell them to keep you. Shelli says no you shouldn't do that. We play together but you play for yourself. The goal is to always win. You have to try all the time to win. Shelli asks does Audrey know she's in a group with Liz? She said this morning that she's in an alliance with two couples you and I and Austin and Liz. So does she know? I'm going to have to ask Vanessa. Shelli says right now we have too many connections .. too many numbers. Shelli says I wish you were in the room the other day when we had this conversation. We heard the whole Audrey information about not being able to trust her. All of that came from Jeff. He could have thought all of that up. That's his way of being in close with those people and then acting like he's protecting us. Just remember what a good salesman he is. He targets her every single time. And now the whole rest of the house does that. Shelli says I made up the thing about calling Jeff the male Audrey and that Steve is 3 fold (Steve, Stevie, Stephan). All of that got circulated because you started telling people. I don't want Steve to know that we're on to the fact that he might be playing a character. Clay asks if you won who would you put up? If Steve isn't someone we're going to put up we should make a 1 week deal with him. Shelli says Jason is the one we know is gunning after us. Shelli says Jason and James. The goal is to break up that side of the house. Clay asks what about Jason and Meg and then if one of them wins put up James. Shelli says I can't put up Meg again. Clay tells Shelli we could have Johnny Mac throw the BOB again, putting him up with Jason. If James won he would probably put up Vanessa to backdoor Audrey. Shelli says we're at the point now where we have so many people we don't want to put up. At this point every single week is going to be lines drawn. Every single week there is a twist, you have to save yourself from the twists. Big Brother tells them to go inside – they're on an indoor lock down.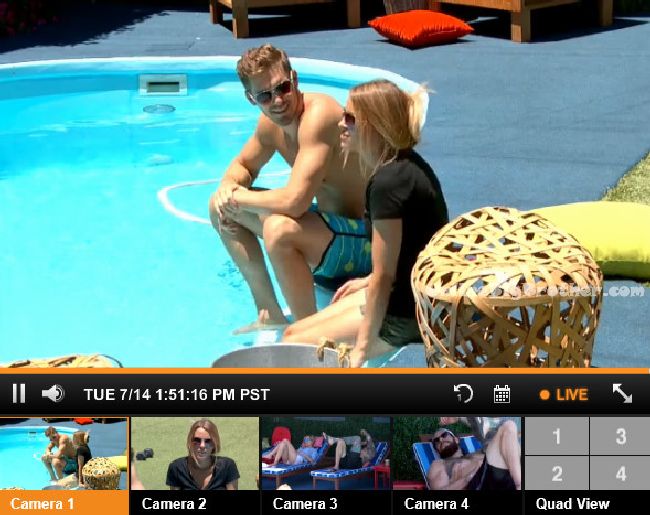 Austin give Jackie a back massage.

2:25pm Cabana room – Jeff, Shelli and Clay are talking.
2:40pm – 3pm HOH room – Liz goes up to the HOH room and Vanessa tells her about the hand shake they could have where they have 3 fingers out and bump to 4 fingers. Liz says that depending on who win next week I'll say we're coming in top 10. Vanessa says you might not need to say anything. Keep that as a tool. Liz agrees. I am definitely not telling Jeff about the twin thing. If the people we don't want to be in power are in power I might need to tell someone. But I'm waiting for sure. I'm a better talker than Julia. If we switch out after the HOH then I will tell her what to say. Vanessa says the only person that doesn't know is Audrey. Don't tell her, don't give her any ammunition just in case she gets in trouble next week she can't use it. Liz tells Vanessa she is doing good with her. Vanessa tells Liz to keep getting close to her. Vanessa says I'm not scared of her. Once your twin comes in we have nothing to worry about. Vanessa says Audrey said last night she really likes you and thinks your a really good conversationalist. She has no idea you're two people. She thinks your secret is that your a marketing executive. Liz says what if they do what we did to them.. like they put up me and Austin. Vanessa says it would suck but Austin is a bigger target. It wouldn't be terrible for you. Then it would be me, you, Julia, Steve, Shelli and Clay. If you did go up next to Austin he would need to win veto because there are so many people they could put next to you that would go home over you. Liz says its obvious that Austin likes me. I don't know what to do. Vanessa says at this point you might as well not care because everyone sees it. Vanessa asks do you like him. Liz says I like him but I don't know 100%. Vanessa asks if you were in real life would you date him. Liz says I don't know. Liz comments on how Julia had a cold sore and I had to use make up to make a fake one. That's the most embarrassing thing ever. Vanessa says to fake one when you don't have one. Liz says she stopped faking it and told Julia that sh*t better be gone the next time she see her. Put ointment, put whatever one it.. I don't care.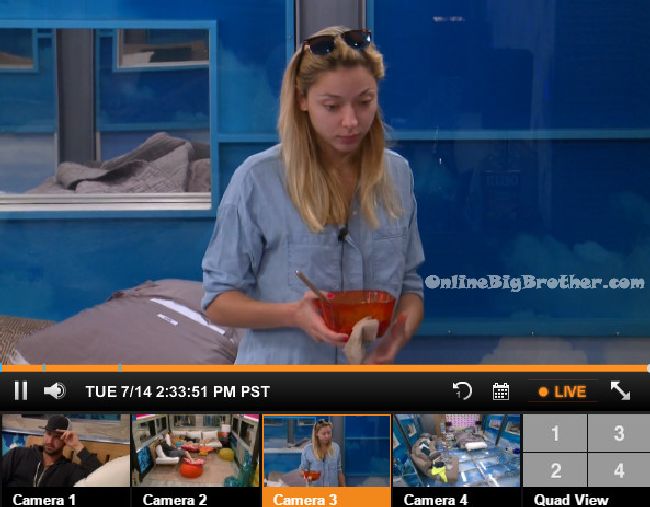 Vanessa's secret handshake – 3 fingers bump to 4 fingers (Austin, Vanessa, Liz + Julia) @bigbspoilers #bb17 pic.twitter.com/4bUBFZ1GIh

— Dawg (@DawgsBigBrother) July 14, 2015
Live Feed subscription gives you CBS All Access thousands of archived shows. Live Shows like Big Brother, all the Big Brother Seasons, and 24/7 coverage of what is happening inside the Big Brother House. Plus there's flashback that lets you go back to any second of the feeds and rewatch what happened. Simon and Dawg will index the season just watch the parts worth watching. All this for $5.99 a month try it out 1 week free. Support our efforts and get your feeds via a link on this site. Live feed subscription Sign up
[polldaddy poll=8972565]
Share it YO!!
Tweet