POV Holder:
JohnnyMac
Next POV
July 11th
POV Used
Yes
POV Ceremony
July 13th
HOH Winner Team 1:
Vanessa
HOH Winner Team 2:
Austin
Nominations 1 :
James & Johnny Mac
Nominations 2:
Jason & Meg
Battle of the Block Winner
Jason and Meg
Next HOH/ Next BOB
July 16th / July17th
Original Nominations:
James & Johnny Mac
Current Nominations:
Jeff & James
Have Nots
No HAve nots this week
TRY the Big Brother 17 Live Feeds FREE for 7 Days!:
Click here to ensure your live feed subscription supports OnlineBigBrother.com at no extra cost to you.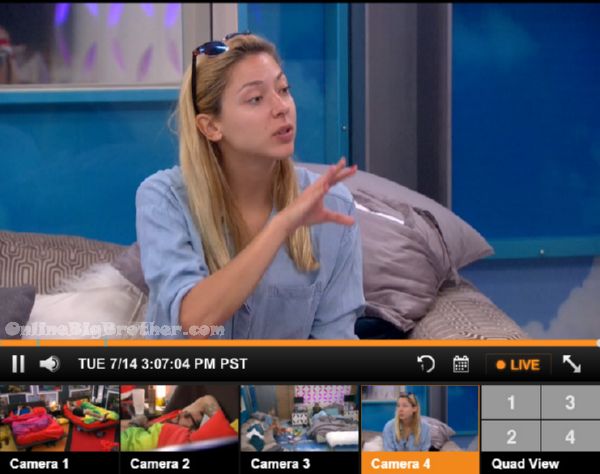 3:14pm HOH Liz and Vanessa studying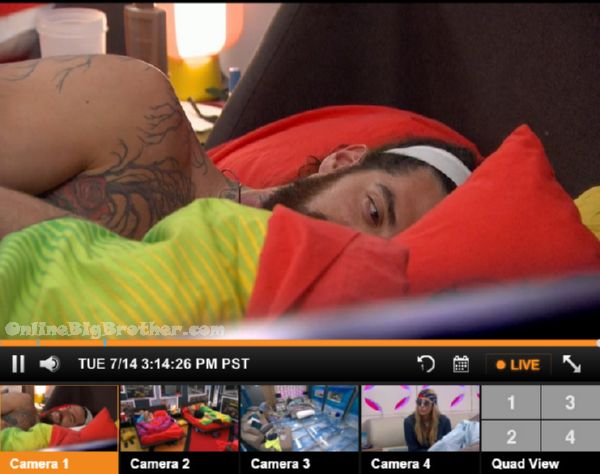 3:21pm bedroom Austin, Jackie and Steve
Austin telling them about the crow with Brandon Lee.. Eric Raven was the characters name which Austin uses. Austin is shocked Jackie and Steve haven't heard about it.
Austin says when they went to redo the death seen for the movie Brandon Lee was actually killed. They claim it was an accident but Austin thinks there's more to it. Mentions the mafia and Brendon's father Bruce Lee, adds that all the footage was burnt
Steve – So he died in the movie and real life
Austin – Yes, During the filming of his death scene which is kinda creepy
The Crow came out in 1993 the year Steve was born.
Steve – You're thrifty
Asuitn – yeah gonna rub it in
Steve – that's only 8 years older
Austin – I'd date you
Stve – you know who's the perfect age for me… Jackie .. I
Austin – Like them old
Steve – I think the technical term is a cougar
Austin laughs tells steve to settle down she's not a cougar.
Jackie – Maybe a puma
Jackie leaves.. They go over how their studying is going. Austin says him and Liz have been drilling questions they're good to go.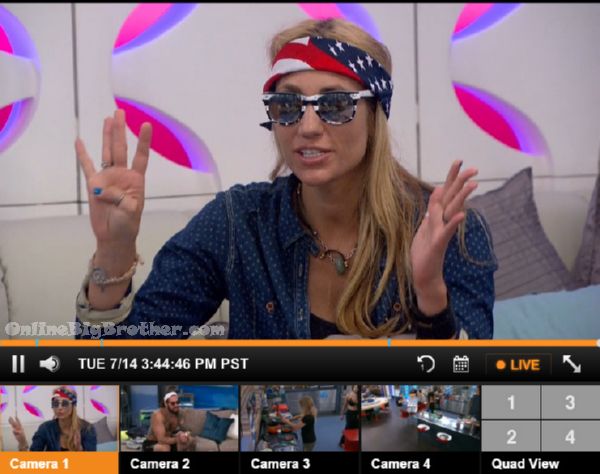 3:40pm HOH Austin and Vanessa
Vanessa talking about their final 2 and asking him who they should pull into final 3.
Austin thinks Jackie because no one will vote for her in the finals
Vanessa asks about Liz
Austin doesn't think the twins will make it people are going to be gunning for them.
Austin – Honestly I'm more attached to Liz over her sister..
Austin says Jason is the worst to take to the finals he'll crush it
They agree superfans are tough to beat in the end they cross out Steve, jason. VAnessa points out JohnnyMac is good too.
IN the final HOH Vanessa – "Becky will be good"
Austin – Becky will be crazy good
They agree Julia needs to get into the game it'll allow them to fly under the radar because the entire house will be targeting them to break them up. They just need to keep the twins safe for another 2 weeks and the heat will be off them.
They plan on pulling James up to the HOH and making a deal with him.
Vanessa has come up with a hand signal calls it the 3.5
Vanessa – Audrey likes Liz
Austin – She's gotta win, come on Audrey win
Vanessa wants audrey and Liz to get close to prevent Audrey using her as a pawn.
Austin doesn't think she will they've done so much for Audrey. Austin thinks Audrey will go after Jason.
Vanessa- yes that's her number one
Vanessa thinks Steve could be Audrey's pawn but she's been working on Audrey to trust him.
James and Meg could also be targets from Audrey
Austin recommends she pulls James up to the HOH for a night
Feeds cut.. when we come back JOHNNYMAC is in the HOH with Vanessa.
[envira-gallery id="121378″]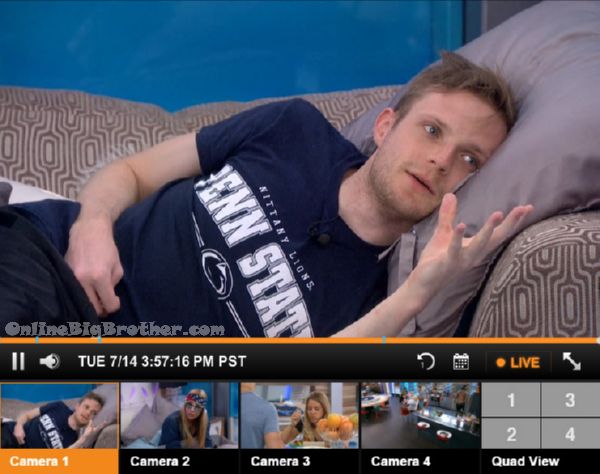 3:57pm John and Vanessa
Talking about the movie Little house of Horror
Vanessa says it sounds scarey
Johnymac says it's more a comedy
VAnessa says he's getting pumped in the arms.
JohnnyMAc – I've always had muscles.. people don't seem to notice because all the other guys are big
JohnnyMac says 130 5'11"
Vanessa starts giving JohnnyMac her reasons for nominating Jeff. (She does this often to poor JohnnyMac)
John tells her he told Becky he's good with them until final 10 and that Becky is good with them to.
Vanessa says the deal was don't put each other, don't nominated each other and share information but she never thought Becky was in on it.
JohnnyMac says she said them and one other person so Becky is the other person
Vanessa says she never had any intention to put Becky up
Vanessa says James, jason and Meg winning would be the worst.
JohnnyMac is worried about Audrey winning
Vanessa thinks Audrey will go after Jason and Meg.
Vanessa recommends he tries to get closer to Audrey you don't want to end up her pawn.

Vanessa asks if Jackie is coming after her for getting Jeff out. Johnnymac doesn't know says she's very tight lipped. He doesn't think she has an aggressive personality, she's more likely to go into survival mode over Revenge mode.
Vanessa says not one person in the house wants to get JAckie out, "makes no sense for her to try and win"
VASnessa – Meg is the safest person in teh game right now
Johnnymac – I can see that
Vanessa – you're pretty safe
She asks him about Steve.
Johnnymac – he's got my back
Vanessa – Audrey said she had a dream where you won .. it was random she has a lot of dreams
Vanessa says she felt bad for Audrey and wanted to help her. She explains Audrey was being ostracized but now Audrey is clinging to her, "Legit I don't trust her.. and I don't want people to think we're working together"
John tells her he's giving Jeff his vote he knows Jeff is going but he gave him his word.
Vanessa – are you trying to help him campaign
Johnnymac – No
Vanessa tells him people are grasping at straws to put people up they are going to pick even the smallest thing. (hinting that voting for Jeff might be giving people that straw)
Johnnymac – I'm not campaigning for him.. it's pretty much what I told you .. how bad does that look on me like I'm going to get off the sinking ship
Vanessa says she's 90% sure Jeff is going home
J-Mac – Me two
VAnessa says he can make a deal with clay, Shelli and James to vote out Jeff then he would only have to worry about Meg and Jason.
VAnessa – "I'm more in favour of the front door.. just go for the front door."
J-mac – yeah you get less blood on your hands
VAnessa tells him Meg and Jason are Audrey's main targets. She thinks Audrey is going on the block next week she's going to fight to in the HOH.
They agree Audrey is starting to come back
Vanessa goes on to tells him she was 2/3 done her law degree, "I was going to do securities litigation"
4:43pm Kitchen Austin, Liz and Becky
Austin – Ohh my-lantis…Ohh my-lantis….Ohh my-lantis
They starts talking "Just like a prayer" by Madonna. They're told to stop.
[envira-gallery id="121391″]
Live Feed subscription gives you CBS All Access thousands of archived shows. Live Shows like Big Brother, all the Big Brother Seasons, and 24/7 coverage of what is happening inside the Big Brother House. Plus there's flashback that lets you go back to any second of the feeds and rewatch what happened. Simon and Dawg will index the season just watch the parts worth watching. All this for $5.99 a month try it out 1 week free. Support our efforts and get your feeds via a link on this site. Live feed subscription Sign up
[polldaddy poll=8972565]
Share it YO!!
Tweet