POV Holder:
JohnnyMac
Next POV
July 11th
POV Used
Yes
POV Ceremony
July 13th
HOH Winner Team 1:
Vanessa
HOH Winner Team 2:
Austin
Nominations 1 :
James & Johnny Mac
Nominations 2:
Jason & Meg
Battle of the Block Winner
Jason and Meg
Next HOH/ Next BOB
July 16th / July17th
Original Nominations:
James & Johnny Mac
Current Nominations:
Jeff & James
Have Nots
No HAve nots this week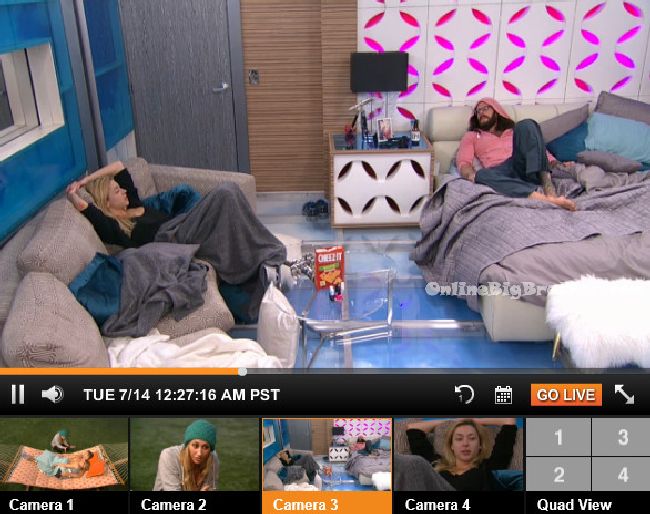 TRY the Big Brother 17 Live Feeds FREE for 7 Days!:
Click here to ensure your live feed subscription supports OnlineBigBrother.com at no extra cost to you.
12:30am HOH room – Liz says the vote is going to be so close. Austin says I don't think so, I think its going to be a landslide for James. The only person that will vote for Jeff is maybe Jackie. Austin says here's the thing right before the vote on Thursday me and you are go to James and tell him that Jeff has the votes if you and I vote for him. We're coming to you, if you win HOH tonight, are we safe for the week.. no front door, no backdoor? Liz says and we're going to tell a couple other people just so they know if you screw us over you made us this promise. He cannot refute it. Austin asks but should we offer him the same deal in return? I don't know because I think he needs to be our target. Liz says we were blindsided by the Jace thing. Austin says he was here to have fun and people didn't like that. Austin tells Liz that technically we're supposed to be working with Audrey. She thinks there an alliance between me, you, Shelli and Clay. A five person alliance. However we're really just keeping her around as a target. The four of us really want you around as the 5th with Julia. And it's the "Sixth Sense". That's the real alliance we've created with Shelli and Clay. The other side of that is that we don't trust Shelli and Clay so we've got Steve involved. And the "Freaks and Geeks" is the secret one however Julia kind of f**ked that up with Shelli that Steve knows that she's a twin. Austin says I think we do need one more person. Vanessa has kind of isolated us this week. Austin says that Becky isn't going to come after us. Once Jeff is gone, Johnny Mac will be more mine.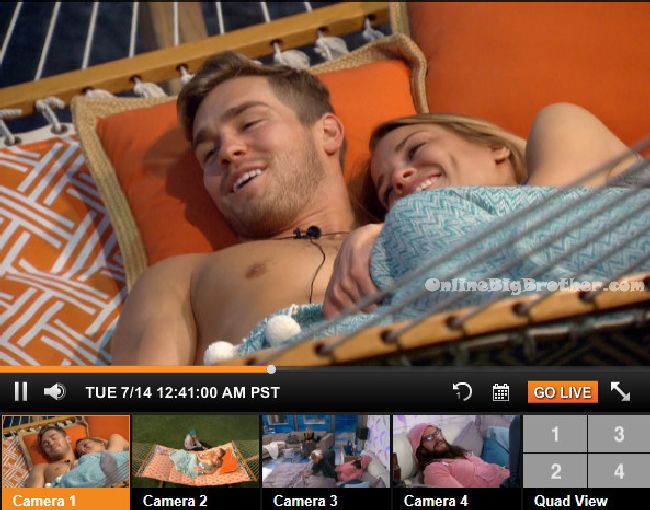 12:40am Hammock – Vanessa tells Shelli and Clay about how Jeff built up his last talk with her that there was someone close to me that I couldn't trust. I thought he was going to say your name Shelli .. he had me on the edge of my seat … the build up was very good and then he threw out Audrey's name. I laughed. Okay thank you for absolutely no information. Vanessa says everything that comes out of his mouth is silly, its verbal diarrhea. Shelli says it makes me mad when Jeff comes to Clay and says he knows he has Clay & Shelli's vote when he hasn't talked to me. Shelli says you don't have to worry we are not voting for him. Vanessa says I would be so sad. Vanessa says that she thinks Johnny Mac is so manipulated. Clay says I've promised him I have his back. Vanessa says its understood we have loyalty with Becky. Vanessa says that she is going to offer Big Brother in exchange for more alcohol they will have dating couples in the backyard and at the end of the night at least one of them will french kiss. Jason calls it a tongue punch. Steve says that Jeff wants to tongue punch Meg.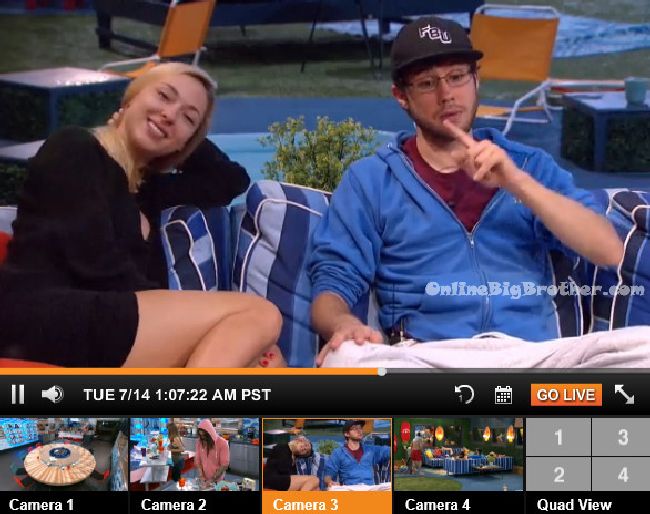 In the bathroom – Johnny tells James that he is voting to keep Jeff because he has stuck up for him and protected him. James says that's fair. Johnny later tells Jeff that he told James he is voting to keep Jeff because he's stuck up for him. Jeff says he appreciates it.

1:15am HOH room – Steve talks to Vanessa. Vanessa tells him you can't let anyone know that you know, they know, we know. Fortunately you will already know that they know because we already told you. They (Shelli & Clay) are very nervous they (Twins) will get exposed really soon, they don't want people to think they knew. They were willing to vote to protect her. They will vote to protect Liz. Steve asks are they coming after us? Vanessa says I will be honest I did throw your name out there. It seems like they might have something with Becky and John and that they were reserving you as someone they might put up. Vanessa says I think they might have made too many deals. They're probably waiting till Jeff goes out. Vanessa tells Steve that Clay and Shelli wanted to pull in Becky and I wanted to pull you in. I don't think they are coming after you they just wanted to reserve you as someone they might put up. Vanessa asks Steve who on the other side of the house do you share information with? Steve says John. Vanessa asks what about with James, Jason and Meg? Steve says no. I'm very close with Jason but don't share information with him. Steve says the deal I could make with Shelli and Clay is if I don't put you up, you don't put me up. Vanessa says I would make that just with Shelli because I'm not entirely sure Clay is trying to win. Steve asks Vanessa can I ask who you have deals with? Vanessa says I don't have, I don't make deals. I've made a lot of 1 week deals and deals to jury. I have a jury deal with 2 people. I will tell you one of them and that is John. He was the pawn and he knew it. Steve asks so I should make a 1 week deal with Shelli. Vanessa says I would advise it. Vanessa asks are you going to try and win this week. Steve says yeah. Vanessa says are you ready to make big moves? You could even take out floaters. Steve says he is nervous about Shelli and Clay. Vanessa asks are you going to go after them? Steve says that's a big move. A big move! Vanessa tells him to see how offering the 1 week deal goes. Steve says he might offer one to Becky too. Vanessa says as long as you still have people you can put up outside of Freaks & Geeks that's okay. Steve says that he might offer James – Don't put me up and I will vote for you. Steve tells Vanessa that Liz is flirting with him. Steve says I can't, I can't showmance. Vanessa asks why? Steve says showmance. Steve says before coming here I was prompted that no matter how much someone liked smart nerdy guys I wouldn't.. Big Brother blocks the feeds. Steve comments on how he never thought she and him would be in an alliance.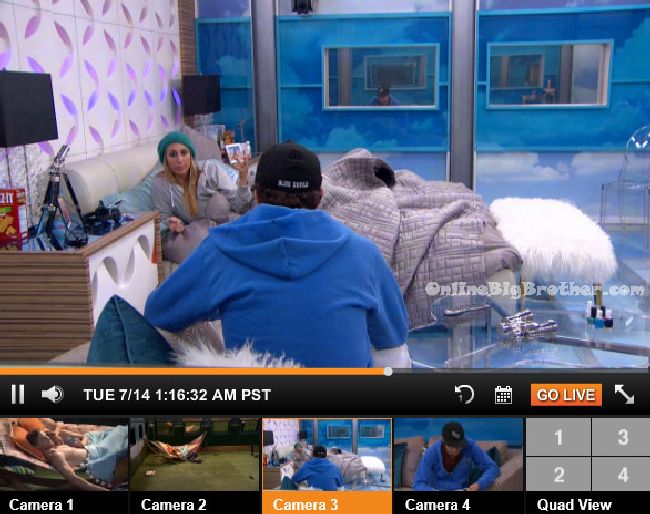 1:55am Comic bedroom – James says that Vanessa made it clear Jeff is who she wants gone so I'm pretty sure have the house will vote that way. James tells Johnny that if I win HOH I am not putting you up as a pawn or nothing.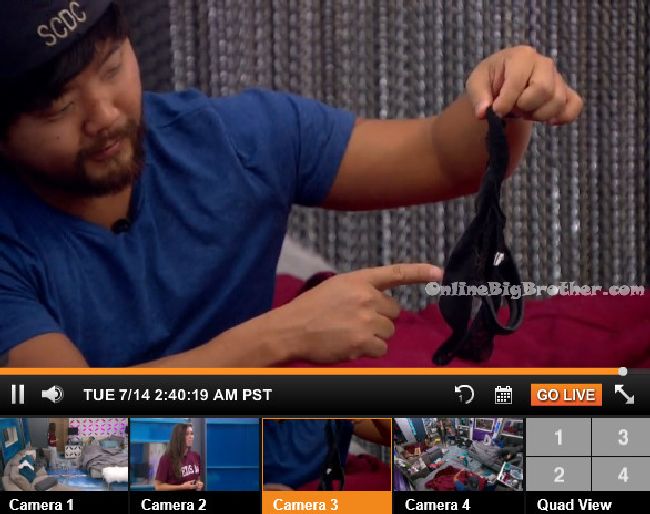 2am HOH room
Audrey talks to Vanessa in the HOH room. Vanessa says I think we're going to make it to jury pretty easy and then we can start making moves. Vanessa asks have you thought about how the house is organized. Audrey says going into next week I am trying to rebuild my image. Vanessa asks why do people think you need to be backdoored? Audrey says because then it doesn't give me 2 chances to get off. Vanessa says but they have had 2 opportunities to make that happen and they haven't. Why are people not picking up on that pattern. Audrey says I don't know. Vanessa says I think we would be really good working together. Vanessa says that Jason is a very good game player. He's subtle in the way he does things and he lies very well. He could be someone to work with but he could also be someone to be afraid of. Audrey says I don't know why he doesn't like me. I said things about Day but never about him. I think because we're on a TV show and the potential that Day is watching he will remain loyal to her and not work with me. Vanessa says keep you mind open to it because if things don't fall the right way with Shelli and Clay we might have to try and work with him.. and the story line of that would be great. Vanessa says if you want to work together I would be open to it. I've been trying to clean up your image. There has never been a female chill town. Everyone that we are working with has a showmance. Audrey says I see the benefit of working with someone like Jason but I just don't think he will. Vanessa says I think I could convince him. Audrey comments on things are getting better. Audrey heads to the diary room.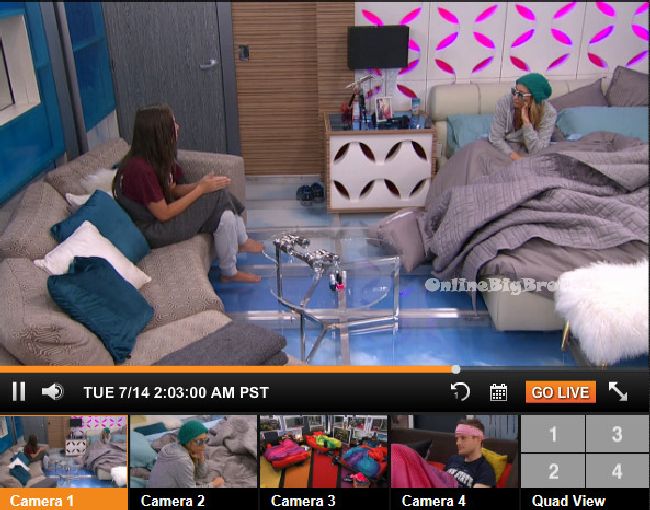 Test out the Live Feeds FREE for 7 DAYS! Click here for your: Big Brother 17 FREE Trial

2:40am
Liz joins Vanessa in the HOH room. Vanessa tells Liz you need to figure out if you like him (Austin) or not because you either need to nip that sh*t in the bud or get with it. He is crushing hard core! Liz asks does he tell you stuff? Vanessa says yes. And I am telling you to not be disloyal to him because its in your best interest that this sh*t either goes one direction or another. Liz says I will not. Vanessa asks so what do you want? Liz says I don't know .. because every day that goes by I am like he is so nice. Like I like him but I don't want him to not be there you know. He has the best personality of any guy here. Vanessa says no he's a nice guy. What's your type of guy? Liz says you know my type of guy ..tall, dark and handsome. But I just don't like long hair and a long beard. Vanessa says he'll shave the beard. It's new, he's only had it a couple months. Liz says and the hair, he would never shave the hair. Vanessa asks do you like him or not? Lis says I'm in love with his personality. Vanessa says okay and love .. big word. Okay well why don't you sleep in the same bed as him. Liz says first of all before anything would happen which I've told you before .. Number 1 he has a girlfriend and number motherf**king 2 we're on national television. Vanessa says its a casual girlfriend. Liz says but still I'm on national television. Austin joins them. They talk about the bed situation. Austin says I think James has Meg and Jason for sure 100%. I think Clay and Shelli definitely won't vote for Jeff. Then there's me and Liz.. goodnight! Audrey joins them. Austin and Liz head down stairs to bed. Vanessa tells Audrey its frustrating why does everyone we work with have to be or want to be in a showmance. Austin is doing it so bad right now. Why would you sleep in the same bed, it makes no sense. Audrey says I don't think Austin and Liz will be in love after this. Vanessa says I saw her flirt with Steve and even Jeff before all this. Audrey tells Vanessa that she believes Shelli's loyalty to her is real. Vanessa agrees but knows she is lower on the totem pole than Clay. Vanessa tells Audrey the way to Austin is through Liz. Vanessa confronts Audrey on if she was the vote for Day as Jason claims Audrey told him she was. Audrey denies it. Vanessa says until that is resolved you and Jason won't be able to work together.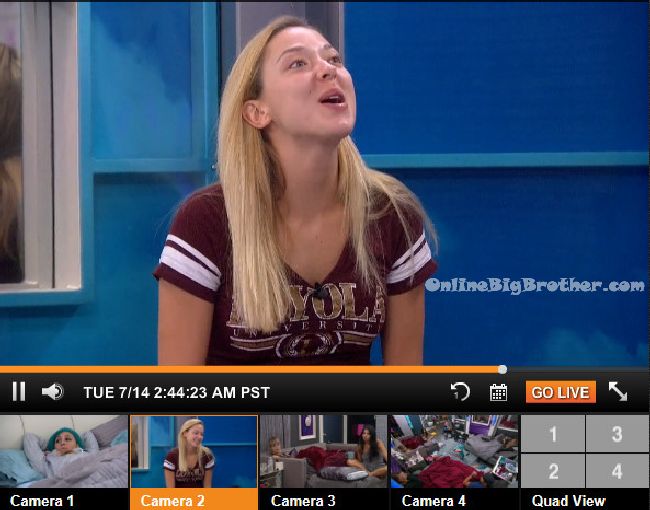 3:50am – 4:50am Backyard –
Jeff, Jason and Becky are talking on the backyard couches. Jason says I am waiting for everyone to make up their minds before I make up my mind. Becky comments on how Vanessa thinks sending home Audrey is going against LGBT but that is not the case because she (Audrey) has straight up bullied, bullied people. Jeff says whether I stay or go my target is very clear. Vanessa would't even be my target, I have a bigger target. Jeff and Becky head to the hammock to talk about life outside the house.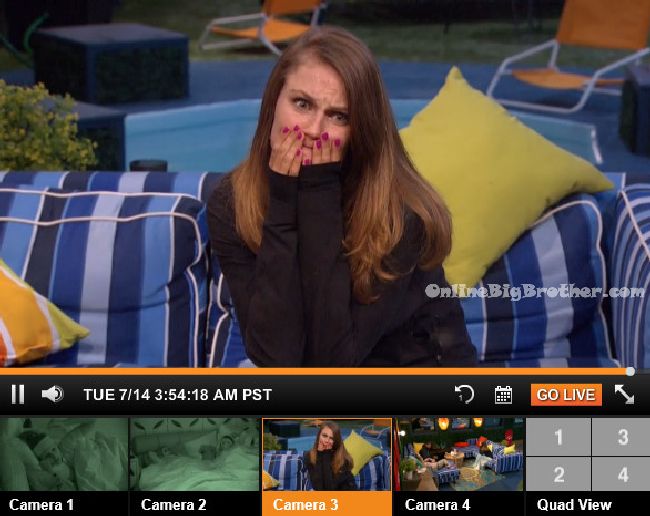 4:50am – 5:10am Jeff says so much can happen between now and the time you have to vote so that is so admirable. Jeff comments that Shelli told Clay he talks twice as much as he listens and it wasn't until today that I realize I do the same thing. Jeff says that Audrey said if I do have the votes she would vote for me but that I would just need to tell her the 6 votes I have. NO Audrey I will not tell you who is voting for me. Jeff says this has been fun regardless but its been stressful. Jeff says I am kind of at the point where I have accepted my fate and whatever happens. I feel bad because I know Jackie doesn't want me to go and I know she could definitely use me in the game. If I do have a bad feeling that I am going to go .. right before I do go I am going to share an abundance of information with her. To try to help her with her game. I've talked with a lot of people and I know a lot of things good and bad.
Live Feed subscription gives you CBS All Access thousands of archived shows. Live Shows like Big Brother, all the Big Brother Seasons, and 24/7 coverage of what is happening inside the Big Brother House. Plus there's flashback that lets you go back to any second of the feeds and rewatch what happened. Simon and Dawg will index the season just watch the parts worth watching. All this for $5.99 a month try it out 1 week free. Support our efforts and get your feeds via a link on this site. Live feed subscription Sign up
[polldaddy poll=8972565]
Share it YO!!
Tweet