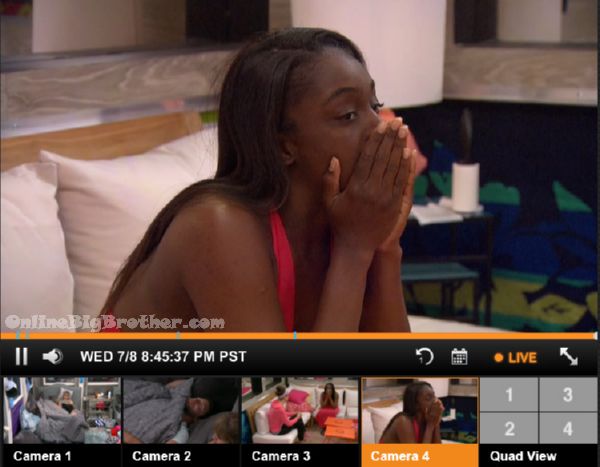 8:44pm Audrey and Da
Audrey says people turned on her and they turned on Da. Da agrees.
Audrey says she doesn't know what votes Da can secure. adds that Clay and Shelli's side doesn't have the Last laugh.
Da – who's on their side
Audrey – Becky is up there a lot more.. it's the same group
Audrey – If my vote doesn't get nulled I'll vote to keep you.
Audrey asks her to make sure she doesn't mentioned that while campaigning
Da says she's having trouble trusting Audrey, "You cannot f*** me Over"
Audrey says she thinks it's Becky or Steve who has the last laugh. Da say her and the house were thinking it was Audrey.
Audrey says people are saying that Da is going around saying she has 5 votes.
Da knows who it is
Audrey – I don't think you can get Vanessa
Da knows
Audrey – Do you think there's a way to get Austin on board
Da – I can try.. I can try..
Audrey – no matter what I'm going to get targeted next week..
Da – why didn't you come to me earlier with this.
Audrey – If I get power I'm not going to target you
Da – that's a hell of a deal Audrey
Audrey tells her she had nothing to do with her nomination.
[envira-gallery id="119938″]
9:01pm Have nots Da to the camera
Da – I don't know what to do.. this girl wants to work with me if i work with her she'll keep me in this game
Da – "The key to staying in this game is I have to go with Audrey"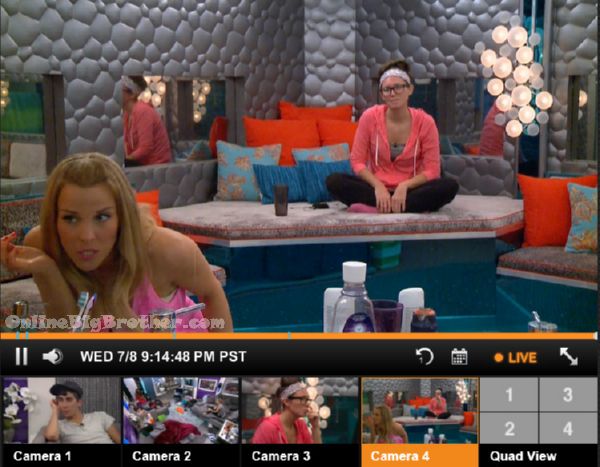 9:13pm Shelli and Audrey
Audrey asking Shelli a ton of personal questions about her education and last two jobs. Shelli is getting short with her saying things like "I told you this already… I don't know how to explain this again
Shelli – "you have my tweezers.. I need it.. it's my favorite set of tweezers"
Audrey keeps asking her questions about makeup and Shelli keeps talking about her makeup.. on and on talking about her makeup.. on and on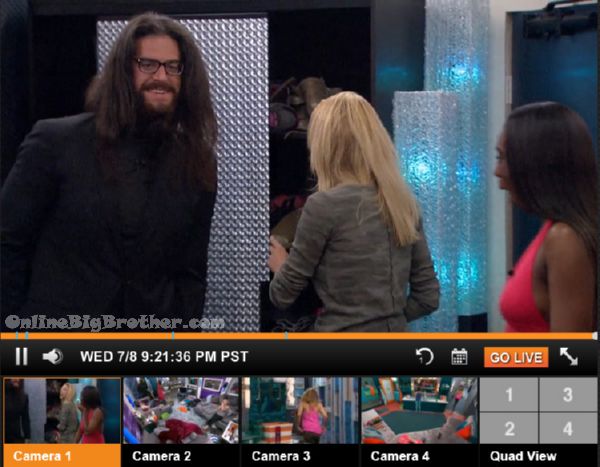 9:20pm Austin's getting ready for Speed dating tonight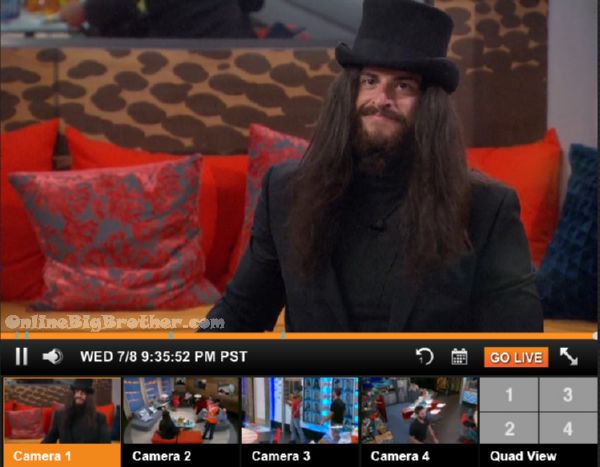 9:40pm
The POdcast Begins. The hosts are Austin and Jeff. James is the producer and Steve is security.
Jeff and Austin are doing a more Female friendly podcast this time with all new female sponsors. They introduce two new hosts Becky and Shelli.
[envira-gallery id="119951″]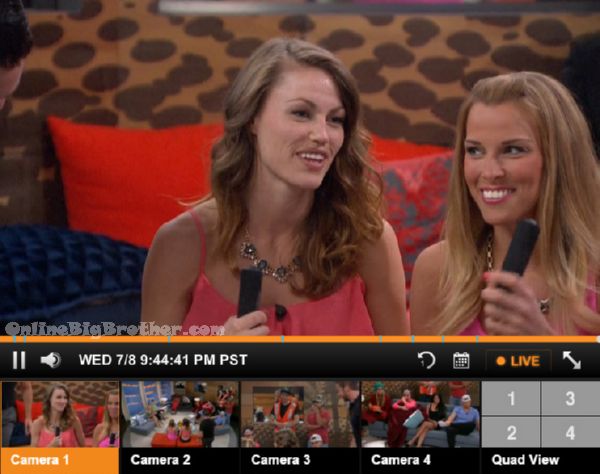 Becky and Shelli says the men will be competing for teh "Silver necklace of love"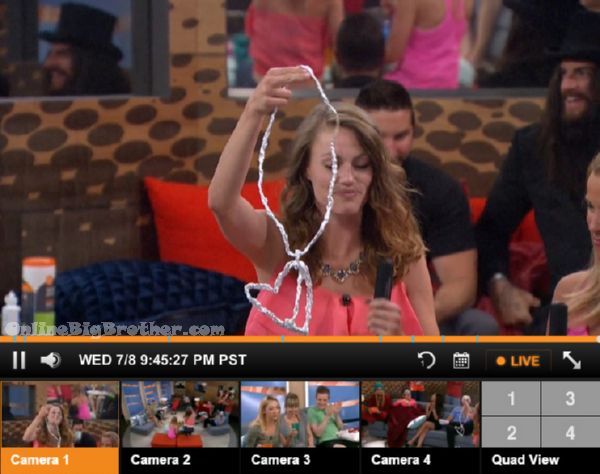 Silver power of love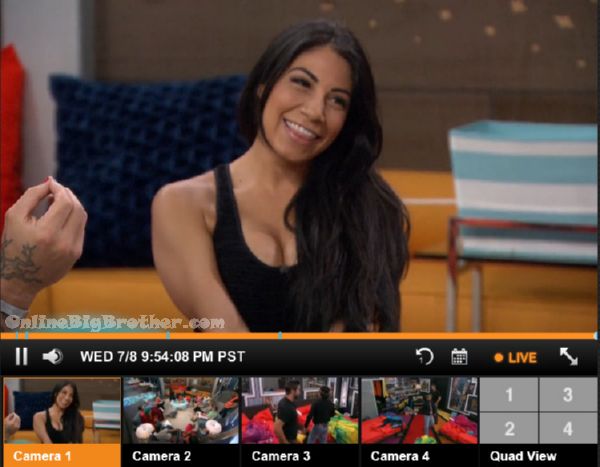 Jackie and Austin are begin asked a set of four questions. They are playing they are on a blind date.
Give her 4 compliments
Austin – Jackie I love that outfit it looks amazing, you look amazing in it..
Give her three topics that will make her feel important
Austin asks her about her family.
(There's more questions asked)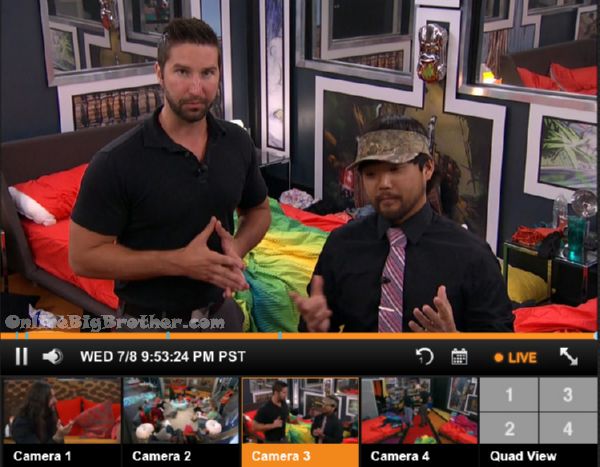 9:54pm Jeff and James apologizing to the life feeders for the last podcast. (If you missed it.. last nights podcast was XXX rated mostly James and Jeff)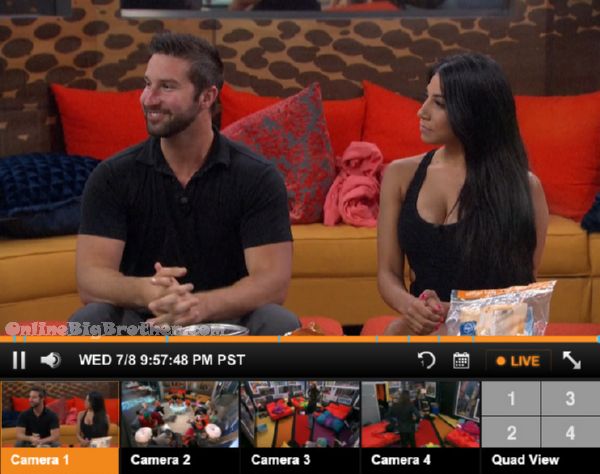 9:58pm Jeff and Jackie are next up
9:59pm
James will be the next guy with Jackie after they are done asking Jeff the date questions. Asutin is with him in the bedroom telling him what the questions were.
Austin – That was hot seat status you just gotta go for it..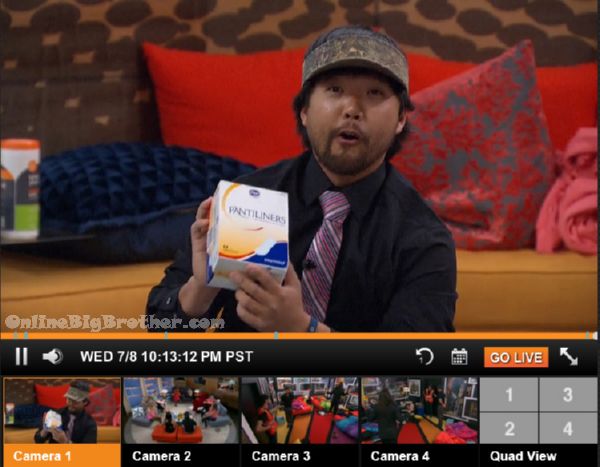 10:09pm James and Jackie
James says her eyes light up the room. playing the producers of the TV show says he makes a 6 figure salary.
They cut to a commercial break
James – "Panty liners for all your leaky needs"
On his way back to the bed room James says "Jackie your dress looks amazing but it would look better on teh floor" James runs away
10:22pm They all place votes using skittles to see who out for the three guys gets evicted.
5 out of 12 James is evicted from the dating show
3 out of 12 wanted Jeff out
4 out of 12 wanted Austin out
Jeff and Austin advance to Round two..
(WOW Jeff got more votes than Austin)
10:34pm The second round is role playing the couples on a second date.
Jackie plays the second date from hell and it's freaking hilarious.
Jackie tells Austin she wants to get married to him because they're on the second date now. Jackie adds she also wants to get pregnant and be a pregnant bride.

Austin wins !!!
More Steve twerking. He's getting better #BB17 @DawgsBigBrother pic.twitter.com/SHZY3wJcXB

— OnlineBigBrother.com (@bigbspoilers) July 9, 2015
11:00pm Steve is getting better at twerking
11:15pm Some are making the have not feast other are playing paddy cake
11:45pm Waiting for midnight for the have not feast chit chat throughout the house
12:08am HAve nots get to have a feast
[envira-gallery id="119974″]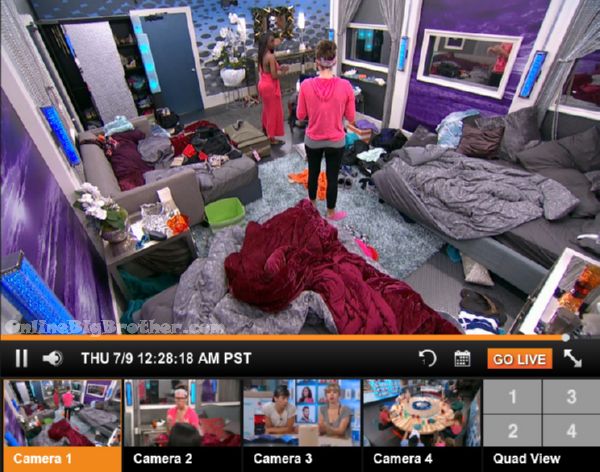 12:21am Audrey telling her next week they don't have to be mean to each other they just have to keep distant.
Da says she has James, Jason, Liz "For Sure"
Audrey – they don't know I'm in on it
Da – no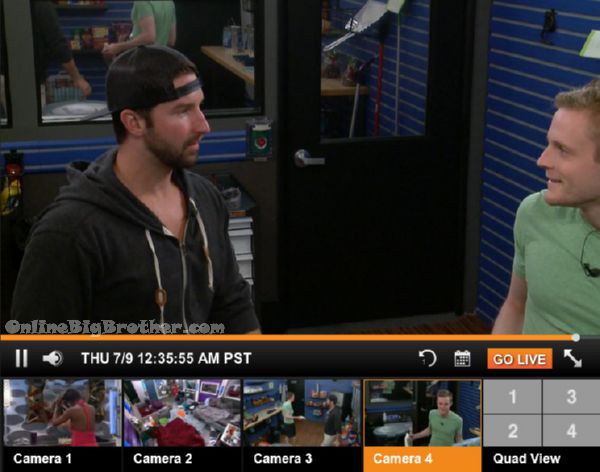 12:34am Storage room Jeff and john
JOHNNYMAC saying Da is coming up to him saying he's the swing vote she needs his vote to stay.
JohnnyMAc – "She won't tell me any names"
Jeff – WOW
Where is the vote
Audrey is going to make things interesting but I still don't think Da has the votes as of right now. Flipping Liz/Austin is going to be tough and we haven't seen that conversation yet.
Live Feed subscription gives you CBS All Access thousands of archived shows. Live Shows like Big Brother, all the Big Brother Seasons, and 24/7 coverage of what is happening inside the Big Brother House. Plus there's flashback that lets you go back to any second of the feeds and rewatch what happened. Simon and Dawg will index the season just watch the parts worth watching. All this for $5.99 a month try it out 1 week free. Support our efforts and get your feeds via a link on this site. Live feed subscription Sign up
[polldaddy poll=8961340]
Share it YO!
Tweet