POV Holder:
JohnnyMac
Next POV
July 13th
POV Used
Yes
POV Ceremony
July 13th
HOH Winner Team 1:
Becky
HOH Winner Team 2:
Shelli
Nominations 1 :
Steve, Jason
Nominations 2:
Day, JohnnyMac
Battle of the Block Winner
Steve & Jason
Next HOH/ Next BOB
July 9th / ?
Original Nominations:
Day, JohnnyMac
Current Nominations:
DaVonne, Meg
Have Nots
Steve, Jason, James and Meg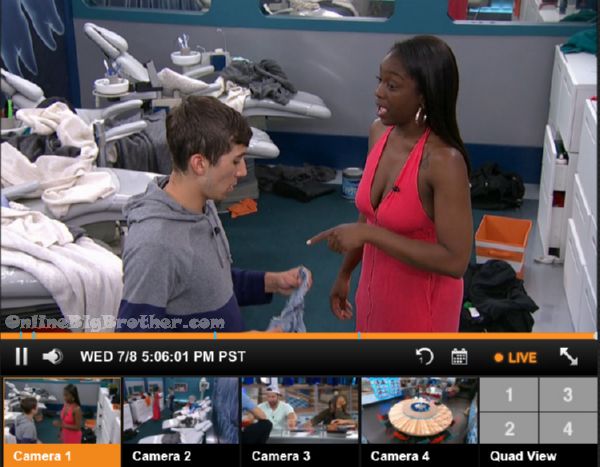 5:05pm BEdroom Jason and Da
Da tells him "If I go you tell Liz I told you about the Twin you use that.. "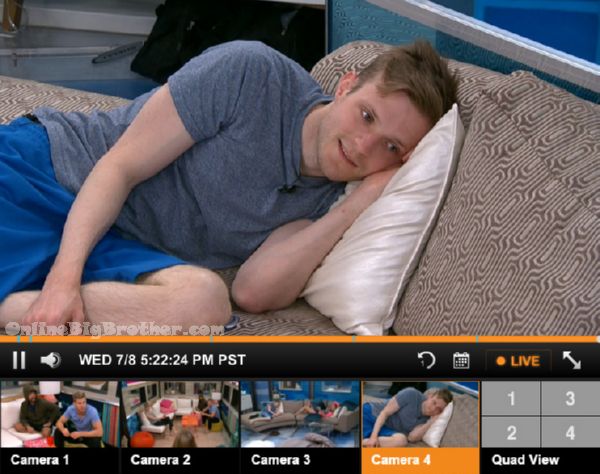 5:09pm HOH Becky and JohnnyMac
Becky saying that Audrey is going home next week
John says Da is trying to get votes.. she told him she knows who has the power and she needs his vote to stay.
JohnnyMAc – I'm going to vote her out still.
Becky says Da and Audrey were trying to get her on the block
JohnnyMAc wants to stop being the pawn.. sooner or later they will notice he keeps getting put up and doesn't go home they'll want him out
Becky says what Shelli did with her HOH was not what they had agreed on.
Becky says she won HOH because she wanted to get Audrey out to show the house she's on the same page as them all and willing to work with them.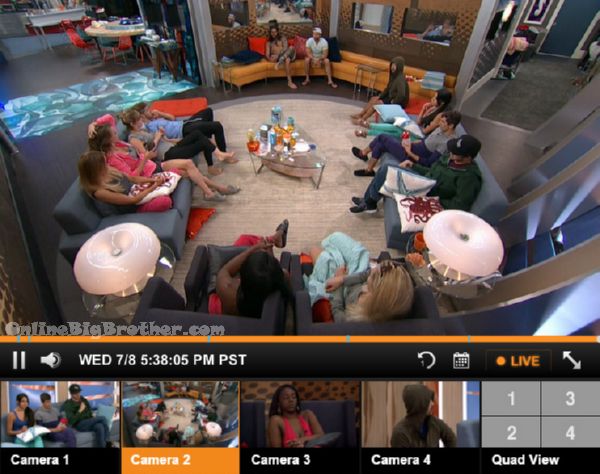 5:30pm House meeting about the podcasts
Jeff says they need to make an apology to the women for last nights podcast.
AUstin says it was him it was Jeff
Jeff says it was more James but they all sink together..
Jeff has a new idea for something to do called "A walk in heels" involves the guys dressing up as girls.
The houseguests don't seem too excited about this.. they suggest they just do speed dating.
The plan is to do Speed dating tonight at 10 after it's done the girls will say which guy date they liked.
Jason doesn't see it worthwhile to participate because he has no idea what to do on a date with a women.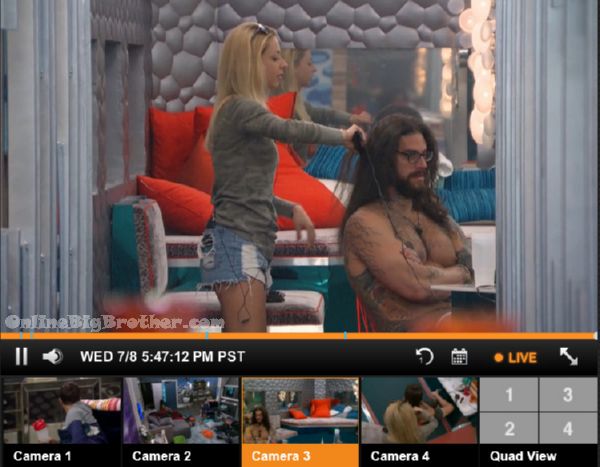 5:48pm Austin and Liz
LIz saying that Audrey came up to her and told her the Podcast last night was awkward.
Austin – you made it awkward Audrey
Liz explains that she never told Audrey she was voting to keep Day but Audrey is still running around telling people that she was.
Austin says Audrey told people the both of them are voting to keep Da. Austin is done with her.
Ausitn – She's a bulshtter I'm done with her
liz – Clay and Shelli don't see that.. I love Shelli so much
Austin says Clay and Shelli don't trust Audrey anymore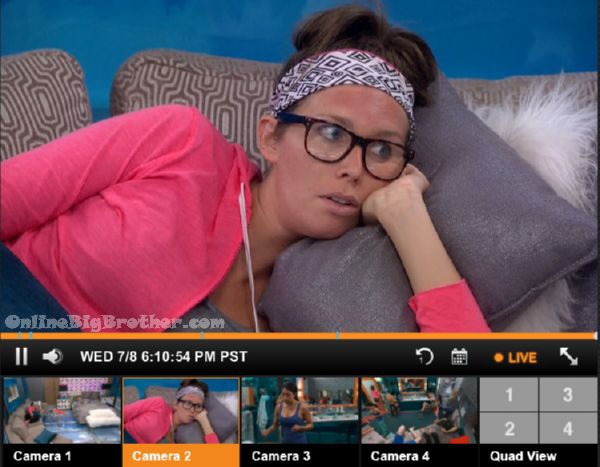 5:52pm HOH Jackie, Becky and Shelli
Jackie complaining about Audrey. Jackie leaves.. Audrey comes in.
Shelli – what are you doing
Audrey – i'm just sitting around
Becky leaves
Audrey asks her if she can kick Clay out for one night.. Says the have nots are making a big deal about having to sleep with Audrey.
Shelli – who is it..
Audrey – Meg, Jason, James and Jeff
They are trying to get Steve to do it and he's saying he doesn't want to sleep with a girl.
Audrey – VAnessa is with Liz, Austin is with JohnnyMac
Shelli recommends Audrey sleeps with Vanessa, Austin with Liz and JohnnyMAc with Steve
Audrey says they are all making a big deal about sleeping with her and making jokes.
They start talking about the last laugh. Audrey thinks it's Becky or Steve that have it.
Audrey says Da was thinking she had Becky, Jackie, Steve, Liz and Jason but today she found out she didn't have it. Audrey can now tell Da knows she doesn't have the votes.
Audrey – nothing in this game goes according to plan
Audrey now saying once Da leaves the drama around Audrey is going to die down a lot.
Audrey has a speech ready to go "I'll have the last laugh"
Audrey says she did alright in the HOH competition practice.. says the best ones were Austin, Vanessa, Steve and Jackie. (Feeds cut so I suspect she left out JohnnyMac who got three in)
Audrey asks if Vanessa talked to Austin about their Sleeper cell meeting
Shelli – I have no idea
Shelli asks her if she ever not talk/think about Game.
Audrey says when her back is against the wall and everyone is against her she has to.
Shelli asks her if all she does is think about game does she think she'll go nuts
Audrey – I don't think I've gone nuts I think Da's gone nuts.. My mind will never take a break unfortunately
Shelli says she was HOh and hardly anyone talked game to her.. "It was really ridiculous"
Audrey – I really wish I did voodoo
Audrey says she thought that during the podcast they were trying to poke fun at her for the dreams.
Audrey – I should make toilet paper voodoo dolls and flush you all down the toilet
Audrey says her parents are sending her telepathic messages tells her to get out of the house. Says her mom is watching the feeds and is a nervous wreck.
Shelli who do you feel good about in this house.. do you feel good about Austin
Audrey – no he's too inconsistent. .there's too many stupid people
Audrey says she trusts Clay, Shelli, Vanessa and JohnnyMac.
Audrey – Austin is scared.. that's what makes him stupid (She says she means game stupid)
Audrey doesn't see austin winning comps "He's big and he panics"
Audrey says Austin shouldn't trust Jeff
Shelli – does he trust Jeff
Audrey – I'm getting the sense he's starting to trust Austin more.. Jeff is doing a good job he's a great politician.
Audrey says John feels good about Becky and Steve and he trusts Jeff.
Audrey warns her about Jeff, "I don't trust him.. If Meg stays Jeff would have known about it. the only reason I won't target him is because of Clay"
Audrey says Jeff has a lot of connection throughout the house
Jackie comes in…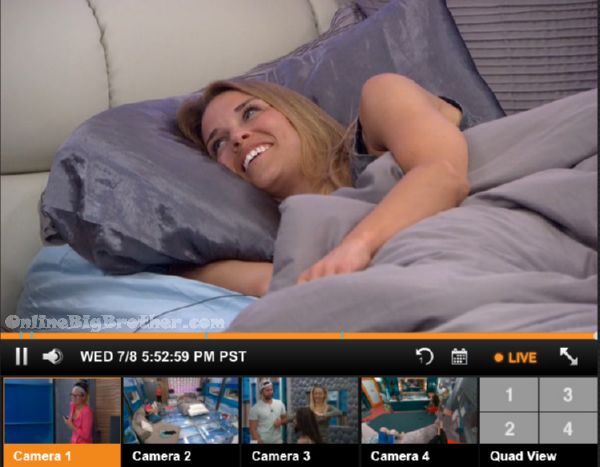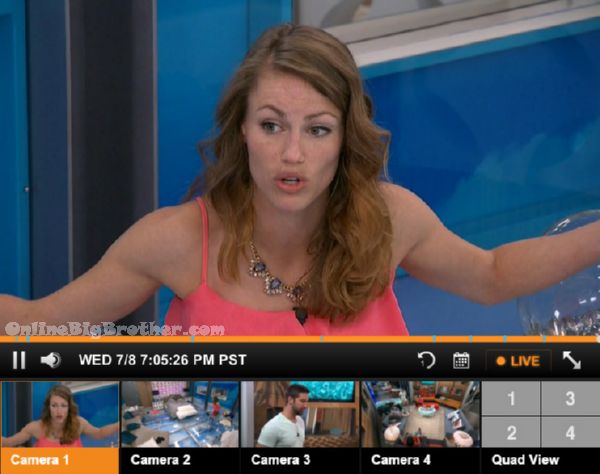 6:56pm HOH Jackie and Shelli
Shelli wants Audrey gone next week.
Jackie agrees
Shelli – BEfore liz
Jackie – ya
Jackie says she's extremely sceptical about it she's just playing along with it
JAckie – Even if she does have a twin she's not doing anything wrong.. f****g with our game or anything
Becky comes up says the Dairy room told her the Podcast is a hit with the fans, "It's a hit legitimately" . (WTF just like the BOB is a fan favorite)
They start talking about Audrey spreading "Bullsh1t" throughout the house trying to get everyone to target each other.
Becky says Audrey said just right now that Jackie and Steve are voting to keep Da.
Becky says Audrey is trying to get Da to blow up.
Becky says Audrey is for sure f****g everyone's game Liz they don't know about
They agree Audrey out before Liz.
Jackie says if she wins HOH she's going to make Audrey a have not and not allow her to come up to the HOH to shower or use the washroom
Live Feed subscription gives you CBS All Access thousands of archived shows. Live Shows like Big Brother, all the Big Brother Seasons, and 24/7 coverage of what is happening inside the Big Brother House. Plus there's flashback that lets you go back to any second of the feeds and rewatch what happened. Simon and Dawg will index the season just watch the parts worth watching. All this for $5.99 a month try it out 1 week free. Support our efforts and get your feeds via a link on this site. Live feed subscription Sign up
[polldaddy poll=8961340]
Share it YO!!
Tweet