POV Holder:
Sarah
Next POV
May 15th
POV Used
?
POV Ceremony
?
HOH Winner
Ashleigh
Next HOH
May 13th
Nominations:
Sarah & Godfrey
Have Nots
Canada voted for: Sarah & Brittnee (They will compete for the Secret Power)
POV Players
VETO PLAYERS PICKED: ASH, Sarah, Godfrey, Zach, Brittnee, Bruno
HOST is Pili
10:23pm Hot Tub.. Chit chat..
Zach says he's going to start using instagram more when he gets out.
Godfrey has a instagram account but all that's there is 15 pictures of his cats.
They talk about how crazy things have been.
Sarah -I feel like I haven't slept since Tuesday..
Zach wonders what the fans will be "Hashtagging" about them.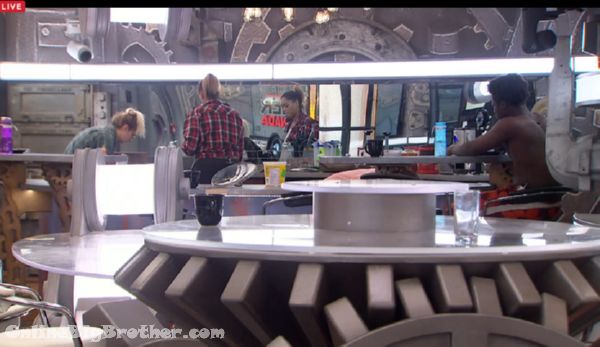 10:49pm Sarah, Brittnee and Godfrey
Brittnee asks him if he knows what is going to happen tomorrow.
Godfrey isn't sure says it could be Brittnee but he's really not sure. "I just think so I haven't heard from anybody.. I think they are trying to get me out.."
Brittnee says if she doesn't go u she'll vote to keep Godfrey
Sarah – why can't we get any luck
Brittnee brings up AShleigh giving her word she wouldn't put Brittnee up.
Brittnee says ashleigh hasn't told her anything about the nomination. Godfrey is surprised. They figure she's not breaking the news right now because of the punishment Brittnee and Sarah got.
Godfrey leaves. Brittnee wonders if Godfrey is with Bruno now.
Sarah tells her don't give Bruno or Godfrey "Anything, anymore"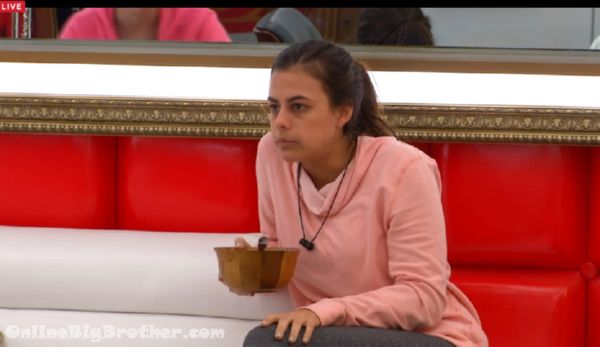 10:54pm Pili and Ashleigh HOH (the houseguests all look a bit haggard)
Talking about they are going to tell Brittnee she's going to be nominated. AShleigh is going to say Brittnee put her 3 closest allies on the block during triple eviction.
AShleigh believes that Sarah is gunning after Bruno over Zach.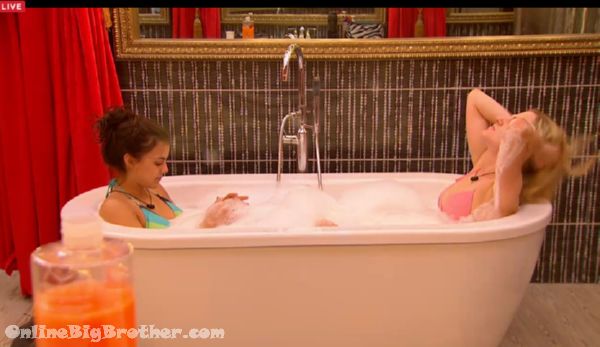 11:06am HOH Bathroom Pili, Ash, Zach
Back to figuring out what AShleigh will tell Brittnee tomorrow when she is nominated. Ashleigh says she's nervous doesn't want to soun dlike she's going back on her word.
Ashleigh asks her if she wins HOH next week will she go after Bruno or Godfrey. Pili doesn't care who goes she just wants a guy gone next week. Ashleigh thinks they should alternate Boy one week girl one week. Ashleigh thinks next week they can convince Zach to go after Godfrey over Bruno. AShlegih doesn't think they can convince Bruno to go after Godfrey.
Pili points out that Godfrey is going after Zach and not them. Ashleigh thinks Sarah is still targeting a couple she just hopes it's her that stays. She doesn't see her going over Zach.
Pili thinks Sarah is going after the guys for sure it might be best to have her win the HOH and do their dirty work.
Pili says she knows Bruno isn't being real with her and around her she really wants to get him out, "He's using people to get his way out.. he was super super super smart using the veto on him.. he know owing him a favor.. he's smart like that"
Pili thinks that she'll go up if Bruno wins HOH.
Ashleigh – We've played a game where we didn't scramble or lie so much..
AShleigh says ever since they formed the Diaper alliance she's been solid, She's never scrambled. Points out everyone else in the house has been scrambling round but not the Diapers.
Ash says the worst two nights were Jordan going home and Triple eviction. Ashleigh points out they've been in the HOH 4 weeks in a row.
Pilar – We're strong
Pili – I came in here and wanted to make a best friend and it worked out..
Ashleigh counting Bruno's votes in the final.. thinks he only has 1 vote Bobby, "His game play is not good"
Ashleigh says the two of them going to final 2 would be "Super Fun"
Ashleigh doesn't think she'll win against Zach he has Jordan, Bobby and Bruno's vote.
Ashleigh – my most favorite case scenario ever would be if the three of us went and you and I won that HOH.. three of us till the end
Ashleigh again says they can talk Zach into taking out Godfrey. She doesn't think they can get Bruno out next week but they can get Godfrey out.
Godfrey comes in looking for the ipod.